(October 1950 to February 1951, Black Magic #1 – #3)
In the early part of 1950 Simon and Kirby had established their studio and were producing comics with a relative small but generally talented group of artists. Their most important, perhaps only, product were two monthly romance titles, Young Romance and Young Love. I do not believe Joe and Jack were still producing the Prize crime titles (Headline and Justice Traps the Guilty) but if they were their involvement was minimal and coming to an end. Few of the studio artists found in the romance titles contributed to the crime titles. Further Jack Kirby would provide some cover art for the crime titles but no interior stories. Simon and Kirby's deal with Prize for the romance titles was very lucrative but the two were always ambitious and keen to try new challenges.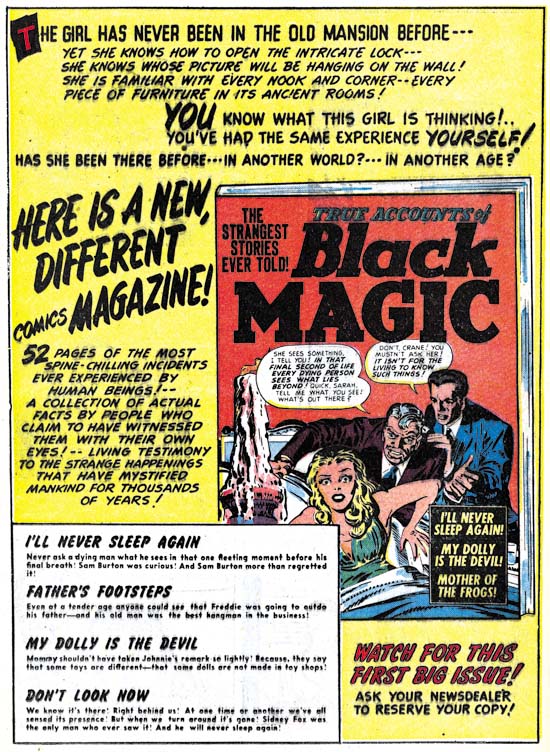 Young Romance #23 (July 1950) house ad, art by Jack Kirby
The July issues of Young Romance and Young Love featured a full page house ad for a new Prize title, Black Magic. The ad does not provide a date for the first issue but it would be three months before it was released. Synopsis and titles are given for four stories all of which would be in BM #1 although "I'll Never Sleep Again" was renamed "Last Second of Life". The cover illustrated was never published. It is one of three versions that I am aware of (another was eventually published, with some additions, on a DC reprint comic). Despite all their efforts, in the end the cover was replaced with one based on the "My Dolly is the Devil" story. The cover title logo would also be modified when the comic was finally released.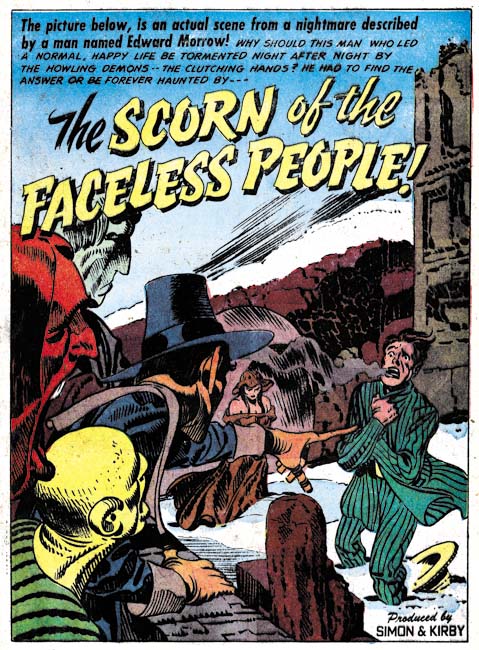 Black Magic #2 (December 1950) "The Scorn of the Faceless People", art by Jack Kirby
The modus operandi for new Simon and Kirby titles was for a lot of the art to have been drawn by Jack at least for the first couple of issues. This was not true for Black Magic. While Jack was the primary artist and provided more pages of art (41 pages) then the other artists (Meskin was the second most used with 24 pages) the difference was not as great as usually found in the initial issues for a new title. One explanation is provided by Mark Evanier (introduction to the DC Demon archive) where he has stated that horror was not a particular favorite of Kirby's. I must admit I was a bit surprised by that comment since I have always found Kirby's work in Black Magic as having the same high quality as anything else he every did for Simon and Kirby. There is another explanation for the lack in Black Magic of the typical Simon and Kirby start off and that is Jack was putting his efforts into another new title that came also out in October 1950, Boys' Ranch. Except for some single page features and a single story from issue #3, Kirby provided all the art for the first three issues of Boys' Ranch. Did Kirby prefer the western theme of Boys' Ranch over the horror of Black Magic? Or was it simply that Simon and Kirby made a better deal with Harvey then with Prize? I will leave that answer to the reader. (I will not be posting on Boys' Ranch at this time as I wrote about not too long ago: part 1 and part 2).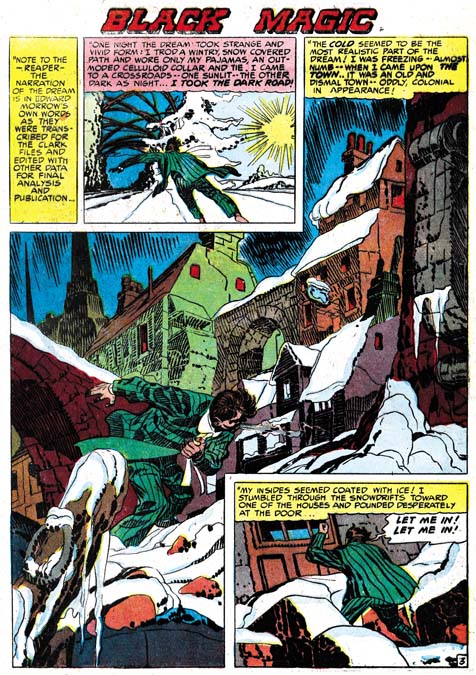 Black Magic #2 (December 1950) "The Scorn of the Faceless People" page 3, art by Jack Kirby
"The Scorn of the Faceless People" is a masterpiece that stands out among all the great work found in Black Magic. The dream analysis theme is unusually and would have been very much at home in a title that Simon and Kirby would produce a couple years later, Strange World of Your Dreams. This story suggests that Simon and Kirby were already feeling the influence of Mort Meskin who had a particular interest in this subject. There is much to commend the art in this story, but check out the unconventional layout of page 3. The carefully use of perspective in the splash-like panel is such that the other two panels really are not intrusive. It is a panel layout that Jack would rarely, if ever, repeat. But then again it was a measure of Kirby's genius that he would do the unexpected and make it work. There really is nothing much happening in this page but nonetheless it is filled with drama.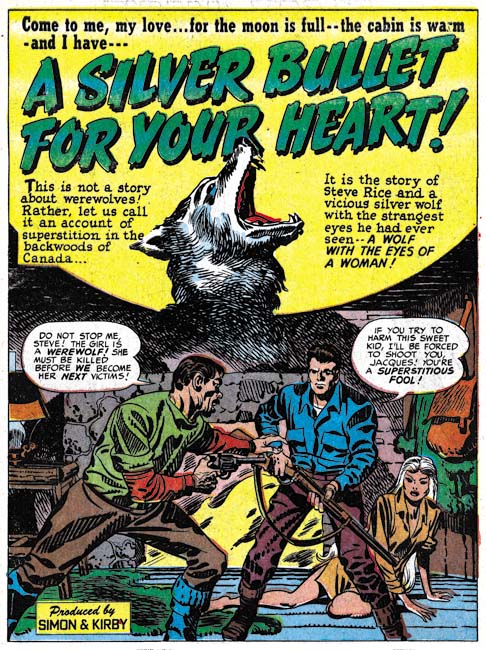 Black Magic #3 (February 1951) "A Silver Bullet for Your Heart", art by Jack Kirby
I remarked in my serial post The Art of Romance chapter 11 (covering a period just prior to this one) that the punch seemed to have gone out of Kirby's romance splashes. I do not think that is the case for Kirby's Black Magic splashes. "A Silver Bullet for Your Heart" is just one of many splashes throughout the Black Magic run that are just terrific. As with all truly great comic book splashes it presents the theme of the story in a single scene without, however, revealing how this dramatic point was reached or how it would be resolved (for that you were expected to buy the comic).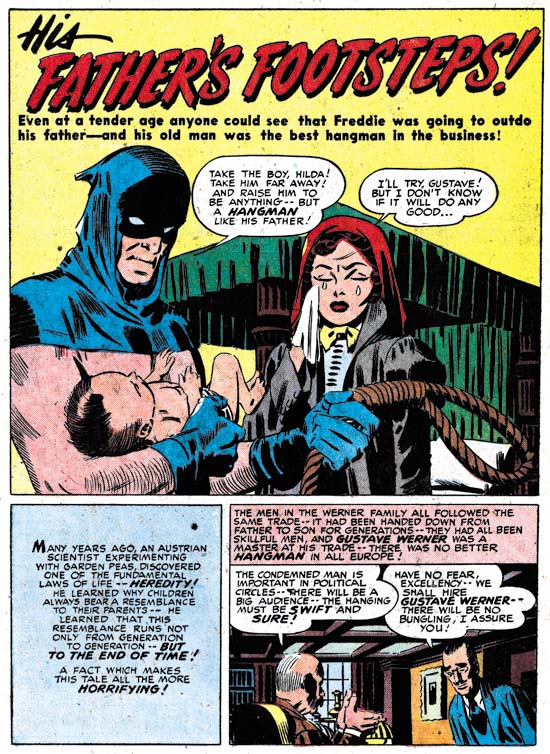 Black Magic #1 (October 1950) "His Father's Footsteps", art by Mort Meskin
While Kirby was the primary artist for Black Magic, as he usually was for Simon and Kirby productions, other studio artists did great work as well. Perhaps the most outstanding of the other studio artists was Mort Meskin. While Meskin's romance art was first rate he seemed to particularly shine in the horror genre. Unfortunately his carefully orchestrated horror stories are often neglected by the modern audience whose main interest is in superheroes. Mort developed his own cinematic approach to graphic story telling which fully complemented the scripts.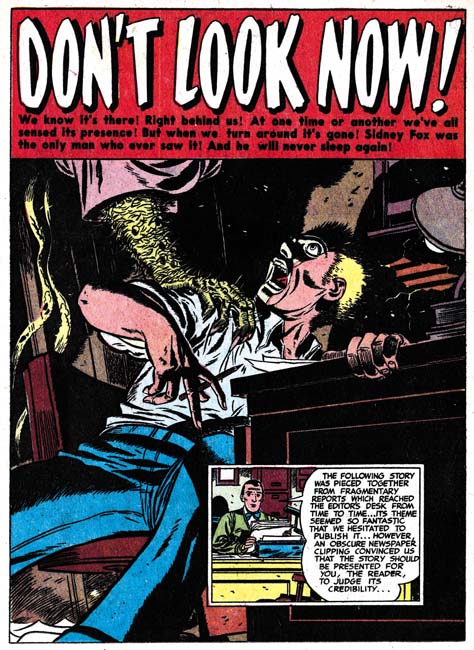 Black Magic #1 (October 1950) "Don't Look Now", art by Bill Draut
Bill Draut was an important artist in the Simon and Kirby studio. Joe Simon has often remarked to me about how much he could depend on Draut. However it seems to me that Bill's romance art was getting into a routine. It was still fine art and Bill was great at graphically telling a story but I get the feeling he was not pushing himself as much anymore. Black Magic seems to have shaken him out of that in a big way. I recently posted  an example of a full page romance splash just because it was an unusual deviation from his standard half pages splashes. Above I provide another full page splash whose merit goes way beyond the untypical splash size.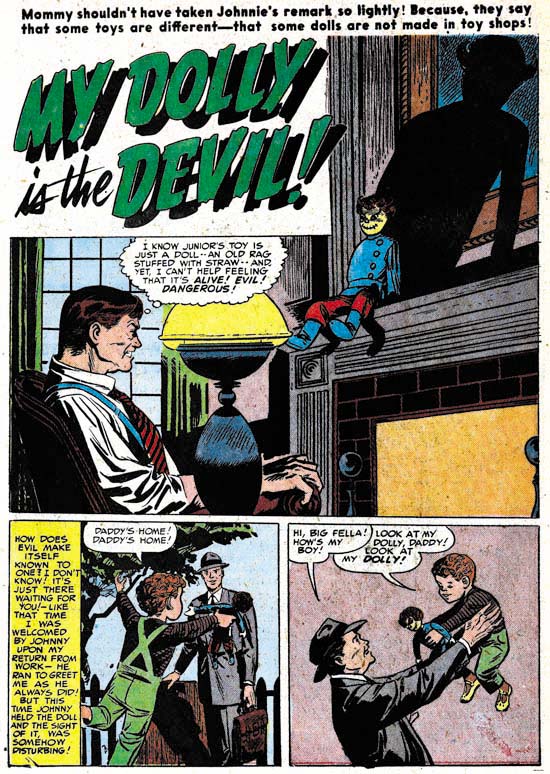 Black Magic #1 (October 1950) "My Dolly is the Devil", art by Leonard Starr
I have discussed Leonard Starr a number of times in The Art of Romance. Starr provided great romance art for Simon and Kirby and of course he is most well known for his long running syndication strip Mary Perkins On Stage. All of which makes his "My Dolly is the Devil" that more interesting as an example of Starr's art in another genre. Although this story is unsigned it truly was done by Leonard. The mother of the story has the pixie look that Starr used often in Simon and Kirby productions (wide forehead, widely separated eyes and narrow chin). Further the tall narrow panels that Starr preferred appear on a number of pages. A satisfying graphic story but unfortunately "My Dolly is the Devil" would be the only story that Starr ever did for Black Magic.
Note how in the light cast by the lamp transforms the doll's hair into what looks like horns in the shadow.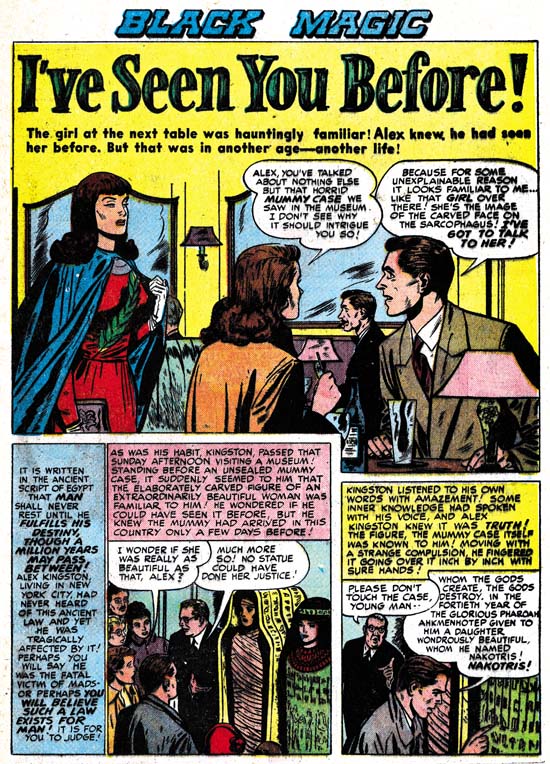 Black Magic #2 (December 1950) "I've Seen You Before", art by Bruno Premiani?
An ancient curse, an Egyptian mummy come back to life, a cast off lover's cruel fate, what more could you want? I know many comic fans consider EC horror comics as the epitome of the genre but I prefer stories that are less gruesome and rely more on plot development. Bruno Premiani is another artist we have seen often in the Prize romance titles but it is nice to see his hand in another genre. Of course if this is really Premiani then he also did work for DC superheroes and westerns but that work is drawn in such a different manner it is not at all clear that they were done by the same artist. Premiani did only two stories for Black Magic and "I've Seen You Before" would be the last Simon and Kirby work by the artist.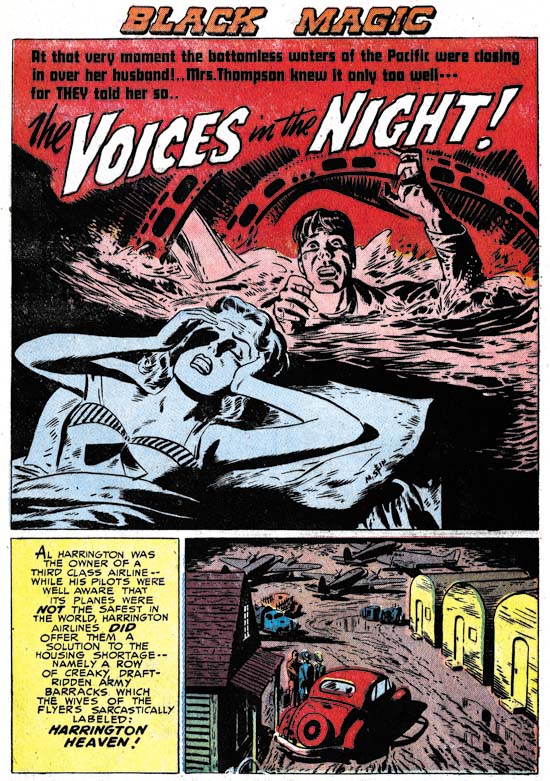 Black Magic #3 (February 1951) "The Voices in the Night", art by Marvin Stein
We have seen Marvin Stein often in Headlines, Justice Traps the Guilty and Prize Comics Western. In fact he would become a fixture in Prize publications not produced by Simon and Kirby. But he would appear in Simon and Kirby productions as well although perhaps not as frequently or so prominently placed. "The Voices in the Night" is signed and the style agrees well with other work Stein did at this time. This is not his mature style and frankly is a little bit on the primitive side. Joe Simon once remarked to me that he did not originally care that much for Marvin Stein's art but that latter he became quite good.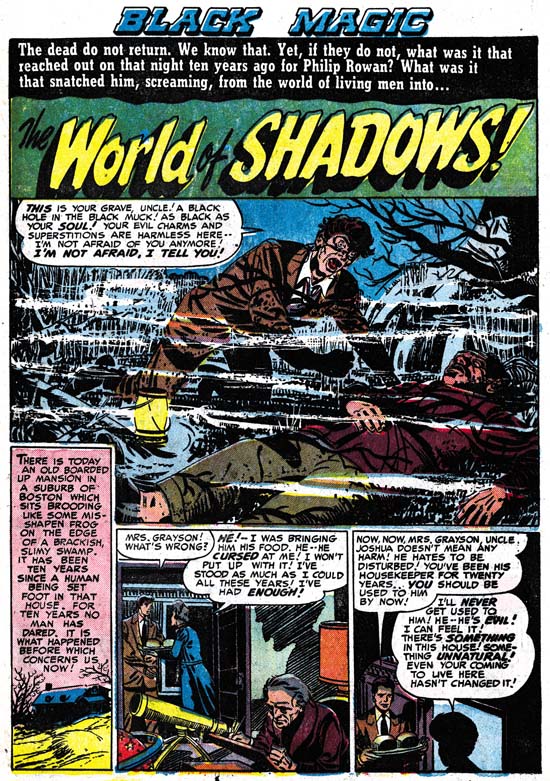 Black Magic #3 (February 1951) "The World of Shadows", art by George Roussos
I am sure that, when they were young and in a darken room, most of my readers have placed a flashlight below their face to provide eerie shadows. Well it seems many of the artists in Black Magic had done that as well. But perhaps none of them used that type of dramatic lighting as often as George Roussos. Roussos is a name we have not encountered yet in the serial posts The Art of Romance or It's A Crime. George is perhaps most famous as a silver age inker of Jack Kirby at Marvel under the alias George Bell. "The World of Shadows" is unsigned but the art is so similar to other work with signatures that there is little question about the attribution. The artwork is a bit of a hodge-podge but I am unsure if this is due to the use of swipes or a style that has not set settled into place. In places the art clearly shows the influence of Mort Meskin whose work Roussos had inked previously. In all honesty Roussos is not among my favorite Simon and Kirby studio artists.
The Little Shop of Horrors, Chapter 2 (#4 – 6), Up and Running
The Little Shop of Horrors, Chapter 3 (#7 – 8), The Same Old Gang
The Little Shop of Horrors, Chapter 4 (#9 – 11), Another Hit
The Little Shop of Horrors, Chapter 5 (#12 – 14), New Faces
The Little Shop of Horrors, Chapter 6 (#15 – 17), Mix Bag
The Little Shop of Horrors, Chapter 7 (#18 – 20), Kirby Returns
The Little Shop of Horrors, Chapter 8 (#21 – 23), The Gang's All Here
The Little Shop of Horrors, Chapter 9 (#24 – 26), The Party's Ovetr
The Little Shop of Horrors, Chapter 10 (#27 – 29), A Special Visitor
The Little Shop of Horrors, Chapter 11 (#30 – 33), The End