(April to August 1951, Black Magic #4 – #6)
Black Magic #4 to #6 were released during the same period as Boys' Ranch #4 to #6 (for Harvey Comics). Both titles were bimonthlies which mean that the greatest amount of work produced by the Simon and Kirby studio was for Young Romance and Young Love both of which were monthlies. This is not at all unusual for while Simon and Kirby are most famous for their superheroes most of the work they did during their collaboration was for love comics.
The period discussed in this chapter roughly corresponds with chapter 15 of my serial post The Art of Romance.
While Jack Kirby did all the covers for Black Magic (as he would throughout the first run) in terms of the number of pages drawn he was not the primary artist for Black Magic like he was in the earlier issues. That honors now went to Mort Meskin who did 37 pages compared to Jack's 17 pages. Even Bill Draut with 18 pages of art did more then Kirby. But even Bill was not the second most prolific artist in the issues covered; surprisingly that would go to the newcomer George Roussos who did 20 pages. Vic Donahue who has been absent from Simon and Kirby productions for some months does a single 5 page story. John Prentice is new to the studio and only provides a single 7 page story. Two stories remain without attributions but one of them is a single page feature.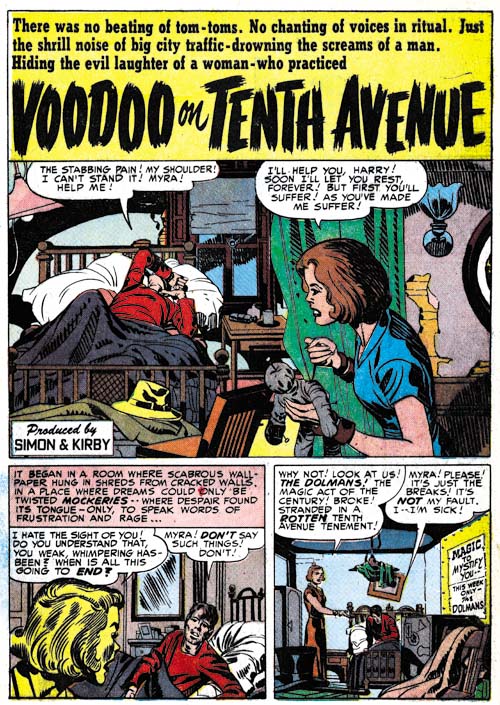 Black Magic #4 (April 1951) "Voodoo on Tenth Avenue", art by Jack Kirby
Kirby has scaled back on his splash for his only large piece for Black Magic. Still even with half a page Jack could get a lot of impact. It is amazing how Kirby has managed to make the woman both beautiful and evil; no haggard witch here is just a cold and angry heart. What a text book example of the use of abstract arch shadows (see my Inking Glossary). I count 6 of them in this small splash.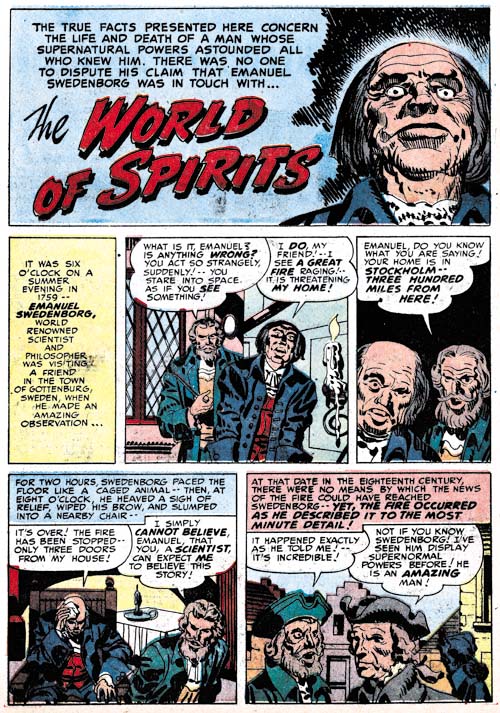 Black Magic #5 (June 1951) "The World of Spirits", art by Jack Kirby
While Kirby's other contribution to Black Magic #4 to #6 were very short pieces one of them, "The World of Spirits" is not to be neglected. It is a small masterpiece. It is one of those cases where Jack, so famous for his action, has managed to make exciting art out of nothing more then talking heads. Part of what makes a page like the one shown above so vital is how Kirby changes the expressions in every panel. Since the characters are all past their youth Jack can push his already exaggerated eyebrows to much advantage. The inking is also superb. I am not one to automatically attribute good inking jobs to Kirby but the way the spotting is done on the white shirt in the splash and the use of bold cloth folds make me believe that at least much of the spotting was done by Jack himself. A lot of the times these very short pieces just did not seem to get the same attention from the various studio artists as they gave to the more substantial stories. But not Kirby; some of his greatest masterpieces are short stories such as this one.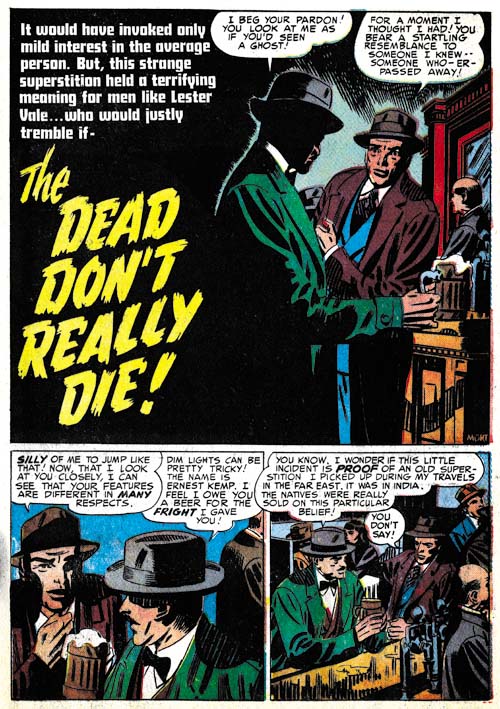 Black Magic #4 (April 1951) "The Dead Don't Really Die", art by Mort Meskin
I am afraid I am giving short shift to Mort Meskin by only including one example despite the fact that he produced far more work then any other artist. This certainly does not reflect on the quality of the work that Mort was producing; Meskin's Black Magic work is among the best that he ever did. I admit that Mort did some great work for DC after leaving the Simon and Kirby studio but that unfortunately was done under the severely detrimental effects of Comic Code censoring.
I have selected this particular splash page because of its unusual design. Not that the half page splash is so visually different but the fact that the splash panel is actually the first story panel. Typically splash panels are used as the comic book equivalent of a movie trailer; they provide a sort of a synopsis of the story to entice the reader. I do not remember a story splash panel being used in any prior Simon and Kirby production. The use of this device in "The Dead Don't Really Die" is still pretty much an isolated case but it would become very typical of Simon and Kirby romance comics in the future.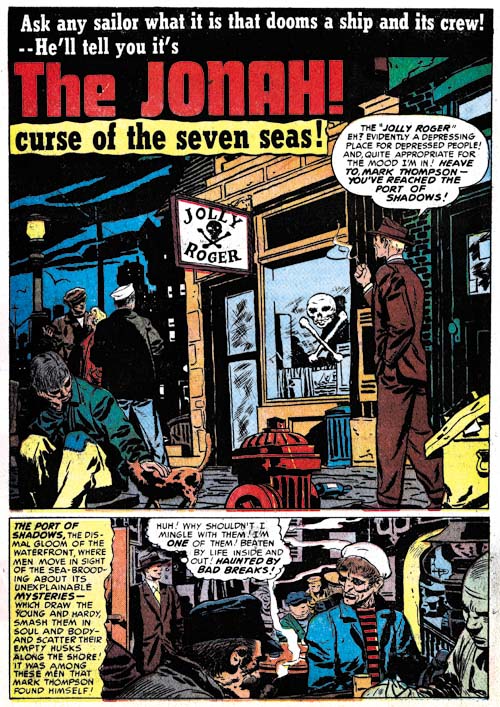 Black Magic #4 (April 1951) "The Jonah", art by Bill Draut
Black Magic seems to have given Bill Draut the confidence to draw the type of characters that had all but disappeared from his romance work. You normally would not see something like the sailor with the white hat in Bill's love stories at this time. The splash panel is also something not to be seen in a romance work. How seedy can you get? Beat up trash cans, littered bottles and yeah I am sure that man in the background is just asking directions from the woman. Note the building on our right; the way the bricks are roughly inked as solid black is a mannerism often used by Draut.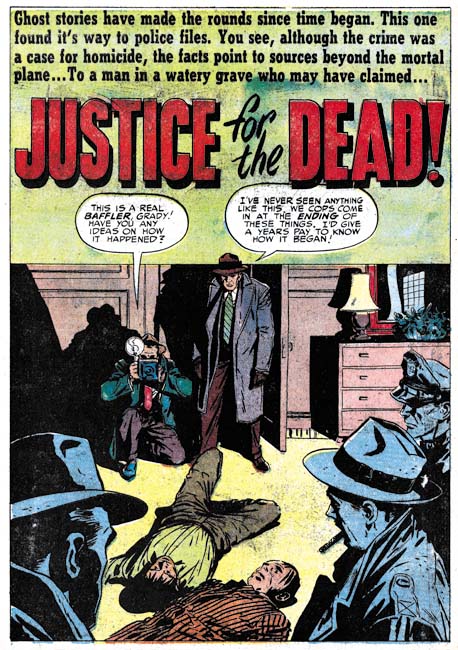 Black Magic #5 (June 1951) "Justice for the Dead", art by John Prentice
I am not sure why but John Prentice did not seem to do as much work for Black Magic as compared to what he did for the romance titles. It certainly is not because he did a poor job on them; quite the contrary. "Justice for the Dead" is a typical Black Magic piece but with a crime slant that shows that John would have made a great crime comic book artist. He had previously worked for Hillman so perhaps he had done some drawing in that genre there. The GCD lists Prentice as also having worked in Gang Busters and Mr. District Attorney for DC but I have not yet verified that. Years later John would do some work for Simon and Kirby's Police Trap and later yet take over the syndication detective strip Rip Kirby. My knowledge of John Prentice work outside of the Simon and Kirby studio is sadly incomplete but I am working on rectifying that defect.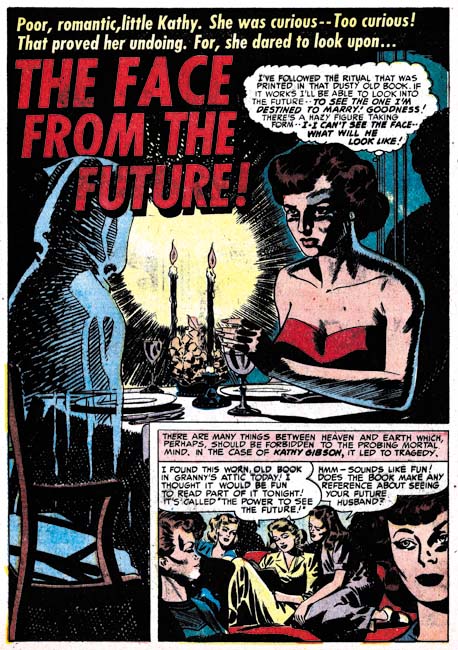 Black Magic #5 (June 1951) "The Face from The Future", art by George Roussos
BM #3 (February) marked the earliest appearance of pencils by George Roussos in a Simon and Kirby production. Despite having two stories in that BM #5 and one in the next issue, it is odd that Roussos has not yet appeared in either Young Romance or Young Love. Since George did a lot of inking and was well known to Joe and Jack there is the possibility that he has help with inking Kirby's work prior to this but I have seen nothing that confirms that conjecture. That Simon and Kirby both knew Roussos is indicated by a sketches both did for him in 1942 (Joe did Hitler in a zoot suite (Poking Fun at Hitler) and Jack did the Boy Commands (A Belated Happy Birthday to Jack Kirby). George also knew Mort Meskin and had inked some of Mort's work for DC (Early Mort Meskin).
As often happens in Simon and Kirby productions, George Roussos' splash for "The Face from the Future" uses some inking technique that seemed borrowed from the Studio Style inking. In this case we find picket fence crosshatching (Inking Glossary) on the hooded figure and a rounded shadow in the upper right corner. However it is clearly Roussos doing the inking and not Joe or Jack touching it up. While there is classical picket fence crosshatching on the right ghostly figure it changes as it proceeds to the left and becomes an inking technique not found in the Studio Style. There the shadow is built with short strokes that initially look like the pickets from the picket fence crosshatching but without the rails. The rounded shadow in the upper corner has a ragged edge that again is not typical of the way it usually is done in the Studio Style.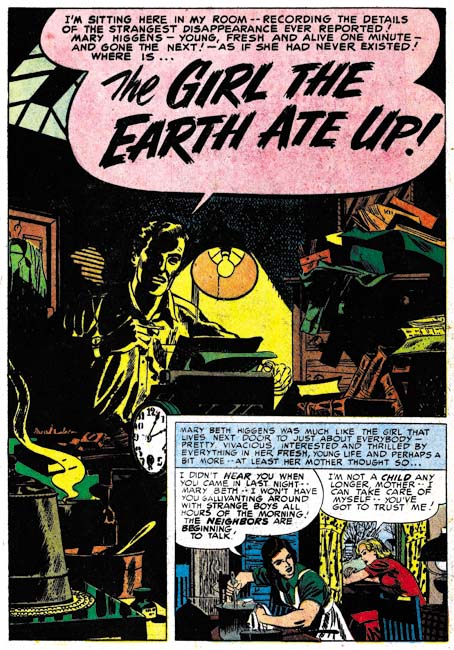 Black Magic #6 (August 1951) "The Girl the Earth Ate Up", art by George Roussos
George does such a great job on the splash for "The Girl the Earth Ate Up" I could not resist including it. Do not get me wrong Roussos pencils and inking are on the crude side but his use of blacks makes it really work.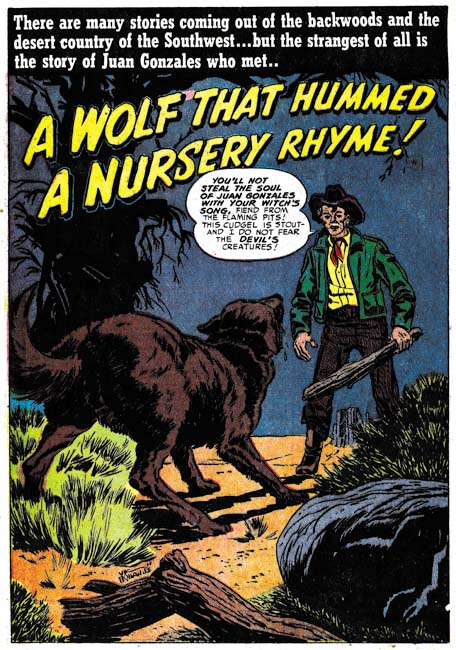 Black Magic #6 (August 1951) "A Wolf That Hummed a Nursery Rhyme", art by Vic Donahue
Vic Donahue has not been appearing in Simon and Kirby productions for a while and this is the only work that I have assigned to him for 1951. It is an odd story and it allows Vic to draw the type of characters that would not have been appropriate for romance work. Even so I just cannot get enthusiastic about Donahue's effort. Vic was one of the lesser talents in the Simon and Kirby studio and now that all three of the usual suspects (Bill Draut, Mort Meskin and John Prentice) are present Donahue will rarely appear again if at all (my database has no more entries for him after this one).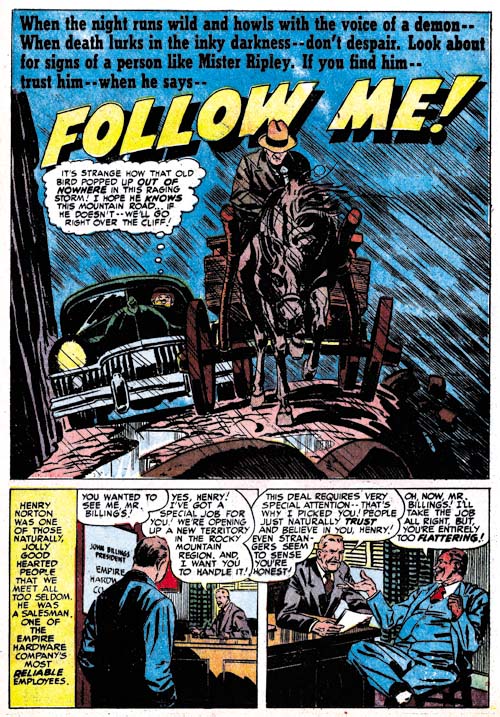 Black Magic #5 (June 1951) "Follow Me", art by unidentified artist
There is one Black Magic artist from this period that I have not been able to identify but he does a nice job on "Follow Me". Good characterization, excellent inking and good graphic story telling.
The Little Shop of Horrors, Chapter 1 (#1 – 3), Expanding Their Fields
The Little Shop of Horrors, Chapter 3 (#7 – 8), The Same Old Gang
The Little Shop of Horrors, Chapter 4 (#9 – 11), Another Hit
The Little Shop of Horrors, Chapter 5 (#12 – 14), New Faces
The Little Shop of Horrors, Chapter 6 (#15 – 17), Mix Bag
The Little Shop of Horrors, Chapter 7 (#18 – 20), Kirby Returns
The Little Shop of Horrors, Chapter 8 (#21 – 23), The Gang's All Here
The Little Shop of Horrors, Chapter 9 (#24 – 26), The Party's Ovetr
The Little Shop of Horrors, Chapter 10 (#27 – 29), A Special Visitor
The Little Shop of Horrors, Chapter 11 (#30 – 33), The End