(January – June 1958: Young Romance #92 – #94, All For Love #6 – #8, Personal Love #3 – #5)
I was mistaken when in my last chapter I wrote that the postal statement for All For Love listed Joe Genalo as the editor. That was true for all such statements except the first which listed Joe Simon and Jack Kirby as the editors. Where Simon and Kirby really the editors or was this just an error caused by cutting and pasting from a statement in Young Romance to the one for All For Love? I believe it was just an error because in this chapter as in the last one, different artists appeared in the different publications. Jack Kirby and Bill Benulis only appeared in Young Romance while Ted Galindo only appeared in All For Love and Personal Love. Marvin Stein appeared to be the only artist appearing in both Young Romance and All For Love, although oddly not in Personal Love.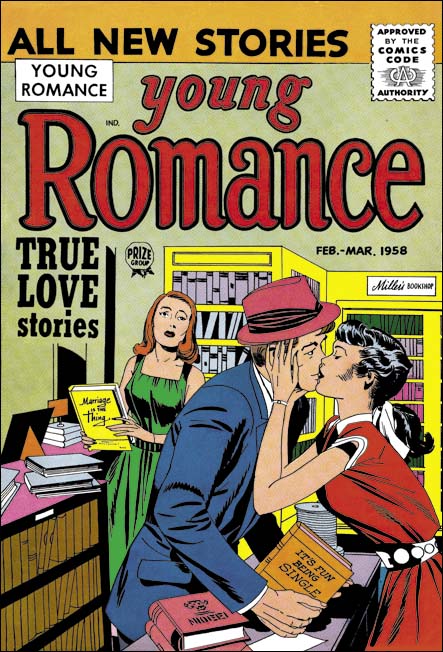 Young Romance #92 (February 1958), pencils and inks by Jack Kirby
The cover for Young Romance #92 (February 1958) was the first one that Kirby did since his run of all-Kirby Prize romance issues of 1956. The preceding six covers done by other artists is a clear indication of the very different nature of Young Romance from 1957 on. Previously Kirby was the artist for all drawn covers except during the period when he and Joe were busy with Mainline Comics (there own publishing venture). This cover was inked by Kirby as well in the manner I call the Austere style (Jack Kirby's Austere Inking). Older techniques like picket fence crosshatching (Inking Glossary) are absent although drop strings continue to be used but in an overlapping manner. Inking is sparser giving the art a lighter look. When a black region is called for it is executed by flooding the area with ink. The Austere style appears to have been adopted as a means to speed the inking process but not by sacrificing the aesthetics of the final result.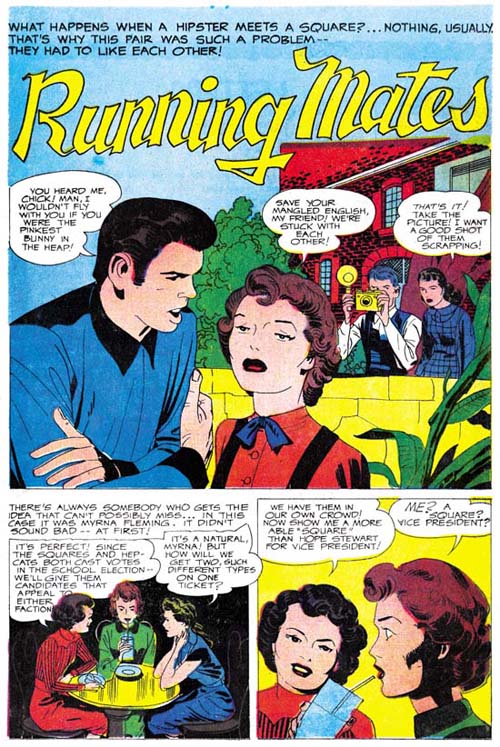 Young Romance #92 (February 1958) "Running Mates", pencils and inks by Jack Kirby
"Running Mates" marks the beginning of Kirby inking his stories as well. An inker working on his own pencils always has an advantage, but when the artists is as talented inker as Jack was the difference can be astonishing. Jack's drawing style has changed as well compared to his earlier work. His lines take on a more abstract quality. Look at the woman in the splash; particularly here nose and eyelids. This is far from realism but provides the figure with an expressive quality that realistic art generally fails to achieve.

Young Romance #93 (April 1958) "Jealousy", pencils by Jack Kirby, inks by Marvin Stein
Kirby would not inked all his pencils during the period covered by this chapter, or even most. There are a number of Kirby stories that seemed to be inked by the same artist but I am generally not willing to commit myself to say who that artist was. However I have little doubt when it comes to the inker of "Jealousy". Marvin Stein inks this piece in exactly the same manner that he would ink his own. When looking at the details it is easy to forget about Kirby's involvement because Stein's touch so permeates the piece. Only when one steps back to look at the forest instead of the trees does Jack's hand become obvious. It is in my opinion a beautiful combination. This is one of my favorite Kirby pieces inked by someone other than Jack himself.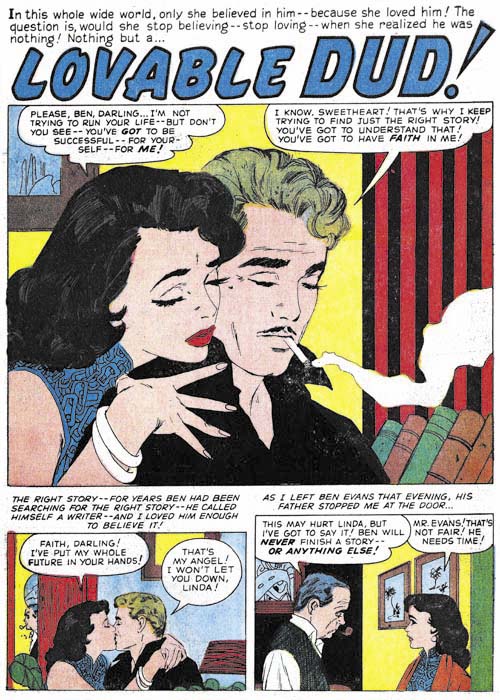 Young Romance #92 (February 1958) "Lovable Dud", pencils by Bill Benulis unidentified artist, inks by Vince Colletta
None of the stories from this period that I attribute to Bill Benulis are signed but the style does look like his. Benulis did some signed work for Simon and Kirby published in January 1954 (Young Brides #11 and Young Love #53) but I also credit to him an unsigned work from October 1955 (Young Love #67). Benulis is one of the younger artists who did romance in a more modern style and gave his characters more modern clothing and hair styles. Bill had a penchant for patterned clothing as for examples seen worn by the woman in the splash page above.
8/8/10 – Based on observations made by some commentors I went back and compared this and three other stories with "Live Alone And Love It" from Young Romance #91 (December 1957) a piece signed by Vince Colletta. All appeared to be inked by the same artist, Vince Colletta. I also compared these four stories with work from 1954 and 1955 that can confidently be credited to Bill Benulis. I no longer feel they all were done by the same penciller. I still feel that "Loveable Dud" and the other three stories were pencilled by a different artist than the Colletta signed piece. Therefore I have removed the Benulis attribution and left the penciller as unknown while crediting the inking for all to Vince Colletta.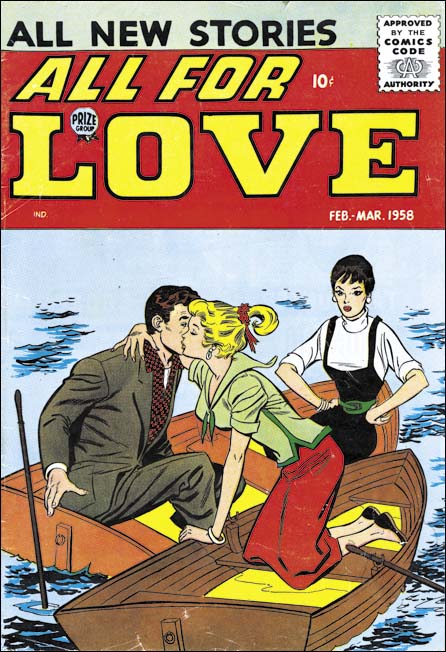 All For Love #6 (February 1958), pencils by Joe Orlando?
The cover for All For Love #6 is unsigned but appears to be by the same artist who initials J. O. appear on other All For Love, Personal Love and Justice Traps the Guilty covers. There have been some comments (both supportive and not) to the last chapter about my tentative suggestion that these covers may have been done by Joe Orlando. Frankly I have not real evidence to back up my suggestion. The artist is quite talented and he almost certainly has done work in comic books before. There really are not a lot of candidates from this period with these particular initials. None of the candidates seems more appropriate than Joe Orlando and so I am now questionably attributing this material to him. My practice in this blog is to use provide credit based on my own observations but this in no way should be interpreted as a disagreement with those who are more knowledgeable about certain artists than I am. Once I have had a chance to familiarize myself with the work Orlando did for other publishers, I am sure either the question mark will be removed or the attribution dropped.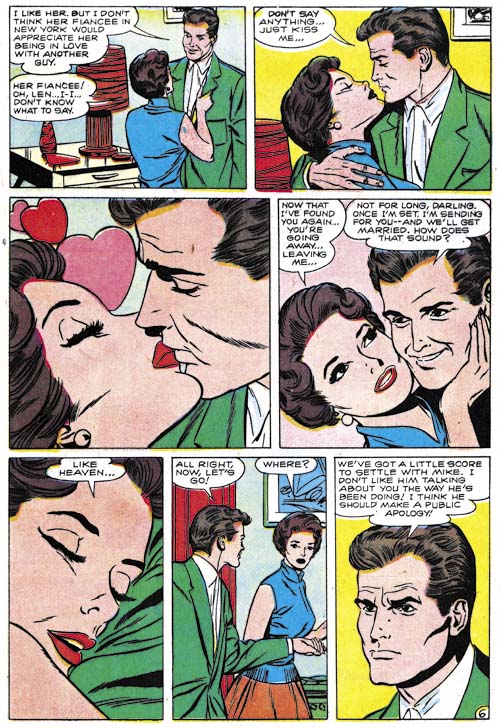 All For Love #6 (February 1958) "To Love is to Trust" page 6, pencils by Ted Galindo
Ted Galindo was perhaps the most used artist for All For Love and Personal Love during this period. He certainly is one of my favorites. The above page is a good example of why I like him. The floating hearts are, in my opinion, a little hokey (but very much in fashion for the period) but otherwise this is a well designed and executed sequence.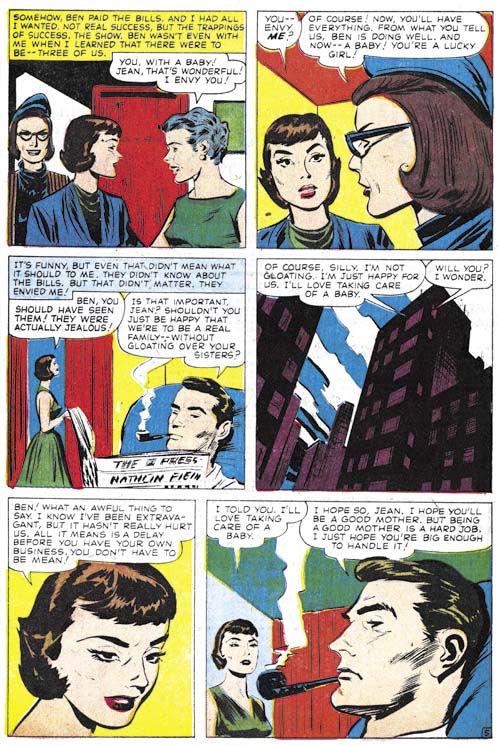 All For Love #7 (April 1958) "Love For Granted" page 5], pencils by Marvin Stein
As in the last chapter, Marvin Stein appears in Young Romance (produced by Simon and Kirby) and All For Love. In some ways this is the better romance work compared to what Stein had been doing earlier in his career. In general I feel that Marvin's style was more appropriate for the crime and western features he was doing for Prize. But now his woman are more lively and attractive. But I do feel Stein's art now looks a bit rushed.
Chapter 1, A New Genre (YR #1 – #4)
Chapter 2, Early Artists (YR #1 – #4)
Chapter 3, The Field No Longer Their's Alone (YR #5 – #8)
Chapter 4, An Explosion of Romance (YR #9 – #12, YL #1 – #4)
Chapter 5, New Talent (YR #9 – 12, YL #1 – #4)
Chapter 6, Love on the Range (RWR #1 – #7, WL #1 – #6)
Chapter 7, More Love on the Range (RWR #1 – #7, WL #1 – #6)
Chapter 8, Kirby on the Range? (RWR #1 – #7, WL #1 – #6)
Chapter 9, More Romance (YR #13 – #16, YL #5 – #6)
Chapter 10, The Peak of the Love Glut (YR #17 – #20, YL #7 – #8)
Chapter 11, After the Glut (YR #21 – #23, YL #9 – #10)
Chapter 12, A Smaller Studio (YR #24 – #26, YL #12 – #14)
Chapter 13, Romance Bottoms Out (YR #27 – #29, YL #15 – #17)
Chapter 14, The Third Suspect (YR #30 – #32, YL #18 – #20)
Chapter 15, The Action of Romance (YR #33 – #35, YL #21 – #23)
Chapter 16, Someone Old and Someone New (YR #36 – #38, YL #24 – #26)
Chapter 17, The Assistant (YR #39 – #41, YL #27 – #29)
Chapter 18, Meskin Takes Over (YR #42 – #44, YL #30 – #32)
Chapter 19, More Artists (YR #45 – #47, YL #33 – #35)
Chapter 20, Romance Still Matters (YR #48 – #50, YL #36 – #38, YB #1)
Chapter 21, Roussos Messes Up (YR #51 – #53, YL #39 – #41, YB #2 – 3)
Chapter 22, He's the Man (YR #54 – #56, YL #42 – #44, YB #4)
Chapter 23, New Ways of Doing Things (YR #57 – #59, YL #45 – #47, YB #5 – #6)
Chapter 24, A New Artist (YR #60 – #62, YL #48 – #50, YB #7 – #8)
Chapter 25, More New Faces (YR #63 – #65, YLe #51 – #53, YB #9 – #11)
Chapter 26, Goodbye Jack (YR #66 – #68, YL #54 – #56, YB #12 – #14)
Chapter 27, The Return of Mort (YR #69 – #71, YL #57 – #59, YB #15 – #17)
Chapter 28, A Glut of Artists (YR #72 – #74, YL #60 – #62, YB #18 & #19, IL #1 & #2)
Chapter 29, Trouble Begins (YR #75 – #77, YL #63 – #65, YB #20 – #22, IL #3 – #5)
Chapter 30, Transition (YR #78 – #80, YL #66 – #68, YBs #23 – #25, IL #6, ILY #7)
Chapter 30, Appendix (YB #23)
Chapter 31, Kirby, Kirby and More Kirby (YR #81 – #82, YL #69 – #70, YB #26 – #27)
Chapter 32, The Kirby Beat Goes On (YR #83 – #84, YL #71 – #72, YB #28 – #29)
Chapter 33, End of an Era (YR #85 – #87, YL #73, YB #30, AFL #1)
Chapter 34, A New Prize Title (YR #88 – #91, AFL #2 – #5, PL #1 – #2)
Chapter 35, Settling In ( YR #92 – #94, AFL #6 – #8, PL #3 – #5)
Appendix, J.O. Is Joe Orlando
Chapter 36, More Kirby (YR #95 – #97, AFL #9 – #11, PL #6 – #8)
Chapter 37, Some Surprises (YR #98 – #100, AFL #12 – #14, PL #9 – #11)
Chapter 38, All Things Must End (YR #101 – #103, AFL #15 – #17, PL #12 – #14)