(May 1953 – September 1953, Black Magic #24 – #26)
Simon and Kirby had been on a winning streak ever since they made their deal with Prize Comics in 1947. With the sole exception of Strange World of Your Dreams the titles that they did for Prize were all very successful. Every title except for the more recent Young Brides had gone from monthly to bimonthly; a sure sign that they were selling well. However now the reverse had happened; Black Magic returned to a bi-monthly schedule; an equally sure sign that sales had fallen. It had stayed a monthly for over a year and it would continue to be a bi-monthly for some time so Black Magic could hardly be called a failure. Because of the new schedule, I will be doing these chapters in six month increments. This chapter covers the same period as Chapter 23 and the yet to be written Chapter 24 of the Art of Romance.
As was the case with the romance titles during this period, the primary artist for Black Magic was Jack Kirby who at 42 pages did more then twice as much as any other artist. Surprisingly the second place artist was Al Eadeh (17 pages). This is surprising because Eadeh was the least used of the artists working on the romance titles. Bill Draut and George Roussos both did a single, six page story. An unidentified artist drew 5 single page features.
Mort Meskin is completely absent. Meskin's contribution to the romance titles had also dramatically declined at this time. Perhaps as a result Mort would start appearing in the titles by other publishers; Harvey (July), DC (August), Standard (August) and Marvel (September). Since Meskin would continue to provide work to Simon and Kirby I do not believe this was due to some sort of break between the parties. A better explanation may be that this was when Mort set up his own studio, perhaps in partnership with George Roussos. With Meskin no longer in the S&K studio, Kirby would pick up the work that did not get assigned to other artists.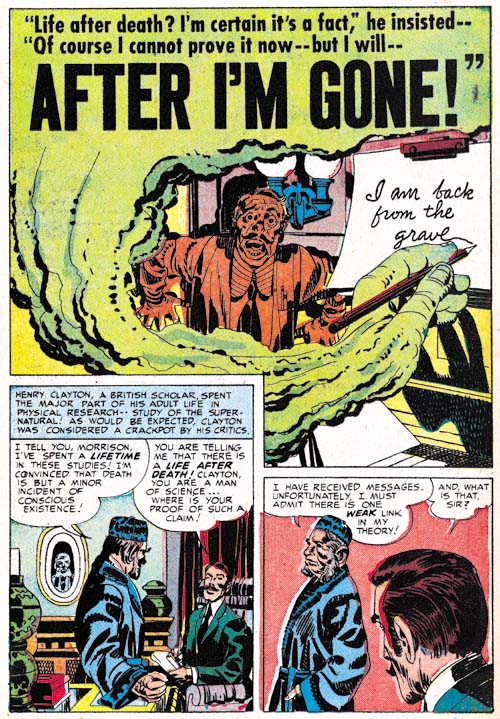 Black Magic #24 (May 1953), "After I'm Gone", art by Jack Kirby
Jack Kirby was not only producing in quantity but with quality as well. Unfortunately his splashes from this period are all half-page affairs but Kirby could still make great use of the limited space. Perhaps Jack's most important attribute when it came to the horror genre was not his ability to depict monsters and demons (although he was quite good at that) but instead it was his skill at depicting fear.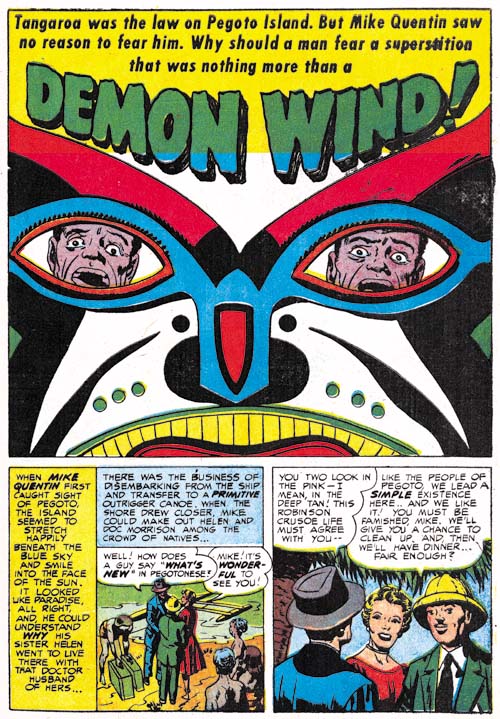 Black Magic #26 (September 1953), "Demon Wind", art by Jack Kirby
Sometimes things are perfectly understandable when graphically presented but actually illogical when rationally examined. Kirby's splash for "Demon Wind" obviously shows a native encountering someone or something wearing a frightening mask. Since the front of the mask is shown this is not a depiction as seen by the wearer of the mask. But then why would images of the victim appear in both eyes? They would not unless they were mirrors in the eyes in which case how could the wearer see anything? Logic may fail, but Kirby certainly has not; despite or perhaps because of its simplicity this is a great splash.
In the more recent period double images such as seen in the "Demon Wind" splash would be created by drawing one and making a stat or xerox from that to create the second version. However xeroxes had not been invented yet and apparently the Simon and Kirby studio did not include a stat camera. It therefore was quicker and more cost effective to just draw two images. Even a casual comparison shows that these are not truly identical images.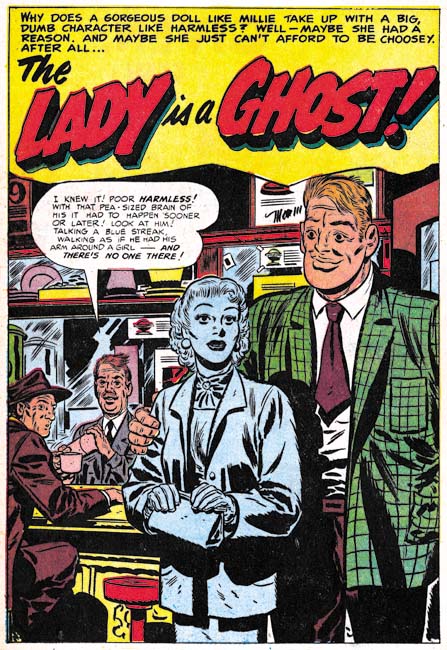 Black Magic #24 (May 1953), "The Lady Is a Ghost", art by Bill Draut
The only full page splash in these issues of Black Magic was by Bill Draut. The scene is very appropriate for the story but with a text change such a splash could just as easily been used in one of the romance comic books. This story was Bill's only contribution to Black Magic at this time. That Draut was so underused in Black Magic is not too surprising because at this time he was doing more then his usually amount of romance work.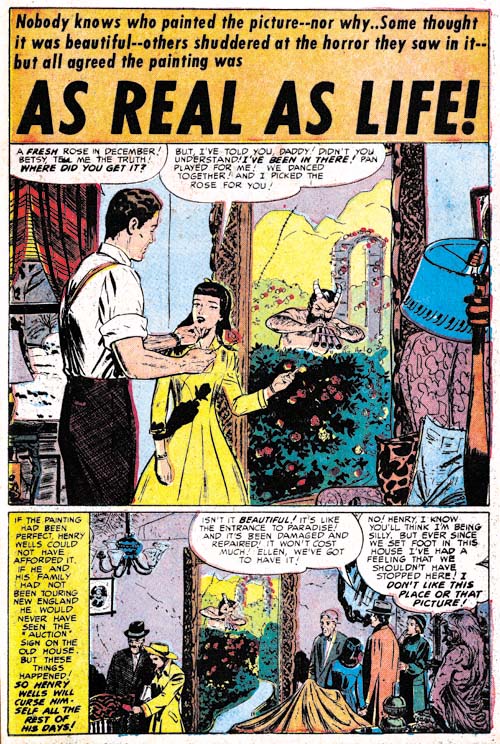 Black Magic #24 (May 1953), "As Real as Life", art by Al Eadeh
During this period Al Eadeh was not just working for Simon and Kirby but also Atlas. Unfortunately I do not have any examples of his Atlas work to show but you can find some in Atlas Tales. Although the work really does look like it was done by the same artist there was a difference in the style used for the two different companies. Work for Simon and Kirby was more realistic and perhaps a little drier while for Atlas Eadeh would use more exaggerated characters.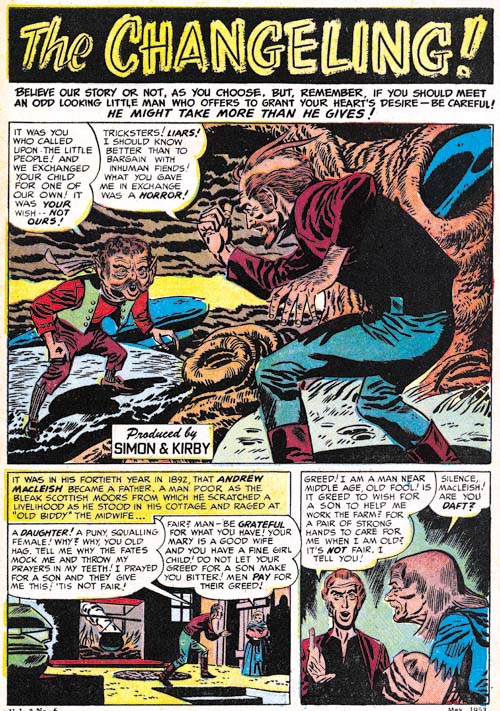 Black Magic #24 (May 1953), "The Changeling", art by George Roussos
My database indicates that this is the last piece that Roussos did for Simon and Kirby. However my recent reviews of these comics sometimes reveal attributions that I missed in the past. We shall see if he turns up in any future chapters.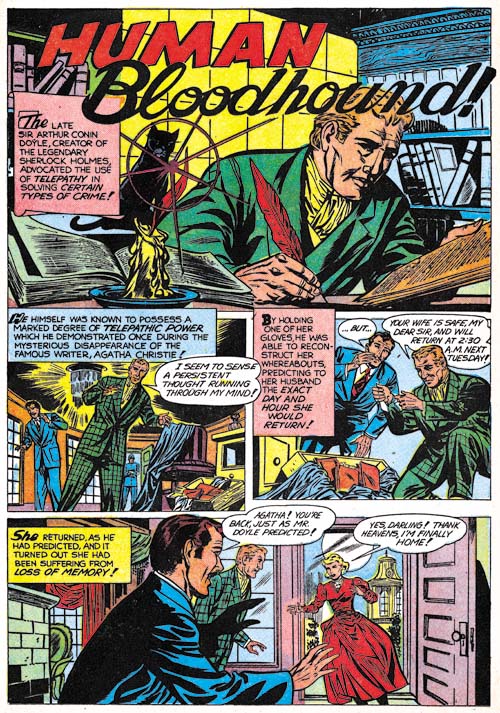 Black Magic #25 (July 1953), "Human Bloodhound", art by unidentified artist
Single page features had always been used in Black Magic but there seems to be an increase of their use in these particular issues. I cannot identify the artist but I have to say he really is not that good of one. While Jim Infantino was a studio assistant he did some single page pieces for the romance titles, so perhaps this artist was an assistant as well.
The Little Shop of Horrors, Chapter 1 (#1 – 3), Expanding Their Fields
The Little Shop of Horrors, Chapter 2 (#4 – 6), Up and Running
The Little Shop of Horrors, Chapter 3 (#7 – 8), The Same Old Gang
The Little Shop of Horrors, Chapter 4 (#9 – 11), Another Hit
The Little Shop of Horrors, Chapter 5 (#12 – 14), New Faces
The Little Shop of Horrors, Chapter 6 (#15 – 17), Mix Bag
The Little Shop of Horrors, Chapter 7 (#18 – 20), Kirby Returns
The Little Shop of Horrors, Chapter 8 (#21 – 23), The Gang's All Here
The Little Shop of Horrors, Chapter 10 (#27 – 29), A Special Visitor
The Little Shop of Horrors, Chapter 11 (#30 – 33), The End