(February 1951 – April 1951: Young Romance #30 – #32, Young Love #18 – #20)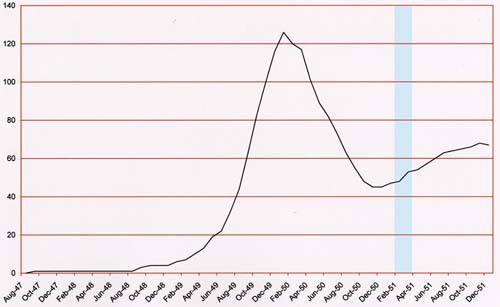 Number of Romance Titles 1947 – 1952 (the period covered in this chapter is shaded in blue)
Besides Young Romance and Young Love, Simon and Kirby were also producing Black Magic and Boys' Ranch during this period. Jack Kirby supplied some covers for Headline and Justice Traps the Guilty so it is possible that Joe and Jack still had something to do with the Prize crime titles as well. However Kirby, Draut and Starr, artists important to the other Simon and Kirby productions, did not appear in the crime titles. That plus the lack of a Simon and Kirby production cartouche seems to indicate that Headline and Justice Traps the Guilty were no longer produced by Joe and Jack. Romance comics in general were just starting to rebound from the relative low that followed the love glut. However with more then 45 titles, romance comics were still a lucrative part of the industry. Since both Young Romance and Young Love were both monthly titles it can be presumed that they were still selling quite well.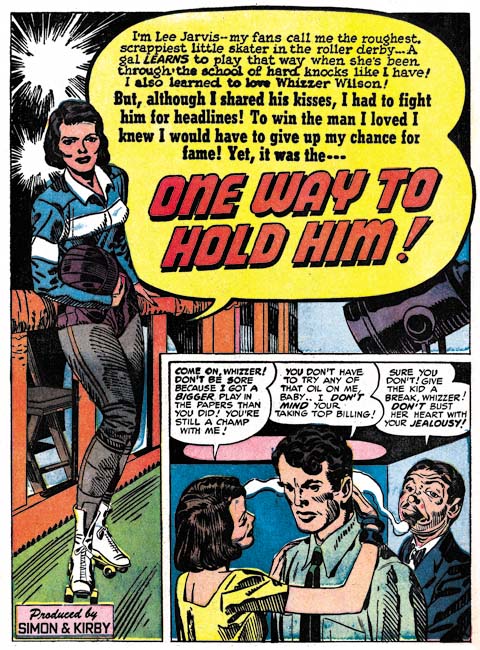 Young Romance #31 (March 1951) "One Way to Hold Him", art by Jack Kirby
Since Joe Simon did not do much penciling anymore, Jack Kirby was by one definition the primary artist for the studio. Jack would provide the cover art that was still appearing on Young Love (Young Romance had converted back to using photographic covers). The all important lead stories for Young Romance were all done by Kirby. At 12 to 14 pages long, Jack's lead stories for YR were longer then the work by any other studio artist (a maximum of 9 pages). But if the primary artist is considered the one producing the greatest number of pages of art, Kirby was no longer the primary romance artists. During this period Kirby produced 55 pages of romance art while Mort Meskin did 66 pages. Jack's work for Boys' Ranch #3 (February) meant that for February Jack produced the greatest number of pages in the studio for all genres but by April that was no longer true and Mort would take the lead.
About three and a half years since the start of Young Romance and Kirby is still finding ways to put special interest into his romance stories. Jack could write a story without action but he certainly like to add it when possible. Who else would use the rough and tumble roller derby world to tell a love story. I often wonder how the original teenage girl readers thought of Jack's stories but for the modern comic reader there is no question that Kirby's romance stories are fascinating reads.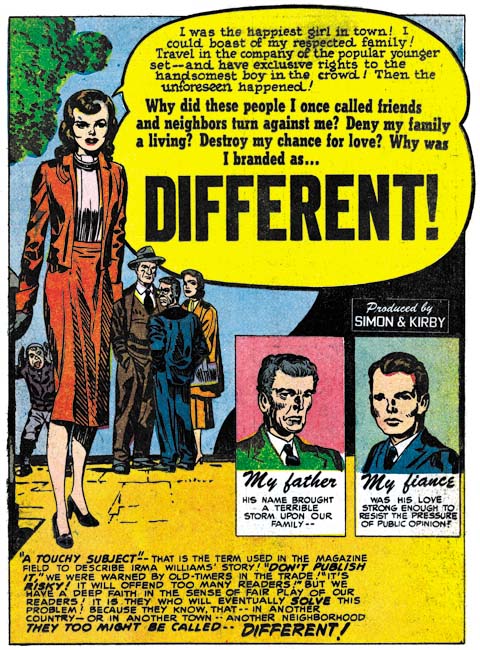 Young Romance #30 (February 1951) "Different", art by Jack Kirby
Jack Kirby was not averse to using a love story to tackle social themes as well. "Different" is not really about romance but about intolerance instead. Initially when the family moved into the neighborhood they were well received. Only after the visit of the grandparents reveals that the family's original name had been Wilheims did the community turn against them. Love is just a background to the story of initial acceptance followed by rejection based only on the towns prejudiced perception of the family's background.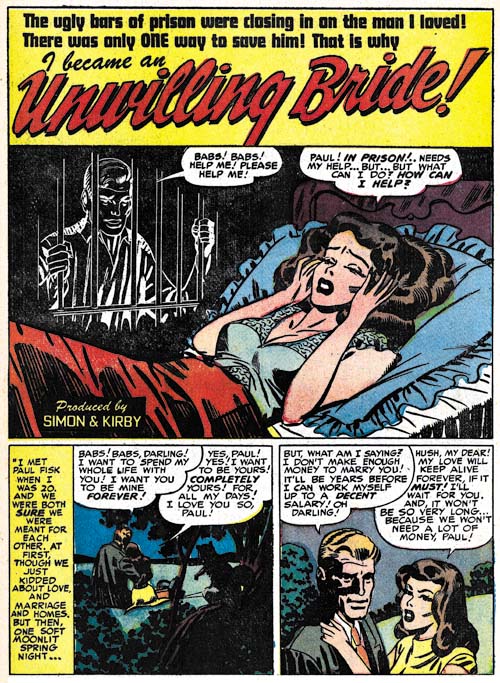 Young Love #18 (February 1951) "Unwilling Bride", art by Mort Meskin
As discussed above, it was during this period that for the first time Mort Meskin output exceeded Jack Kirby's. Meskin's art production rate is all the more remarkable considering that Mort did all his own inking while Jack's work was mostly inked by others. I wish the original art for the splash from "Unwilling Bride" was available as I would love to know how the negative figure of the jailed man was done. The spotting looks like it was brushed with white ink but I would think it would have been difficult to work white over a black background. Would Simon and Kirby have agreed to the extra expense to make a negative stat? However it was done it provides an effective way to put an image to the troubled girl's thoughts.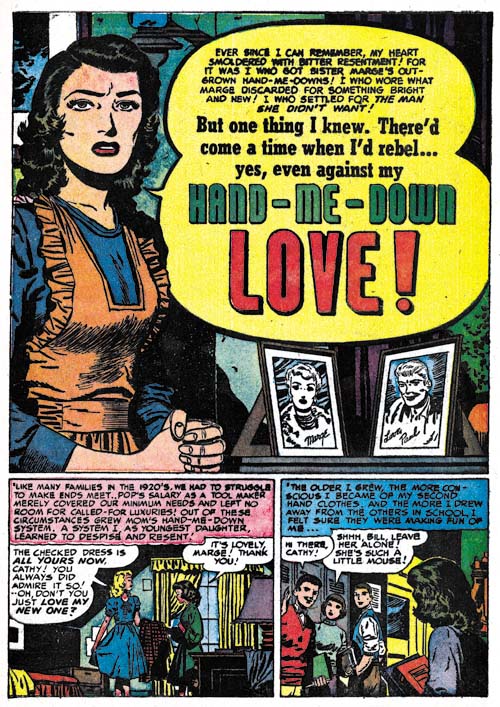 Young Romance #32 (April 1951) "Hand-Me-Down Love", art by Bill Draut
Once again Bill Draut takes third place in the amount of work provided; 6 stories with 45 pages.
Previously Bill Draut's splash art seemed to be in a bit of a rut; not bad but not particularly exciting. Perhaps because of his work in the new Black Magic title Draut seems to have his mojo working again. Whatever the reason Bill has some nice splashes during this period. "Hand-Me Down Love" is a confessional splash which makes me suspect that it was originally meant to be the lead story for Young Love but was moved to Young Romance instead. Since Kirby was doing all the lead stories in Young Romance Draut's work then became one of the backup stories. Like many of Kirby's romance splashes at the time there really is not much going on but what is presented tells a whole story. The woman's apron identifies her as a housewife. The drab background with a wall having small flaws indicates her humble surroundings. Two photographs should be her loved ones. The man obviously would be her husband but what can be made of the woman? While the splash tells a story it purposely leaves some things unanswered to entice the viewer to read the story.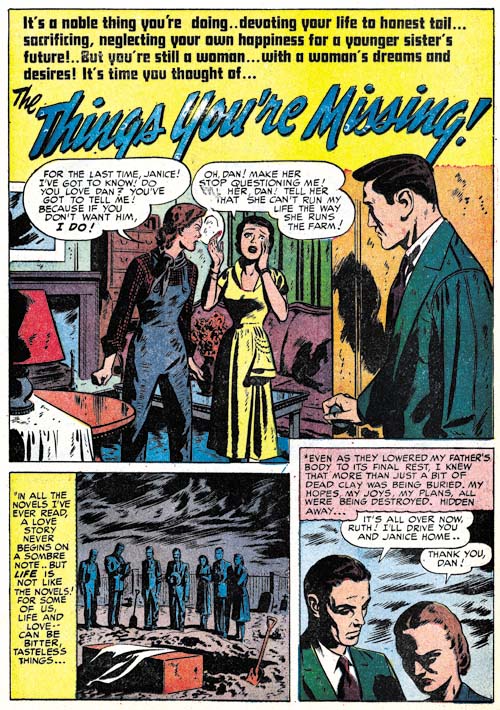 Young Romance #31 (March 1951) "The Things You're Missing", art by Marvin Stein
The fourth most used artist was Marvin Stein with 4 stories and 32 pages. Stein would produce some nice work for the crime titles in the future but at this point his style is a bit clumsy. Some of Marvin's characteristic traits can be found at this earlier stage, such as the shallow depth to the face of the man in the splash. When inking his own work Stein was always a bit rough but at this point his brush also lacks the assurance he would eventually gain. Without that confidence his inking just looks as clumsy as his pencil work.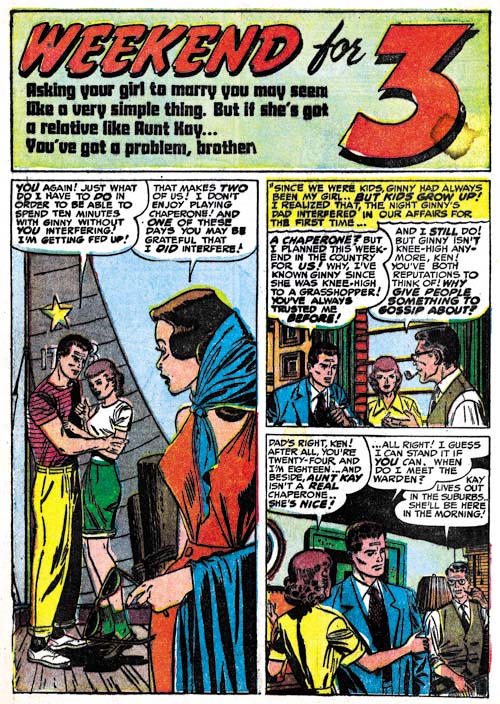 Young Romance #30 (February 1951) "Weekend For 3", art by Leonard Starr
For whatever reason, Leonard Starr only provided a single story in the period covered in the last chapter but now he does 3 stores with 22 pages. Starr seems to have completely abandoned the tall and very narrow panels that he had previously favored. Occasionally he would divide a panel row into three panels and even more rarely extend the height slightly but the panels never become as narrow as before. For the most part now Starr adhered to a standard panel layout of 3 rows with 2 panels per row. Leonard still likes to use a vertical splash as for example "Weekend For 3".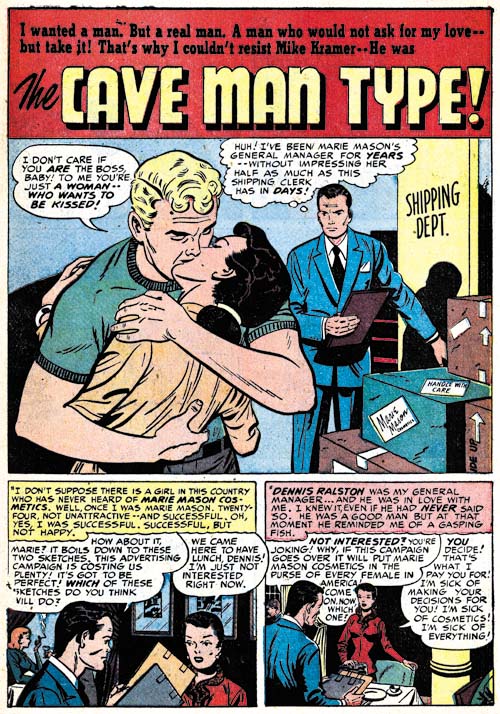 Young Love #18 (February 1951) "The Cave Man Type", art by Leonard Starr
It was not just Starr's panel layouts that were evolving. I mentioned in the Chapter 12 how Leonard had begun using a sultrier female along with the more pixie look his females previously had. In "The Cave Man Type" Starr uses what was for him a very different type of man.
My database indicates that February 1951 was when Starr would do his last work for Simon and Kirby until 1954 (and I have gone back to verify the attribution of the two 1954 pieces). But originally my database only included a single Starr work for February but with this recent review I now add two more. Considering that Starr stopped providing signatures on his later S&K work and that his style was changing I wonder if I will find more of his work when I write the next couple of chapters to this serial post?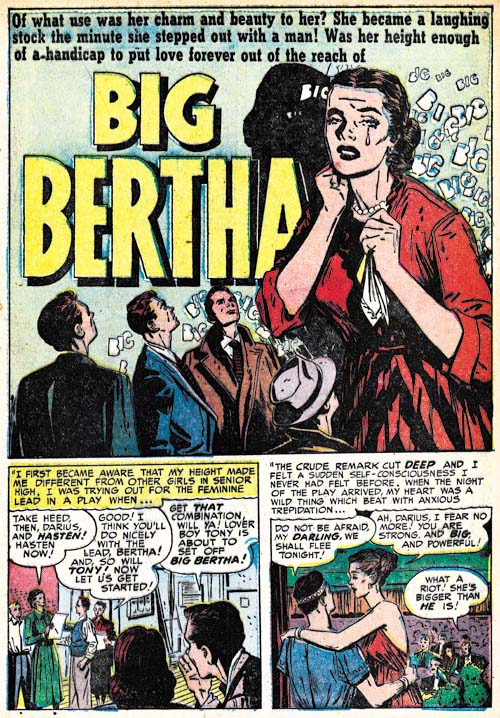 Young Love #20 (April 1951) "Big Bertha", art by John Prentice
"Big Bertha" from YL #20 marks the first appearance in a Simon and Kirby production of work by John Prentice. My previous short biography on John Prentice (John Prentice, Usual Suspect #3) is seriously flawed* and incomplete and I really should put together a better one. Prior to coming to work for Joe and Jack, Prentice had been working for Hillman and perhaps some other publishers as well. Prentice shared an apartment with Starr so perhaps Leonard aided John in getting work from Simon and Kirby. Most artists that worked for Simon and Kirby had adopted (directly or indirectly) aspects of Milt Caniff's style but John was greatly influenced by Alex Raymond. So much so that when Raymond died suddenly in 1956, Prentice was able to easily take over his syndication strip Rip Kirby. John's arrival in the S&K studio filled a significant gap created when Bruno Premiani left. Artists would come and go in Joe and Jack's studio, but the presences of Bill Draut, Mort Meskin, John Prentice, and of course Jack Kirby meant that all Simon and Kirby productions would have a healthy and interesting combination of artists.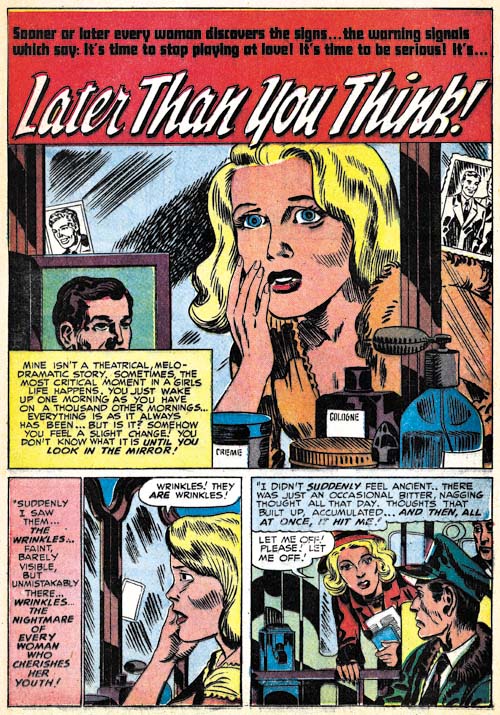 Young Love #19 (March 1951) "Later Then You Think", layout by Jack Kirby
I have been able to provide attributions for all of the romance work during the period covered by this chapter with the exception of "Later Then You Think". This looks like the work of some minor artist working from layouts provided by Jack Kirby. Normally when I describe a work as based on Kirby layouts I am uncomfortable using that term because it was obvious that what Jack had provided were very tight in some places. In this particular case that is not true; the artist style is present throughout and no parts have an overly Kirby look. The only exceptions are the photographs in the splash panel that totally look like they were done by Jack. Interestingly the entire story is inked in the Studio Style; shoulder blots, abstract shadow arches, and picket fence crosshatching are found throughout.
Footnotes:
* The most serious error in my previous post on John Prentice is my attributing to him "Two-Timer" from Young Love #4 a piece that I now questionably credit to Bruno Premiani.
Chapter 1, A New Genre (YR #1 – #4)
Chapter 2, Early Artists (YR #1 – #4)
Chapter 3, The Field No Longer Their's Alone (YR #5 – #8)
Chapter 4, An Explosion of Romance (YR #9 – #12, YL #1 – #4)
Chapter 5, New Talent (YR #9 – 12, YL #1 – #4)
Chapter 6, Love on the Range (RWR #1 – #7, WL #1 – #6)
Chapter 7, More Love on the Range (RWR #1 – #7, WL #1 – #6)
Chapter 8, Kirby on the Range? (RWR #1 – #7, WL #1 – #6)
Chapter 9, More Romance (YR #13 – #16, YL #5 – #6)
Chapter 10, The Peak of the Love Glut (YR #17 – #20, YL #7 – #8)
Chapter 11, After the Glut (YR #21 – #23, YL #9 – #10)
Chapter 12, A Smaller Studio (YR #24 – #26, YL #12 – #14)
Chapter 13, Romance Bottoms Out (YR #27 – #29, YL #15 – #17)
Chapter 14, The Third Suspect (YR #30 – #32, YL #18 – #20)
Chapter 15, The Action of Romance (YR #33 – #35, YL #21 – #23)
Chapter 16, Someone Old and Someone New (YR #36 – #38, YL #24 – #26)
Chapter 17, The Assistant (YR #39 – #41, YL #27 – #29)
Chapter 18, Meskin Takes Over (YR #42 – #44, YL #30 – #32)
Chapter 19, More Artists (YR #45 – #47, YL #33 – #35)
Chapter 20, Romance Still Matters (YR #48 – #50, YL #36 – #38, YB #1)
Chapter 21, Roussos Messes Up (YR #51 – #53, YL #39 – #41, YB #2 – 3)
Chapter 22, He's the Man (YR #54 – #56, YL #42 – #44, YB #4)
Chapter 23, New Ways of Doing Things (YR #57 – #59, YL #45 – #47, YB #5 – #6)
Chapter 24, A New Artist (YR #60 – #62, YL #48 – #50, YB #7 – #8)
Chapter 25, More New Faces (YR #63 – #65, YLe #51 – #53, YB #9 – #11)
Chapter 26, Goodbye Jack (YR #66 – #68, YL #54 – #56, YB #12 – #14)
Chapter 27, The Return of Mort (YR #69 – #71, YL #57 – #59, YB #15 – #17)
Chapter 28, A Glut of Artists (YR #72 – #74, YL #60 – #62, YB #18 & #19, IL #1 & #2)
Chapter 29, Trouble Begins (YR #75 – #77, YL #63 – #65, YB #20 – #22, IL #3 – #5)
Chapter 30, Transition (YR #78 – #80, YL #66 – #68, YBs #23 – #25, IL #6, ILY #7)
Chapter 30, Appendix (YB #23)
Chapter 31, Kirby, Kirby and More Kirby (YR #81 – #82, YL #69 – #70, YB #26 – #27)
Chapter 32, The Kirby Beat Goes On (YR #83 – #84, YL #71 – #72, YB #28 – #29)
Chapter 33, End of an Era (YR #85 – #87, YL #73, YB #30, AFL #1)
Chapter 34, A New Prize Title (YR #88 – #91, AFL #2 – #5, PL #1 – #2)
Chapter 35, Settling In ( YR #92 – #94, AFL #6 – #8, PL #3 – #5)
Appendix, J.O. Is Joe Orlando
Chapter 36, More Kirby (YR #95 – #97, AFL #9 – #11, PL #6 – #8)
Chapter 37, Some Surprises (YR #98 – #100, AFL #12 – #14, PL #9 – #11)
Chapter 38, All Things Must End (YR #101 – #103, AFL #15 – #17, PL #12 – #14)