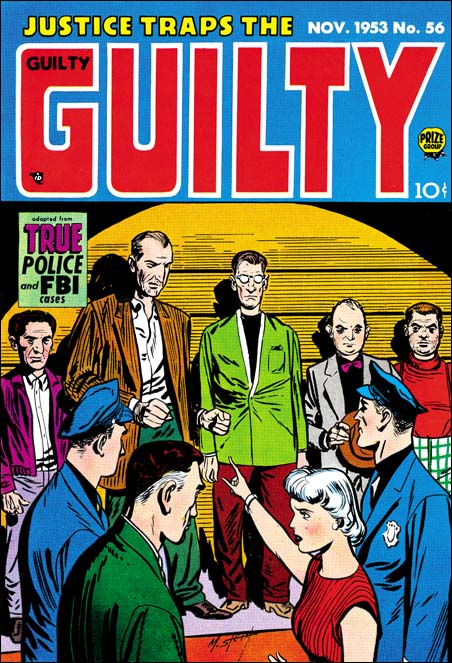 Justice Traps the Guilty #56 (November 1953), art by Marvin Stein
The cover for Justice Traps the Guilty #56 is probably Marvin Stein's most famous piece of comic book art. It has been reproduced in Joe Simon's book "The Comic Book Makers" and "The Art of Jack Kirby" by Ray Wyman, Jr. (in fact my restoration above was made using the same comic book found in the Wyman's book). The cover's fame rests not so much on its artistic value but on the people portrayed in the police lineup. Here as the suspects we find starting from our left Ben Oda (Simon and Kirby's letterer), Joe Simon, Joe Genalo (Prize editor), Mort Meskin and Jack Kirby. This was, of course, an inside joke because none of these individuals were actually criminals, nor were they likely to be recognized by the public. Most of the members of the lineup are people that have previously been discussed in this blog and should need no further introduction with the exception of Joe Genalo. Joe Genalo was working for Prize as an editor, not for Simon and Kirby. Annual postal statements may not be relied on completely but the one in Headline's March 1953 issue shows Joe Genalo as editor (unfortunately I do not have the equivalent one for Justice Traps the Guilty). Genalo is again listed as editor in the postal statements found in the March 1954 issues of both Headline and Justice Traps the Guilty. The identification of the person in the line up as Joe Genalo is based on Joe Simon in "The Comic Book Makers"; however there is a problem with this. In a photo taken of the Simon and Kirby studio, there is a person that Joe also has named as Joe Genalo. The presence of Jimmy Infantino in the photograph indicates that it was probably taken in 1951. The photo "Genalo" does not wear glasses and is much younger then the man on Marvin Stein's cover even though only a couple of years separate the two. It would be expected that the man portrayed by Stein would be someone important to Marvin's work and that certainly would suggest that it truly was Joe Genalo in the lineup. I therefore believe that Joe's photo identification is incorrect.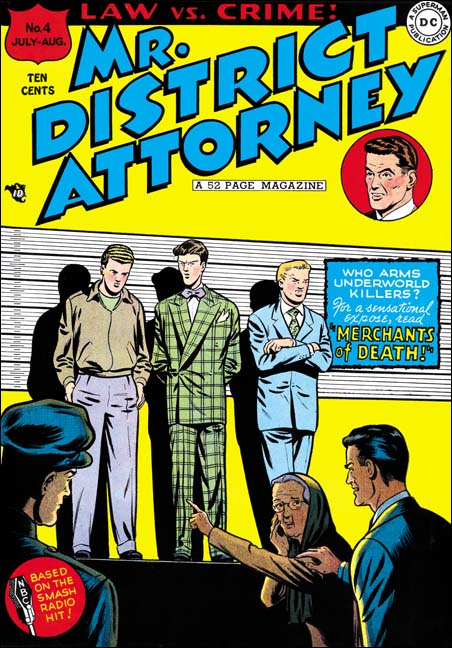 Mr. District Attorney #4 (July 1948), art by Win Mortimer
Stein's police lineup was not the only one to appear on the front of a comic book. The similarity between the covers for Justice Traps the Guilty #56 and Mr. District Attorney #4 are striking. Both show the police and a female in the foreground with the lineup in the background higher up on a stage. Further the female for both is on the right pointing out a suspect on the left. Examples like this one are generally referred to in comic book discussions as swipes. It is also examples like this that are the reason I so thoroughly hate that term. I use it only because it is so entrenched in discussions about comic book artists and their art. Among many comic book fans the term swipe is used as a condemnation. However deriving art based on some previous art is not something unique to comic books. The same thing is done in the fine arts without all the negative associations. No one accuses Michelangelo of swiping from Donatello. If the reader wants to think that Marvin Stein swiped his cover from Win Mortimer that is fine. Just note that although the idea may have originated with Mortimer, nothing in Stein's cover is a close copy of Mortimer's work. Kudos for Mortimer for coming up with the idea, but kudos for Stein for using it to make something of his own.
As far as I know Win Mortimer never worked for Simon and Kirby and therefore I am not too familiar with his work. In my opinion a good piece of cover art should tell a story and Mortimer certain does that with his cover. An elderly woman points out one of the boys in the lineup while she looks back fearfully to a man in a suit, presumable the District Attorney. Mr. DA rests his hand on her shoulder to provide reassurance. At first glance the boys in the lineup do not appear to be criminal types, everybody seems so clean cut. But that is deceptive because it is based on today's standards. The boy in the center of the line has a plaid suit with wide lapels and a lavender bow tie. At the time this was hardly considered conservative fashion and despite lacking baggy pants suggested the zoot suit. Zoot suits were infamous during the war and often identified in the minds of the public with Latino gangs. The boy on our right is more conservatively dressed but has a toothy squint that suggests he is not your normal teenager either. However even after a more extended examination, there seems little to suggest that the suspect on our left is not a clean cut American boy. The fact that his response to the lady's identification is to hang his head in shame supports that notion. The question is what crime could such a seemingly nice boy have committed that lead him to this lineup? Unfortunately this is one shortcoming to Mortimer's cover as no clue is provided as to his offense, nor is there an interior story to enlighten us. The cover is a little dry for my tastes but an excellent piece of comic book art nonetheless.
I frequently remark in this blog that one should not compare artists that worked for S&K to Jack Kirby. I do so not only as a warning to my readers, but as an admonition to myself. Kirby is such an outstanding talent that the shadow that he casts tends to obscure other artists. I guess that is what happened to me with Stein's JTTG #56 cover. Previously I found it interesting for the people portrayed but considered it as not having much artistic merit. Having compared it to Mr. District Attorney #4, I now realize it has much to commend it. We may know no more specifics about the crime then with Mortimer's cover, but no reason to question the woman's accusation. As depicted on the cover, Simon clenches his fists, turns to face the woman and sneers something (probably "why you little…). Nor are there any doubts as to the criminal nature of the rest of the lineup. Oda has the cold hard stare of a gunman, Genola's poorly fitting jacket makes him look like head of some small extortionist gang, Mort has the appearance of a bookie, and Jack, despite his size, could be a small time thug. Marvin Stein has also done a much better job of composing the image. In Mortimer's cover the foreground and background figures are only connected by the woman's gesture. However Stein raises the foreground figures up, added a figure, and arranges them in a 'U' shape. This all provides a strong visual link to the lineup. Another weakness on Mortimer's cover is how the woman's backward glance at the District Attorney directs our vision away from the image. Stein places the DA on the other side of the woman so that she now faces into the image; I find that a very satisfactory solution. Finally Stein uses a spotlight on the lineup which provides an arching shadow giving more focus to the image then Mortimer's more photographic like approach. I am sure Stein picked up this use of an arch from Jack Kirby who used arcs frequently. All in all Marvin Stein has provided an excellent reinterpretation of Mortimer's original concept.