(January – June 1959: Young Romance #98 – #100, All For Love #12 – #14, Personal Love #9 – #11)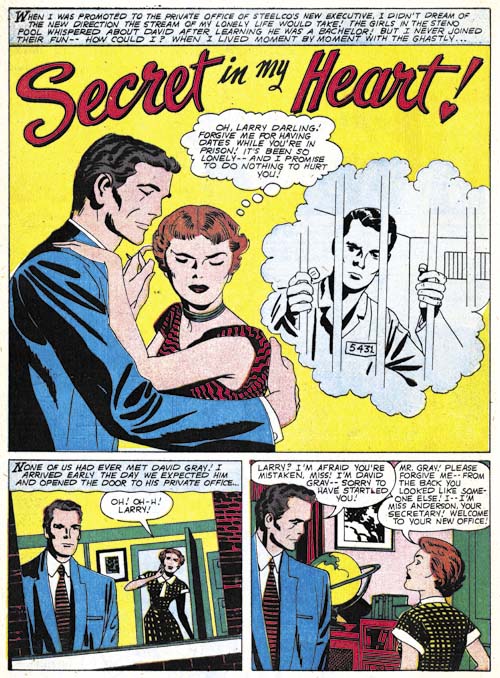 Young Romance #98 (February 1959) "Secret In My Heart", pencils and inks by Jack Kirby
Kirby provides four stories for two issues of Young Romance (YR #98 and #99). I believe Jack inked three of the stories himself as well as the splash page for the fourth story. It is hard to be sure because some of the old inking techniques such as arched shadows (Inking Glossary) do not show up often. Further the other inker, who I believe was Marvin Stein, was doing a pretty good job matching Kirby's work.
Note the tilted image in the first story panel. This is a bit unusual for Kirby but then again Jack was always trying something different.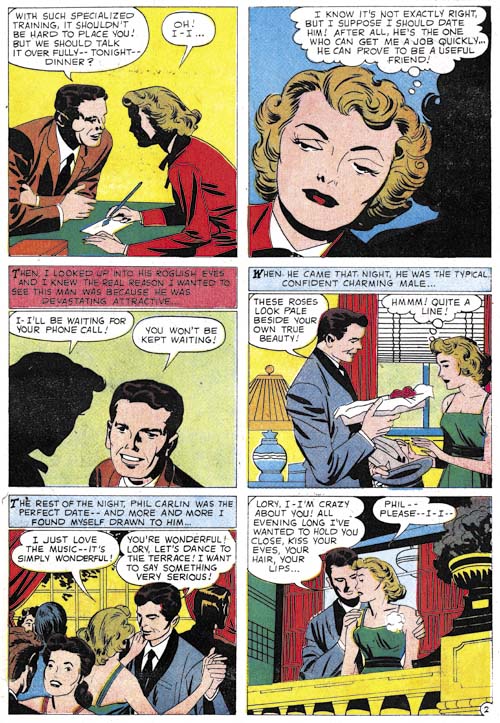 Young Romance #99 (April 1959) "Man Wanted" page 2, pencils and inks by Jack Kirby
Above is an example of the great graphical story telling Kirby was doing during this period. Jack's drawing style has taken on a more abstract quality. Note the eyelids of the woman in the second panel. They really are not natural or realistic but are very expressive nonetheless.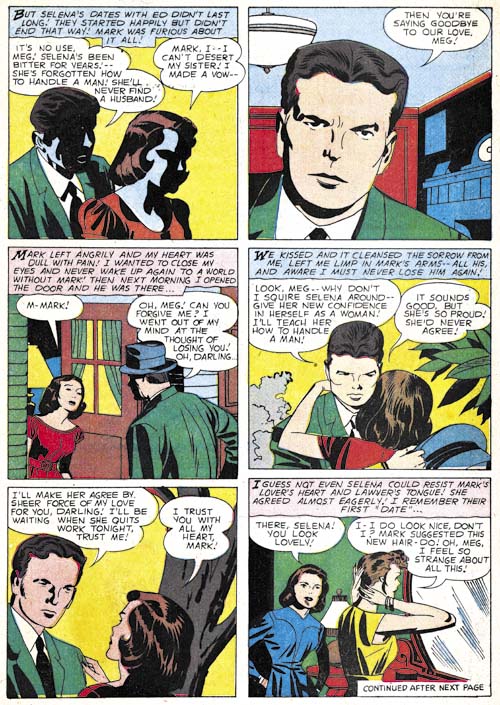 Young Romance #98 (February 1959) "A Husband for My Sister" page 3, pencils by Jack Kirby, inks by Marvin Stein
While I believe the splash page for "A Husband for My Sister" was inked by Kirby himself, the rest of the story does not look like his inking. Perhaps the most obvious difference is the shadow inking found in the first panel of page three. The inker obviously had a poor understanding of the shape of the head. Particularly grievous is the shadow around the eye of the woman. Nor would one expect the man's lips to catch the light as it does here. I have never seen Kirby do this sort of thing but I have seen Marvin Stein do similar unnatural handling of shadows ("Tragic Circle, JTTG #75, Criminal Artists, Marvin Stein).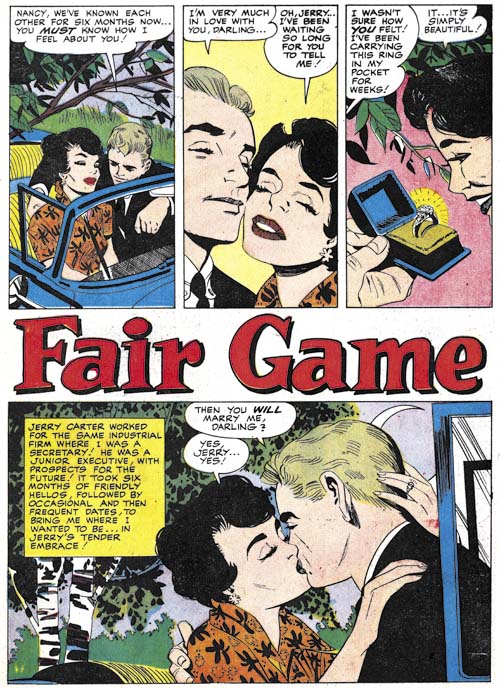 Young Romance #99 (April 1959) "Fair Game", art by Paul Reinman
Paul Reinman was used often during this period, providing five stories for Young Romance. His abundant appearance in Young Romance and absence from All For Love and Personal Love is another indication that they titles were produced by different editors.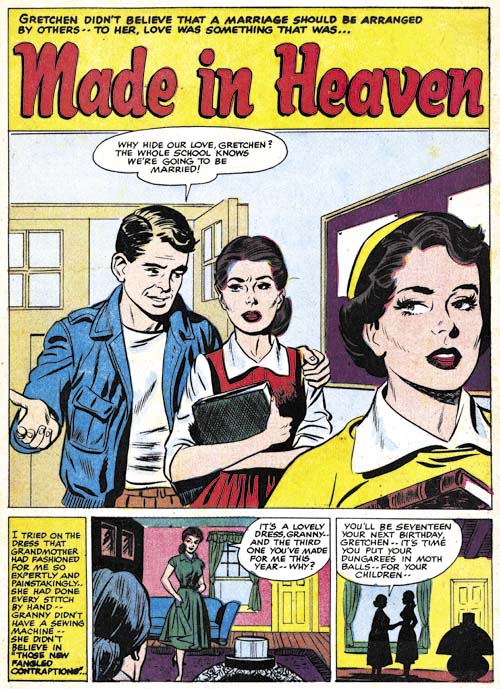 Young Romance #98 (February 1959) "Made in Heaven", art by John Prentice?
I am not sure what to make of "Made in Heaven". The art superficially resembles that by John Prentice but is no where nearly nicely drawn as was typical for John. At this time Prentice was primarily working on the syndication strip Rip Kirby but he may also have been doing some work for DC. Was this Prentice quickly dashing something off or was it some other artists copying John's style? Like I said, I am not sure but I will deffer my opinion until the next chapter when I will have further examples to examine.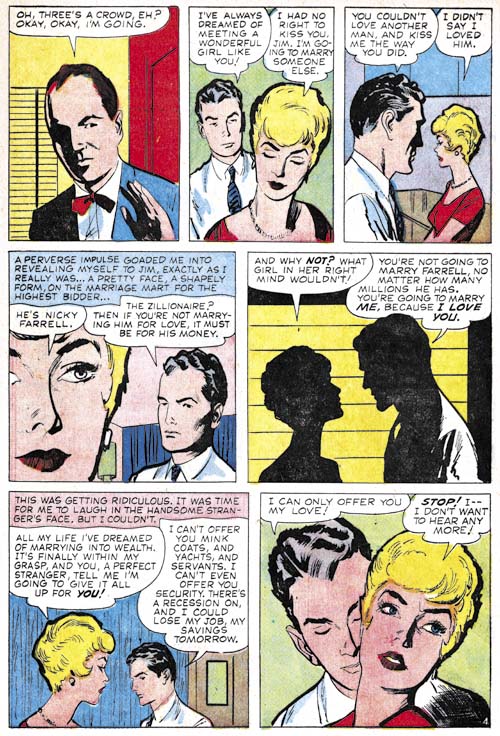 All For Love #14 (June 1959) "Lost Paradise" page 4, pencils and inks by Marvin Stein
Marvin Stein only did a single story during this period. Stein had begun working for Cellomatic in 1958 so presumably his comic book work was done during his spare time. Perhaps this explains his the increasingly looser style that Marvin was using. Still "Lost Paradise" is a graphically well told story.
In the previous chapter I mentioned an unidentified artist who, like Stein, used a rather blunt brush. I wrote that this unknown artist liked to provide very thick outlines in parts. Well it looks like Stein has adopted that style as well. I still believe they are different artists because of the very different manners they drew woman.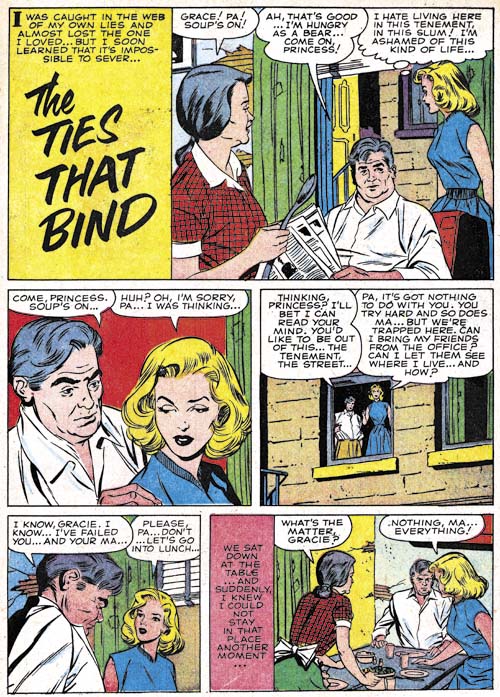 Personal Love #10 (March 1959) "The Ties That Bind", art by Ted Galindo
Ted Galindo's attractive work continues to show up frequently in All For Love and Personal Love. Would you call this a splashless story or one with just a reduced size splash? An unusual panel layout for Galindo or any other artist doing work for the Prize romance titles.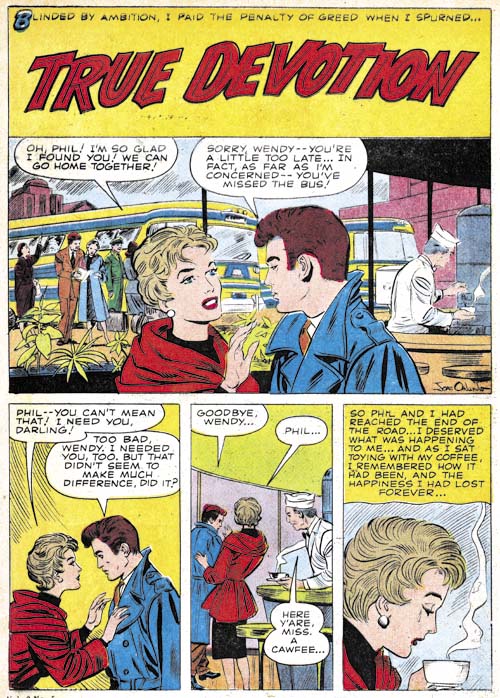 Personal Love #11 (May 1959) "True Devotion", art by Joe Orlando
I would have saved myself much effort had I noticed before the signature on the splash for "True Devotion". There as clear as day is Joe Orlando's full signature. Even the letters J and O are executed in the same manner that he used on cover art for All For Love, Personal Love and Justice Traps the Guilty. No question about it all that cover art was done by Joe. Orlando was no longer providing covers but he was now drawing full stories. Besides "True Devotion" there are two other unsigned stories from this period. Considering the quality of the covers Orlando did, it is not surprising how excellent the story art was.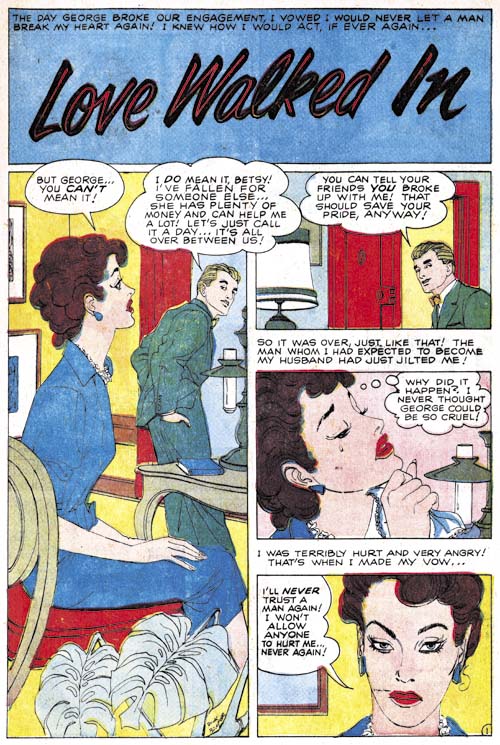 All For Love #14 (June 1959) "Love Walked In", art by Dick Briefer
Unlike Orlando's "True Devotion", I had previously seen the signature on "Love Walked In" but I had misread it. So I was rather surprised when I reviewed it for this post to find the correct reading was clearly Dick Briefer. What a pleasant but unexpected find. A fortunate one as well, I doubt I would have identified Briefer as the artist without the signature. I have never seen romance art by Dick before and he does it surprisingly well. Once you know it was done by Briefer you can pick out some of his traits, particularly Briefer's love of asymmetry. But the style on a whole is a lot more conservative and realistic than typical Briefer art especially compared to his Frankenstein.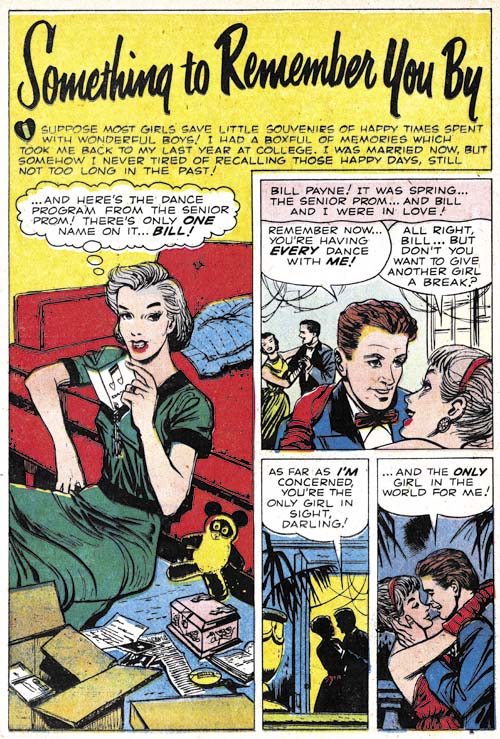 Personal Love #11 (May 1959) "Something To Remember You By" , art by Dick Briefer
Briefer also did two unsigned pieces during the period so I could not resist including another example. I really love what he does with these stories.
I thought Dick had pretty much given up work as a comic book artist after Prize's Frankenstein was cancelled in 1954 (a casualty of the Comic Code). The GCD only lists reprints for him after that date. "Who's Who" has him as a non-comics freelancer from 1956 to 1960, followed by advertisement art (1960 – 1972) and fine arts (1962 – 1972). But now we know he did not completely abandon comics.
Chapter 1, A New Genre (YR #1 – #4)
Chapter 2, Early Artists (YR #1 – #4)
Chapter 3, The Field No Longer Their's Alone (YR #5 – #8)
Chapter 4, An Explosion of Romance (YR #9 – #12, YL #1 – #4)
Chapter 5, New Talent (YR #9 – 12, YL #1 – #4)
Chapter 6, Love on the Range (RWR #1 – #7, WL #1 – #6)
Chapter 7, More Love on the Range (RWR #1 – #7, WL #1 – #6)
Chapter 8, Kirby on the Range? (RWR #1 – #7, WL #1 – #6)
Chapter 9, More Romance (YR #13 – #16, YL #5 – #6)
Chapter 10, The Peak of the Love Glut (YR #17 – #20, YL #7 – #8)
Chapter 11, After the Glut (YR #21 – #23, YL #9 – #10)
Chapter 12, A Smaller Studio (YR #24 – #26, YL #12 – #14)
Chapter 13, Romance Bottoms Out (YR #27 – #29, YL #15 – #17)
Chapter 14, The Third Suspect (YR #30 – #32, YL #18 – #20)
Chapter 15, The Action of Romance (YR #33 – #35, YL #21 – #23)
Chapter 16, Someone Old and Someone New (YR #36 – #38, YL #24 – #26)
Chapter 17, The Assistant (YR #39 – #41, YL #27 – #29)
Chapter 18, Meskin Takes Over (YR #42 – #44, YL #30 – #32)
Chapter 19, More Artists (YR #45 – #47, YL #33 – #35)
Chapter 20, Romance Still Matters (YR #48 – #50, YL #36 – #38, YB #1)
Chapter 21, Roussos Messes Up (YR #51 – #53, YL #39 – #41, YB #2 – 3)
Chapter 22, He's the Man (YR #54 – #56, YL #42 – #44, YB #4)
Chapter 23, New Ways of Doing Things (YR #57 – #59, YL #45 – #47, YB #5 – #6)
Chapter 24, A New Artist (YR #60 – #62, YL #48 – #50, YB #7 – #8)
Chapter 25, More New Faces (YR #63 – #65, YLe #51 – #53, YB #9 – #11)
Chapter 26, Goodbye Jack (YR #66 – #68, YL #54 – #56, YB #12 – #14)
Chapter 27, The Return of Mort (YR #69 – #71, YL #57 – #59, YB #15 – #17)
Chapter 28, A Glut of Artists (YR #72 – #74, YL #60 – #62, YB #18 & #19, IL #1 & #2)
Chapter 29, Trouble Begins (YR #75 – #77, YL #63 – #65, YB #20 – #22, IL #3 – #5)
Chapter 30, Transition (YR #78 – #80, YL #66 – #68, YBs #23 – #25, IL #6, ILY #7)
Chapter 30, Appendix (YB #23)
Chapter 31, Kirby, Kirby and More Kirby (YR #81 – #82, YL #69 – #70, YB #26 – #27)
Chapter 32, The Kirby Beat Goes On (YR #83 – #84, YL #71 – #72, YB #28 – #29)
Chapter 33, End of an Era (YR #85 – #87, YL #73, YB #30, AFL #1)
Chapter 34, A New Prize Title (YR #88 – #91, AFL #2 – #5, PL #1 – #2)
Chapter 35, Settling In ( YR #92 – #94, AFL #6 – #8, PL #3 – #5)
Appendix, J.O. Is Joe Orlando
Chapter 36, More Kirby (YR #95 – #97, AFL #9 – #11, PL #6 – #8)
Chapter 37, Some Surprises (YR #98 – #100, AFL #12 – #14, PL #9 – #11)
Chapter 38, All Things Must End (YR #101 – #103, AFL #15 – #17, PL #12 – #14)