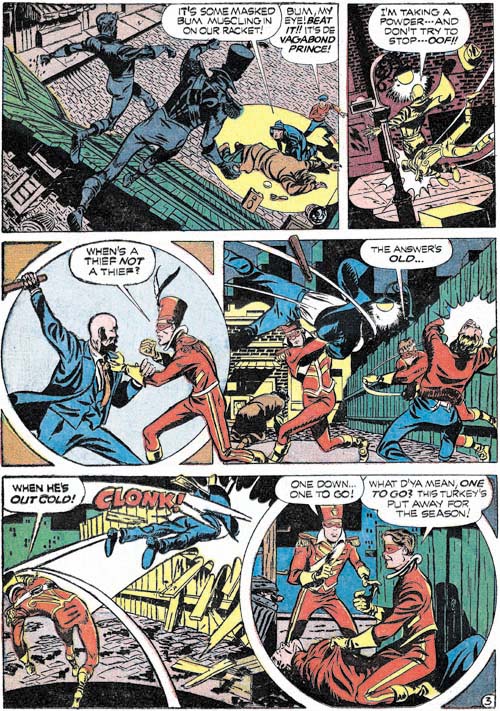 Black Cat #8 (November 1947) "The Madness of Doctor Altu" page 3, art by Joe Simon
As I mentioned in a previous Vagabond Prince post ("Trapped on Wax") the origin story was meant for Boy Explorers #2 issue but not published. Joe Simon drew two other Vagabond Prince stories. It may seem odd that Joe would produce stories that were not meant to be published for another four months (Boy Explorers was a bimonthly) but Joe was not the only artist doing that.
Jack Kirby drew three Stuntman stories that were never published. Each started with a double page splash. Such wide splashes were only used as the centerfold of the comic so this meant that Jack had drawn the stories for six months after what turned out to be the last Stuntman. Two of the splashes were completely inked while the spotting had not been finished on the third. The outlines of all three stories were inked but without any spotting. Because the inking was never finished none of these stories were ever published. Titan's upcoming Simon and Kirby Superheroes volume will publish one of them for the first time.
Bill Draut was another artist that produced stories ahead of publication. Draut drew four Red Demon stories none of which were published in either Stuntman or Boy Explorers. That has led me to believe that there might have been a third intended Simon and Kirby title that got cancelled before it was even launched (Bill Draut's Demon). The Red Demon was published later in Black Cat Comics but the fact that the origin story was the third published shows that the stories were inventory and not originally created for that title.
Harvey Comic's lack of concern with the original order of the inventoried stories shows up with Vagabond Prince as well. The second story, "The Madness of Doctor Altu" ended up being the last one published. It is clear that the Doctor Altu story was meant for Boy Explorers #3 because it was announced as such at the end of the "Trapped on Wax" story (which should have appeared in Boy Explorers #2).
Joe purposely adopted Jack Kirby's art style in the Vagabond Prince. None of them were signed, but if they had been I am sure it would have been with a Simon and Kirby signature. After all that is what Joe did for some Boy Commando stories that he did while in the Coast Guard and it is also what Jack did when he returned from military service before Joe did. Of course Joe could not perfectly adopt Jack's style; no one could handle perspective or a fight sequences quite like Kirby. Still "The Madness of Doctor Altu" has some superb art. Note the dramatic perspective Joe uses in the first panel from page 3. And while Simon may not been quite as good as Kirby, Joe still can provides some great fight scenes. One fight scene was even swiped by Jack Kirby many years later (Kirby Swipes from Simon) a rare instance of Jack swiping from another comic book artist.
It is not just the art that makes Vagabond Prince such a great feature, it is also the story. Joe's plot for the Doctor Altu story takes an unusual twist concerning the man saved by the heroes at the start of the story. I will forego being more explicit for fear of spoiling it for any my readers that have not yet read the story, but fear not it will also be included in Titan's upcoming Simon and Kirby Superheroes. Like "Trapped on Wax", this plot concerns the Vagabond Prince protection of the poor. It is an example of the cultural wars between the elite and the downtrodden, although appropriately exaggerated for use in a comic.
Doctor Altu is an example of a long haired villain by Simon and Kirby. I previously posted about another one, Professor Enric Zagnar from a Vision story (Featured Story, The Vision from Marvel Mystery #25). Marty Erhart commented about two others: the Fiddler from "Horror Plays the Scales" (The Wide Angle Scream, Captain America #7) and Mister Goodly the warden from Star Spangled #11 (The Beginnings of the Newsboy Legion). I wonder if the post-Beatle generations can truly appreciate the antagonism that most American's at that time felt about men with such hair. Calling someone a "long haired intellectual" was by no means a compliment.
Next week the final Vagabond Prince story, "Death-Trap De Luxe".