I have never particularly liked the way that Marvel does their reprint volumes. But even coverless copies of golden age Marvel Mystery Comics are now so expensive and rare that I am certain I will never have a complete run. So I have been buying some of Marvel's Golden Age Masterworks. I know I have to be careful in using them for study but still Marvel has done everyone a service in providing them. I recently picked up volume 7 of the Marvel Comics series which finishes Simon and Kirby's run of the Vision feature. Imagine my surprise when I looked at the contents page only to find that some of the Vision stories have been attributed to other artists! I pulled out my copy of Volume 6 and found that this practice had started in that volume. I decided I would write about why these attributions are so very, very wrong. I will only be discussing the pencils as inking attributions are difficult to determine and there is nothing like a consensus of that subject. But hey, if Marvel Masterworks cannot get correct pencil attributions for such a distinctive artist like Jack Kirby, what chance is there that it got the inking attributions right?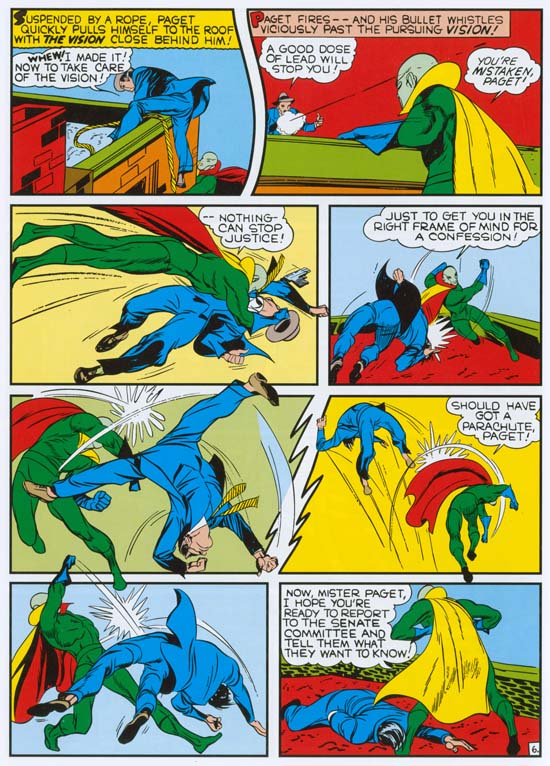 Marvel Mystery Comics #21 (July 1941) "The Vision" page 6, pencils by Jack Kirby, letters by Howard Ferguson (from Marvel Masterworks Marvel Comics volume 6)
The Masterworks only credit Kirby for the pencils of splash page, the rest of the story is attributed to Al Avison. Not the inks mind you, but the pencils. There is an asterisk on this attribution for a footnote that states:
It was not industry standard in the Golden Age of comics to provide detailed credits for each story. The credits in this volume represents the most accurate information available at the time of publication.
Really? I would have thought that the Jack Kirby Checklist (Gold Edition) would be the most accurate information available and it attributes this story to Jack Kirby. Now I admit there are occasions when I disagree with the JK Checklist (most often because sometimes it credits work to Jack that Joe Simon penciled, an artist who was very familiar with Jack's art and very good at mimicking him). However the Checklist is the best source for Kirby attributions and I always proceed cautiously when I disagree with it. Now in the case of these Marvel Masterwork credits it is important to remember we are discussing the pencils. Inkers often assert their own personal styles over another artists pencils. The art must be examined for features that would not be derived from the inker. For Jack Kirby two features that I often look for to spot his work is the presence and handling of exaggerated perspective and fist fights. Kirby was the master of these two art forms and no other artist every managed to do them quite like Jack. I am not saying that these are the only distinctive traits that can be used for spotting but that they so common that they often are all that is needed for attribution purposes. Both techniques are presented on page 7 of the Vision story from MM #21. Like many artists, Avison tried to copy Kirby's slugfest style but he never came close to what can be seen on this page. Particularly panel 5, it is hard to believe that anyone would fail to recognize Kirby's distinctive hand in that minor masterpiece.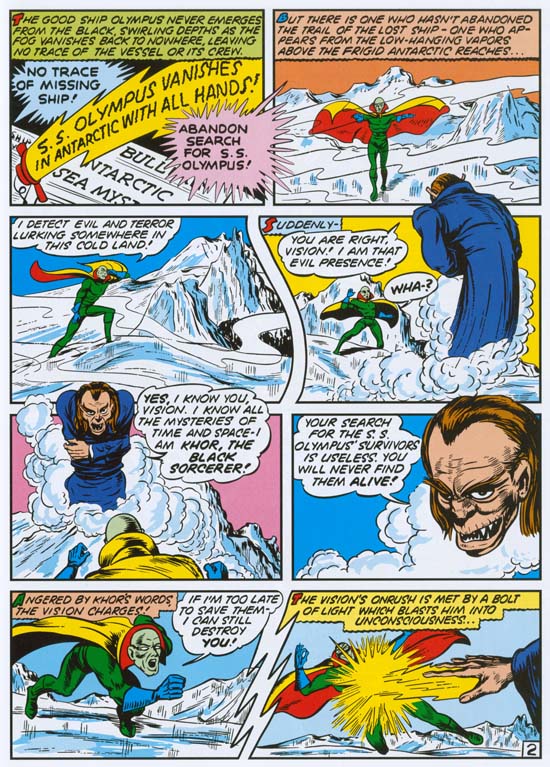 Marvel Mystery Comics #22 (August 1941) "The Vision" page 2, pencils by Jack Kirby, letters by Howard Ferguson (from Marvel Masterworks Marvel Comics volume 6)
Once again for the Vision story in Marvel Mystery Comics #22, Marvel Masterworks only credit the first page to Jack and the rest of the story as penciled by Al Avison. While the story includes some fist fights that look to me like they were done by Kirby they are not as convincing as those found in MM #21. But look at panel 7 of page 2 shown above. Kirby loved to show figure heading forward to the viewer and this panel is a great example of the exaggerated perspective that is required to accomplish that. In this case Kirby brings the torso lower than usual even for his work but he still convincingly pulls it off. I have never seen Al Avison effectively use such exaggerated perspective. I will be providing an example below of how Avison tries something similar but as we shall see it is easy to distinguish from Kirby's work.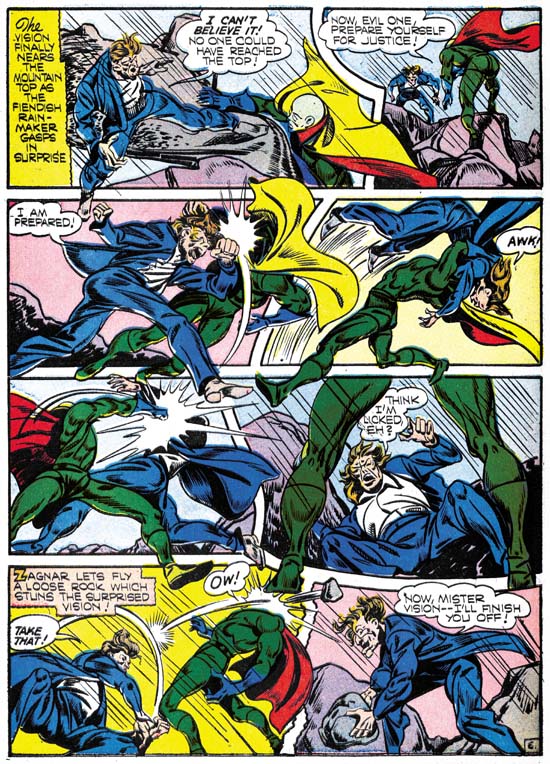 Marvel Mystery Comics #25 (November 1941) "The Vision" page 6, pencils by Jack Kirby, letters by Howard Ferguson (from the original comic book)
Marvel Masterworks correctly credits the pencils for the Visions stories from Marvel Mystery Comics issues #23 and #24 to Jack Kirby so they need not be discussed here. The credits for MM #25 are rather peculiar as Kirby is said to have done the title page and the layouts while the "art" was done by Al Avison, Ernie Hart and Mike Sedowsky. It is well known that Kirby did some layouts during the silver age but he has often been credited for doing layouts during the golden age for such artists as Mort Meskin, Bill Draut and John Prentice. Such claims are bogus in almost all cases as I have frequently shown in posts in this blog, particularly in my Art of Romance serial post. However there was some work from the Simon and Kirby studio that looks like Kirby provided layouts and there are some others that I struggle with whether they are examples of Kirby layouts or inking that overwhelmed Kirby's original pencils. During the silver age, Kirby's layout could get rather tight and detailed in some places. Much more than would be expected for something described as an layout. But this would be true only for certain sections while the layouts for the rest of the story seem to have been much looser. so one of the criteria that I use for recognizing Kirby layouts is to look for how consistent the entire story is. A story that looks consistent throughout is more likely to be the result of the work of an inker's heavy hand no mater how unusual it may look for a piece of Kirby art. Even so making these distinctions can sometimes be difficult but not so in the case of the Vision from MM #25. That story looks so like Kirby's style throughout the entire story that it is hard to understand why anyone would think it is just Jack's layouts.
It would not be legally right for me to provide the entire story so I will pick one of the more distinctive pages. This is another slugfest full with examples of exaggerated perspective. All done in so convincing a manner it is hard to believe any artist other than Kirby could have done it. The original pencils must have been so tight that no one should call it a layout. (It is pages like this that show what a master Kirby was at exciting action.) These are not Kirby layouts but true Kirby.
Note the way how some of the figures have their feet rotated somewhat so that the soles face the reader more than would strictly be expected. This is a typical Kirby trait. This is a style that could  be mimic by other artists. After all Simon adopted it as well even in work for the Coast Guard done while Kirby was serving in Europe. But still it would not be expected to show up in work done from layouts.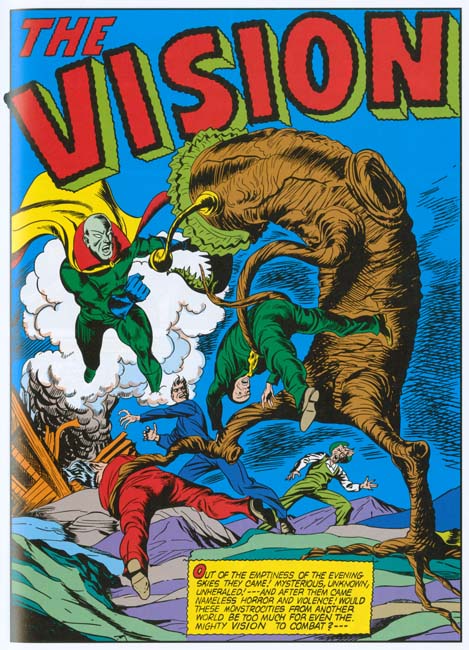 Marvel Mystery Comics #26 (December 1941) "The Vision", pencils by Jack Kirby, letters by Howard Ferguson (from Marvel Masterworks Marvel Comics volume 7)
Of all the incorrect attributions found in Marvel Masterworks, the Vision story for Marvel Mystery #26 is the one I understand the most. Not that I agree, but I do think I understand why they went so wrong. This is probable the most unsuccessful Vision story that Kirby ever drew and also one of the most poorly inked. But quality is a poor tool to use when trying to determine the correct attributions. Even the best artist has his bad days. Again it is best to turn to things like the handling of exaggerated perspective when deciding who actually penciled the art. The Masterwork credits Al Avison and Ernie Hart for all the pencils, including the splash page. Look at the figure of the Vision from the splash page. He advances toward the reader in a typical Kirby pose. The neck is hidden and the torso is squat due to the effects of the perspective. One leg retreats while the other is thrust forward as the Visions strides toward the viewer. I have never seen Avison do anything nearly as successful and I doubt anyone can find something that Hart did that looks like this either. While the quality of the art in this story is not Kirby's best, there are many other examples of exaggerated perspective that I do not think anybody but Kirby could have done.
This story is not without is problems. Look at the man with the blue suit in the splash. His upper body does not seem properly jointed to the lower portion. The tree monster's root that crosses in front of the figure seems to have confused the artist. A similar thing can be observed on the cover for Young Allies #2 (Winter 1942) a comic that appeared not very long after MM #26 (advertisements for it appear in MM #28). I am uncertain what to say about this. Is it a rare Kirby failure or an example of another artist's work? I tend to suspect the latter. I can easily see it as an later addition by another artist. If so it is not the only example of a Kirby splash modified during the Timely period (see Captain Daring from Daring Mystery #7 in Chapter 9 of Early Jack Kirby).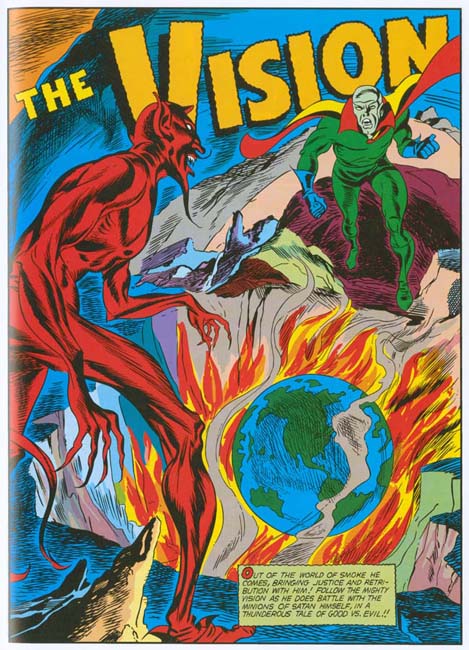 Marvel Mystery Comics #27 (January 1942) "The Vision", pencils by Jack Kirby, letters by Howard Ferguson (from Marvel Masterworks Marvel Comics volume 7)
This is the last Vision story that I would credit to Jack Kirby. In this I agree with the Jack Kirby Checklist but not the Marvel Masterworks which says this was penciled by Al Avison. I must say I am rather puzzled by this as it is one of the better Kirby Vision stories. The inking is not as nice as some of the early Visions stories where Kirby inked his own pencils but superior to most of the inking from towards the end of Simon and Kirby's stay at Timely. While I warn against using quality as a reference when deciding credits, I still would think that those responsible for the attribution in the Marvel Masterworks would have at least reconsidered when facing such superior work as this. Al Avison would do some great art after Simon and Kirby parted from Timely including the best golden age Captain America by an artist other than Joe and Jack. So good that some would claim Kirby provided layouts to him later in his career. That is another false claim (see Al Avison Did Not Need Any Help) but as good as Avison became his art never approached that shown in the Vision story for MM #27.
But there is no reason to depend on quality to decide who really provided the pencils for this story. Once again examining the exaggerated perspective and fist fights are sufficient. In the splash the Vision leans so far forward there is no sign of his neck while there is a very short distance from his arms to the top of his hips. His left leg advances toward the viewer will the right leg is trust backwards. This is the classical Kirby pose that Avison never truly used. similar expressive perspectives occur frequently elsewhere in the story as well as truly classic Kirby slugging.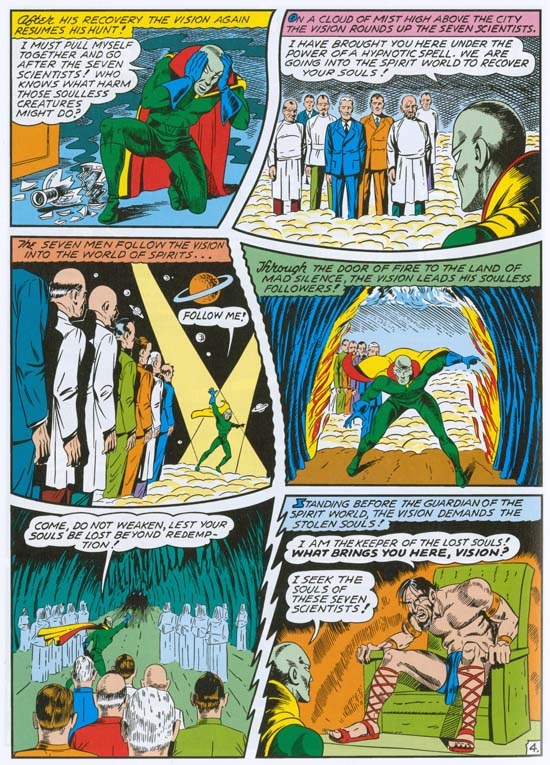 Marvel Mystery Comics #28 (February 1942) "The Vision" page 4, pencils by Al Avison (from Marvel Masterworks Marvel Comics volume 7)
The last Simon and Kirby Captain America comic had a January cover date, the same month as Marvel Mystery Comics #27. After which Al Avison took over the primary penciling of Captain America. So it is not surprising that the Vision story from Marvel Mystery #28 (February 1942) was also drawn by Avison, one of the few Vision attributions that I agree with the Masterworks. But it also serves as a comparison for all the Vision work drawn by Kirby that preceded it. The splash page shows the Vision advancing more to the side than toward the reader. While Kirby would sometimes does something similar it is not the classic Kirby pose that dominates the earlier Vision stories. The closest Avison comes in this story to that pose is found in panel 4 from page 4. Yes the neck is hidden and the torso shortened (although not that convincingly) but his left leg is only slightly advanced from the right. While the Kirby pose makes the figure look like he is rapidly advancing towards the reader in this one it looks like the Vision is taking a bow. And while in the future Avison would sometimes draw a rather good fist fight (although not nearly as good as Kirby's) there are no slugfests to be found in this story. Avison's Vision compare well with the Captain America stories he did but it remains in stark contrast to Visions stories that should correctly be credited to Kirby.
Except for the occasional signature, golden age comic books almost never provided credits. Attributions are therefore opinions, not facts, and people can be mistaken about their opinions. Even me, which is why in this blog I like to try to explain what the basis is for the credits I supply. But such an approach is not possible for reprint books like the Marvel Masterworks. Which is why it is unfortunate that they choose to provide credits anyway. There will now be many people who will treat the Masterworks credits in these two volumes as fact not opinions. The disclaimer applied to some of the attributions actually makes it worse because of the implication implied to those credits that are not so marked. That is they are so accurate that no disclaimer is needed but they are actually just as prone to error. Readers of the Masterworks volumes would be better served had Marvel avoided detailed crediting rather than depending on the opinions of a small group of people.