Police Trap #5 (July 1955) was the first issue published by Charlton. It appears to be composed largely of work that was already in the work at the time of the sudden failure of Simon and Kirby's own publishing company, Mainline. It would expected most of that work would be used up and Police Trap #6 would consists of newly created work. All of the work on issue #6 was drawn by Jack Kirby. Previously Kirby's involvement was largely limited to providing covers with the only Kirby story appearing in Police Trap #5. Jack's greater presence can be explained as a means of offsetting recent financial loses. The cost of creating the Mainline comics was covered by Simon and Kirby to be paid back by a share of the profits. However with the sudden demise of Leader News Joe and Jack would not get the money to recover their publication costs. Their incomes from Prize Comics were based on a share of the profits but with all the negative public criticism against comic books those royalties were probably down as well. By providing all the art for Police Trap #6, Kirby probably hoped to decrease the production costs, increase sales (and therefore his share of the profits) but also be paid as the artist as well.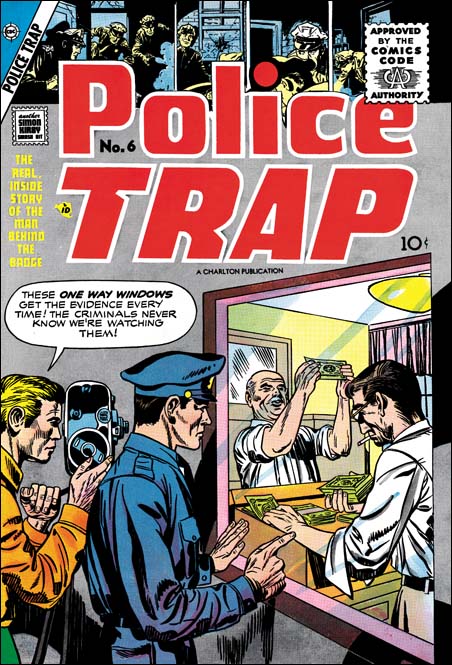 Police Trap #6 (July 1955), pencils by Jack Kirby
The cover of Police Trap #6 is another less than spectacular piece of art. But it is interesting as a rare example of Kirby swiping from another comic book artist, in this case Marvin Stein. This is not a close copy, Kirby did not need any help in how to draw figures. Rather it is the unusual idea that Kirby picked up, that of counterfeiter's being candidly filmed by the police. I had previously written about this swipe (A Criminal Swipe) where I provided an image of the Stein cover that Kirby swiped. In that post I offered the possibility that it was actually Stein that swiped from Kirby and that this cover was an unused piece left over from Simon and Kirby's earlier efforts in the crime genre from 1947 to 1951). However I now consider this unlikely as the art for the Police Trap #6 cover does not seem to match
the style used during the earlier period.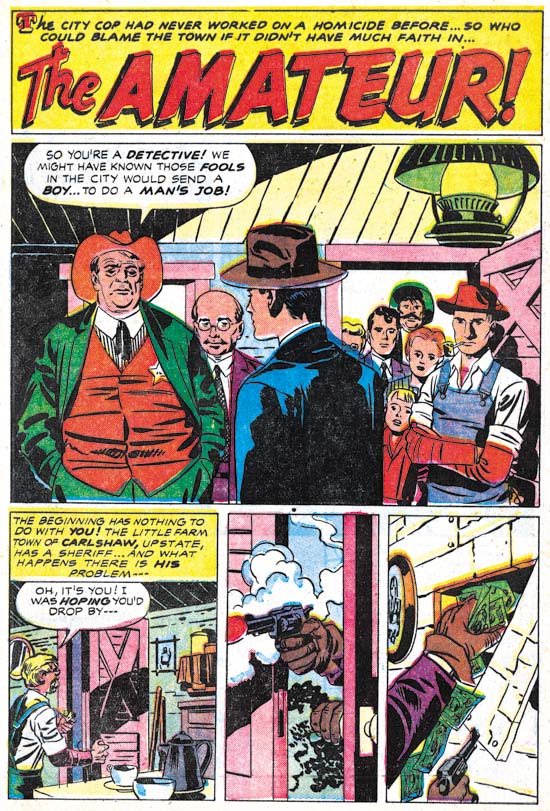 Police Trap #6 (July 1955) "The Amateur", pencils by Jack Kirby, inks by Mort Meskin
As mentioned above, Jack Kirby drew all the art for this issue which makes Police Trap #6 a special comic. Needless to say the art is all well done. Kirby had a flair for graphically telling a story. Note the short sequence of story panels at the bottom of the splash page. It starts out typically enough but then proceeds to two panels with captions or speech balloons. Text was not required to explain the story and in fact the lack of text makes the panels even more effective.
Police Trap #6 is also special in that all the art was inked by the same artist. I'll explain why I think this inker was Mort Meskin below where his hand is even more obvious but here I will discuss why I believe it was not either Simon or Kirby that did the inking. Normally that might not be too difficult to determine because both Jack and Joe were much better inkers than many of the other artists they used to ink Kirby's pencils. Here, however, we have a great inking job. Not only that but it is done in what I describe as the Studio style. On this page (and others in this book) can be found shoulder blots, picket fence crosshatching and abstract arc shadows (see my Inking Glossary for an explanation of the terms I am using). But note that the shoulder blots are not done in a manner typical for Simon and Kirby. They are less abstract and more apt to be broken up into pieces. The most glaring example of this is found in the man in the blue suite. There are other suggestions that this was not inked by either Simon or Kirby. Note the simple eyebrows even in the more close-up views provided in the splash panel.
It is unclear whether some of the typical Studio style techniques were done by the inker or instead were added by either Kirby or Simon afterwards. For example the abstract arc shadow in the first story panel is done in a very typical style. My suspicion is that the original inker provided these touches as well as they are so well integrated with the surrounding artwork. If this is true it is another indication on how well acquainted the inker was with techniques previously used in the now defunct Simon and Kirby studio.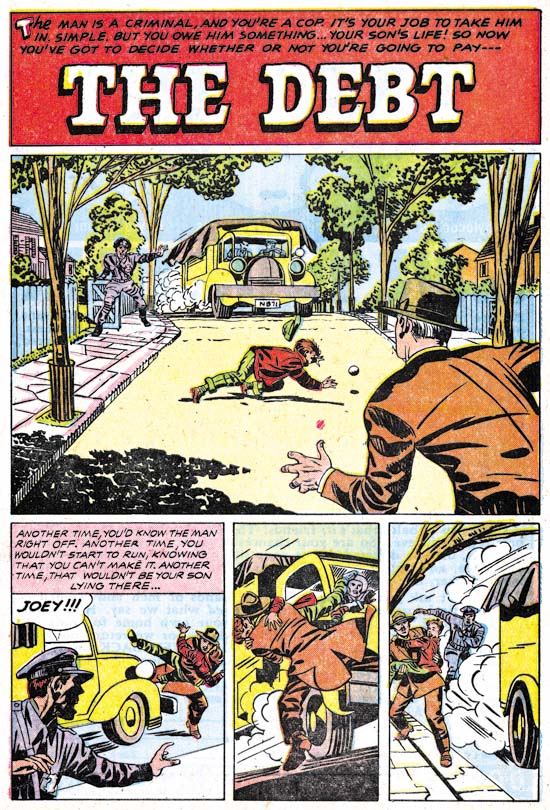 Police Trap #6 (July 1955) "The Debt", pencils by Jack Kirby, inks by Mort Meskin Albistur
The story panels for the first page of "The Debt" follows the same pattern as seen in "The Amateur". First an introduction panel that quickly places the reader into the action followed by two panels without text that show how the action unfolded. The big difference between the two stories is that while "The Amateur" has a typical splash the splash found in "The Debt" is actually a story panel as well. While collaborating with Simon, Kirby worked from scripts created by various writers but which he would then customarily rewrite. It is unclear how much of the published story was rewritten but there are often phrases that sound very much like Kirby. But who can say whether the original writer originated these unusual textless story sequences or that Kirby rewrote them into the script.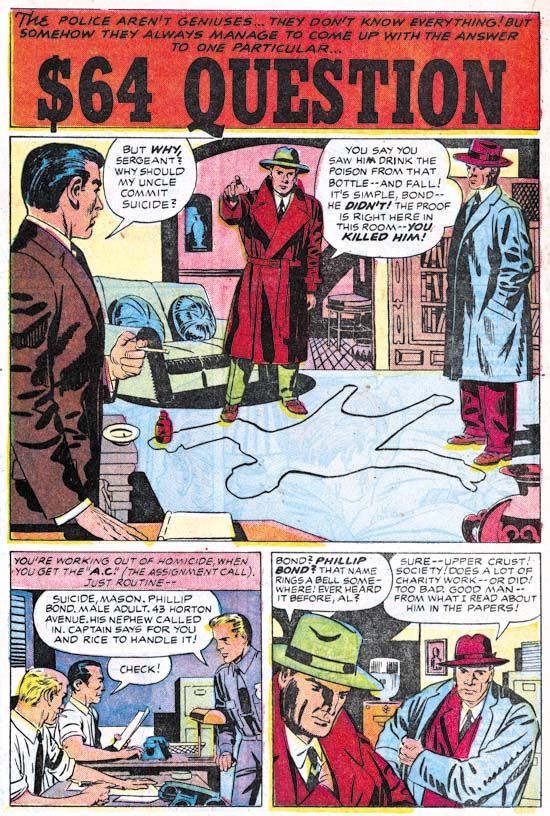 Police Trap #6 (July 1955) "The $64 Question", pencils by Jack Kirby, inks by Mort Meskin
The $64,000 Question was a popular game show in the 50's and even today you occasionally here someone use that term a colloquialism for a significant question. However that show first appeared on television in June 1955 much too late to have influenced this story (whose creation start around February of that year). However there was an earlier game show that was on the radio from 1950 to 1952 that was actually called the $64 Question. Although it was off the air when this story was created I am sure that was that show that formed the genesis of this story's title.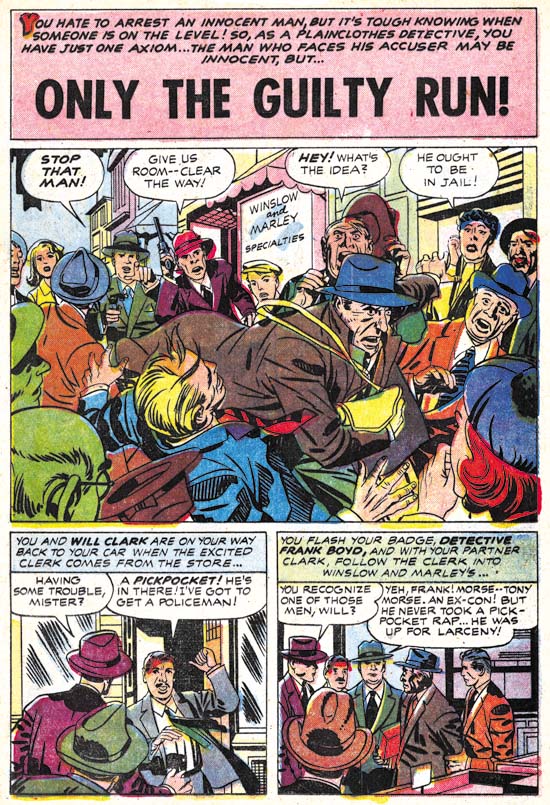 Police Trap #6 (July 1955) "Only The Guilty Run", pencils by Jack Kirby, inks by Mort Meskin
All the stories in this issue were inked by the same artist. "Only The Guilty Run" is the story that most convincingly shows that this inker was Mort Meskin. Like all the other stories from this issue the inking was done in the Studio style. Most noticeable in the splash is his use of picket fence crosshatching. Of course other inkers used this technique most notably both Kirby and Simon. However Meskin executed picket fence crosshatching with an almost mechanical control compared to the more spontaneous use by Kirby or the more rougher brushwork by Simon. Observe how Meskin's "rails" and "pickets" are almost consistent in width and the "rails" are placed to almost entirely contain the "pickets". Other Meskin inking characteristics can be found in the simplified and often angular eyebrows particularly those of the escaping thief in the splash panel. Of course since credits were not provided inking attributions can never be given with absolute certainty but I am as confident as it is possible to be that this inking was by Mort Meskin.
While the art may convince me that Meskin was inking there Kirby pencils I am somewhat puzzled how this came about. While Mort had inked Jack's work before, generally he was too busy penciling and inking his own work. There were exceptions to this most notably in Boys' Ranch (1950 to 1951) and Captain 3-D (1953). However in 1954 he had started working for DC. Meskin still did some work for Simon and Kirby but this was largely limited to some covers and nowhere near his prolific output when the S&K studio was going strong. Yet here he is providing a lot of inking for a single issue (plus one Kirby story for the previous issue). Very perplexing.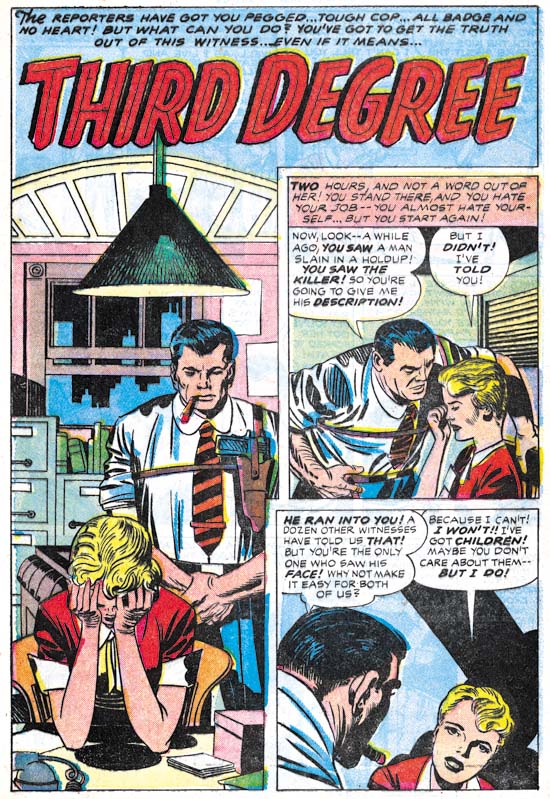 Police Trap #6 (July 1955) "Third Degree", pencils by Jack Kirby, inks by Mort Meskin
Despite the Comic Code all the stories from this issue are really quite good but I have to admit that I find "Third Degree" the least satisfying. The interrogation of the housewife by the burly police officer seems a bit forced. Still that story and all the others in this issue leaves one with a desire for another all Kirby crime comic. Unfortunately it was not to be, at least for some years (see Jack Kirby's "In the Days of the Mob") and never again with Joe Simon.
P.S.
I have had a comment about why I believe this inker was Mort Meskin and not Marvin Stein. For readers who also wonder about this I suggest checking my previous posts Kirby Inkers, Mort Meskin and Kirby Inkers, Marvin Stein.