As I mentioned previously Simon & Kirby's longest running comics were their anthologies. Although the Prize romances were clearly their greatest success, they also appeared to do pretty well with their take on the horror genre, Black Magic. This series was also published by Prize, but at least initially was a Simon and Kirby production. Black Magic #1 came out with a cover date of October 1950.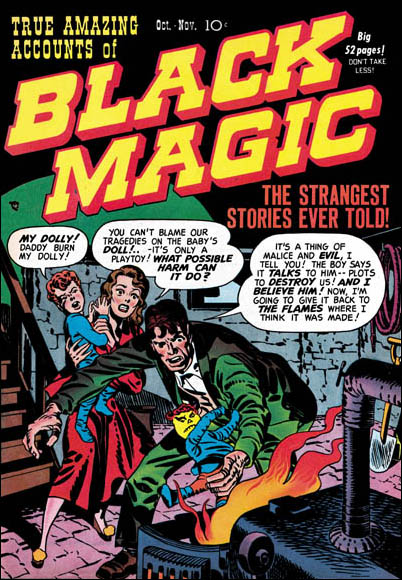 Like most S&K comics, Black Magic was originally a bimonthly It went monthly with issue #10 (March 1952). But it is not safe to consider the delay before going monthly as a sign that it was not that popular. Young Romance and Young Love were by all accounts immense successes right from the start and both of them took over a year before going monthly. This delay was more likely due to the publishers concern that even a popular title might turn out to be just a fad. One indication of how important Black Magic was to S&K is that Jack penciled every cover up to #33. But Black Magic was nowhere nearly as popular as the Young Romance since there never was any spin-offs like Young Love was for the romances. Further Black Magic went back to bimonthly with issue #26 (September 1953).
Like the Prize romances, Black Magic was a Simon and Kirby production and labeled as such. That is until after #32 when the S&K label disappears. This was September 1954, about the same time the label disappears from the Prize romance comics. But unlike the romance comics, Black Magic would have only one issue without the S&K label and then it would be cancelled. Could this be retribution by Prize for S&K's Mainline comics that came out at this time? If that was the case why didn't they just hand the title to another editor? An alternative explanation was that it just was not selling that well. After all it had gone back to a bimonthly schedule a year before. Whatever the reason, Black Magic would end a year before Young Love.
It seems that until it was cancelled, Black Magic was produced by Simon and Kirby. They were listed as editors in the postal statement from March 1952 to March 1954. Further the usual suspects (Bill Draut, Mort Meskin and John Prentice) show up frequently.
Prize would relaunch Black Magic almost three years later (September 1957). Although Jack Kirby was still doing work for Young Romance at this time, he would never pencil anything for the resurrected Black Magic.