(January – April 1956: Young Romance #81 – #82, Young Love #69 – #70, Young Brides #26 – #27)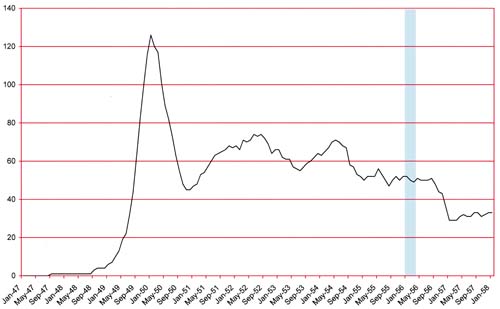 Number of Romance titles 1947 – 1958 (the period covered in this chapter is shaded in blue)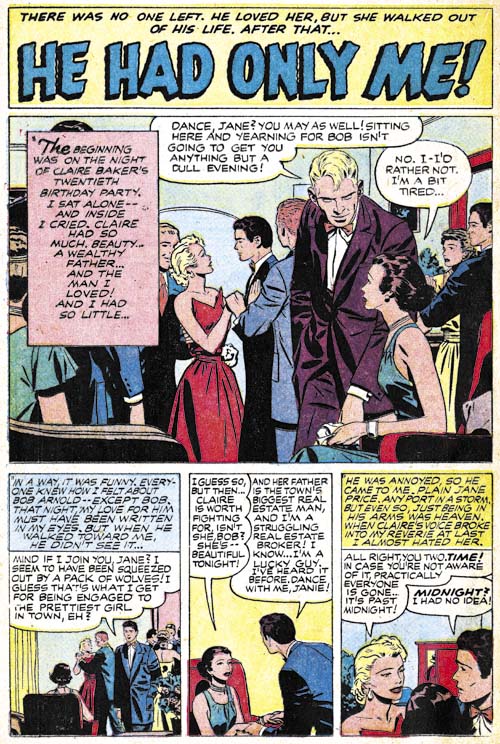 Young Romance #81 (February 1956) "He Had Only Me", art by Bill Draut
As discussed in the last chapter (Chapter 30), the three Prize romance titles would be almost entirely drawn by Jack Kirby. There are only two exceptions one being "He Had Only Me" by Bill Draut from Young Romance #81 (February 1956). Bill's drawing style does not seem to differ from what we have seen in his previous work but his inking does reserve comment. Typically in the past Bill inked clothing folds in a rather blotchy manner. Here however is spotting is much smoother. This makes his brush techniques more similar to those of Marvin Stein. While there is little reason to believe that Stein was inking Draut's pencils it does present a problem when trying to indentify either of those artists as an inker to Kirby pencils during this period.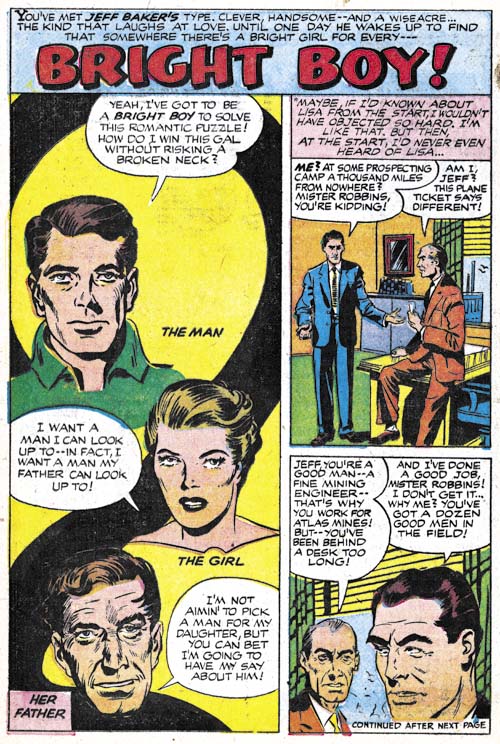 Young Love #69 (February 1956) "Bright Boy", art by Bob McCarty
The other non-Kirby story from this period was "Bright Boy" by Bob McCarty. Like the one by Draut, this story was also has a February cover date suggesting that the two pieces were leftover from before the switch to all Kirby art. Previously McCarty's art had become very similar to that done by John Prentice but here he reverts to a style more like his older one.

Young Love #70 (April 1956) "A Week in Frisco", pencils by Jack Kirby, inks by Bill Draut?
Much of the inking of Kirby's pencils during this period were done by Jack himself, but not all. It is hard to be certain who were the inkers that Kirby used but there are two most probably candidates: Bill Draut and Marvin Stein. Unfortunately as we say about in the story that Draut drew himself ("He Had Only Me") that Bill had converted to a cleaner, less blotchy brush style at least some of the time. The inking of the splash for "A Week in Frisco" shows thicker type of clothing folds that I normally associate with Draut and therefore I tentatively credit it to him.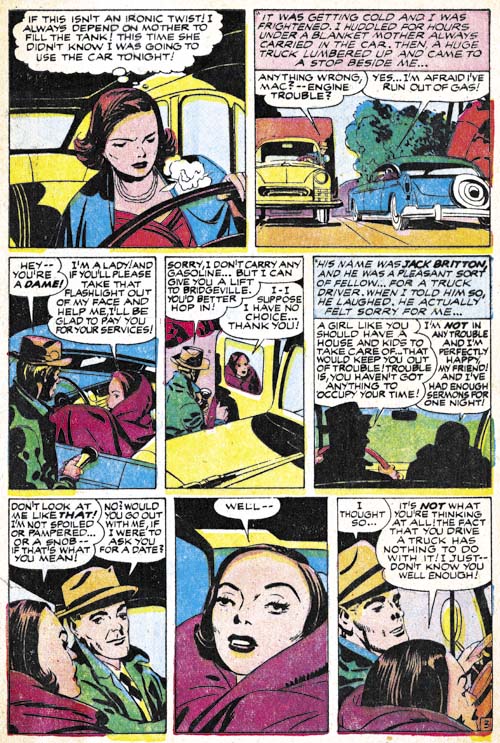 Young Romance #81 (February 1956) "The Lady and the Truck Driver" page 3, pencils and inking by Jack Kirby
The Kirby's Austere style of inking is characterized by an overall lighter spotting. Older techniques like picket fence crosshatching or drop strings (Inking Glossary) are used sparingly if at all. When larger dark areas are required they are made by flooding the region with ink. Page 3 from "The Lady and the Truck Driver" is a good example of Austere inking. However the real reason I choose this page is because of the delightful portrayal of the lady especially in panel 7. I just do not understand why people keep saying Kirby could not draw beautiful women!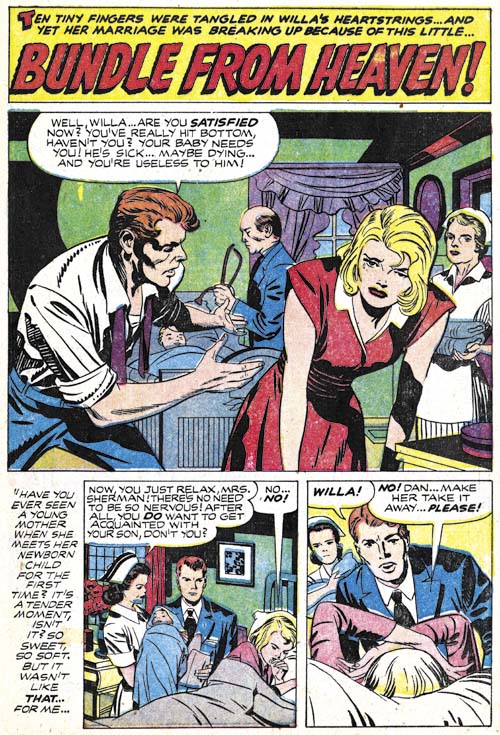 Young Romance #82 (April 1956) "Bundle from Heaven", pencils and inks by Jack Kirby
Actually I think I do understand why people continue to make the claim that Kirby could not draw beautiful women. In my opinion the reason is that Kirby never quite bought into what I call the Barbie look that so dominated romance art starting from the late 50's. So many artists seem to try to draw women as attractively as possible but ended drawing females that were indistinguishable except by hair style and coloring. At least while doing romance for Prize, Kirby would try to give all the lady protagonists individual characteristics that were appropriate for whatever story he was drawing even if that meant that this might detract a little from their beauty. Sometimes Jack even managed to combine individuality and beauty as for example in "Bundle from Heaven". Despite her haggard look would anyone doubt that the lady in the splash was anything but beautiful? Frankly I do not believe any inker other than Kirby himself would successfully achieved this nuance depiction.
While Kirby began to adopt the Austere inking style it was by no means a sudden switch. I would not hesitate to describe the above splash as Austere style inking and yet look at the man's shirt with its picket fence crosshatching and drop string. Such holdovers from the older Studio style inking were still present but would become much more infrequent in the months to come.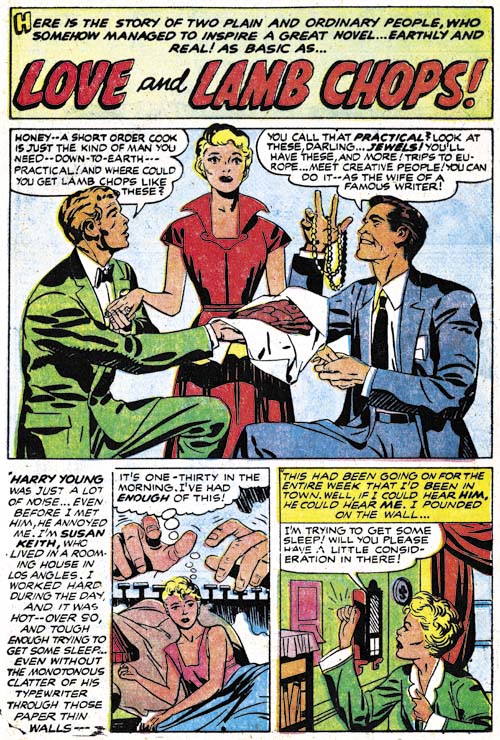 Young Brides #26 (January 1956) "Love And Lamb Chops", pencils and inks by Jack Kirby
Decisions, decisions, decisions! Lamb chops or jewelry, what is a woman to choose? Comic book stories were always meant to be a little over the top but this splash is just hilarious. But I kind of suspect that Jack knew that as well.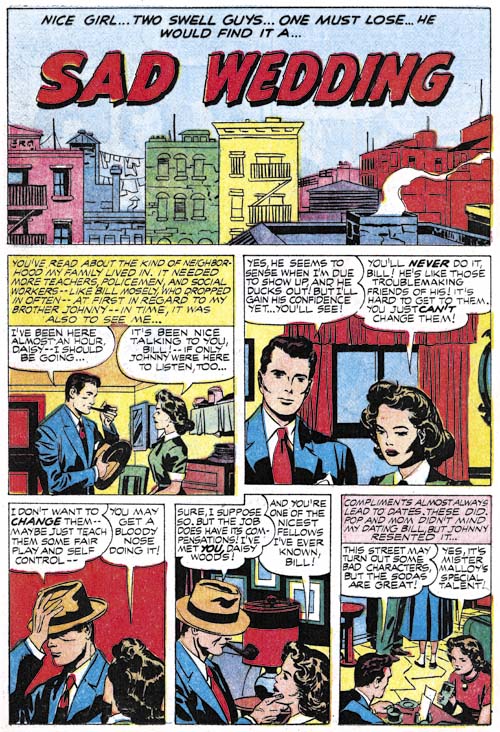 Young Brides #27 (March 1956) "Sad Wedding", pencils and inks by Jack Kirby
I am really not completely certain that Jack inked the splash but I suspect so since he provided the spotting for the rest of the story. Such a simple splash is rather unusual for Jack who preferred scenes where people were prominent. Perhaps the splash appeals to me because the scene it portrays can still be found in Manhattan including my neighborhood. I am sure that had Kirby chosen to show the street level what we would see would hardly be mistaken for a more modern local but this higher viewpoint shows the architecture that has not changed much in many places. The only thing to give its age away are the clothes hanging of the lines.
Chapter 1, A New Genre (YR #1 – #4)
Chapter 2, Early Artists (YR #1 – #4)
Chapter 3, The Field No Longer Their's Alone (YR #5 – #8)
Chapter 4, An Explosion of Romance (YR #9 – #12, YL #1 – #4)
Chapter 5, New Talent (YR #9 – 12, YL #1 – #4)
Chapter 6, Love on the Range (RWR #1 – #7, WL #1 – #6)
Chapter 7, More Love on the Range (RWR #1 – #7, WL #1 – #6)
Chapter 8, Kirby on the Range? (RWR #1 – #7, WL #1 – #6)
Chapter 9, More Romance (YR #13 – #16, YL #5 – #6)
Chapter 10, The Peak of the Love Glut (YR #17 – #20, YL #7 – #8)
Chapter 11, After the Glut (YR #21 – #23, YL #9 – #10)
Chapter 12, A Smaller Studio (YR #24 – #26, YL #12 – #14)
Chapter 13, Romance Bottoms Out (YR #27 – #29, YL #15 – #17)
Chapter 14, The Third Suspect (YR #30 – #32, YL #18 – #20)
Chapter 15, The Action of Romance (YR #33 – #35, YL #21 – #23)
Chapter 16, Someone Old and Someone New (YR #36 – #38, YL #24 – #26)
Chapter 17, The Assistant (YR #39 – #41, YL #27 – #29)
Chapter 18, Meskin Takes Over (YR #42 – #44, YL #30 – #32)
Chapter 19, More Artists (YR #45 – #47, YL #33 – #35)
Chapter 20, Romance Still Matters (YR #48 – #50, YL #36 – #38, YB #1)
Chapter 21, Roussos Messes Up (YR #51 – #53, YL #39 – #41, YB #2 – 3)
Chapter 22, He's the Man (YR #54 – #56, YL #42 – #44, YB #4)
Chapter 23, New Ways of Doing Things (YR #57 – #59, YL #45 – #47, YB #5 – #6)
Chapter 24, A New Artist (YR #60 – #62, YL #48 – #50, YB #7 – #8)
Chapter 25, More New Faces (YR #63 – #65, YLe #51 – #53, YB #9 – #11)
Chapter 26, Goodbye Jack (YR #66 – #68, YL #54 – #56, YB #12 – #14)
Chapter 27, The Return of Mort (YR #69 – #71, YL #57 – #59, YB #15 – #17)
Chapter 28, A Glut of Artists (YR #72 – #74, YL #60 – #62, YB #18 & #19, IL #1 & #2)
Chapter 29, Trouble Begins (YR #75 – #77, YL #63 – #65, YB #20 – #22, IL #3 – #5)
Chapter 30, Transition (YR #78 – #80, YL #66 – #68, YBs #23 – #25, IL #6, ILY #7)
Chapter 30, Appendix (YB #23)
Chapter 31, Kirby, Kirby and More Kirby (YR #81 – #82, YL #69 – #70, YB #26 – #27)
Chapter 32, The Kirby Beat Goes On (YR #83 – #84, YL #71 – #72, YB #28 – #29)
Chapter 33, End of an Era (YR #85 – #87, YL #73, YB #30, AFL #1)
Chapter 34, A New Prize Title (YR #88 – #91, AFL #2 – #5, PL #1 – #2)
Chapter 35, Settling In ( YR #92 – #94, AFL #6 – #8, PL #3 – #5)
Appendix, J.O. Is Joe Orlando
Chapter 36, More Kirby (YR #95 – #97, AFL #9 – #11, PL #6 – #8)
Chapter 37, Some Surprises (YR #98 – #100, AFL #12 – #14, PL #9 – #11)
Chapter 38, All Things Must End (YR #101 – #103, AFL #15 – #17, PL #12 – #14)