(Treasure #10, Prize Comics #63, Frankenstein #7)
Feature Publications, more commonly known as Prize Comics but also as Crestwood, was a relatively small company in 1946. There were five titles in their comic line all of which were bimonthlies; Frankenstein, Headline, Prize, Treasure and Wonderland. It was not just that Prize had a limited number of comic titles; Hillman for example had even fewer. Feature's problem was more about what they were offering. Wonderland had funny stories aimed at the younger comic book readers but did not have any outstanding features. Treasure was a more general anthology again without any features that were likely to excite readers in 1946. Prize and Headline were also anthologies with an emphasis on the hero genre. Unfortunately in 1946 the popularity of superheroes was on a distinct decline. This could even be seen in Prize's offering. During the war Yank and Doodle had been young patriotic heroes while the Owl was more of a standard crime fighting costumed hero. Yet by 1946 the two had been combined into a single feature. It was an awkward match to say the least. The only title Feature had that set them apart from other comic publishers was Frankenstein. It probably was not a great success otherwise it would not have remained a bimonthly. With the exception of Frankenstein, the best description of Prize's comics would be tired.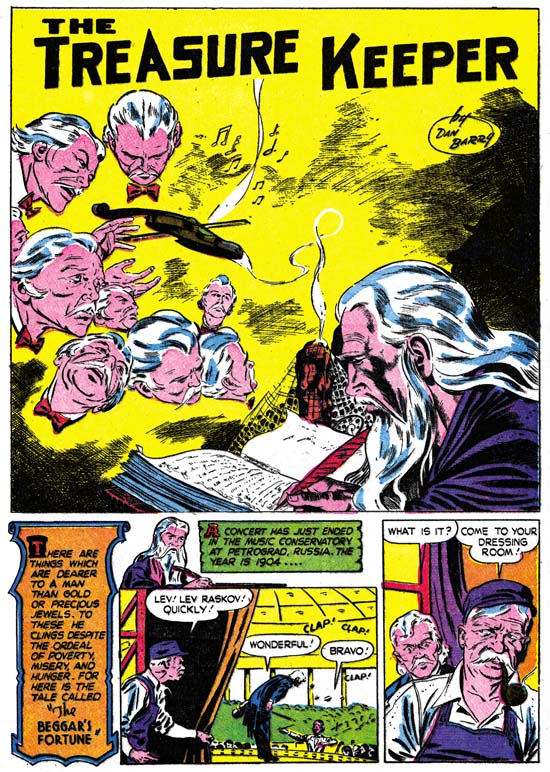 Treasure #10 (December 1946) "The Treasure Keeper", art by Dan Barry
Blame for Prize's humdrum nature does not rest with its artists. Some talented individuals at least occasionally appeared in their comics. We have encountered Dan Barry before when I discussed My Date. The Treasure Keeper was an ongoing feature in Treasure Comics. Unfortunately I do not have access to any other issues but I do not believe Barry was always the artist. Here Barry illustrates the story a successful Russian violinist fall after his anti-Czarist efforts are discovered by the authorities. Dan does a good job with the story, or at least as good as can be expected with the script.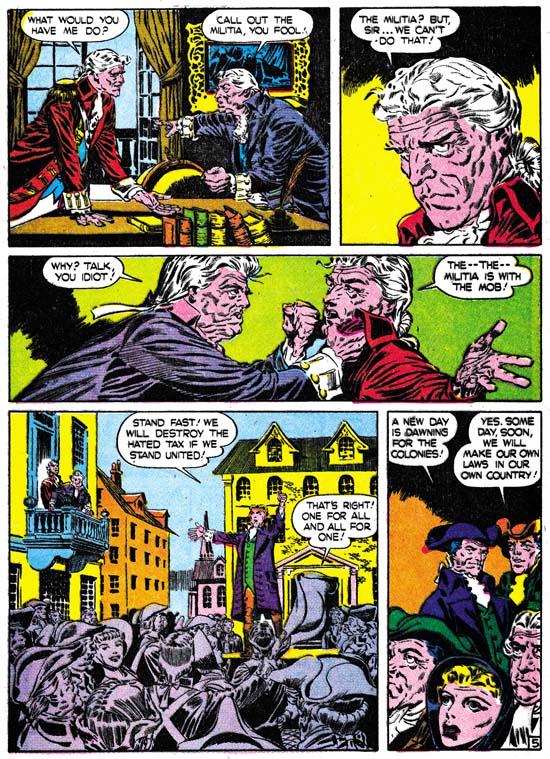 Treasure #10 (December 1946) "Know Your America", art by Mort Meskin
In 1946 Mort Meskin was doing work for a number of different publishers. Was his appearance in Treasure #10 unique or are there other works by Mort to be found in early Prize comics? Meskin was certainly in good form with his contribution to this issue of Treasure. "Know Your America" was another ongoing feature. I suspect its historic nature probably did not generate a lot of reader enthusiasm even in those patriotic days following the war. Meskin manages to add excitement to what really was a rather dry script. The story page I present above is by no means unique. Note how Meskin puts action into a sequence which is really nothing more then the report to the governor about the public's rejection of the stamp act (about 10 years prior to the revolutionary war). Mort's command of perspective, something he is not normally known for, is clear in his depiction of the hand extending to the viewer in the third panel.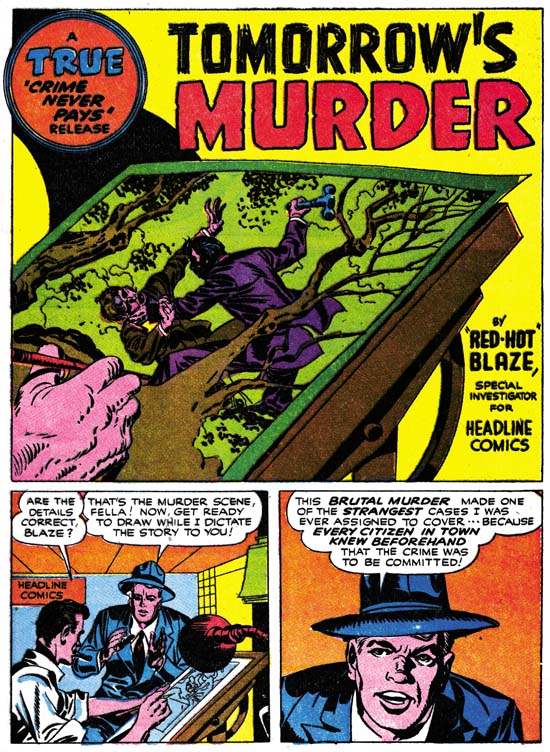 Treasure #10 (December 1946) "Tomorrow's Murder", art by Jack Kirby
The final story in Treasury #10 was something new for Treasure, or for any Feature comic. It was "Tomorrow's Murder" by Simon and Kirby. New because it was the first Simon and Kirby piece to be published by Feature since a few pre-war stories. But more importantly new because it was Prize's first true crime genre work. The crime genre itself was certainly not new as Bob Wood and Charles Biro created Crime Does Not Pay for publisher Lev Gleason in 1942. At that time Simon and Kirby may have been too busy with their entrance into the armed service to notice Wood and Biro's new genre but after the war they could hardly have missed it. When their post-war titles, Stuntman and Boy Explorers, failed and Joe and Jack were looking for something to keep their collaboration going one of the categories they turned their attention to was the successful crime genre. Just a few months after the failure of their Harvey line (Stuntman #3 with cover date October 1946 was released as miniature comic to subscribers only) Simon and Kirby had manage to sell the crime genre concept to Prize.
"Tomorrow's Murder" also introduced Red-Hot Blaze. Blaze was supposed to be a sort of investigative reported for Headline Comics. The results of his investigations would then be drawn up as a comic story. The splash presents the enactment of the crime as if it was being rendered on a drawing board. In the story panel we get to see the artist. The comic artist's curly hair indicates that this was not meant to literally be a self-portrait of Jack Kirby. There was no reason to be since the comic book reading public would not have any idea what Jack looked like. Nor was "Tomorrow's Murder" signed. However the ever present cigar shows that in Jack's mind there truly was a connection between the real and fictional comic artist.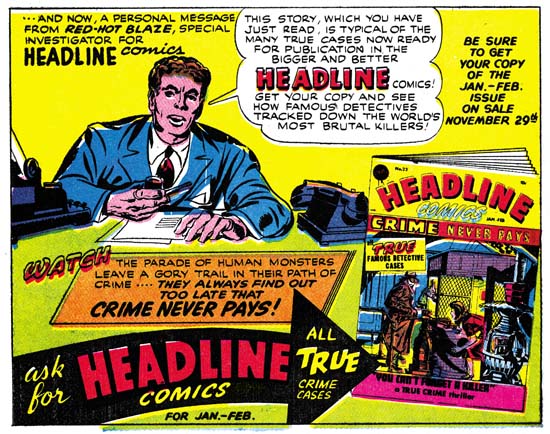 Treasure #10 (December 1946) house advertisement, art by Jack Kirby
The end of the "Tomorrow's Murder" story only occupied the top with the house ad shown above taking up the rest of the page. Clearly Simon and Kirby had not just sold Prize on a single crime story, Joe and Jack had convinced them to publish a comic devoted to the genre. Headline would no longer be a general anthology. Of the titles currently being published by Prize, Headline had the most appropriately named for a crime comic. By retaining the original title name, I am sure Prize hoped that they might keep some of the former readers as well. The advertisement indicated that the switch to crime would happen in the January issue. Things did not work out as originally planned as Headline #23 would be cover dated March. When Headline #23 was finally released its cover was not the mock-up issue depicted in the house ad either. The one shown in the ad would actually be used for Headline #24.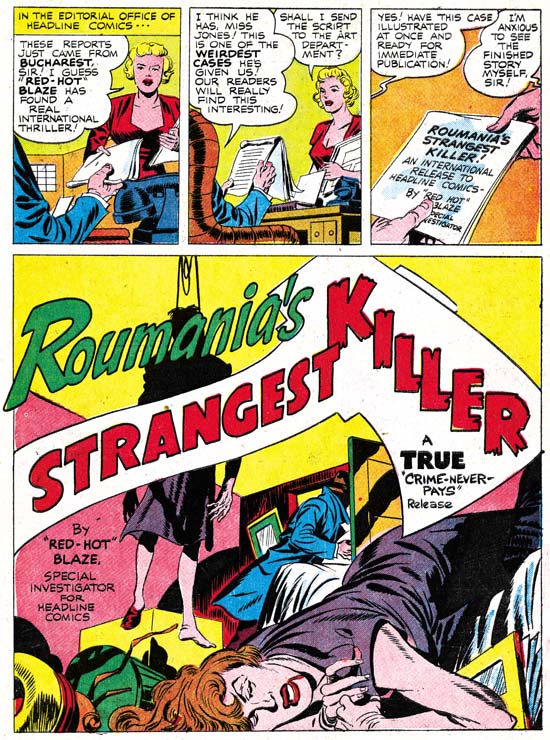 Prize Comics #63 (March 1947) "Romania's Strangest Killer", art by Jack Kirby
The same month that Headline #23 was released a Simon and Kirby crime story also appeared in Prize Comics #63. In "Romania's Strangest Killer" the placement of the splash panel at the bottom of the first page is rather unique. Of course the story panels at the top of the page are not truly part of the story. It is actually just an introduction using the theme of Red-Hot Blaze being an investigator for Headline Comics. Only this time it is a Headline editor who makes an appearance not the artist. The splash panel is very powerful showing a murdered victim in the foreground, another hanging in the mid-ground and the perpetrator exiting in the back. Part of the title is enclosed with an outline of a hatchet. It is a great design but we shall see that a lot of the Simon and Kirby crime splashes are masterpieces.
Just as with "Tomorrow's Murder", the last page of "Romania's Strangest Killer" includes the same house advertisement. Well not quite the same since the text referring to the release and issue dates have been removed. Not, however, completely because although small and blurred the January – February cover date can still be made out on the small mock-up cover.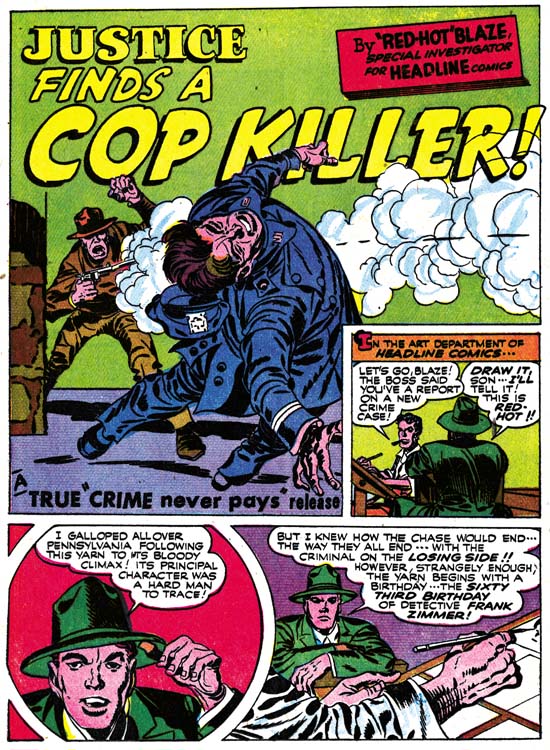 Frankenstein #7 (May, 1947) "Justice Finds A Cop Killer", art by Jack Kirby
Two months after the actual release of the first crime version of Headline a crime story appeared in yet another Prize title. In 1946 Frankenstein as portrayed by Dick Briefer was not truly monster stories but rather belonged to the humor genre. The Simon and Kirby story "Justice Finds a Cop Killer" seems very much out of place. It is once again a Red-Hot Blaze story with the curly haired and cigar smoking artist making a reappearance. Although not a particularly impressive design the splash panel is still very dramatic largely due to Kirby's famous exaggerated perspective. The falling policeman is so dramatic that it is easy to overlook the fact that the gun and bullet trace do not actually seem to be aimed properly.
"Justice Finds a Cop Killer" concludes with the same house ad. More specifically the dateless version that appeared in Prize Comics #63. Despite the late date (as the second crime version of Headline had appeared in this same month) the presence of the crime story in Frankenstein was part of the same promotion campaign. The only Prize comic not to receive this treatment would be Wonderland. That title was much too directed at a very young readership for a crime story to be at all appropriate or productive.
The art for these promotional stories was typical for the crime genre work that Simon and Kirby would do. Most important was the dramatic action that was Jack Kirby's trademark. There would be a slightly greater emphasis on realism as compared to Kirby's Stuntman and Boy Explorers but the art would otherwise very much like S&K's previous efforts for Harvey. One hallmark of Simon and Kirby's art for Timely and DC had been the extending parts of figures beyond the panel borders. This technique could still be found in Stuntman and Boy Explorers but not nearly as commonly as the earlier work. It would disappear completely in the crime work.
Another prominent trait of Simon and Kirby's work for Timely and DC was the use of unusual panel shapes. Among panels with the normal straight edge others would trace a zigzag pattern. Circular or sub-circular panels would also be used in places. This use of non-rectangular panels would be continued in Stuntman and Boy Explorers. For instance "Curtain Call for Death" from Stuntman #2 (June 1946) 16% of the panels were circular or sub-circular. The number may seem small but had all the pages had the typical 6 panels (however S&K never adopted such a regimented layout) that would mean on average there was a rounded panel on each page. The promotional crime stories maintained a similar level of rounded panels. In "Tomorrow's Murder" and "Romania's Strangest Killer" 14% of the panels were circular or sub-circular while in "Justice Finds a Cop Killer" the ratio was 16%.
The inking was in the bold manner of what I have called the Sculptural style due to its emphasis on what I refer to as form lines that are not shadows but are used to give a sense of volume to shapes (see my Inking Glossary for explanations of my terms). The Sculptural style was previously used for the Simon and Kirby work done for DC (as for example in the Newsboy Legion stories). The use of this inking style was continued after the war. However Simon and Kirby art was never static and was always evolving. The Sculptural style used for Stuntman and Boy Explorers made use of even bolder brushwork. The individual brush marks stand out and while still indicating shadows or form they take on an expressive roll of their own. This bolder manner of the Sculptural style would be used in the early S&K crime art as well. Absent for the most part are techniques like picket fence crosshatching, drop strings, shoulder blots and abstract arch shadows. Such techniques do make rare appearances but even then are usually not done in the manner typical of the soon to appear Studio style.
Joe and Jack were heavily into self promotion. Much of the comic book art that they created was provided with a Simon and Kirby signature. The operative word is "much" as not every work they did was signed. None of the three promotional pieces I discussed above had a signature. Normally with such a small group I would not make much about that fact but as we shall see the absence of a signature was not limited to these pieces alone.
Again and again, while working on my serial post "The Art of Romance" I found myself referring to the Headline and Justice Traps the Guilty for help in questions about attributions. This is not surprising because artists that worked for the Simon and Kirby studio normally were expected to be able to handle work from any genre. I have decided that it would be beneficial to review the Simon and Kirby crime material so this will be the first of another serial post. It will not have as many chapters as "The Art of Romance" because as we will see Simon and Kirby's involvement with the crime genre only lasted a few years.
Chapter 2, A Revitalized Title
Chapter 3, Competing Against Themselves
Chapter 4, Crime Gets Real
Chapter 5, Making a Commitment
Chapter 6, Forgotten Artists
Chapter 7, A Studio With Many Artists
Chapter 8, The Chinese Detective
Chapter 9, Not The Same
Chapter 10, The Master and His Protege
Chapter 11, The New Team