Towards the end of 1950 Simon and Kirby had some hit titles all published by Prize. For the crime genre there were Headline and Justice Traps the Guilty. Having two titles in the same genre is always a sign of a success. More important would be the Young Romance and Young Love titles for the romance genre that Joe and Jack started. However Simon and Kirby were not ones to just sit back and milk past achievements, they were always trying to produce new titles. October of 1950 would see the release of two new S&K productions. For Prize again they would release their first in the horror genre, Black Magic. That title would run for about five years and would be joined in 1952 by Strange World of Your Dreams, again an indication of success. Simon and Kirby would also release in October Boys' Ranch, only it would be published by Harvey Comics. Boys' Ranch is considered by many fans as one of Simon and Kirby's greatest creations. Unfortunately it was not so well received at the time and the title only lasted six issues.
Boys' Ranch may not have been as big a success as Joe and Jack had hoped, but it was not for lack of trying. S&K used in Boys' Ranch some things that they had never tried before, among which were pinups. I am not sure where the idea for the pinups came but Simon and Kirby put it to good use. Each issue of Boys' Ranch contained both introductory and centerfold pinups. Pinups are unlike splash pages since without any attachment to a story a pinup can be a self sufficient entity. In this respect they are much more like cover art except the image need not be crowded by a prominent title. As stand-alone pieces of art, The Boys' Ranch pinups represent some of the finest work that Simon and Kirby did. With the expanse that the double page provides, the centerfold pinups are particularly effective.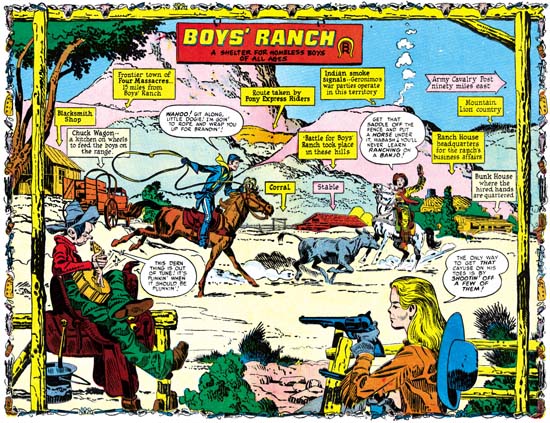 Boys' Ranch #1 (October 1950) "Boys' Ranch", art by Jack Kirby
Larger image
The centerfold for the first issue introduces the cast and the locale. We find Tommy learning how to lasso cattle while Wabash loafs with his guitar. Angel threatens to use his marksmanship to get Wabash moving. Three sides of the image are framed with rough timber with the title hanging from the top post. The complete circumference is edged with cattle skulls, pistols and other western paraphernalia reminiscent of the bottom edge of the wide splash from Captain America #8 (November 1941). This emphasis on design, unusual in the Boys' Ranch splashes, does not save this particular centerfold. The more distant view used is not Jack Kirby's forte for he generally does better when he thrusts his cast into the foreground. There are lots of assorted details provided, many requiring explanations from captions, but just not enough interest to hold our attention long. This is a rare example, in my opinion, of a Kirby double page piece of art that does not come up to his usual high standards.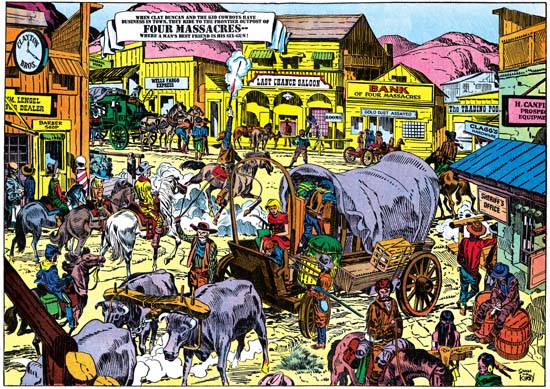 Boys' Ranch #2 (December 1950) "Four Massacres", art by Jack Kirby
Larger image
Another more distant view but this time Kirby makes it more interesting by providing more to look at. It is a crowded image but because this is in a comic book and a reader would tend to view it from left to right there should have been no difficulty in finding the Boys' Ranch characters on the far left as they enter the town. I will leave it up to my readers to ferret out all the details. This splash is filled with individuals and groups all telling their own little stories, no need for captions to explain it all. Whatever the reasons for the short comings of the wide pinup from Boys' Ranch #1, Jack is now clearly getting into the control of this new format.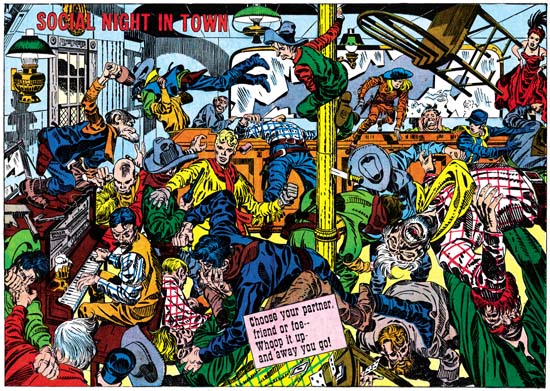 Boys' Ranch #3 (February 1951) "Social Night in Town", art by Jack Kirby
Larger image
With "Social Night in Town" Jack Kirby is in top form; this is certainly one of his classic drawings. This is Kirby at his best, a slugfest up close and personal. I like to think of this sort of composition as Kirby's comic book equivalent of Jackson Pollock. There is no true focus to the image as it is an all over drawing with every portion as important as any other. Jack's mastery of exaggerated perspective allows him to make this look easy but I honestly cannot think of another comic artist who could come close to providing such an exciting fight scene. Kirby has done this sort of thing before in for example "The Villain from Valhalla" in Adventure Comics #75 (June 1942), but the wide format allows a treatment just not possible on a single page. It would sound much too dry to describe all the details but I cannot help point out Wabash clinging in relative safety high on the near center post enjoying watching all the proceedings. Relative is the operative word because note the knife sticking in the post below him and the chair flying high on the right. The theme of cowboy's letting off steam in a bar fight may not have been a cliche in 1950 but it soon would be. Comic books could do it in a way that television or movies simple could not match no matter how hard they tried. Not that their directors would likely have noticed Kirby's work in 1950, but they should have.
As wonderful as "Social Night in Town" is, the best was yet to come. Unfortunately that will have to be covered in the next chapter.