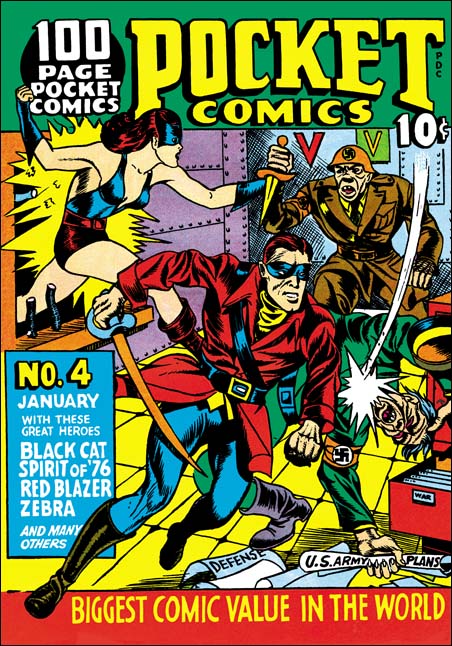 I want to skip for now Pocket Comics #3, and proceed to #4. This is my favorite of the Pocket Comic covers. It is a great design, particularly since the text has been relegated to smaller areas as compared to the other issues. The Spirit of '76 is a good match for that on Pocket #1 or Pocket #2. I am sure this cover was also done by Joe Simon. A new feature is the Nazi falling after being hit. It is not the way Jack Kirby would have done it, but you can tell that was the source for Joe's inspiration. No longer do we find oversized figures. But although the design still works, it really doesn't make logical sense. How could the Spirit of '76 have delivered his blow if the Nazi had been standing behind him? Or how could the Black Cat jump through the window in the middle of the room and still manage to grab the arm of the Nazi in the back of the room? But as far as I am concern comics art is not meant to try to capture an instance in time. It is meant to tell a story. Without a single line of text, this cover is complete comprehensible. All the distortions of time and space were all done to advance that aim. The logical flaws are in fact its strengths.
The original art for this cover still exists. The inking was just marvelous, but unfortunately much of its quality was lost when printing the small sized cover. So here is a scan from the art.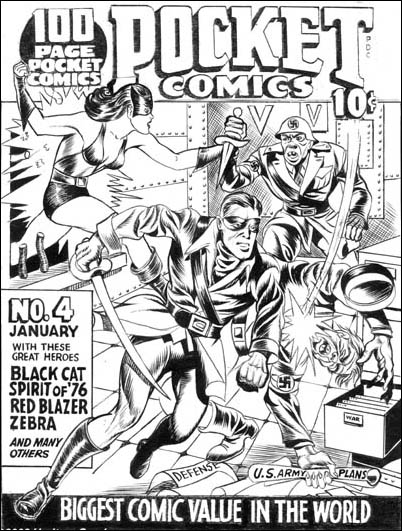 Pocket Comics #4 has a cover date of January 1942. This is the same month that the last Simon and Kirby Captain America came out. Coincidentally this was the last month that Harvey would publish pocket size comics. The next time Simon and Kirby work would reach the racks it would be dated April.