(July – December 1958: Young Romance #95 – #97, All For Love #9 – #11, Personal Love #6 – #8)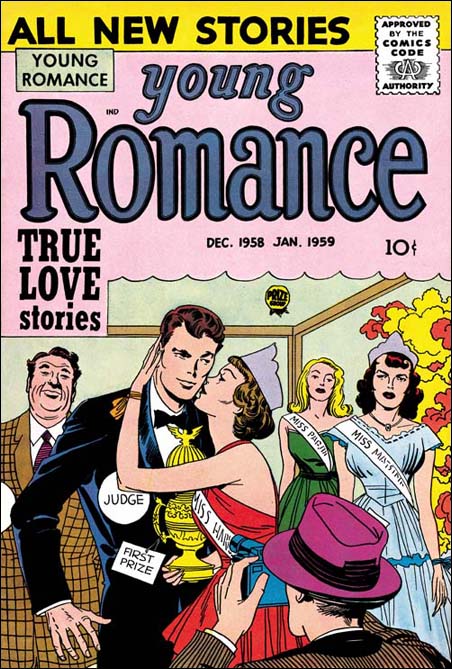 Young Romance #97 (December 1958), pencils by Jack Kirby, inks by Jack and Rosalind? Kirby
Kirby drew two of the Young Romance covers during this period (he also did Young Romance #95). Both appeared to be inked by Jack as well. But note the unusual hand belonging to the contestant wearing the blue dress. When Kirby drew covers those hands found in the periphery often were just crudely sketched. Inkers were generally artists as well and they would ink Jack's quickly drawn hands in a way to provide them with some semblance of normality. But this example from the YR #97 cover could only be described as quite amateurish. I find it hard to believe that any professional artist would have inked such a hand. That is why I suspect that Jack's wife Rosalind provided the outline inking. It has been reported that Rosalind did help Jack with the inking at this time, most notably for DC's Green Arrow. Some have said that her help amounted to nothing more than filling in the black areas but other believe she did some of the outline inking as well using a pen. YR #97 convinces me that the latter proposition is correct. Rosalind Kirby may have outline inked some of Jack's other romance art from this period but I have not noticed other such obvious examples.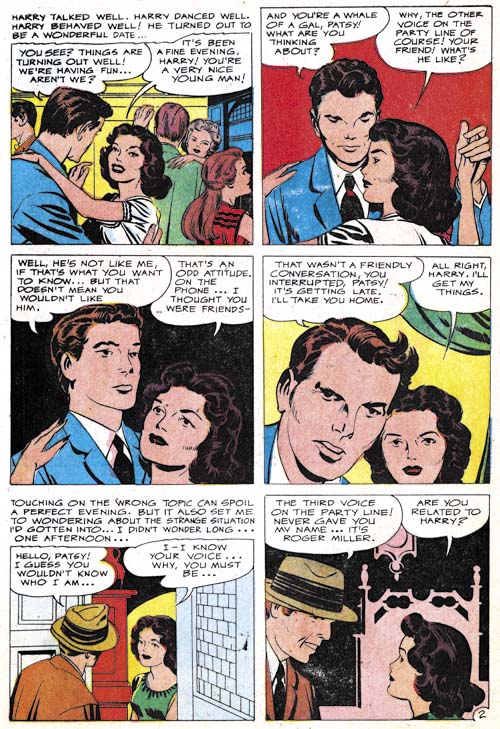 Young Romance #95 (August 1958) "Listening To Love" page 2, pencils and inks by Jack Kirby
The above page is a nice example of Kirby's Austere inking. This style provided art that normally had a lighter overall look to it compared to earlier Simon and Kirby work. Yes panels 3 and 6 are filled with black but the figures are still light. Some characteristics of earlier inking remain. For example the arched shadow in panel 5 was often found in previous work. While I am a great admirer of the earlier style (which I call the Studio style), I find the Austere style rather beautiful as well.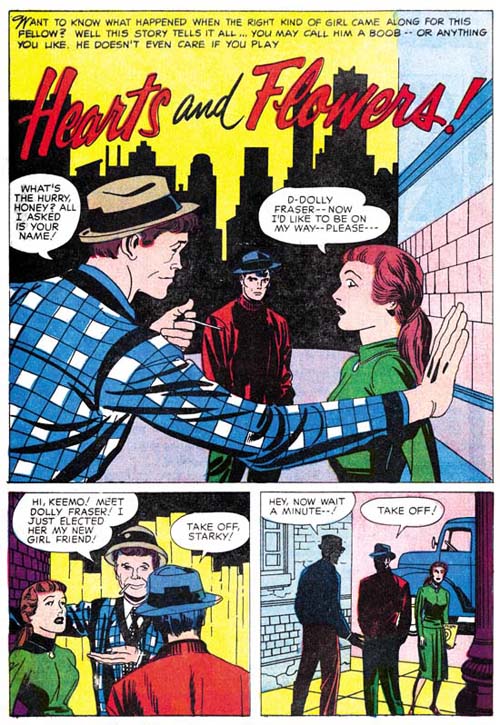 Young Romance #97 (December 1958) "Hearts and Flowers", pencils and inks by Jack Kirby
I personally find Kirby's romance splashes from 1957 as among Kirby's poorer pieces. But the splashes he did in 1958 are just great. The fact that Jack inked so many of them himself in 1958 provides part of the explanation about why they are so much better. However even pieces inked by others (such as the one from "Jealousy" from the last chapter) seem more interesting. It seems Kirby got his creative juices flowing again and began provided interesting compositions. The man in the foreground of "Hearts and Flowers" seems to block the reader's viewpoint as well as the ladies. Her straight back pose seems to shout her feelings of being trapped. The man in the background occupies only a small part of the image but his presence at the focal point makes certain that the reader sees his disapproval of the other man's actions. Great art, great story telling, great Kirby!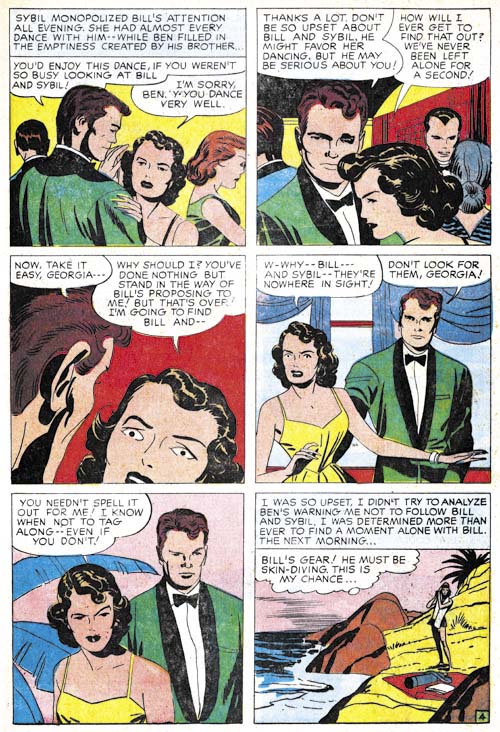 Young Romance #97 (December 1958) "Uninvited Guest" page 4, pencils and inks by Jack Kirby
I love the final romance art that Jack Kirby did for Young Romance. Most fans focus on Kirby superhero features but it is his romance work that Jack truly showed his genius. This page is a great example. While there is no action this is by no means a collection of panels of standing figures. Expression, body language and view points are all manipulated to advance the story and keep the reader interested.

Young Romance #95 (August 1958) "Hold Back The Tears", pencils and inks by Marvin Stein
Marvin Stein is one artist that I have reevaluated over the years. Initially I was not impressed. My earlier low opinion was largely due to his early romance art which even now I do not think that all that great. It was his crime work in particular that changed my opinion (Criminal Artist, Marvin Stein). While in some ways I find his style not as conducive for the romance genre, Stein's romance art is still very interesting.
Note the long eyebrows found on the woman in the last panel. Such exaggerated eyebrows sometimes appear in the inking of Kirby's pencils from 1956 and 1957. That is one of the reasons I sometimes believe Stein was the inker for much of Kirby's work during that period.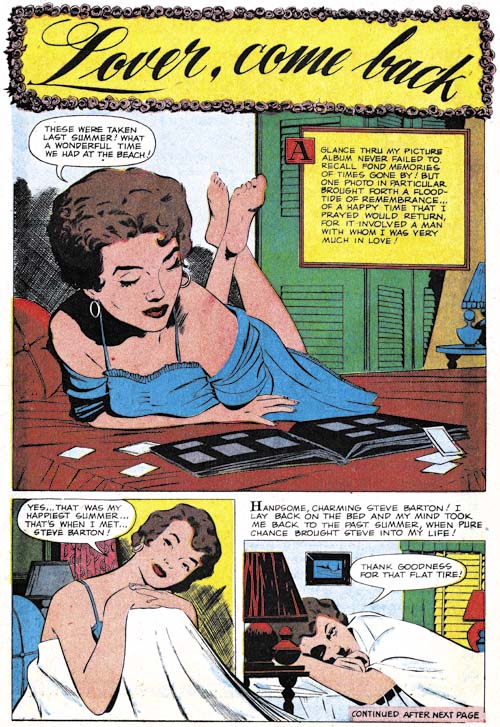 Young Romance #95 (August 1958) "Lover, Come Back", art by unidentified artist
Some of the yet unidentified artist doing romance for Prize during this period were frankly not as good compared to those used previously. There are, however, exceptions. I particularly like the work for "Lover, Come Back". The art appears to be based on photographic reference material and not all panels are quite as successful as those from the first page. But all the art is nicely integrated so that the swiped parts are not so noticeable. There is another story from the same issue ("A Young Man's Fancy") that I believe was done by the same artist. While that story also appeared to be in parts based on photographs it was not so successfully integrated. In fact the results was pretty much a disaster.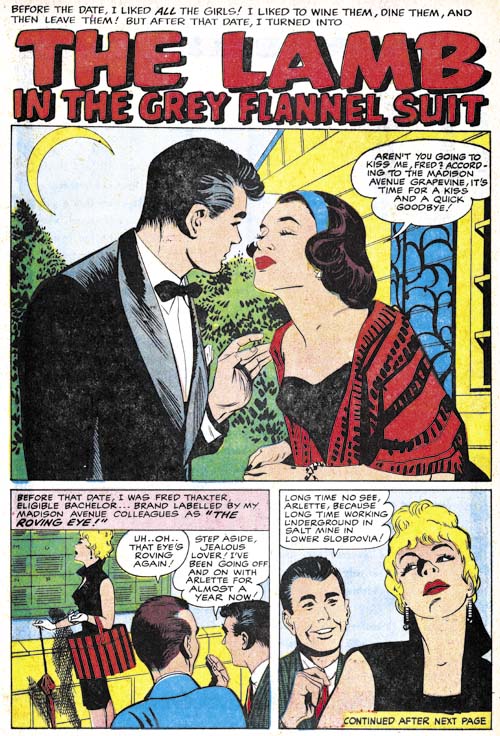 Young Romance #97 (December 1958) "The Lamb In The Grey Flannel Suit", art by unidentified artist Paul Reinman
Another interesting but unidentified artist appearing in Young Romance. I have not noticed any other work by the same artist. Reinman did two other stories during this period and would play an important roll in futher issues of Young Romance.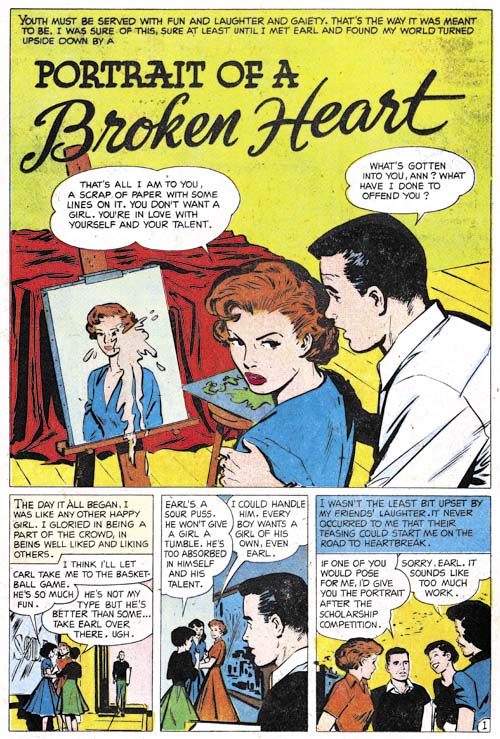 All For Love #9 (August 1958) "Portrait of a Broken Heart", art by unidentified artist
This artist appears fairly frequently in All For Love and Personal Love. Like Marvin Stein, he uses a rather blunt brush for his inking. However his woman are very different from Stein's so there should be no problems confusing the two. Unlike Stein, this artist likes to use very thick outlines in places such as in the above splash on the woman's hair and the man's back.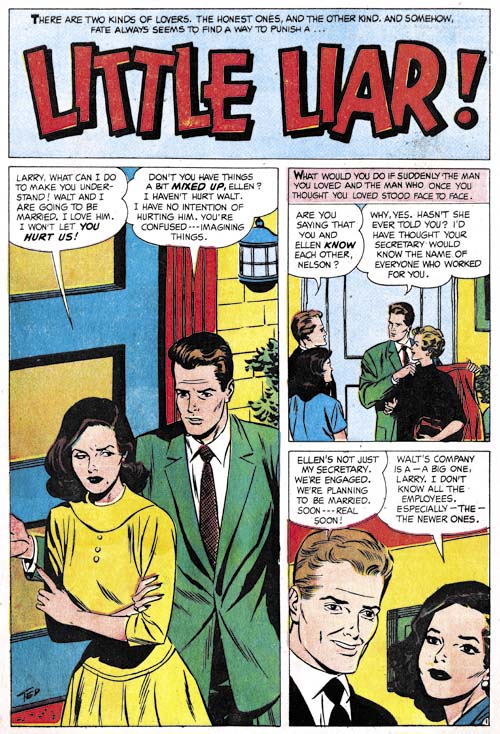 All For Love #10 (October 1958) "Little Liar", art by Ted Galindo
Ted Galindo continues to frequently appear in All For Love and Personal Love but not in Young Romance (the title still produced by Simon and Kirby). Ted provides 6 stories with most issues having one of his stories. It does not work out perfectly since Galindo appeared twice in All For Love #10 (October 1958) but not at all in Personal Love #7 (September 1958). The above page shows Ted using a tall narrow splash. While Galindo did not use such a splash panels often, tall and narrow panels do appear fairly frequently in the story pages.
Chapter 1, A New Genre (YR #1 – #4)
Chapter 2, Early Artists (YR #1 – #4)
Chapter 3, The Field No Longer Their's Alone (YR #5 – #8)
Chapter 4, An Explosion of Romance (YR #9 – #12, YL #1 – #4)
Chapter 5, New Talent (YR #9 – 12, YL #1 – #4)
Chapter 6, Love on the Range (RWR #1 – #7, WL #1 – #6)
Chapter 7, More Love on the Range (RWR #1 – #7, WL #1 – #6)
Chapter 8, Kirby on the Range? (RWR #1 – #7, WL #1 – #6)
Chapter 9, More Romance (YR #13 – #16, YL #5 – #6)
Chapter 10, The Peak of the Love Glut (YR #17 – #20, YL #7 – #8)
Chapter 11, After the Glut (YR #21 – #23, YL #9 – #10)
Chapter 12, A Smaller Studio (YR #24 – #26, YL #12 – #14)
Chapter 13, Romance Bottoms Out (YR #27 – #29, YL #15 – #17)
Chapter 14, The Third Suspect (YR #30 – #32, YL #18 – #20)
Chapter 15, The Action of Romance (YR #33 – #35, YL #21 – #23)
Chapter 16, Someone Old and Someone New (YR #36 – #38, YL #24 – #26)
Chapter 17, The Assistant (YR #39 – #41, YL #27 – #29)
Chapter 18, Meskin Takes Over (YR #42 – #44, YL #30 – #32)
Chapter 19, More Artists (YR #45 – #47, YL #33 – #35)
Chapter 20, Romance Still Matters (YR #48 – #50, YL #36 – #38, YB #1)
Chapter 21, Roussos Messes Up (YR #51 – #53, YL #39 – #41, YB #2 – 3)
Chapter 22, He's the Man (YR #54 – #56, YL #42 – #44, YB #4)
Chapter 23, New Ways of Doing Things (YR #57 – #59, YL #45 – #47, YB #5 – #6)
Chapter 24, A New Artist (YR #60 – #62, YL #48 – #50, YB #7 – #8)
Chapter 25, More New Faces (YR #63 – #65, YLe #51 – #53, YB #9 – #11)
Chapter 26, Goodbye Jack (YR #66 – #68, YL #54 – #56, YB #12 – #14)
Chapter 27, The Return of Mort (YR #69 – #71, YL #57 – #59, YB #15 – #17)
Chapter 28, A Glut of Artists (YR #72 – #74, YL #60 – #62, YB #18 & #19, IL #1 & #2)
Chapter 29, Trouble Begins (YR #75 – #77, YL #63 – #65, YB #20 – #22, IL #3 – #5)
Chapter 30, Transition (YR #78 – #80, YL #66 – #68, YBs #23 – #25, IL #6, ILY #7)
Chapter 30, Appendix (YB #23)
Chapter 31, Kirby, Kirby and More Kirby (YR #81 – #82, YL #69 – #70, YB #26 – #27)
Chapter 32, The Kirby Beat Goes On (YR #83 – #84, YL #71 – #72, YB #28 – #29)
Chapter 33, End of an Era (YR #85 – #87, YL #73, YB #30, AFL #1)
Chapter 34, A New Prize Title (YR #88 – #91, AFL #2 – #5, PL #1 – #2)
Chapter 35, Settling In ( YR #92 – #94, AFL #6 – #8, PL #3 – #5)
Appendix, J.O. Is Joe Orlando
Chapter 36, More Kirby (YR #95 – #97, AFL #9 – #11, PL #6 – #8)
Chapter 37, Some Surprises (YR #98 – #100, AFL #12 – #14, PL #9 – #11)
Chapter 38, All Things Must End (YR #101 – #103, AFL #15 – #17, PL #12 – #14)