(November 1952 – January 1953: Young Romance #51 – #53, Young Love #39 – #41, Young Brides #2 – 3)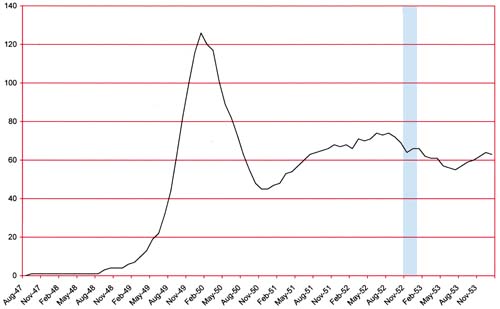 Number of Romance Titles 1947 – 1954 (the period covered in this chapter is shaded in blue)
In the last chapter the most prolific romance artist was Bill Draut. This was somewhat of a fluke because Draut held that position only for a short time and Mort Meskin would once again regain the top position by producing 77 pages of art. However this time Mort would achieve such high page counts not by his efforts alone. Some of Mort's art covered here was inked by George Roussos. Exactly how much is not clear as there are some works I just have not been able to decide about the inker.
Jack Kirby picks up second place with 42 pages but other artists are not far behind him. It has been some time since Jack was the dominant artist. The other two usual suspects take the next positions; Bill Draut (36 pages) and John Prentice (34 pages). Bill Walton does a surprising, for him that is, 22 pages. The other artist (George Roussos, Al Eadeh(?) and Bob McCarty(?)) provide only a small number of art pages.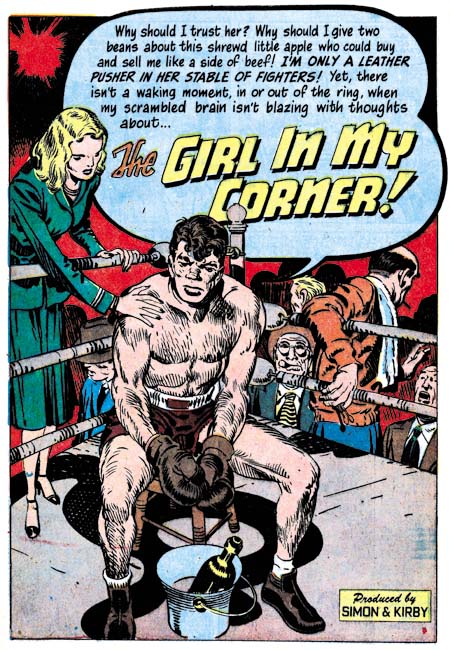 Young Romance #53 (January 1953) "That Girl in My Corner", art by Jack Kirby
Jack Kirby may not have been as prominent a presence as he once was but he still did some incredible art. The confessional splash for "That Girl in My Corner" is a great example. What a moving figure the fighter presents; perhaps a little tired and haggard but by no means defeated. His girl presents the least interesting character of the splash but check out all the on-lookers. The background figures may not have played an important place in the splash but they are just the sort of added spice that provides the proper atmosphere.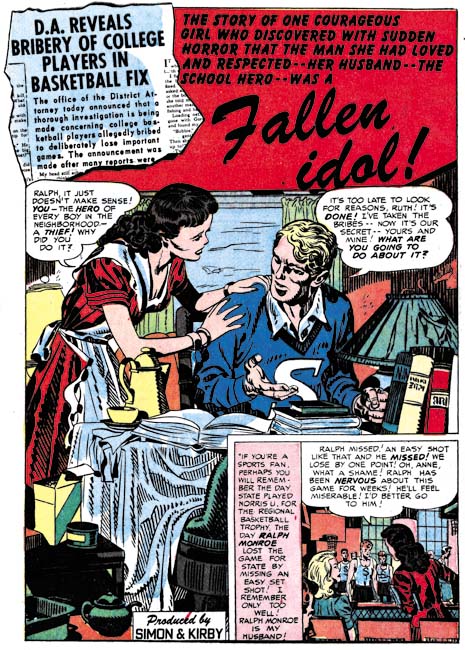 Young Love #40 (December 1952) "Fallen Idol", art by Jack Kirby
There was a time when the first, or featured, story almost always used a confessional splash. That has changed in recent months. Of the eight comics reviewed here only one of the featured stories has a confessional splash. That is not to say that the first splash did not always get good treatment. In fact I had a hard time choosing between two of Kirby's splashes to present here; they both were so good.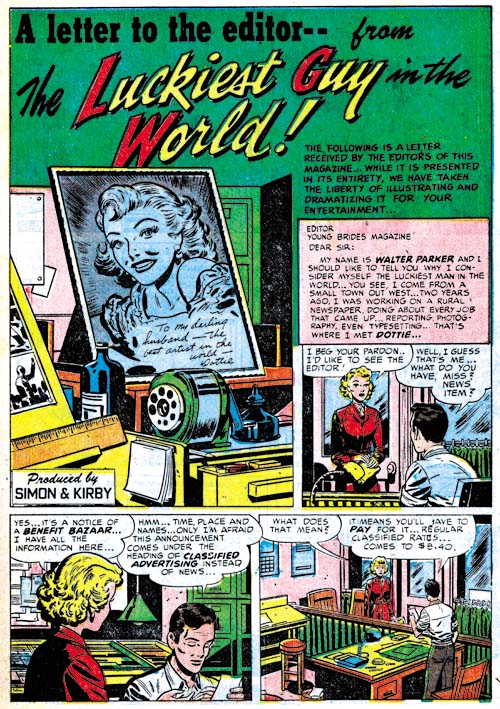 Young Brides #2 (November 1952) "The Luckiest Guy in the World", art by Bill Draut
Another of the changes occurring to the Prize romance titles is that previously if Kirby appeared in an issue he would most likely do the feature story. This was no longer the case; Jack only did three of the eight featured stories. Three of the other featured stories were done by Bill Draut. Another change was the splash for the featured story did not always take up a full page. While in the earlier romance issues the featured story seemed chosen from the start, now more and more it seems like it was indistinguishable from any of the other stories.
At a quick glance the cluttered desk top could belong to anyone. The story is about a newspaper artist but look what is on the drawing board cut off by the left edge. Looks like comic book art to me.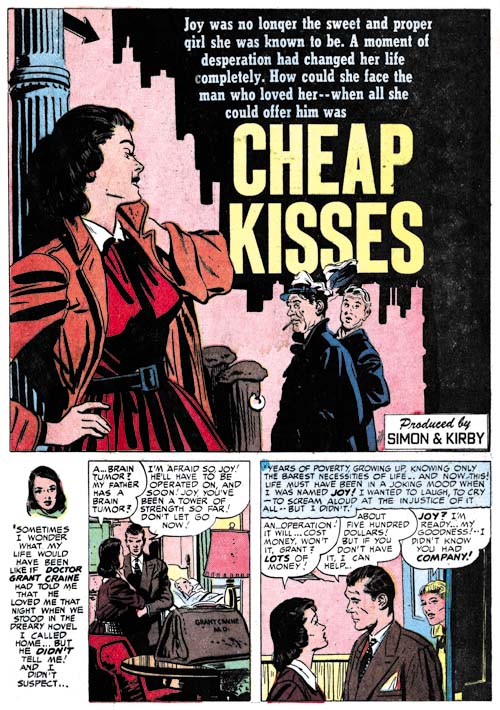 Young Romance #51 (November 1952) "Cheap Kisses", art by John Prentice
One practice remained, the teaser. I wonder if the teenage girl readers understood the suggestion of prostitution that John Prentice's splash provides, but I am sure any adult viewer would. Perhaps this was done on purpose to entice an adult to purchase the comic expected a lurid story. But any adult that did buy the comic was certainly doomed to disappointment. In this case the real crime that the girl did was theft.

Young Brides #2 (November 1952) "Give And Take", art by John Prentice
John Prentice would sometimes abandon a splash border. It is a technique that allows the story to stand out from the others. The theme of a man preventing a woman from suicide is one that he would draw again years later for Harvey Comics ("Paid in Full" was discussed in Kirby Imitating John Prentice). Interestingly Prentice left out the border for the splash for the Harvey story as well.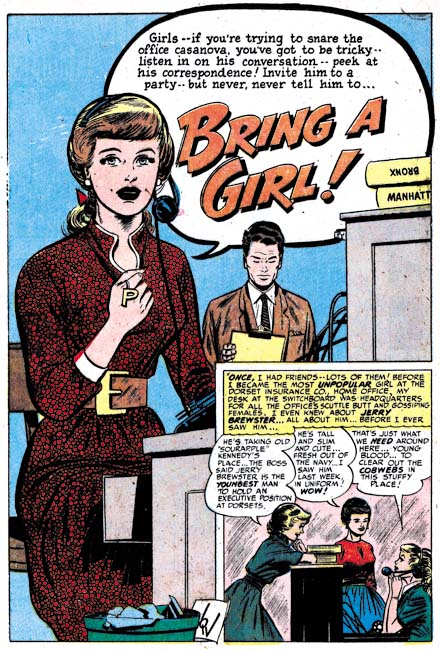 Young Romance #53 (January 1953) "Bring a Girl", art by Bill Walton
The confessional splash is not always limited to the feature story. I believe the confessional splash for "Bring a Girl" is the only one that Bill Walton did. It is also Walton's only full page splash for Simon and Kirby. Its uniqueness suggests that this story may originally have been intended for the feature story but got replaced by Kirby's "Girl in My Corner" which in my opinion was a good choice. Still it is the best splash that Walton would do for Simon and Kirby. So nice that I also suspect that Walton was provided a layout, most likely by Joe Simon.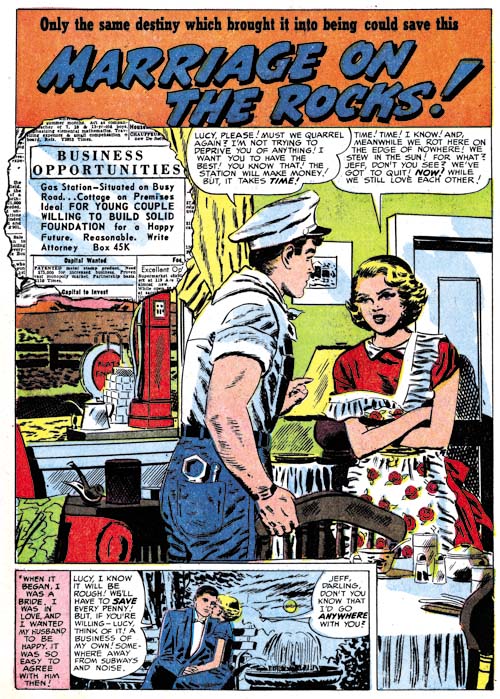 Young Love #39 (November 1952) "Marriage on the Rocks", pencils by Mort Meskin
Some of the art by Mort Meskin for this period have been inked by a brush technique I do not remember seeing in his art before. The technique is call a split brush where by the brush is manipulated to form multiple tips. With this technique it is possible to ink parallel lines with one stroke. In the inking of "Marriage on the Rocks" this can best be seen as short strokes on the man's shoulder. Meskin has a preference for spotting with parallel lines but in the past did them with separate brush strokes. I cannot make up my mind if this is Mort just experimenting with the split brush technique or if it indicates that another artist did the inking.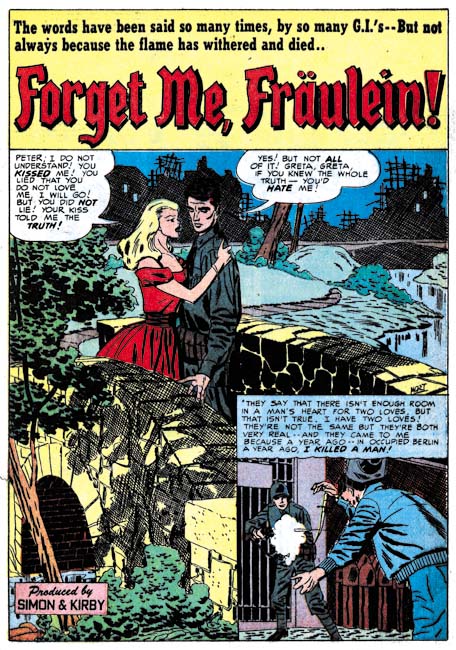 Young Love #41 (January 1953) "Forget Me, Fraulein", pencils by Mort Meskin, inks by George Roussos
According to the Jack Kirby Checklist, "forget Me, Fraulein" was penciled by Jack Kirby and inked by Mort Meskin. The biggest problem with that is there on the right edge just above the story panel is Meskin's signature.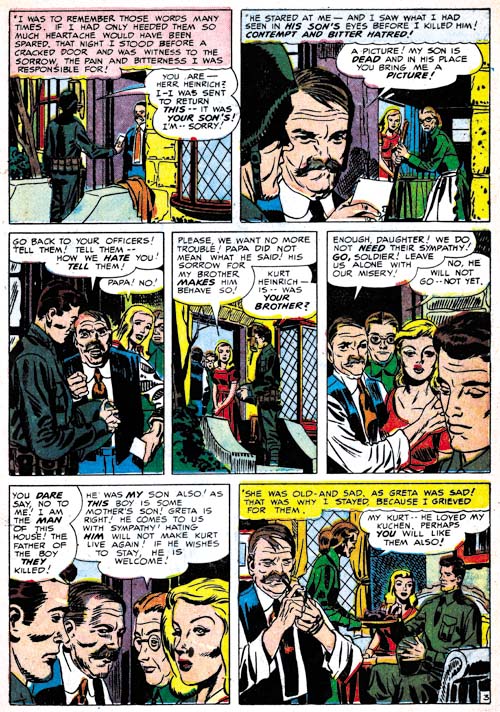 Young Love #41 (January 1953) "Forget Me, Fraulein" page 3, pencils by Mort Meskin, and inks by George Roussos
I am sure that some will still say that Kirby did the layouts, but it is clear to me that Mort was not working from layouts supplied by Jack. That is not to say Kirby did not influence Meskin, Mort had been working along side of Jack for three years and had picked up some things. The easiest clue that these are not Kirby layouts, now that it has been pointed out in a previous comment by Steven Brower (Little Shop of Horrors, Chapter 5), is the narrow depth of field. Most of the men look much more like Meskin's than those drawn by Kirby. However there is something to the men that is a little off from typical Meskin and the Fraulein looks nothing like Mort's.
A clue as to why this story seems so odd is found in the picket fence crosshatching (see Inking Glossary) found in panel 3. This Studio style inking technique is found nowhere else in this story. While the picket fence crosshatching does not recur elsewhere in two panels at the bottom of page 6 there can be found Kirby's blunt inking brush. One of these panels has a man obviously drawn by Kirby. Apparently Kirby has taken on his roll as art editor and provided numerous touchups to the art.
It is unusual to find Kirby doing any corrections on Meskin's art and never before have the corrections been so extensive. The reason becomes clear when the inking is examined more closely. Particularly revealing are the manner the cloth folds are spotted. They are not inking with the sweeping parallel brush strokes that Meskin typically uses but rather by the somewhat splotchy method employed by George Roussos.
So what has happened was that Roussos inked Meskin's pencils in a manner very typically for George, that is to say rather poorly. Since this was going to be used for the all important feature story, Kirby had to do a surprisingly large number of touchups. In the end the story is a mixture of a majority of pieces that look like they were penciled by Meskin, a surprisingly number of parts that look like Kirby's work and in even a few places part that look like they were drawn by Roussos. George did a great job of inking Mort's art when both were working for DC but here in the Simon and Kirby studio Roussos just seems to do little more than mess up Meskin's pencils.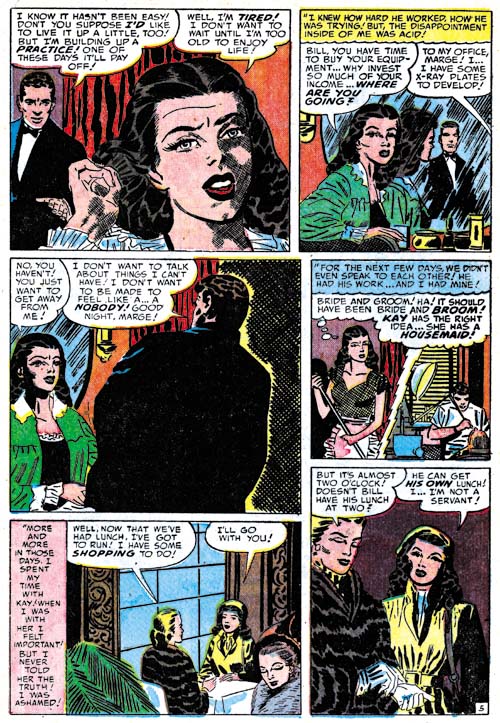 Young Brides #3 (January 1953) "Bride and Broom" page 5, pencils by Mort Meskin, inks by George Roussos
When writing about the differences between Mort Meskin's inking and that of George Roussos I have been pointing out their different manner of spotting the cloth folds. While that is usually the easiest means that can be used to determine the correct inking credits, it is not the only why the two inkers are distinct. Both inkers have a fondness for crosshatching but Mort generally only uses it if fill up blank backgrounds while George will sometimes use it on such things as figures as shown by the woman in the first panel from the page shown above. Note how the crosshatching is fine and done at approximately right angles. That is not the manner that Meskin uses for the rare occasions that he does crosshatch a figure as for example in story he later did for Harvey (see Horrible Meskin). There the crosshatching is not so fine and the angle between the lines is much more oblique.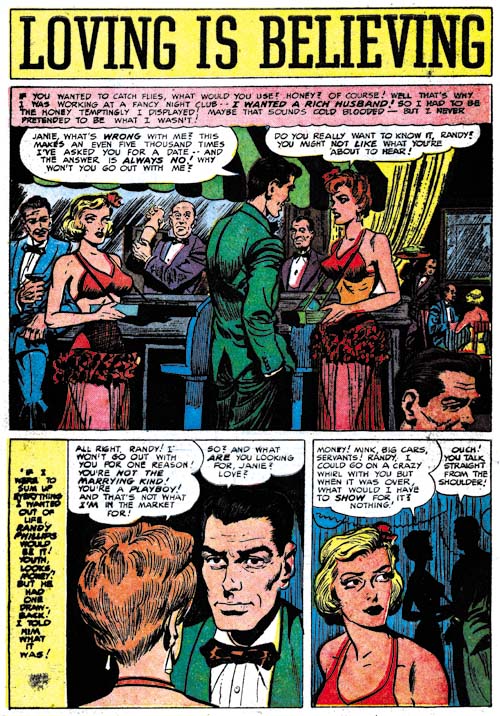 Young Love #41 (January 1953) "Loving Is Believing", art by Bob McCarty(?)
I have previously remarked about the large eyes drawn by the artist that I am questionably calling Bob McCarty. Unfortunately the images that I provided were not the best ones to show that feature so I am glad to finally be able to provide a good example, "Loving is Believing".
Also not how the splash panel is actually the first panel of the story as well. This is not a technique that I have had occasion to comment on before. While this may be the first use of the way of presenting a story, now that it has been introduced we will be seeing it again.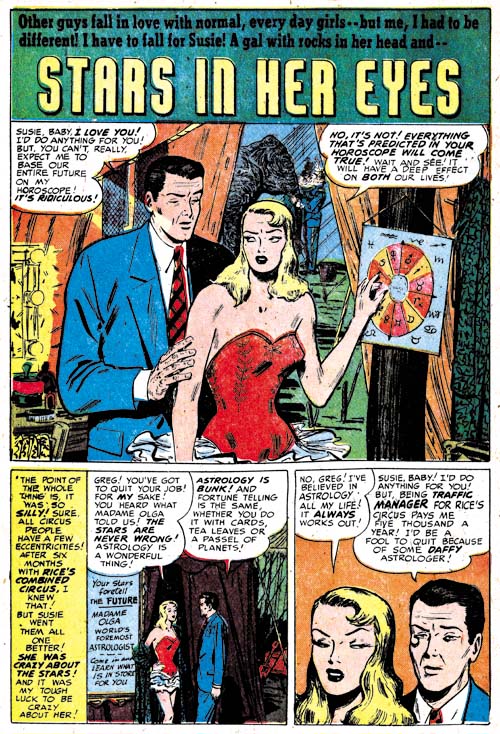 Young Romance #53 (January 1953) "Stars In Her Eyes", art by Al Eadeh(?)
I will close with another specimen of work by Al Eadeh(?). I have not discussed this artist work in detail because I really feel his style, particularly the way he does eyes, is so distinctive that he can easily be recognized. Now all I have to do is find something with this style that he signed.
Chapter 1, A New Genre (YR #1 – #4)
Chapter 2, Early Artists (YR #1 – #4)
Chapter 3, The Field No Longer Their's Alone (YR #5 – #8)
Chapter 4, An Explosion of Romance (YR #9 – #12, YL #1 – #4)
Chapter 5, New Talent (YR #9 – 12, YL #1 – #4)
Chapter 6, Love on the Range (RWR #1 – #7, WL #1 – #6)
Chapter 7, More Love on the Range (RWR #1 – #7, WL #1 – #6)
Chapter 8, Kirby on the Range? (RWR #1 – #7, WL #1 – #6)
Chapter 9, More Romance (YR #13 – #16, YL #5 – #6)
Chapter 10, The Peak of the Love Glut (YR #17 – #20, YL #7 – #8)
Chapter 11, After the Glut (YR #21 – #23, YL #9 – #10)
Chapter 12, A Smaller Studio (YR #24 – #26, YL #12 – #14)
Chapter 13, Romance Bottoms Out (YR #27 – #29, YL #15 – #17)
Chapter 14, The Third Suspect (YR #30 – #32, YL #18 – #20)
Chapter 15, The Action of Romance (YR #33 – #35, YL #21 – #23)
Chapter 16, Someone Old and Someone New (YR #36 – #38, YL #24 – #26)
Chapter 17, The Assistant (YR #39 – #41, YL #27 – #29)
Chapter 18, Meskin Takes Over (YR #42 – #44, YL #30 – #32)
Chapter 19, More Artists (YR #45 – #47, YL #33 – #35)
Chapter 20, Romance Still Matters (YR #48 – #50, YL #36 – #38, YB #1)
Chapter 21, Roussos Messes Up (YR #51 – #53, YL #39 – #41, YB #2 – 3)
Chapter 22, He's the Man (YR #54 – #56, YL #42 – #44, YB #4)
Chapter 23, New Ways of Doing Things (YR #57 – #59, YL #45 – #47, YB #5 – #6)
Chapter 24, A New Artist (YR #60 – #62, YL #48 – #50, YB #7 – #8)
Chapter 25, More New Faces (YR #63 – #65, YLe #51 – #53, YB #9 – #11)
Chapter 26, Goodbye Jack (YR #66 – #68, YL #54 – #56, YB #12 – #14)
Chapter 27, The Return of Mort (YR #69 – #71, YL #57 – #59, YB #15 – #17)
Chapter 28, A Glut of Artists (YR #72 – #74, YL #60 – #62, YB #18 & #19, IL #1 & #2)
Chapter 29, Trouble Begins (YR #75 – #77, YL #63 – #65, YB #20 – #22, IL #3 – #5)
Chapter 30, Transition (YR #78 – #80, YL #66 – #68, YBs #23 – #25, IL #6, ILY #7)
Chapter 30, Appendix (YB #23)
Chapter 31, Kirby, Kirby and More Kirby (YR #81 – #82, YL #69 – #70, YB #26 – #27)
Chapter 32, The Kirby Beat Goes On (YR #83 – #84, YL #71 – #72, YB #28 – #29)
Chapter 33, End of an Era (YR #85 – #87, YL #73, YB #30, AFL #1)
Chapter 34, A New Prize Title (YR #88 – #91, AFL #2 – #5, PL #1 – #2)
Chapter 35, Settling In ( YR #92 – #94, AFL #6 – #8, PL #3 – #5)
Appendix, J.O. Is Joe Orlando
Chapter 36, More Kirby (YR #95 – #97, AFL #9 – #11, PL #6 – #8)
Chapter 37, Some Surprises (YR #98 – #100, AFL #12 – #14, PL #9 – #11)
Chapter 38, All Things Must End (YR #101 – #103, AFL #15 – #17, PL #12 – #14)