Ger Apeldoorn's comments to chapter 9 of "It's A Crime" led me to search Prize Comics Western for examples of artists that had also worked for Simon and Kirby. Because of that search I have decide to post a rough outline of this western title. It is rough because I only have access to a little more then half the issues. The biggest gap consists of three missing issues (PCW #86 to #88, March to July 1951). So while it is quite probable that I may miss some artists it is unlikely that any of them played an important part in the title's history.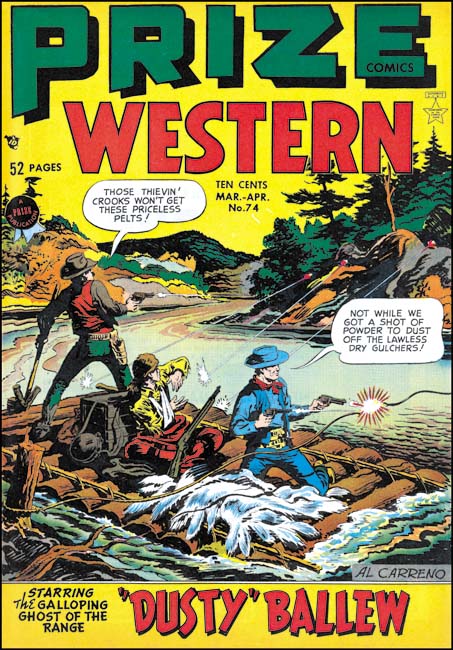 Prize Comics Western #74 (March 1949), art by Al Carreno
Prize Comics started as a superhero anthology in March 1940 (cover date). However the popularity of superheroes was in a decline in the late 40's. Probably spurned on by the success of Simon and Kirby's crime and romance titles, Prize Comics was renamed Prize Comics Western with issue #69 (May 1948). The primary feature was Dusty Bellows which was a typical, if nondescript, western genre piece. One of the recurring backup features was the Black Bull. While the hero had a western theme, his costume really makes him look like a typical superhero and a bit out of place in the western genre the title had now adopted. Another regular backup was the Lazo Kid.
The earlier issues of PCW would use Al Carreno as the primary artist. Carreno would do the art for the cover and the lead story as well as generally providing a backup story as well. It was Al that was most often called on to work on the title's main feature, Dusty Bellows. Al Carreno was a competent artist but I have to admit I am not particularly moved by his work.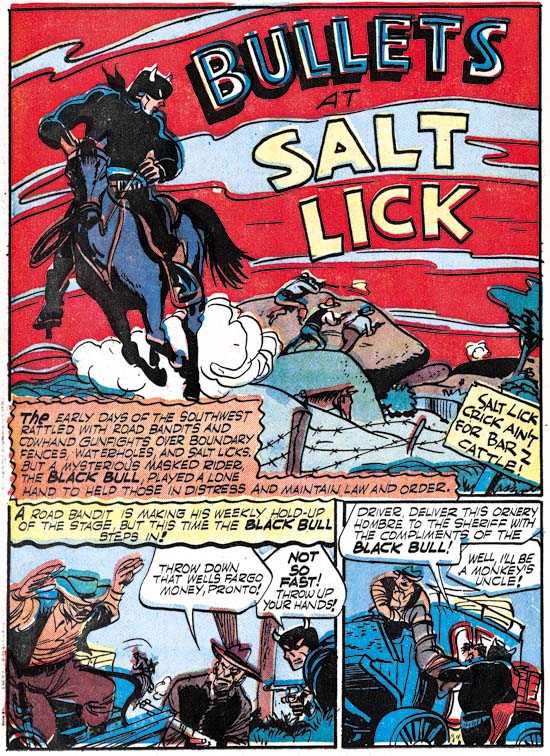 Prize Comics Western #71 (July 1948) "Bullets at Salt Lick", art by Dick Briefer
Other artists besides Al Carreno would appear as well. As Ger indicated in his comment, one of them was Dick Briefer. Besides "Bullets at Salt Lick", Briefer also did "Rod Roper" (PCW #69, May 1948) and "Black Bull Bulldogs a Bandit" (PCW #77, September 1949). Due to the gaps in my collection, it is quite possible he did other stories as well. Briefer was most famous for his long work on Frankenstein, but as seen in my serial post, It's A Crime, Dick also did some work for a period for Simon and Kirby. Briefer's work for S&K appeared in Charlie Chan, Headline and Justice Traps the Guilty from October 1948 to October 1949 which was slightly later then his work in PCW.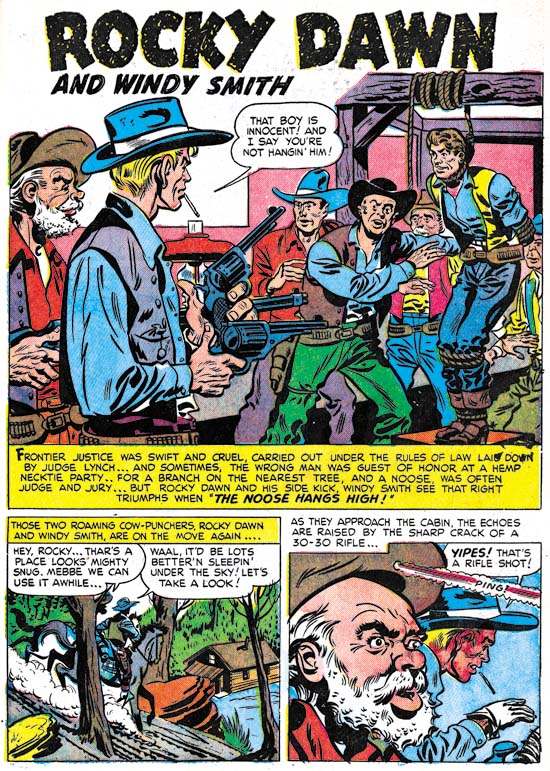 Prize Comics Western #70 (July 1948) "Rocky Dawn and Windy Smith", art by Warren Broderick
Another Simon and Kirby artist that appeared in PCW was Warren Broderick. So far I have only found one example of his work in this western title but it a good match for the works that Broderick did for Simon and Kirby. There are 11 stories I credit as having been drawn by Warren they are all from the crime titles Headline and Justice Traps the Guilty. Broderick was involved in only one romance story ("Mother Said No", Young Romance #7, September 1948) and even then only as an inker on Kirby's pencils.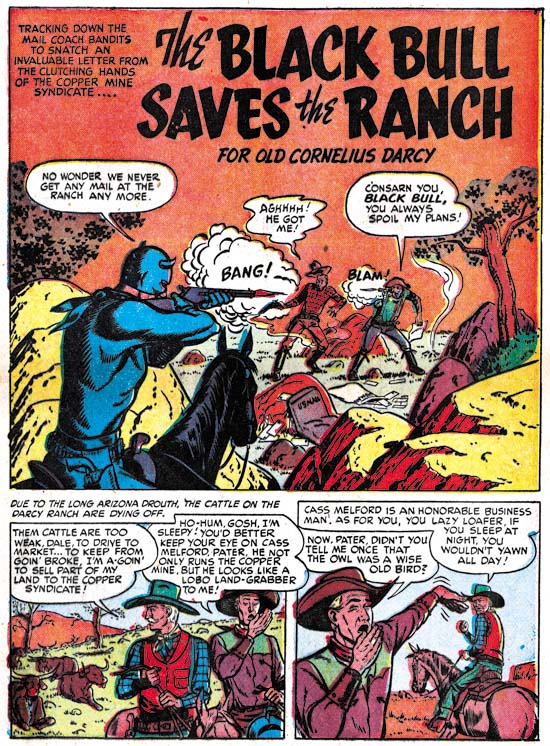 Prize Comics Western #73 (January 1949) "The Black Bull Saves the Ranch", art by John Severin
The first appearance of John Severin in PCW was with issue #73 (or possibly #72 since I do not have that comic). This was some months before the first work that he did for Simon and Kirby (Headline #35, May 1949). In the early period of PCW, Severin only did backup stories and he did not sign his art. But once he arrived he did seem to be a consistent presence in Prize Comics Western.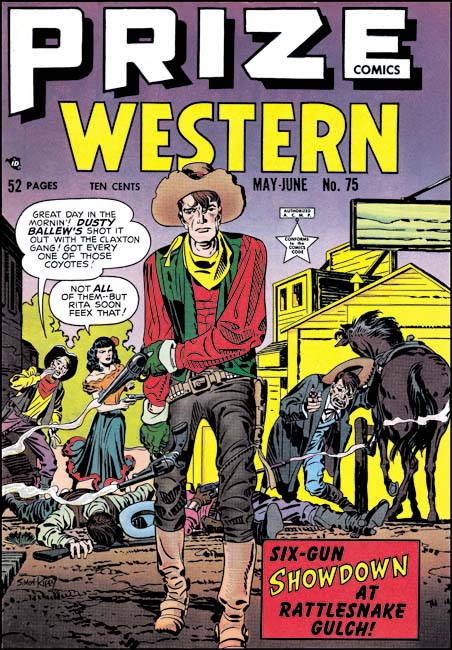 Prize Comics Western #75 (May 1949), art by Jack Kirby
Most, if not all, of the covers for the early period of Prize Comics Western were done by Al Carreno. The one exception that I am aware of was the cover for PCW #75 which was done by Simon and Kirby. What can I say, while I find it hard to be enthusiastic about Al Carreno's covers, the one drawn by Jack is a gem. When a gunfight is depicted on a comic book cover it is usually either the moment before the fight begins or it would show the actually fight. Here Kirby shows us the aftermath, or nearly so as the Senorita is just about dispatch the sole surviving enemy. This is very fortunate for Dusty Bellew as he has already turned his back to his fallen foes. Dusty does not have any obvious injuries but the way his right arm hangs suggest he might have been winged. But even if he is physically unscathed, his expression shows that the fight has left him wearied. Pathos in triumph, Jack has depicted Dusty as an unconventional hero. Jack Kirby would draw the cover for PCW #83 as well but it was no were near as effective as this cover.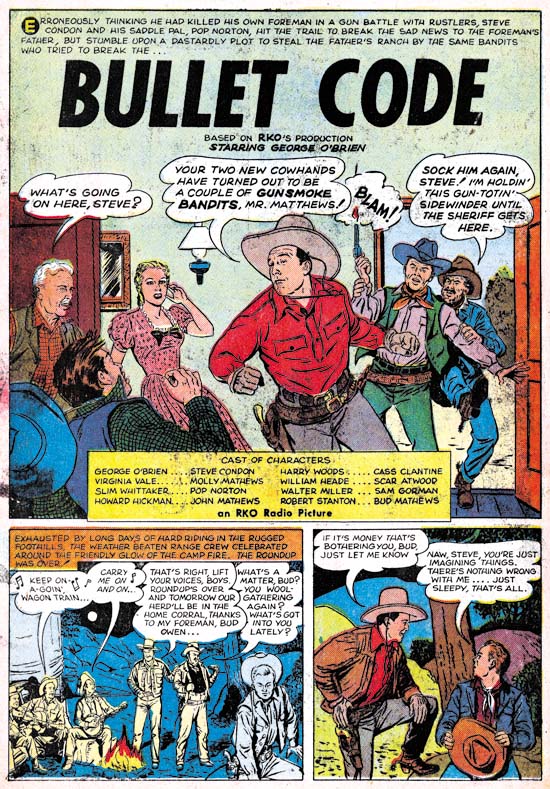 Prize Comics Western #78 (November 1949) "Bullet Code", art by Mart Bailey
Like most of the comics published by Prize, PCW switched to photographic covers with issue #76 (July 1949). More importantly there was a change in contents. Al Carreno no longer provided work and his place as lead artist was taking by a new comer for the title, Mart Bailey. As part of the change, the lead story became a movie adaptation. I suspect it was because of the movie adaptation that Bailey was used. While Al Correno could draw well I doubt that he was able to achieve the type of realism Bailey showed in these movie adaptations. I am not saying Bailey's realism was better art but it probably was more acceptable to RKO. The use of movie adaptations was not long lasting, the last one may have been "Stage To Chino" from PCW #79 (January 1949). However Mart continued used as the primary artist and his artwork was no longer quite so realistic.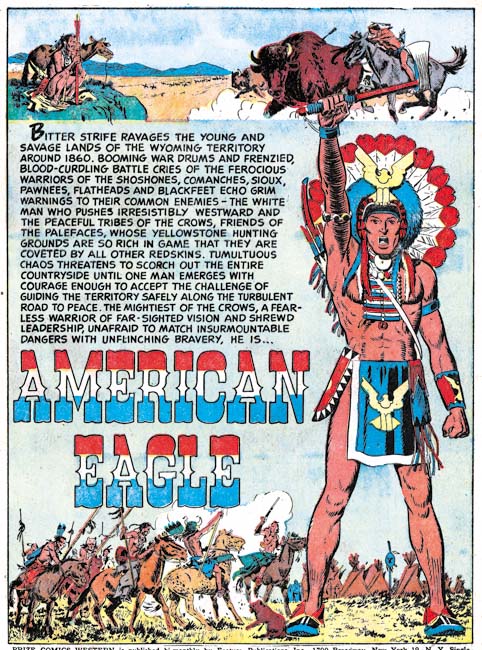 Prize Comics Western #85 (January 1951) "American Eagle", art by John Severin
Issue #85 started the third period for Prize Comics Western. American Eagle was introduced as the new main feature. From this point American Eagle would be on every cover and always was the lead story. Generally there would be at least one backup story, sometimes more, on the American Eagle as well. John Severin had appeared in PCW for some time but now he became the lead artist. It was a position he would retain for much longer then his predecessors Al Carreno and Mart Bailey. Bailey continued doing some backup stories for a few issues before disappearing from the title. John Severin had also worked for Simon and Kirby but not after having attained the position of lead artist for Prize Comics Western.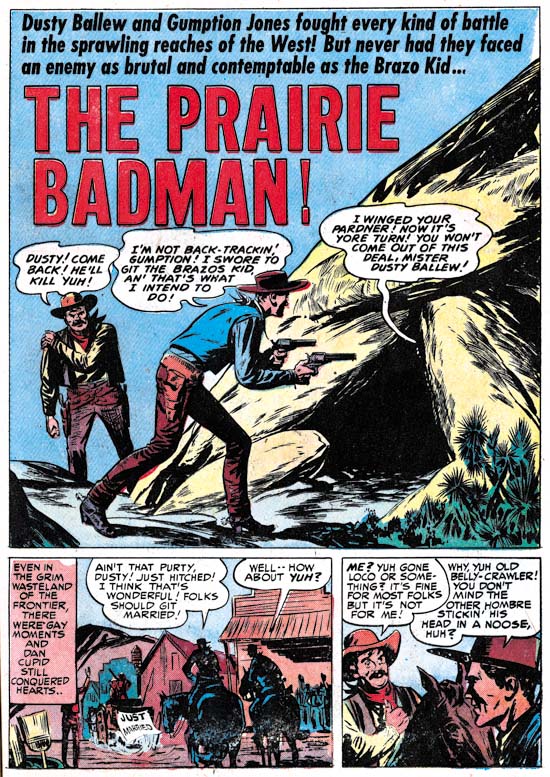 Prize Comics Western #85 (January 1951) "The Prairie Badman", art by Marvin Stein
Another artist who had also worked for the Simon and Kirby studio began providing art for Prize Comics Western during this period. Initially Marvin Stein did various backup stories but he most commonly drew the Lazo Kid feature. In his interview with Jim Amash, Joe Simon describes "trading" Stein. Besides his work for PCW, Marvin also became the primary artist for Headline and Justice Traps the Guilty.
The period with John Severin as the primary artist came to an end with issue #113 (September 1955). A short period followed where Marvin Stein became the primary artist. However, unlike before this did not mean that Marvin did all the covers and lead stories.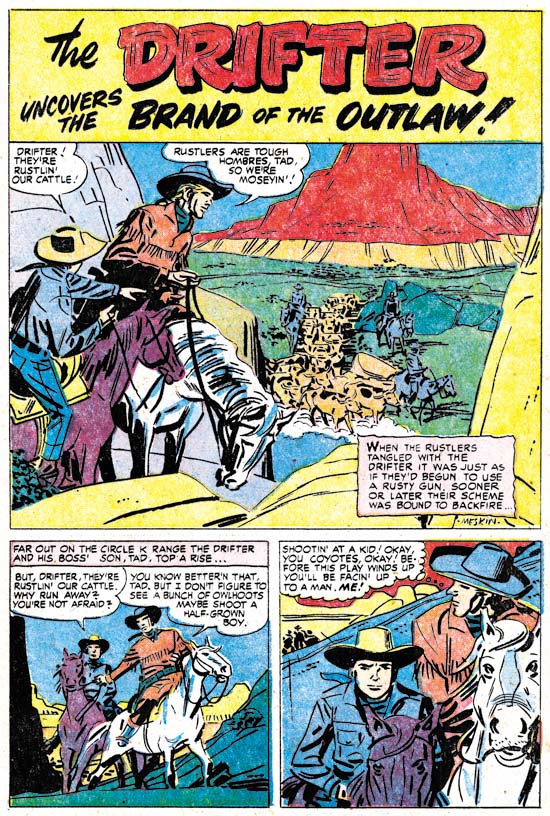 Prize Comics Western #115 (January 1956) "The Drifter", art by Mort Meskin
It was during the fourth period that Mort Meskin began doing some backup stories for Prize Comics Western. Of all the artists that had work on PCW, Mort is certainly the one with the greatest ties to the Simon and Kirby studio.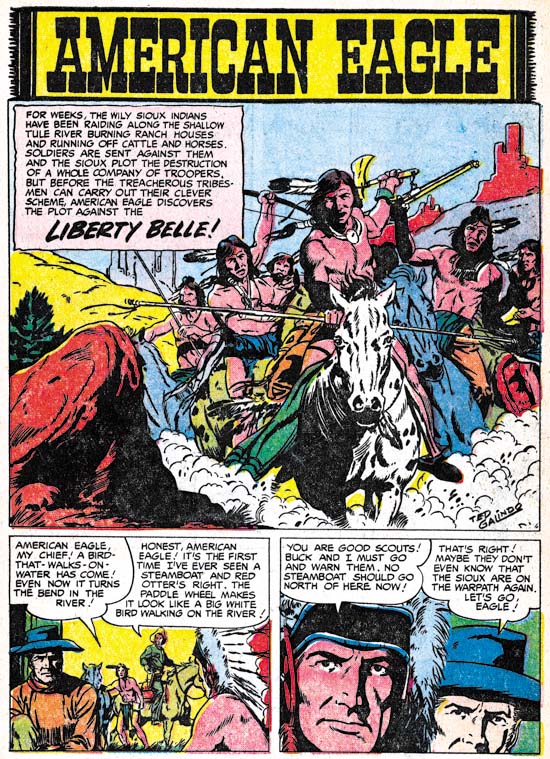 Prize Comics Western #118 (July 1956) "Liberty Belle", art by Ted Galindo
Another artist with Simon and Kirby connections who appeared during the fourth period was Ted Galindo. Ted even did the lead story, "Liberty Belle" for issue #118. Galindo did a piece for Foxhole #4, but most of the work he did for what might be called Simon and Kirby productions came after the breakup of the studio.
The fourth period was short and it marked the end of the title with issue #119 (September 1956).
There are a number of artists used throughout the history of Prize Comics Western that I have not discussed here. The number of stories they provided were limited, I have not been able to identify them, and their artistic talents were limited.
In his original comment that prompted this post, Ger wrote that Vic Donahue was one of the artists common to the Simon and Kirby studio and Prize Comics Western. I did not encountered Donahue in the search I did on my PCW issues. I asked Ger to double check and he has not been able to find him either. I am not sure that even the combined collections are not complete so there is still the possibility that Donahue did work on PCW.
One artist, who shows up in Prize Comics Western that I have discussed yet in my serial post, It's A Crime, was Moe Marcus ("Buffalo Stampede", PCW #92, March 1952). While Marcus appeared in Headline and Justice Traps the Guilty he did so during the period that these titles were not produced by Simon and Kirby. "Buffalo Stampede" was inked by Rocco "Rocke" Mastroserio. Rocke is most widely known for the work he did for Charlton.
At this point it might seem that there were a lot of comics artist that work on Prize Comics Western as well as on Simon and Kirby productions. However there were more Simon and Kirby studio artists that, as far as I have been able to determine, did not work on PCW. Important studio artists like Bill Draut, John Prentice, Vic Donahue, Leonard Starr, Bruno Premiani?, Jo Albistur and Ann Brewster. There are some lesser S&K studio artists as well such as A. C. Hollingsworth, Charles Nicholas, George Gregg, Manny Stallman and Al Eadeh. Conversely, two of the primary artists for Prize Comics Western, Al Correno and Mart Bailey, never worked for Simon and Kirby. John Severin did work for both, but by the time he became primary artist for PCW he was no longer providing work for Simon and Kirby. I have already written about Joe Simon's statement about trading Marvin Stein. Mort Meskin was an important S&K studio artist and he provided work for PCW as well. But the work Mort did on PCW was largely done after he stopped working for Simon and Kirby. Actually it is a little surprising that Mort did not supply work earlier then that as he had provided such work for Headline and JTTG when these were not produced by S&K.
The handling of Prize Comics Western seems very different from Simon and Kirby productions. As described above the history of PCW the title was very much defined by the primary artist. During each period it was the primary artist that supplied the covers, did the lead story and at least one backup story as well. Jack was the primary artist for Simon and Kirby productions. If there was a cover to be made it was almost always done by Kirby. But Jack would only dominate the contents of a new title. After the initial launching period of a title, Kirby would not dominate the contents so much and a variety of artists would be used. The type of handling of Prize comics Western was similar to that used for Frankenstein Comics and, as we will see in a future chapter to "It's A Crime", the same reliance on a primary artist would be adopted by the crime titles as well.