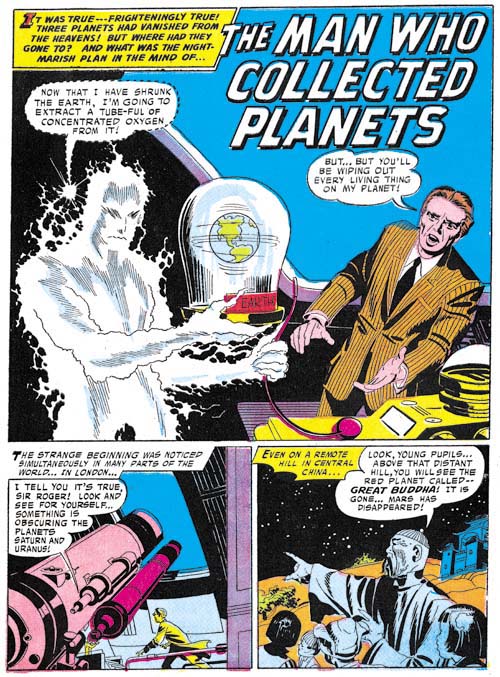 Tales of the Unexpected #18 (October 1957) "The Man Who Collected Planets", art by Jack Kirby
In a comment to my previous post (Kirby Krackle) Ger Apeldoorn remarked on the existence of another Kirby Krackle prototype. Unfortunately Ger was unable to provide the specific comic that it appeared in. Perhaps he meant the one that was recently brought to my attention (thanks CL), "The Man Who Collected Planets" from Tales of the Unexpected #18 (October 1957). The Kirby Krackle prototype also appears on the cover (which Kirby did as well) but I find the splash page a better example of this technique. I have previously dismissed some of the supposed Kirby Krackle prototypes (based on techniques used to indicate smoke), but how does this new (for me) contender stack up? Well it is composed of rounded (but not circular) spots, there is a tendency to form clusters, they are meant to depict energy (although more of a simmering than a high energy) and there is a cosmic connection (he is after all an alien). So while it is not perfect Kirby Krackle it is so close to the real thing that it makes a perfect prototype.
When I wrote a serial post on Kirby's Austere and related inking styles I included a chapter on his DC work (Jack Kirby's Austere Inking, Chapter 7). Unfortunately at the time I had access to a limited portion of that work and so I could only make some provisional conclusions. Now I am able to examine a much better selection of Kirby's DC material but I have yet to do a careful review so my observations must still be considered as tentative. My belief is that the art for "The Man Who Collected Planets" as well of the cover was inked by Jack Kirby himself. Perhaps the best indications that this was Kirby's inking can be found in the last panel of the image provided above. Observe the rather blunt but well controlled brushwork, the scalloped inking pattern own the man's shoulder and the use of short brushwork arranged into strings. So the credit, if the reader accepts this as a true Kirby Krackle prototype, belongs to Kirby.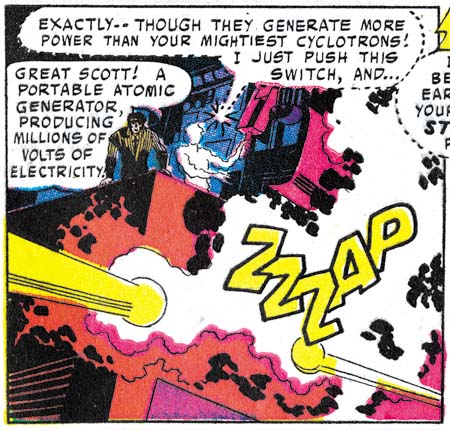 Tales of the Unexpected #18 (October 1957) "The Man Who Collected Planets" page 3 panel 5, art by Jack Kirby
As I described above, the Kirby Krackle prototype surrounding the alien figure is used to describe a simmering energy and not the high energy that true Kirby Krackle depicts. The lower energy level drawn by Jack is quite appropriate for his subject. However the story includes art where much higher energy levels are shown, as for example the panel from page 3 shown above. As can be seen this Kirby Krackle prototype is even closer to the real thing. The dots are more irregular in size and they form more obvious clusters. Personally I cannot see how anyone could claim this is not a perfectly good prototype from which true Krackle was developed.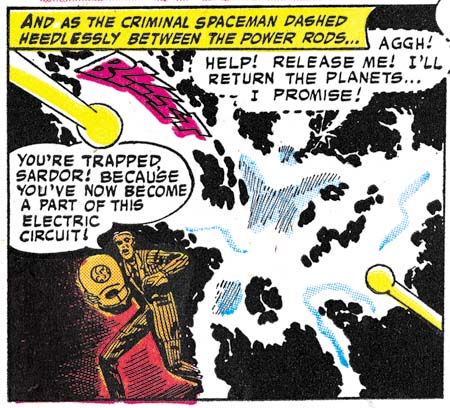 Tales of the Unexpected #18 (October 1957) "The Man Who Collected Planets" page 5 panel 5, art by Jack Kirby
I cannot resist providing another panel to show that my previous example of the Kirby Krackle prototype was no accident. While I fully accept this as a prototype, that by no means negates my claim that the example I provided from Captain 3-D (Kirby Krackle) was a Krackle prototype. Far from it, I believe it only strengthens my claim. The DC example is just what would be expected as a step intermediate between the earlier Captain 3-D (1954) and the full blown Krackle that Jack started using in 1968. Only small changes needed to go from the primitive version from Captain 3-D to the better (but still not perfect) version in the DC story. This means that I still maintain that Joe Simon was probably responsible for originating what would later become called Kirby Krackle.