(May – December 1957: Young Romance #88 – #91, All For Love #2 – #5, Personal Love #1 – #2)
This serial post has now entered the period after the crash and near collapse of the comic book industry. Prize Comics was never a big publisher but these must have been particularly difficult times. At the start of this period Prize was only publishing three bi-monthly titles Justice Traps the Guilty, Young Romance and the new released All For Love. In September they would also release another new romance title, Personal Love. Like All For Love, Personal Love was not produced by Simon and Kirby. The annual postal statements list Joe Genalo as the editor and the contents seem somewhat different from that found in Young Romance. The artists used also seemed to be different as well, at least during this period. Jack Kirby appeared in three of the four issues of Young Romance covered by this post but did no work for All For Love or Personal Love. Lou Cameron played an important part in Young Romance #89 and #90 but he does not appear in the other Prize romance titles. On the other hand Ted Galindo appears frequently in All For Love and Personal Love but he does not show up in these issue of Young Romance.
Since at this time Kirby was freelancing for DC and Atlas, it is clear that he and Joe were no longer running their old studio. So the question becomes how Young Romance was actually produced. While previously there can be found examples of Jack in his roll as an art editor stepping in to fix up some parts of stories supplied by other artists or provide a splash page, I have seen no examples of that practice in the period from 1957 to 1960. On the other hand the annual postal statements still listed both Simon and Kirby as editors up to 1960. My suspicion is that Jack really was not involved in the editorial work for Young Romance and it was Joe who was really producing the title. Not that I believe this effort took much of Joe's time; it was only a single bi-monthly title.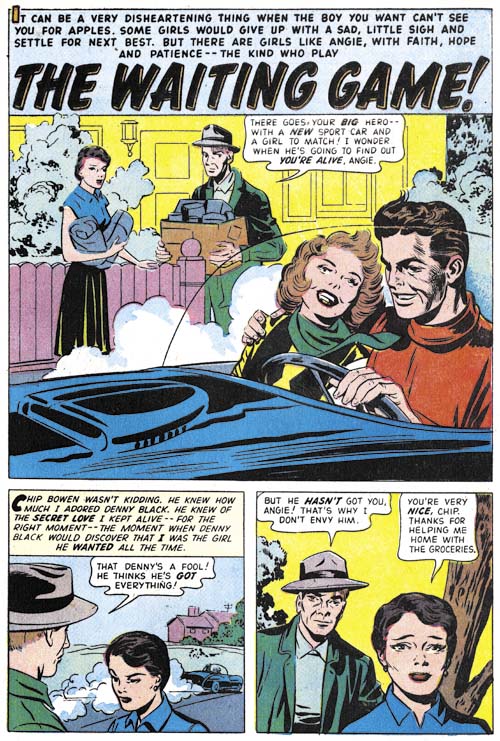 Young Romance #91 (December 1957) "The Waiting Game", pencils by Jack Kirby, inks by Marvin Stein
Jack Kirby provided art for three of the four issues of Young Romance during this period. However all were rather short pieces (1, 4 and 5 pages) and only one of them was the lead feature (a position often reserved for Jack in the past). All were nicely done but hardly very remarkable (for Kirby). Jack did not inked any of the pieces but one of them "The Waiting Game" looks very much like it was inked by Marvin Stein. Not the blunt but still subtle handling of the face of the man in the background of the splash. Of particular significance is the handling of the lady in the first story panel. She share a rather distorted perspective that I find hard to describe but is so often seen in Stein's own work when a head is viewed from above and to the side. I am not as confident that Stein inked the other two Kirby stories but he could have.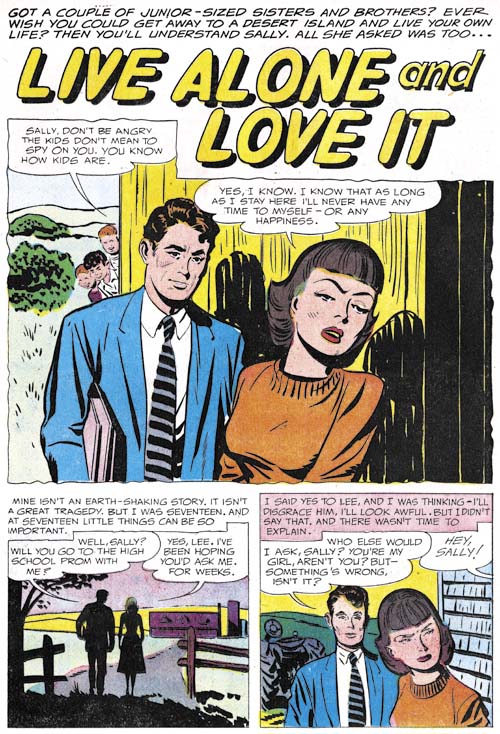 Young Romance #91 (December 1957) "Live Alone and Love It", art by Marvin Stein
Marvin Stein not only inked a work for Jack Kirby but he penciled and inked his own story for Young Romance. I have remarked before how I find Stein's style more appropriate for the crime genre than it was for romance. His "Live Alone and Love It" seems done in a particularly blunt manner even for Stein. Note the simplified eyebrows of the lady on this page, very reminiscent of the inking found in some of the Kirby pieces, another reason to possibly attribute to Marvin some of the more recent inking of Kirby's art. Stein was an exception in that he appeared not only in Young Romance but also All For Love and Personal Love as well. However prior to this he also was one of the very few artists that worked on both Simon and Kirby productions along with the titles not produced by that pair.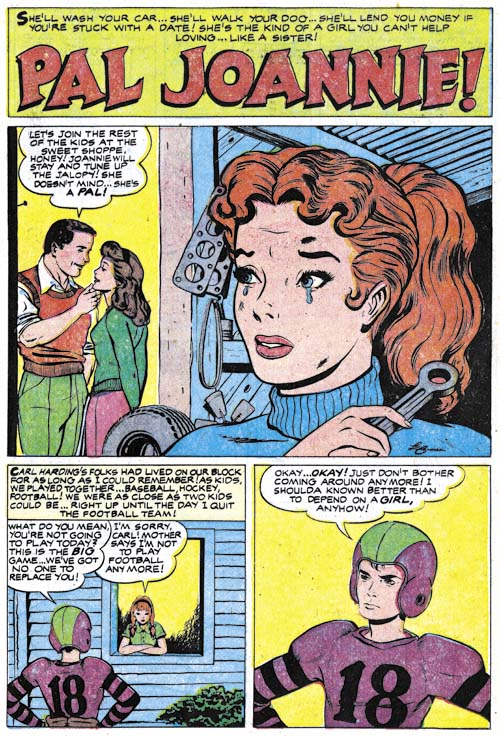 Young Romance #89 (August 1957) "Pal Joannie", art by Lou Cameron
Lou Cameron, an artist new for Young Romance, played an important part in issues #89 and #90 supplying 5 stories. His work was really excellent; great graphic story telling and beautifully drawn women. Like some of the other younger artists new to the title, Lou drew in what I would describe as a more modern style. I am not that familiar with Cameron's art but he also work for Atlas, DC and St. John Publishing. I am not sure what to attribute his sudden abundant appearance and just as quick disappearance in Young Romance but he is one of the artists that I wish had made a longer contribution to the title.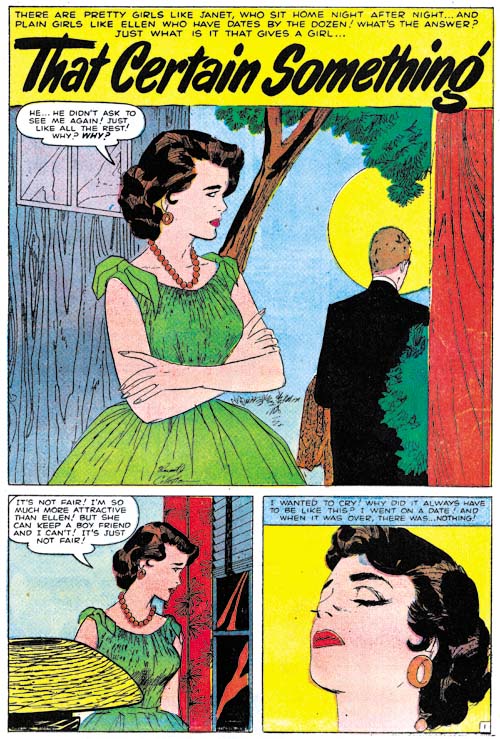 Young Romance #91 (December 1957) "That Certain Something", art by Vince Colletta
Young Romance #91 included the only appearance of Vince Colletta in a Simon and Kirby production. Colletta did a lot of work for Atlas, much of it romance art. However he is most famous as the inker that Kirby fans love to hate. Mostly this is due to his habit of erasing some of Kirby's pencils to speed up the inking. Oddly Colletta has a small but very vocal group of supporters who I refer to as Colletta apologists. According to the Colletta apologists, Vince was the greatest romance artist who worked in a realistic style. While I admire Colletta's romance art, neither of these assertions are true. I have never heard anyone other than a Colletta apologists claim Vince as their favorite romance artist and as far as I can tell Colletta apologists otherwise have no interest in romance art. And while his woman are beautiful they are not truly realistic. This is fortunate because I do not believe true realism would be appropriate for comic books. For my part, while I find Colletta's women beautiful, I also find them to lack any individuality. The only distinction found between individual examples are the hair styles and clothes. Still he is another of those artists that I wish provided more work for Young Romance.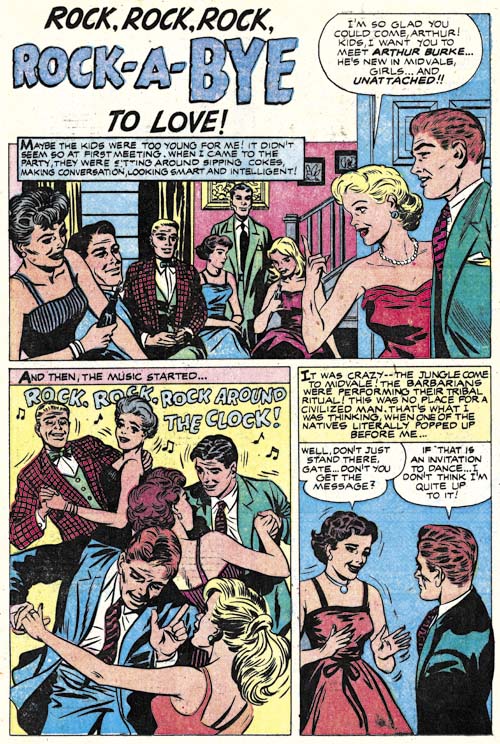 Young Romance #89 (August 1957) "Rock-A-Bye To Love", art by unidentified artist
In these last few chapters of the Art of Romance, I do not plan to discuss all the artists that appear in the Prize titles. Frankly most of them are not that great and I am so far unable to identify them. That is not to say that they are totally uninteresting. This is a period of transition for Young Romance as the title tries to maintain its appeal with a more modern audience. Hence the inclusion of rock-and-roll in some of the stories. However there is a tendency for rock music to be judged somewhat negatively.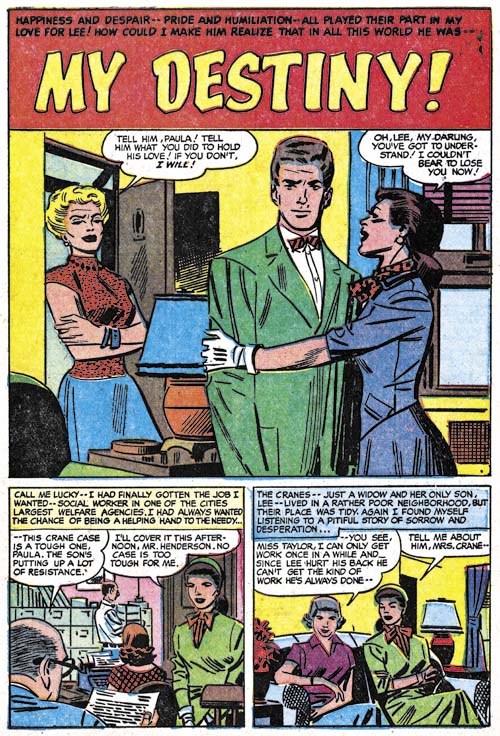 All For Love #2 (June 1957) "My Destiny", art by Mort Meskin
Mort Meskin provides two stories for All For Love #2 (June 1957). Both works appear to have been inked by Mort as well. As far as the art is concerned the work is nicely done but does not differ much, if at all, from the romance work that Mort did up until the end of 1955. It is not the art that is a cause for a surprise but his appearance in a Prize comic. As I wrote, his romance work was about a year and a half prior to this but his art appeared in the Prize crime titles for a few months further (March 1956). His last work for Prize Comics Western was for the July 1956 issue. Then suddenly these two stories in All For Love and then Meskin disappears from further Prize comics. I suspect that Prize offered much lower page rates than what DC did which is where Meskin was doing most of his work at this time. But it is suggestive that it was in All For Love that Meskin appeared and not Young Romance which was still being produced by Simon and Kirby. In any case I believe this was the last romance comic book art that Mort Meskin would ever create.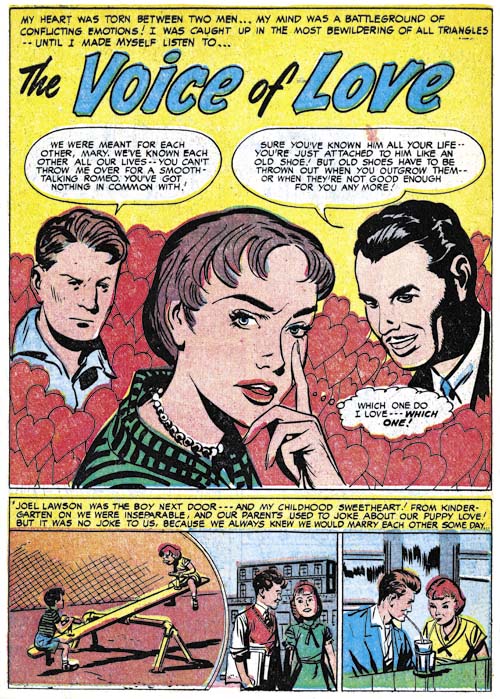 All For Love #3 (August 1957) "The Voice of Love", art by Marvin Stein
As mentioned above, Marvin Stein was one of the few artists appearing in Young Romance as well as All For Love or Personal Love. If anything, the art for "The Voice of Love" shown above is more carefully drawn than that from Young Romance #91.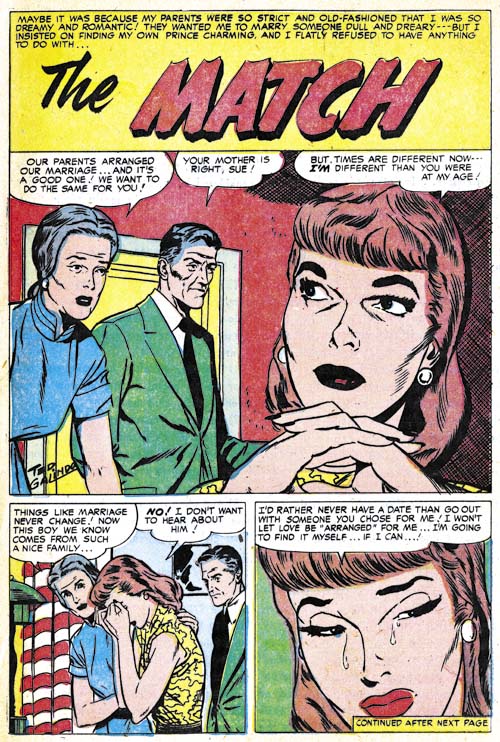 All For Love #3 (August 1957) "The Match", art by Ted Galindo
Ted Galindo provided work for all the Prize titles at this time except for Young Romance. Ted had previously drawn a story for Foxhole which, to be frank, was really not that well done. His romance work was much better, most likely because he now was a more experienced comic book artist. I feel the best work he was doing at this time appeared in Justice Traps the Guilty which will be the subject of a future chapter to Criminal Artists.

All For Love #2 (June 1957), art by J.O.
Some of the Prize titles during this period had cover art signed only as JO. No interior stories bear that signature and as far as I can seen none of the unsigned pieces were by this artist. The covers are very well done and indicate that this is a talented artist. I have only begun investigating whom this might be and have not reached any but the most tenuous conclusions. Although I have as yet no good evidence to back it up, I wonder if this might be by Joe Orlando.

Personal Love #1 (September 1957), "The Truth About Love", art by unidentified artist
I could not resist including another romance story from this period with a rock-n-roll reference. In the background of the splash can be seen a singer playing an acoustic guitar. That, plus the lyrics he sings, clearly were meant to be a reference to Elvis Presley who was very popular at that time (and since).
Chapter 1, A New Genre (YR #1 – #4)
Chapter 2, Early Artists (YR #1 – #4)
Chapter 3, The Field No Longer Their's Alone (YR #5 – #8)
Chapter 4, An Explosion of Romance (YR #9 – #12, YL #1 – #4)
Chapter 5, New Talent (YR #9 – 12, YL #1 – #4)
Chapter 6, Love on the Range (RWR #1 – #7, WL #1 – #6)
Chapter 7, More Love on the Range (RWR #1 – #7, WL #1 – #6)
Chapter 8, Kirby on the Range? (RWR #1 – #7, WL #1 – #6)
Chapter 9, More Romance (YR #13 – #16, YL #5 – #6)
Chapter 10, The Peak of the Love Glut (YR #17 – #20, YL #7 – #8)
Chapter 11, After the Glut (YR #21 – #23, YL #9 – #10)
Chapter 12, A Smaller Studio (YR #24 – #26, YL #12 – #14)
Chapter 13, Romance Bottoms Out (YR #27 – #29, YL #15 – #17)
Chapter 14, The Third Suspect (YR #30 – #32, YL #18 – #20)
Chapter 15, The Action of Romance (YR #33 – #35, YL #21 – #23)
Chapter 16, Someone Old and Someone New (YR #36 – #38, YL #24 – #26)
Chapter 17, The Assistant (YR #39 – #41, YL #27 – #29)
Chapter 18, Meskin Takes Over (YR #42 – #44, YL #30 – #32)
Chapter 19, More Artists (YR #45 – #47, YL #33 – #35)
Chapter 20, Romance Still Matters (YR #48 – #50, YL #36 – #38, YB #1)
Chapter 21, Roussos Messes Up (YR #51 – #53, YL #39 – #41, YB #2 – 3)
Chapter 22, He's the Man (YR #54 – #56, YL #42 – #44, YB #4)
Chapter 23, New Ways of Doing Things (YR #57 – #59, YL #45 – #47, YB #5 – #6)
Chapter 24, A New Artist (YR #60 – #62, YL #48 – #50, YB #7 – #8)
Chapter 25, More New Faces (YR #63 – #65, YLe #51 – #53, YB #9 – #11)
Chapter 26, Goodbye Jack (YR #66 – #68, YL #54 – #56, YB #12 – #14)
Chapter 27, The Return of Mort (YR #69 – #71, YL #57 – #59, YB #15 – #17)
Chapter 28, A Glut of Artists (YR #72 – #74, YL #60 – #62, YB #18 & #19, IL #1 & #2)
Chapter 29, Trouble Begins (YR #75 – #77, YL #63 – #65, YB #20 – #22, IL #3 – #5)
Chapter 30, Transition (YR #78 – #80, YL #66 – #68, YBs #23 – #25, IL #6, ILY #7)
Chapter 30, Appendix (YB #23)
Chapter 31, Kirby, Kirby and More Kirby (YR #81 – #82, YL #69 – #70, YB #26 – #27)
Chapter 32, The Kirby Beat Goes On (YR #83 – #84, YL #71 – #72, YB #28 – #29)
Chapter 33, End of an Era (YR #85 – #87, YL #73, YB #30, AFL #1)
Chapter 34, A New Prize Title (YR #88 – #91, AFL #2 – #5, PL #1 – #2)
Chapter 35, Settling In ( YR #92 – #94, AFL #6 – #8, PL #3 – #5)
Appendix, J.O. Is Joe Orlando
Chapter 36, More Kirby (YR #95 – #97, AFL #9 – #11, PL #6 – #8)
Chapter 37, Some Surprises (YR #98 – #100, AFL #12 – #14, PL #9 – #11)
Chapter 38, All Things Must End (YR #101 – #103, AFL #15 – #17, PL #12 – #14)