I stopped posting on my Simon and Kirby blog over four years ago, primarily due to pressure from my day job and the restoration work I was doing for Titan's Simon and Kirby Library. Work on Titan's publications have since been completed and I have recently retired. Although I now have more free time, I have no plans to resume periodic blogging. But there were some investigations that I feel remained as unfinished business. One of which are the covers that Joe and Jack did for Al Harvey early in the startup of his comic publishing company. I recently did restorations for all these covers; redoing the ones I had done earlier and finally working on the covers that I previously had not gotten around to. Some of my views about these covers have changed and besides which much time has passed from my previous discussions. I feel the best way to handle this would be provide two long posts on all the covers, incorporating those parts of my previous discussions that I feel are still appropriate. It seems appropriate to post this discussion on Joe Simon's 104th birthday.
In his book "The Comic Book Makers" Joe Simon describes how his friend Al Harvey approached him to do a cover for Al's new concept, a small-sized comic book. Joe also tells how Harvey offered to make Joe a partner for $250. But Joe was then working on Captain America. At Timely he and Jack Kirby were supposed to get a share of the profits for this very popular comic. So Joe felt the safe decision was to stay at Timely and so turned Al down. It probably seemed at the time like a no brainer, but Simon would never saw much royalty money from Timely and would leave before the year was out. As for Harvey his new comic book concept would not last long but he still managed to build up a very successful comic publishing business.
On a visit to Joe's place, I brought him printed copies of the pocket-size Harvey covers (Pocket #1-4, Speed #14-16). Initially Joe commented that he only did a couple of pocket-sized covers. But when he looked at the cover he said that Pocket #1, #2 and #4 were his. The only question was about Speed #16. Initially he said that he thought he did it, then later he said he may not have done it. Joe commented that the feathering on the legs of Captain Freedom was not like he would do it. Note that on page 116 of his book "My Life in Comics" Joe says he did the cover for Pocket Comics 1-3. This is Joe misremembering our earlier earlier conversation and confusing doing three of the first four covers with doing the first three covers. I am going to discuss the covers that Joe said he did first.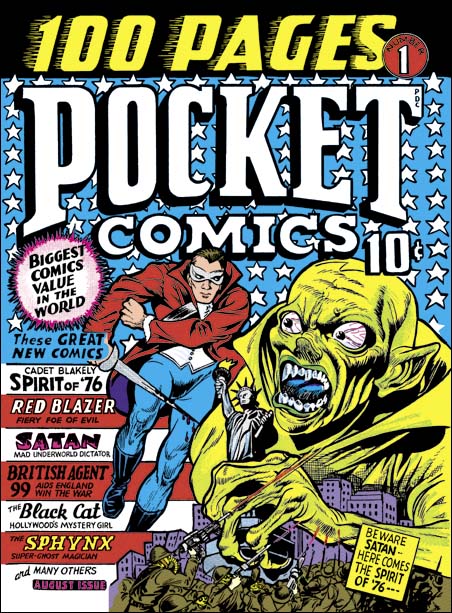 Pocket #1, Joe Simon (pencils and inks), August 1941
Joe's first effort for Harvey appeared on Pocket Comics #1 with cover date August 1941. This comic came out in the same month as Captain America #5. Jack Kirby was doing some great stuff at that time, but the true Simon & Kirby style had not yet emerged. The Pocket #1 cover was not in the Simon & Kirby style either, and in fact it does not show much in the way of influence from what Jack was doing. Here we get Joe doing Joe.
There are things about this cover which I find unfortunate. The field of stars gives me a claustrophobic feeling. But the biggest problem may not have been Joe's fault as he said he was working from a mock-up. Nearly half the top is occupied by the comic's title. If that was not enough the left side has a list of the comic's contents. This left little room on an already small cover for Joe to work, but he uses it well. Joe came up with a terrific design which was finely executed. The scene portrayed actually is not logical, but it was not meant to be and it works.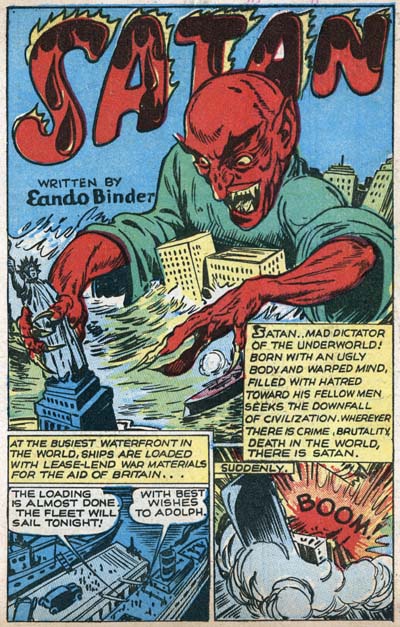 Pocket #1, Splash page from the Satan story, unknown artist, August 1941
There are similarities between Simon's cover and the splash from the Satan story by the unidentified artist. (The GCD says the artist was Pierce Rice, but I remain unconvinced as all the work attributed to Rice in the GCD do not appear to be done by the same artist and I have yet to find any early work signed by the artist). Both have an oversized Satan holding the Statue of Liberty rising among a cityscape. The Statue of Liberty plays a part in the story whereas the spirit of 76 does not. Therefore I suspect Joe based his cover from the splash and took it into his own unique direction.
A small diversion, the writing of the Satan story was credited to Eando Binder, which is a pseudonym for the brothers Earl Andrew and Otto Binder. According to Wikipedia they used this name for their joint writing of science fiction. But by 1939 the writing was done by Otto with Earl acting as a literary agent. Otto Binder would go on to have a long career as a comic book writer.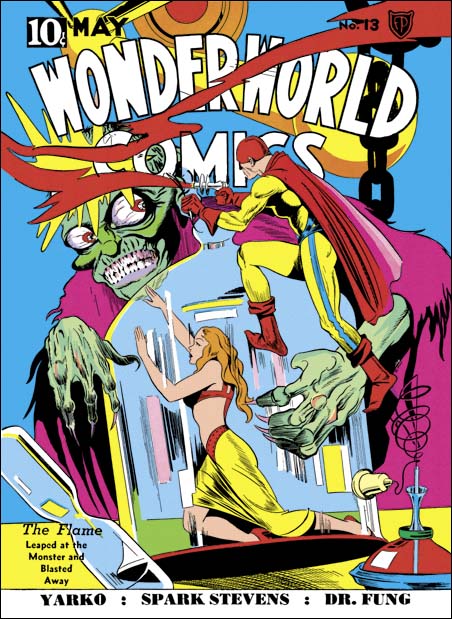 Wonderworld #13, Joe Simon (pencils and ink), May 1940
On the cover Simon provides a Satan that is a bit different then that in the comic itself. This is not just due to the colorist use of yellow instead of the classic red. Instead Joe has turned to a cover he did for Fox, Wonderworld #13 (May 1940). For the Fox cover, Joe was trying to work in the style of Lou Fine. His success is shown by the fact that this cover was often attributed to Fine despite the presence of a Joe Simon signature.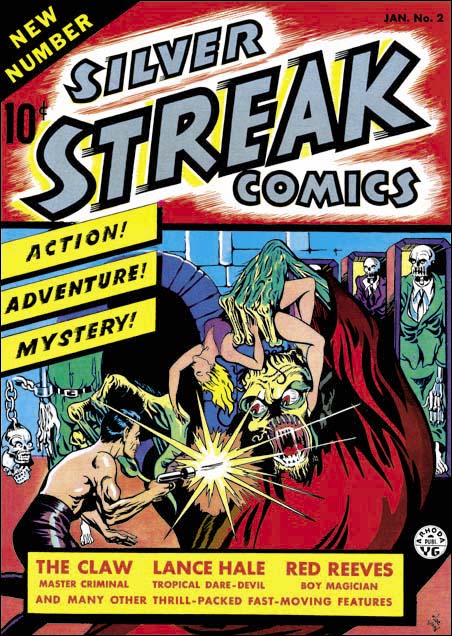 Silver Streak #2, Joe Simon (pencils and ink), January 1940
But there is also an even earlier version of Satan. That was the Claw as portrayed on Silver Streak #2 (January 1940). That, along with Keen Detective Funnies #14, were Joe's first cover work. Simon gave the Claw more of a Frankenstein look in the face, but the hands are similar to both Wonderworld #13 and Pocket #1.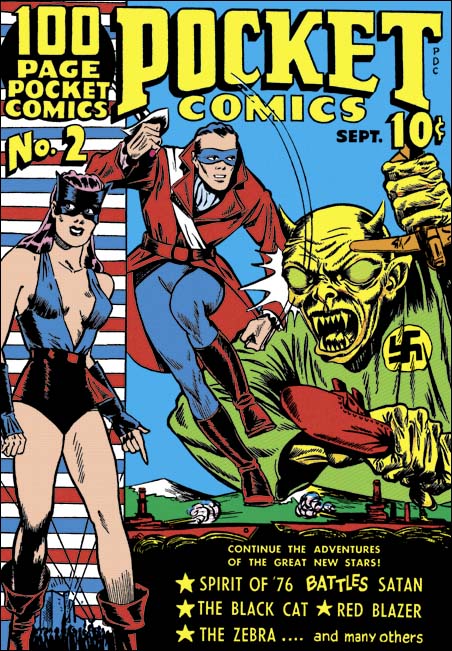 Pocket #2, Joe Simon (pencils and inks) and Barbara Hall (pencils and inks), September 1941
In Pocket Comics #2 the title has been reduced compared to #1 so there is more room for the art. The main scene once again depicts an oversized attaching Satan, being ineffectively fought by a miniature military (in this case some battleships) with a giant Spirit of '76 coming to the rescue. Whereas in Pocket #1 the Spirit of 76 fought Satan on the cover but not in the story, for Pocket #2 this hero really did battle the villain in both.
On the left side of the cover is the Black Cat, seemingly not part of the scene with Satan, but oversized nonetheless. The Black Cat started in Pocket #1 just a month before, so her presence on the cover is too soon to be due to an unexpected popularity. Rather having depicted Satan and the Spirit of '76, the Black Cat seemed more unique since the other features were the standard male heroes. The Black Cat on the cover was taken from the splash to the story from Pocket #1. The GCD attributes that story art to Barbara Hall. The story art is unsigned but there seems to be some documentary evidence to that effect. Women in Comics states:
She studied painting in Los Angeles, moving to New York City in 1940. She showed her portfolio to Harvey Comics in 1941, and was hired to draw the comic Black Cat. Her next strip was Girl Commandos, about an international team of Nazi-fighting women. This comic was developed from Pat Parker, War Nurse, about a "freelance fighter for freedom." When stationed in India, this nurse recruited a British nurse, an American radio operator, a Soviet photographer, and a Chinese patriot. Hall continued this strip until 1943.
The work listed by Women in Comics does appear to have been executed by the same artist.
The similarity of design and execution of the Satan and Spirit of '76 scene with that depicted on Pocket #1 leaves little doubt that this was also done by Joe Simon. Which makes it puzzling as to why the GCD attributes the cover for Pocket #1 to Joe and #2 to Bob Powell.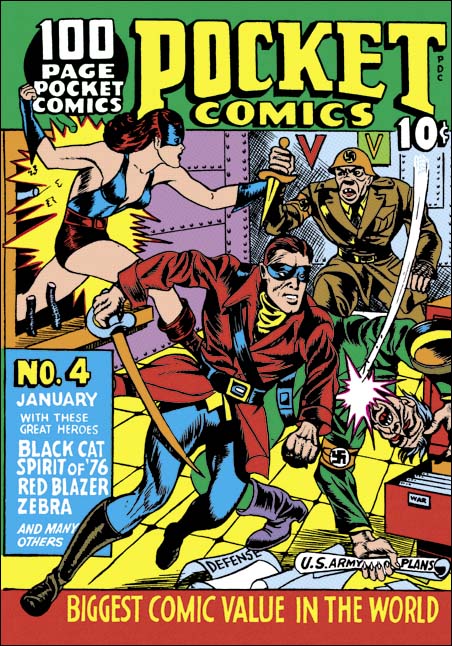 Pocket #4 Joe Simon (pencils and inks), January 1942,
I want to skip for now Pocket Comics #3, and proceed to #4. This is my favorite of the Pocket Comic covers. It is a great design, particularly since the text has been relegated to smaller areas as compared to the other issues. The Spirit of '76 is a good match for that on Pocket #1 or Pocket #2. I am sure this cover was also done by Joe Simon. A new feature is the Nazi falling after being hit. It is not the way Jack Kirby would have done it, but you can tell that was the source for Joe's inspiration. No longer do we find oversized figures. But although the design still works, it really doesn't make logical sense. How could the Spirit of '76 have delivered his blow if the Nazi had been standing behind him? Or how could the Black Cat jump through the window in the middle of the room and still manage to grab the arm of the Nazi in the back of the room? But as far as I am concern comics art is not meant to try to capture an instance in time. It is meant to tell a story. Without a single line of text, this cover is complete comprehensible. All the distortions of time and space were all done to advance that aim. The logical flaws are in fact its strengths.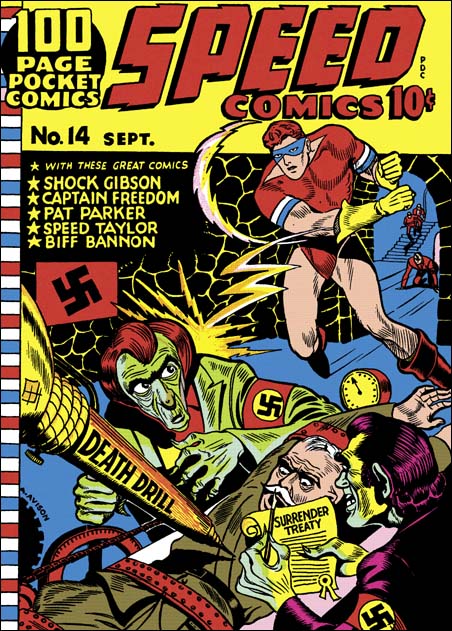 Speed #14, Al Avison (pencils and inks), September 1941
Al Avison was one of the artist that Joe Simon hired to help with Captain America and some other comics at Timely. I suspect that his presence in the early Harvey Comics may have been due to Joe. However it came about, this was the start of a long working relationship between Al Avison and Al Harvey.
Pocket #1, Splash page for the Red Blazer story, Al Avison (pencils and inks), August 1941
Fortunately Al signed this cover and the Red Blazer story from Pocket Comics #1, so they serves as good references when trying to sort out the attributions. This was early in his career, so although he tried to use what he learned from working with Simon and Kirby he could not yet pull it off. But he matured quickly so that when Joe and Jack left Timely in a few months, Al became the head artist for Captain America for a while.
The background for the cover includes some stairs and some advancing adversaries. This theme would be repeated in a number of the early Harvey covers, although in some cases the stairs would be replaced with a long hallway. However Avison never seems to return to this theme in any of his other early work including what he did at Timely after Simon & Kirby had left.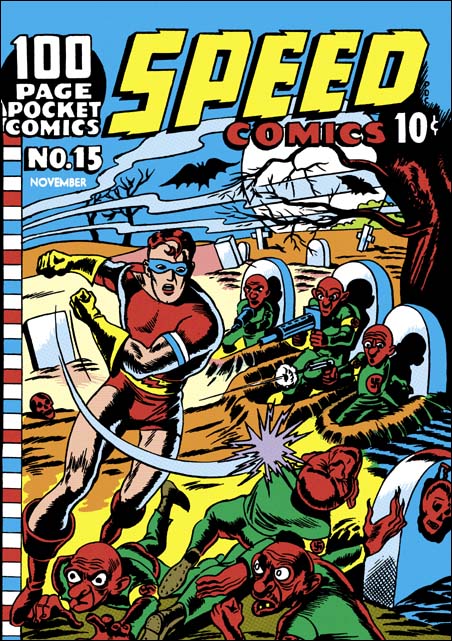 Speed #15 Unknown artist, November 1941
Unfortunately the cover for Speed #15 is unsigned. Compared to Speed #14, Shock Gibson has gotten much younger and less bulky. Although I would hardly call the work that Avison did on Speed #14 advanced, the art for Speed #15 is much cruder.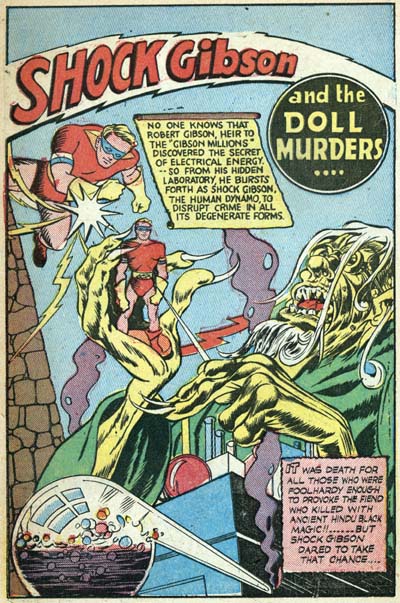 Speed #15, Splash page for the Shock Gibson story, Al Avison (pencils and inks), November 1941
The story art for Shock Gibson in Speed #15 is also unsigned, but is a good matched for Avison's cover and story art from Speed #14 and Pocket #1 (both signed). The GCD lists Avison as the artist for the cover of Speed #15 and previously I asserted that as well, but I no longer believe that to be true. The Speed #15 cover artist style is just too dissimilar from the Avison's story art from the same time period.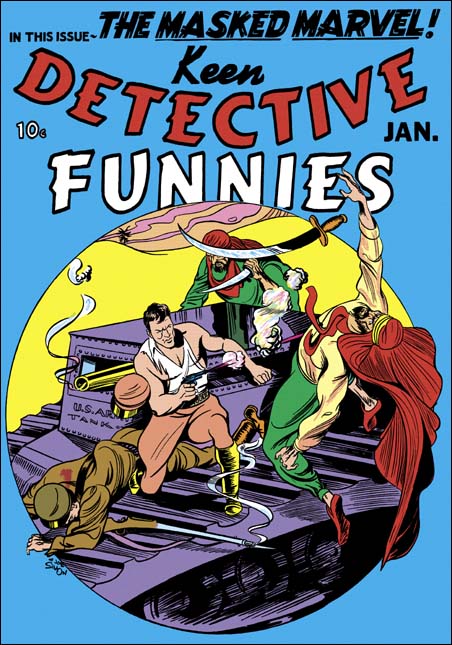 Keen Detective #17, Joe Simon (pencils and ink), January 1940
The Speed #15 cover has wispy mists in the background. This feature, sometimes used for smoke or clouds, occasionally appears in Simon's work both with and without Kirby. For instance it shows up in the cover for Keen Detective #17; one of the two first comic book covers that he did. The presence of the wispy mist as well as the overall Simon and Kirby appearance makes me believe that Joe may have provided layouts for the Speed #15 cover.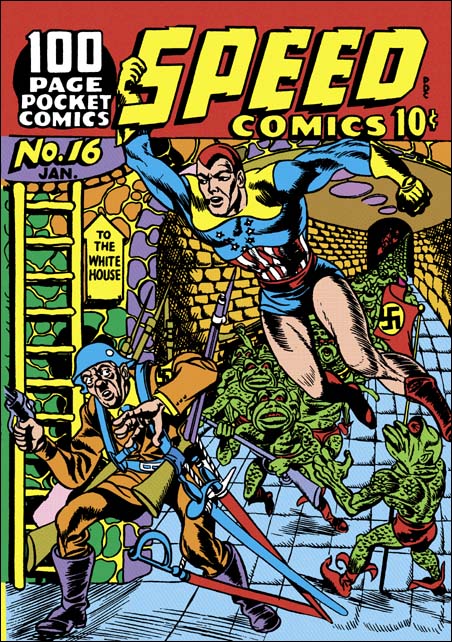 Speed #16 January 1942
Everybody makes mistakes, even experts. So when I say that when the Jack Kirby Checklist included Speed #16 it made a whooper, that does not diminish the value of that list. But all that needs to be done to dispel that misattribution is to compare the cover to one by Jack that came out in the same month (January 1942). There can be no question, Speed #16 was not done by Kirby.
But I have a confession to make. I included Speed #16 in the books I once made of the complete Simon and Kirby covers. I did so because I thought it was possible that Joe Simon might have been the artist. Later I attributed it to Al Avison due to some similarities to the layout of Speed #14 (a work signed by Avison). This cover is a pretty good match to the cover of Speed #15 and I do believe they were done by the same artist. But as I have already discussed, I find the art to be a too crude to have been done by Avison, especially compared to signed work done for Harvey at the same time. I may also add that Joe Simon once said that he was not the artist for this cover.
The cover art for Speed #14, #15 and #16 all have a Simon and Kirby feel to them. Speed #14 and #16 also share a theme of advancing enemies come from background stairs or hallway. This was why I once felt they were all done by the same artist. However there is a better explanation, or rather a choice of two explanations. One is that this unknown artist was working for Simon on the Timely comics and had thus learned some of the Simon and Kirby approach. That, or what I believe is more likely, Simon supplied layouts for these Speed covers. I do not credit Kirby as providing the layouts because he has not yet become involved with Harvey's comics.
I do not believe that the humorous quality to Speed #15 was intentional. But in Speed #16 is clearly was. It is hard to believe that anyone would take seriously an attach by Hitler on the White House. But even if they did, it wouldn't be this ridiculous Adolf carrying four rifles and three swords. This sort of visual humor would later be a Simon trademark in his comic magazine Sick.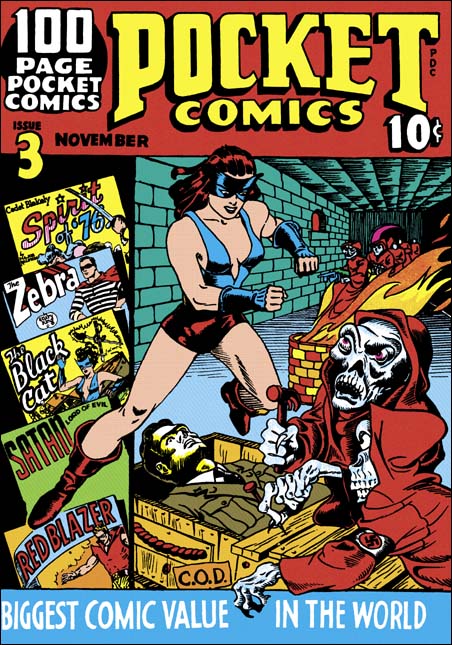 Pocket #3, Unknown artist (pencils and inks) and Joe Simon (pencils and inks), November 1941
I have left this cover last so that it could be compared to the art for the other Pocket and Speed comics. As I mentioned earlier, Joe did not believe he was the artist for this cover. I must say that it is hard to believe that the hooded ghouls were done by Joe, his were always more threatening and not goofy. When we examine the cover, problems set in. The soldier being prepared for shipping (via C.O.D) just does not seem to lay down in the box. The Nazis are white skeletal figures in red hooded clocks. I would describe the robbed figures with the same term I would use for Speed #15 and #16 (covers that look like they were done by this artist), goofy. The track record so far for the pocket comics is that Joe did well executed covers, this unknown artist rather crude ones, Joe presents intimidating villains, this one goofy Nazis.
The action takes place in a long corridor done in forced perspective. There are more red clocked Nazis advancing from the end of the hallway. This is all similar to the tunnel in Speed #16. This suggests that both covers were done by the same artist. But as I discussed above, may be due to layouts that were supplied by Simon.
It seems clear that the figure of the Black Cat was done by a different artist than the rest of the cover. The style for Black Cat does not match any of the artists who worked on the story art but is a good match for the Black Cat that appears in the cover for Pocket Comics #4, so I am crediting Joe for her figure alone.
Al Harvey thought he had a hit with his idea of pocket-sized comics. But as Joe and Jim Simon said in "The Comic Book Makers"
The size of the little magazines made it easy for kids to slip them into their pockets, or inside the pages of a standard-sized comic book, while browsing through the comic racks. Petty crime was a big problem in the little candy stores. So Pocket Comics were dead. But Al Harvey went on to bigger things.
Pocket Comics #4 and Speed Comics #16 have cover dates of January 1942. Harvey would no longer publish pocket-size comics. Coincidentally this is the same month that the last Simon and Kirby Captain America came out.  The next time Simon and Kirby work would reach the racks it would be dated April. I will discuss the work Simon and Kirby  did for the revived Harvey in a post next week.