After returning from military service, Simon and Kirby made a deal with Al Harvey to produce some comics. Jack would draw Stuntman and the Boy Explorers. Joe worked on the Duke of Broadway, Vagabond Prince and Kid Adonis. As I mentioned in a previous post, S&K created some series for Bill Draut (The Furnished Room, Calamity Jane and the Demon). They also created a series "Danny Dixon, Navy Cadet" for Boy Explorers to be done by an artist by the name of Ken Riley. Even hard core S&K scholars would probably respond with: who? Ken Riley was a Coast Guard combat artist for the war who Joe met during their joint service in Washington. But perhaps it would more accurate to call Danny Dixon an intended series as Boy Explores was one of the victims of a comic glut at that time. Only one issue was distributed to news stands. The second issue, sent to subscribers only, was very reduced in size and printed in black and white.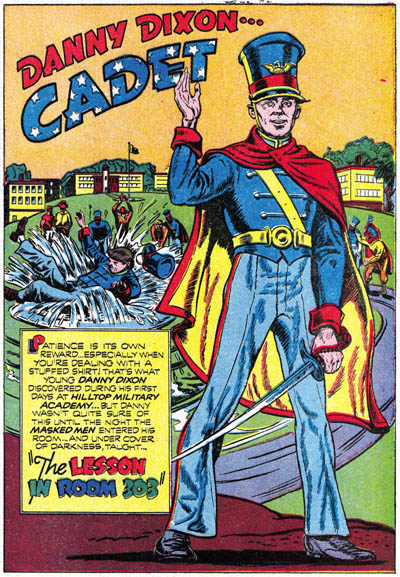 Boy Explorers #1 (May 1946) "The Lesson In Room 303"
Boy Explorers #2 (September 1946) "The Loaded Oyster Bed"
Black Cat #4 (February 1947) "The Imitation Atlas"
Black Cat #5 (April 1947) "Adventure, South American Style"
Black Cat #6 (July 1947) "The Loaded Oyster Bed" (reprint)
But Ken returned to do at least one story for Young Love #3 (June 1949) "Match Makers". Here his work is more polished then in Danny Dixon. Since he already was a accomplished artist, this was probably because the romance format allowed him to use a more realistic approach. I think he did a real nice job of that story. Joe still has the original art for the splash page. Much of the fine inking quality was lost in the printing of the comic.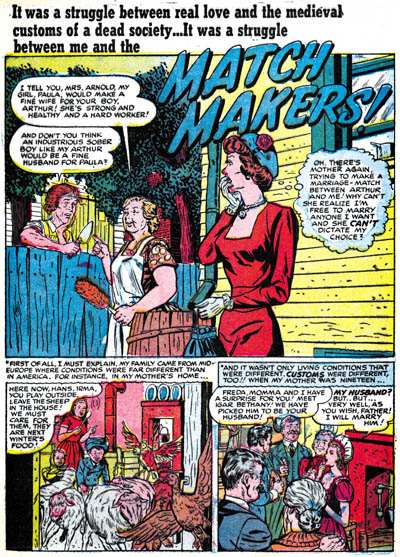 apparently Riley did not stay in comics for long. Later he did some illustration work for Saturday Evening Posts, Life and National Geographic. I've also seen cover art for the book "The African Queen" that was said to have been done by a Ken Riley in 1949. Ken turned to fine arts and moved out west. The paintings I have seen by him are all of Native Americans.
Ken Riley did not sign his comic work. There may be more of it remaining to be identified. The only reason for attributing the above works to Ken are margin notes on some original art and discussions with Joe Simon. Ken Riley did not have much of a comic career, but it did come at a pivotal time at the start of the Simon and Kirby studio after the war. However the real reason I posted this is that his comic work has all but been forgotten. Comics find no place in the biographies of Riley that I have read. In comics histories, the only mention of Ken that I have found was in "The Mainline Comics Story: An Initial Examination" in The Jack Kirby Collector #25 written by Robert Beerbohm (unfortunately misspelling Ken's name as Reilly). Ken truly was a forgotten comic artist, it just seems a shame for that to remain the case.