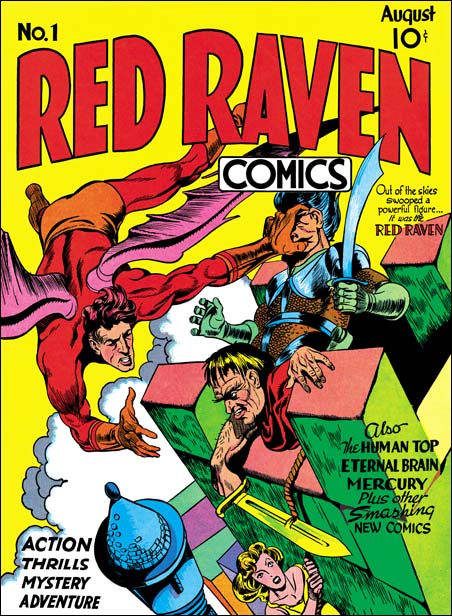 Red Raven #1 (August 1940), pencils by Jack Kirby, layouts, inks and letters by Joe Simon
It is not surprising that Joe Simon became Timely's first comic book editor in August 1940 (cover date, the calendar date would be around February or March). After all he had been working with that title for Fox Comics so he certainly had the credentials. Fox was a small publisher that had recently started up with an output limited to comic books while Timely was a larger outfit with a variety of publication formats who wanted to take control of and expand their comic book line. Just the place to provide better opportunities and probably a financial boast as well. What is surprising is that at that same time Simon managed to get Timely to release a new comic book title, the Red Raven.
The cover was penciled by Jack Kirby however the layouts were probably provided by Joe Simon. This conclusion is supported by a cover with a similar theme that Joe did for Science Comics #5 (June 1940). Further the Red Raven #1 cover has an unusual perspective. Simon had used similar unusual and distorted perspectives for the covers for Science Comics #5 and Blue Beetle Comics #3 (July 1940) (for both see Art by Joe Simon, Chapter 3, Working for the Fox). While previously Kirby had not done anything similar. The Red Raven covers is a swipe from Hal Foster's Prince Valiant (Jack Kirby, Fanboy) which both Joe and Jack followed.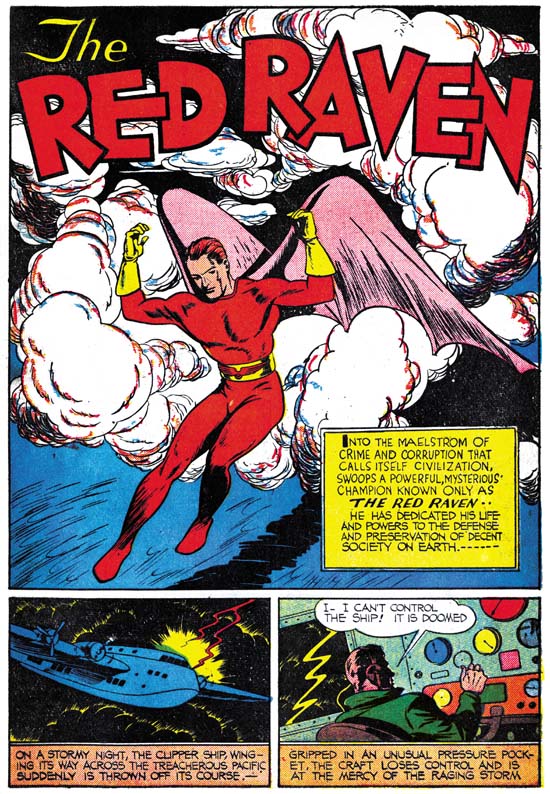 Red Raven #1 (August 1940) "The Red Raven", pencils by Louis Casenueve
The artists that have been identified with work in Red Raven #1 did not seem to have previously worked for Timely. This is not surprising because before Joe Simon's arrival as editor Timely comic books were put together by Funnies Inc. run by Lloyd Jacquet. Joe was expected to create a comic art bullpen for Timely and therefore would likely use artist not affiliated with the Funnies shop. The choice of the artist, Louis Casenueve, to draw the feature story is a bit surprising. Did Joe think Casenueve was a better artist than Jack Kirby? I doubt it. In "The Comic Book Makers" Joe tells how Kirby did not immediately follow him to Timely but instead continued at Fox. Joe said it took three months for Kirby to come to Timely however the evidence seems to indicate otherwise. The last Blue Beetle strip that Kirby did for Fox was published on March 9, 1940. Syndication strips are usually created only a week or so before publication. Comic books however have a longer period between creation and release. Further the cover date is actually advanced to indicate when it might be removed from the newsstands. All together the cover date is expected to be dated five to six months after the work began. This means that the first comic books that Jack would work on after Fox would be cover dated August or September. I therefore believe that Joe was correct about Jack staying at Fox but not a few months but instead a couple of weeks or so. Therefore when Joe started working on Red Raven #1 Jack may still have been working at Fox and available only on a moonlighting basis. Simon may have assigned the feature story to another artist and by the time Kirby transferred to Timely it was too late to change artists.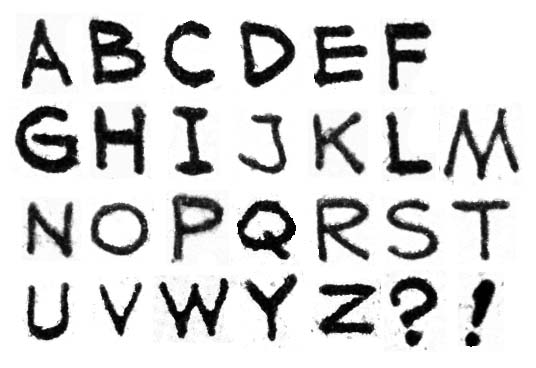 Red Raven #1 (August 1940) "The Red Raven", letters by unidentified letterer
The lettering for "The Red Raven" feature story uses the same double line border for captions as had been seen in the Blue Bolt #3 story that appeared the same month. As mentioned previously, some have stated that this was trait that was characteristic for Howard Ferguson.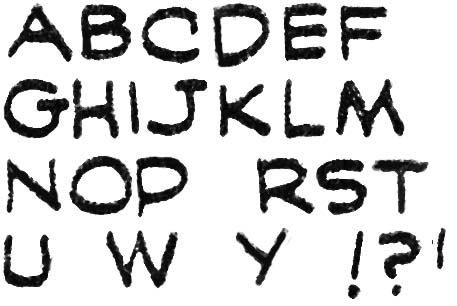 Prize Comics #7 (December 1940) "The Black Owl" letters by Howard Ferguson
However I do not believe Ferguson lettered "The Red Raven". Above is an early but very typical example of Ferguson's lettering. Note the differences between the two in the letters 'G', 'K' and 'Y'. The letterer for Red Raven also had an unusual 'E' with unequal arm lengths. There is a bit of variation but generally the shortest is the upper arm and the longest the middle one. I have to caution that the earliest lettering that I do attribute to Ferguson differs from the Black Owl example that I have provided. For instance it lacks the small vertical stroke on the letter 'C' that was characteristic of Ferguson. I will provide examples when I return to this subject in a future chapter.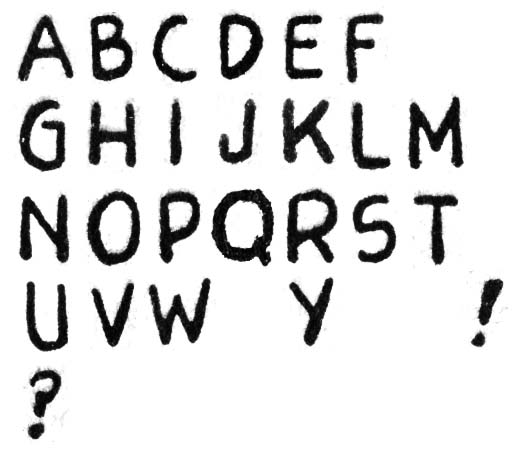 Blue Bolt #3 (August 1940) letters by unidentified letter
I repeat above the lettering for Blue Bolt #3. Note the differences between 'G', 'J', 'M', 'W' and 'Y'. Since there were both published the same months these certainly were done by different letterers.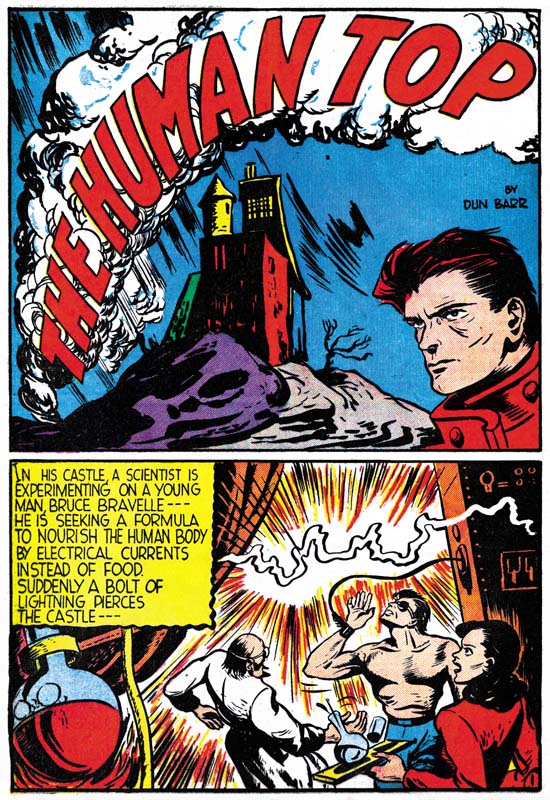 Red Raven #1 (August 1940) "The Human Top", pencils and inks by Dick Briefer
Dick Briefer had previously worked at the Iger and Eisner shop (Jumbo Comics) at the same time as Jack Kirby so perhaps that was the association that gave him the opportunity to be included in this comic. In a few months Briefer would create his first Frankenstein story (Prize Comics #7, December 1940, The Early Frankenstein of Dick Briefer) so this story gives a view of his style before Dick began his more cartoon-like approach began. The lettering for "The Human Top" is unlike that found in any of the other stories included in Red Raven so perhaps it was lettered by Briefer himself. Briefer provided initials on the last page of the story.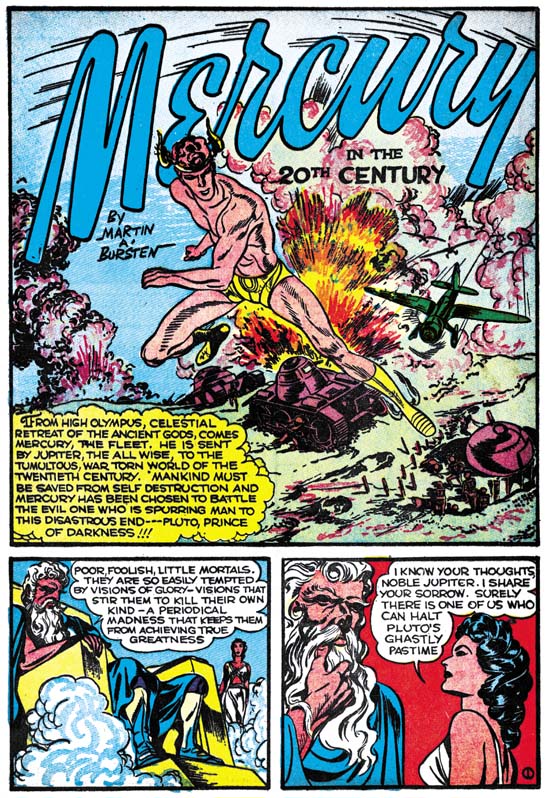 Red Raven #1 (August 1940) "Mercury in the 20th Century", pencils, inks and letters by Jack Kirby
Jack Kirby did two stories for Red Raven #1. The first, "Mercury in the 20th Century", was an early example of a mythological theme. Kirby would return to the use of mythology frequently in the future. The story was written by Martin Bursten (the correct spelling should have been Burstein). It is unclear how closely Kirby followed Burstein's script as in later years Simon and Kirby often altered scripts that they drew. Certainly Kirby had the opportunity since not only did he do the pencils but he also did the lettering. The inking on the first page appears to be Kirby's as well but the rest of the story looks like it was inked by another artist). I believe the other inker was Joe Simon. If my inking attribution is correct this would be the first story drawn by Kirby and inked by Simon. Simon inked Kirby's pages for Blue Bolt #3 but Jack only contributed three pages to that story. Together they seem to mark a change in the working relationship between Joe and Jack. Probably not yet a full partnership but different than the relationship between an editor and an artist.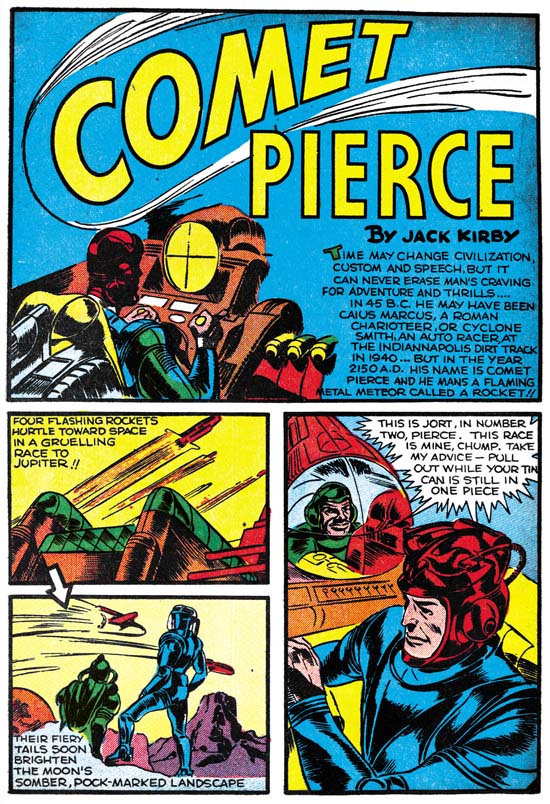 Red Raven #1 (August 1940) "Comet Pierce", pencils, inks and letters by Jack Kirby
Kirby also drew "Comet Pierce" which was the first piece to bear the Jack Kirby name. This story's science fiction theme is so similar to others that Kirby had previously done that the suggestion is that he was involved in either the plotting or the writing of the script. The inking is consistent throughout the story and I am pretty certain that it was inked by Kirby himself. Jack also provided the lettering.
The question is should "Comet Pierce" be considered Simon and Kirby creation. There is no way that this can be answered with any certainty. Joe Simon was the editor of the comic and therefore likely provided some input to the story as well as those done by other artists. However so far I can find no definitive evidence that Joe's involvement in "Cosmic Carson" was any different from that of any editor. So while Joe and Jack were working together I do not consider this a Simon and Kirby story.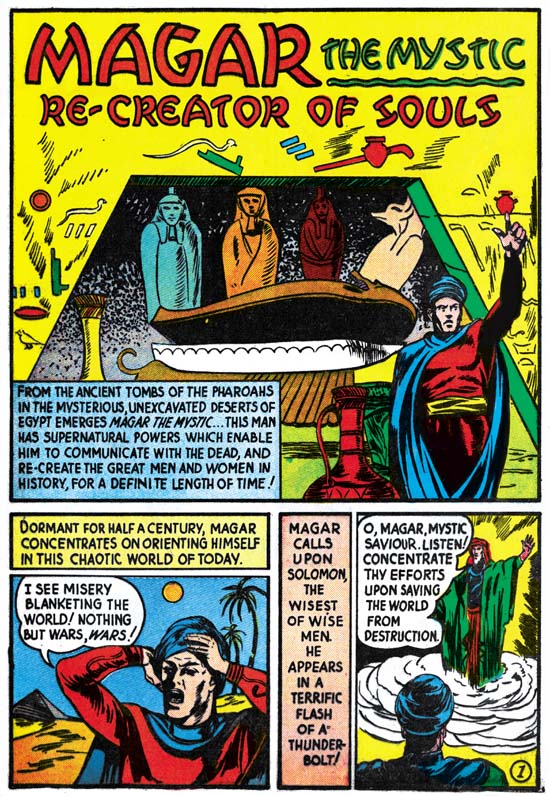 Red Raven #1 (August 1940) Magar the Mystic, "Re-Creator of Souls", art by unidentified artist
The lettering for each story in Red Raven seems different and the Magar the Mystic story is no exception. I suspect that most if not all the stories were lettered by the same artist who drew it. This was not that unusual during these early days of the comic book industry and Joe Simon had just arrived at Timely and likely had just begun putting an artist bullpen together. Perhaps the Red Raven story is an exception as the lettering seems more professional than the rest of the stories.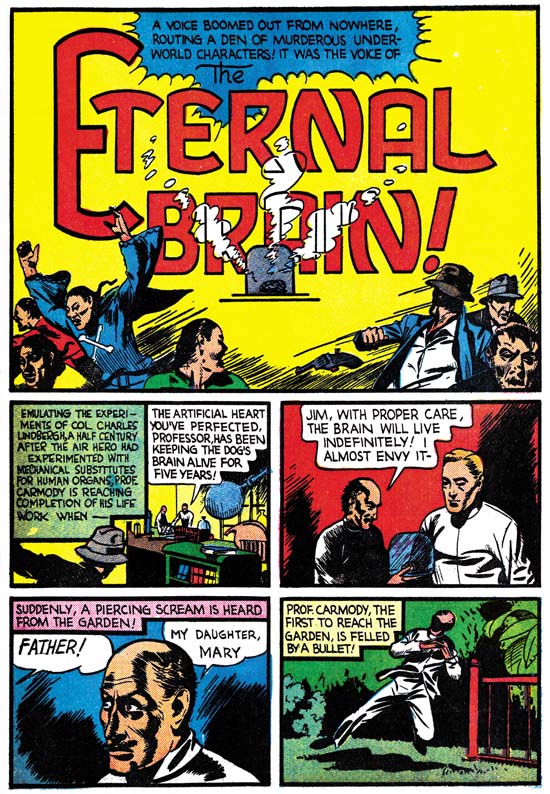 Red Raven #1 (August 1940) "Eternal Brain", art by Robert Louis Golden
Robert Louis Golden initialed the last page but in later years he seemed to have dropped using Robert. Golden was another former Iger and Eisner studio artist and therefore perhaps another Kirby connection. Golden would do a few stories for Simon and Kirby in 1948 (Its A Crime Chapter 7 and Chapter 8). His drawing style for the Eternal Brain story agrees very well with a Captain Aero story he did a couple of years later (The Captain Aero Connections).