(August 1953 – October 1953: Young Romance #60 – #62, Young Love #48 – #50, Young Brides #7 – #8)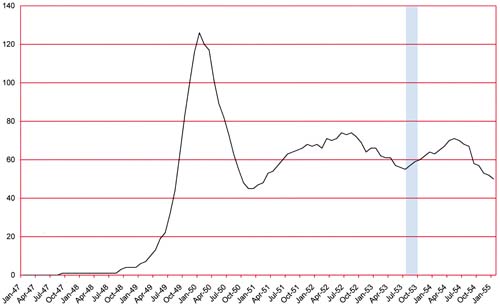 Number of Romance Titles 1947 – 1954 (the period covered in this chapter is shaded in blue)
I had discussed in Chapter 9 of the Little Shop of Horrors that the title Black Magic went to a bi-monthly schedule starting with the September issue (BM #25). This is a certain indication that sales of Black Magic was not doing as well as previously. However with the October release, Young Brides would assume a monthly schedule. This is just as clear a sign that the romance titles were still doing very well. This despite the fact that the number of romance titles published in the industry had reached a local low in August.
This period marked the 50th issue of Young Love. Admittedly this is just a psychological marker but it does serve as a reminder that Simon and Kirby had done quite well over a relatively long time with their romance titles (about the last six years). Since their deal with Prize Comics gave them a share of the profits, Joe and Jack made a lot of money off of romance. Simon and Kirby paid for all the expenses for producing the art however that was recently offset by the fact that Jack had been drawing a significant proportion of the titles. But things would not remain so favorable for Simon and Kirby. A very different state of affairs would exist about a year later.
The story format used during this period pretty much matches that found in the last chapter. Full pages splashes were often found throughout most of the run of the romance titles that is until recently. There is not a single full page splash in the comics from the period covered in this chapter. Before the period that started in the last chapter splashes played a role similar to a movie trailer; they provide a sort of synopsis to entice the viewer to buy the comic and read the story. During this period only three stories used such a standard splash. By far the most common use of the splash, found in 18 stories, was for the splash to actually be part of the story. Less common (6 stories) was the complete elimination of the splash panel. One uncommon format (3 stories) was to include heads in the story title panel. I do not consider this a true splash because the heads occupy a very small portion of the panel. There is also a single example of what I call a theme title that I will discuss below.
Once again during this period Jack Kirby was the most prolific of the romance artists having penciled 79 pages. The next most prolific artist was Bill Draut (44 pages), followed by John Prentice (32 pages), Mort Meskin (16 pages), an unidentified artist (10 pages). Two artists (Bob McCarty and Al Eadeh) each supplied only a single story. Another unidentified artist did two single pages pieces. As discussed in the last chapter, I find Mort Meskin's much diminished contribution rather surprising. As I mentioned in Chapter 9 of the Little Shop of Horrors, Meskin had begun to produce art for other publishers during at this time; Harvey (July), DC (August), Standard (August) and Marvel (September).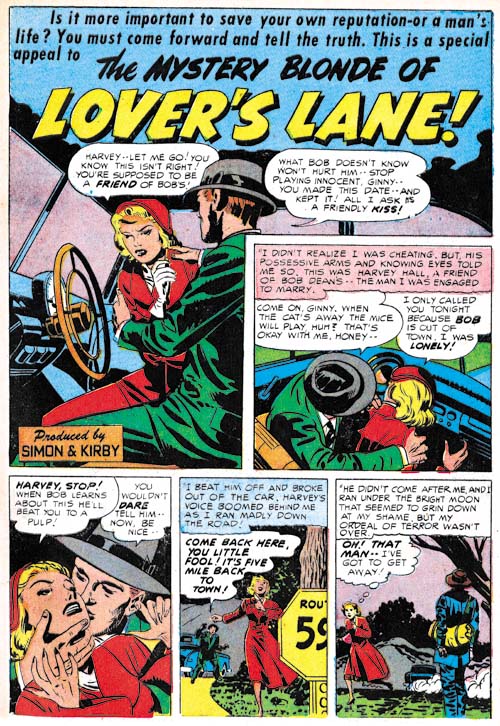 Young Romance #62 (October 1953) "The Mystery Blonde of Lover's Lane", art by Jack Kirby
The Prize romance comics may have been running for some time but Simon and Kirby still managed to provide good stories with just a suggestion of the risque. The start of "The Mystery Blonde of Lover's Lane" can accurately be described as an attempted rape. One wonders whether the man would have given up even after the woman left the car had that hobo did not happen to be on the scene. By the way, this is a good example of splash that is actually the start of the story.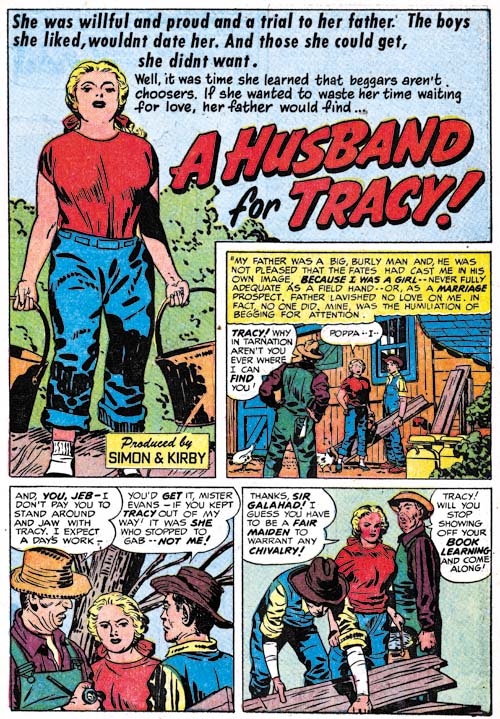 Young Brides #7 (September 1953) "A Husband for Tracy", art by Jack Kirby
For "A Husband for Tracy" Kirby tackles the subject of love an overweight woman. I remember this theme was used before but in that story the lady in question lost her weight to become popular. That is not the approach of this story where except for a change of attitude, the protagonist is unaltered throughout the story. This is an example of a standard splash. As I said earlier there were only 3 standard splashes and all of them were done by Kirby.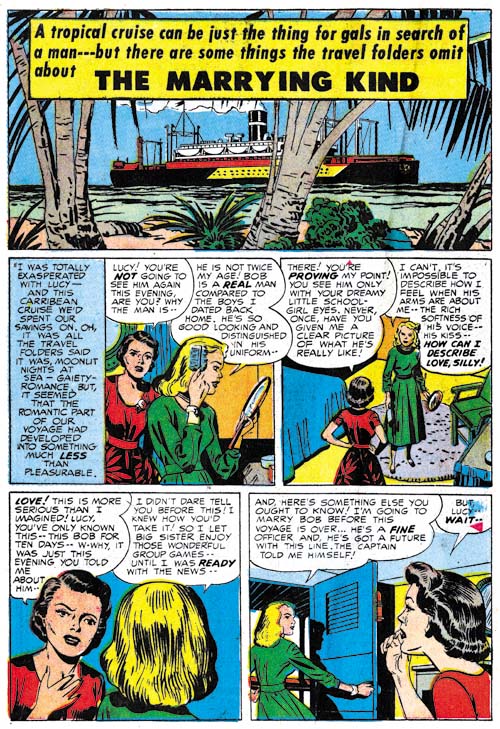 Young Love #48 (September 1953) "The Marrying Kind", art by Jack Kirby
In the previous chapter I discussed a story by Bill Draut ("The Hard Guy") where Bill added some drawing to the title box to provide a sort of a theme. I did not consider this a splash because the title dominated the box and the art did not depict anything specific about the story. At the time I wrote that none of the other artist picked up the technique. Well now Kirby has with "The Marrying Kind". Jack has increased the amount of art so the panel is now more splash-like. However the art still lacks specificity normally supplied by a splash. Since little more then a cruise ship is depicted the question is was this really drawn by Kirby? I think it was because the brushwork found in the inking of the foreground trees look like Jack's hand to me.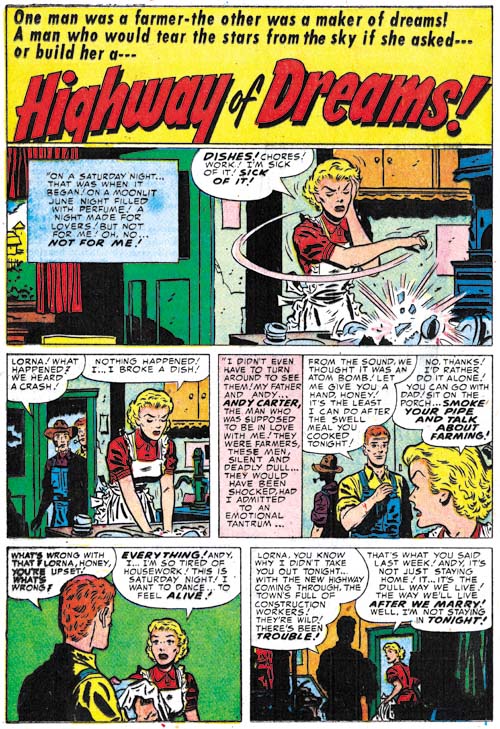 Young Love #49 (September 1953) "Highway of Dreams", art by Bill Draut
Although I have classified "Highway of Dreams" as a story splash the panel is nothing more then two standard story panels combined. While Bill, like the rest of the studio artist, does a good job with this new format one wonders what was behind this new approach.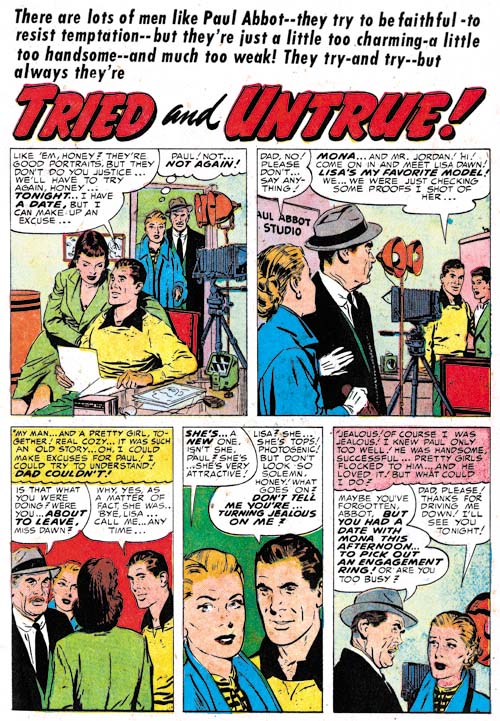 Young Romance #61 (September 1953) "Tried and Untrue", art by John Prentice
All the romance work that John Prentice did during this period was in the form of splash-less stories. While the new formats seem to have been a direction to the studio artists (almost certainly from Simon and Kirby) there seems to have been some variation on the precise approach adopted by the different creators.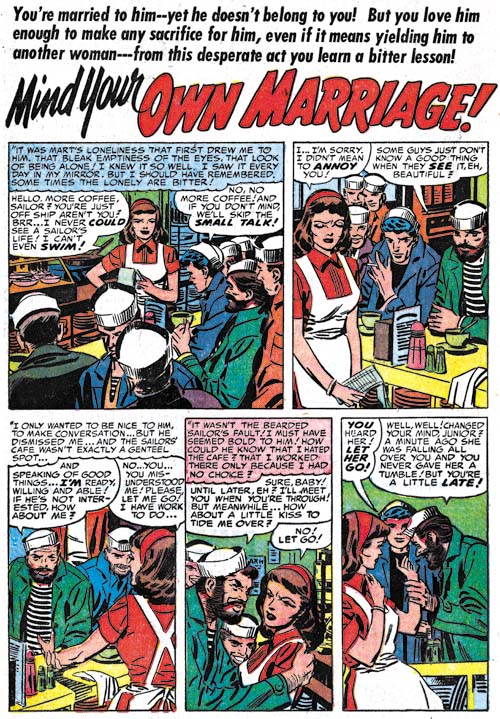 Young Brides #7 (September 1953) "Mind Your Own Marriage", art by Mort Meskin
As discussed about, Mort Meskin was only a minor contributor. At least some of the work he did pencil was inked by some other artist. "Mind Your Own Marriage" does not look like it was inked by either Mort or his frequent inker at this time, George Roussos. I am not sure who the inker is but he does a nice job.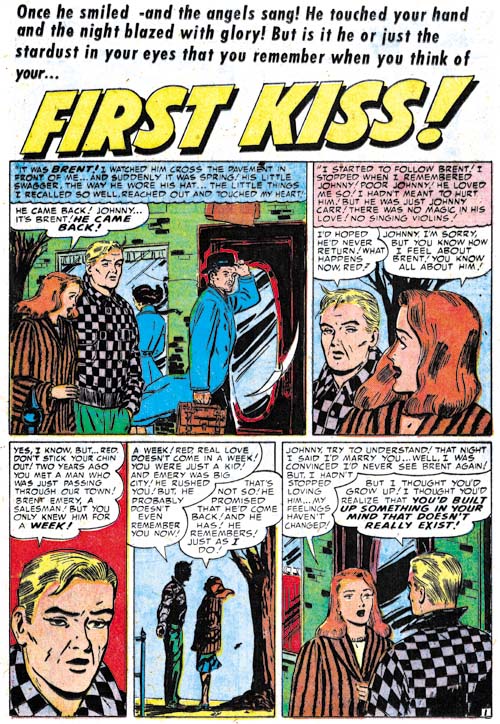 Young Romance #60 (August 1953) "First Kiss", art by Al Eadeh
While Al Eadeh has been doing little work for Simon and Kirby, his occasional pieces still keep showing up.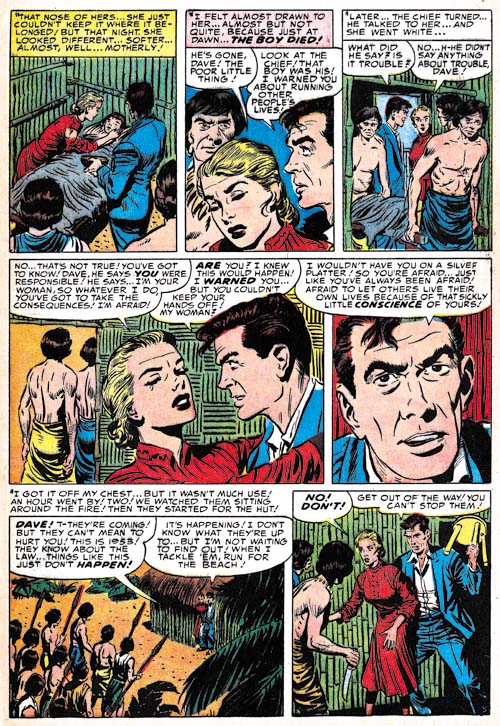 Young Love #50 (October 1953) "Miss Puritan" page 5, art by Bob McCarty
Up till now Bob McCarty mostly did horror stories for Simon and Kirby and very little romance work. His last romance piece appeared some months ago (YL #41, January 1953). His last Simon and Kirby piece was Black Magic #21 (February 1953). I do not know why he has been absent from the S&K productions and he will not appear regularly again until late 1954. "Miss Puritan" marks a mid-way place between the earlier art he did for Simon and Kirby and the later material. Previously I had noted some differences between the two and I was not certain they were done by the same artist. In "Miss Puritan" McCarty has largely stopped depicting over-sized eyes but retains enough of his older style to be recognized. Thus I am now confident that all this work was done by McCarty and I have stopped adding the question mark to his attributions.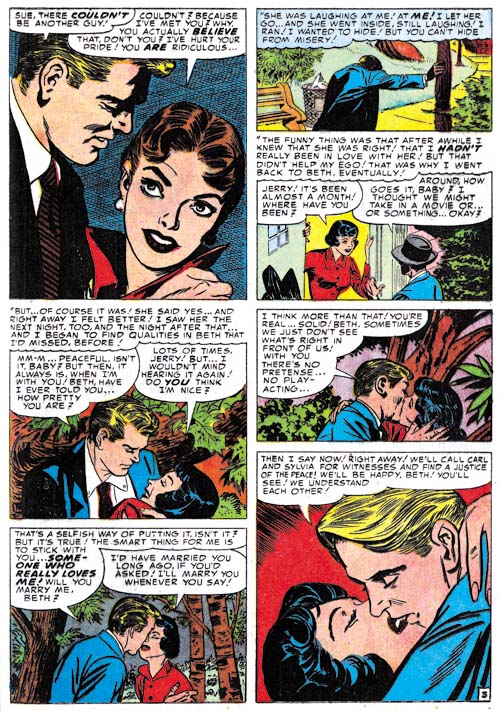 Young Love #49 (September 1953) "The Doormat" page 3, art by unidentified artist
The unidentified artists who worked for Simon and Kirby in the more recent few years have all been artists of lesser talent that were only assigned very short pieces. With "The Doormat" however, there is an artist of exceptional talent. The example page I provide above shows that he was more than comfortable with romance, he excelled at it. I do not know who he is but I examination of work by other publishers from this period might identify him.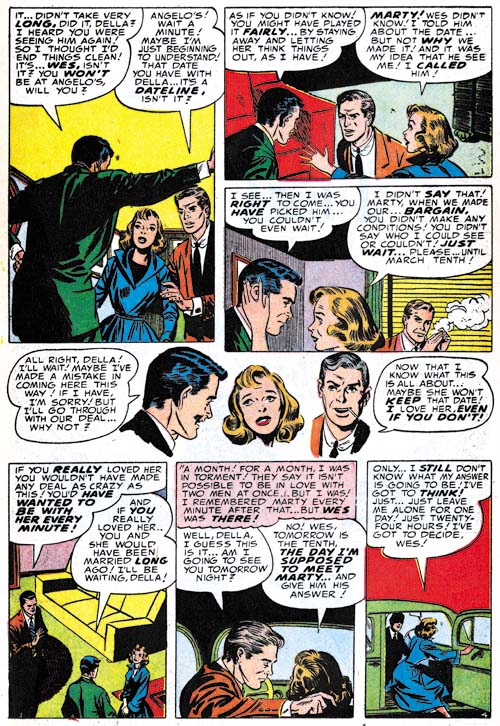 Young Love #50 (October 1953) "Two Kisses For Your Anniversary" page 4, art by unidentified artist
Another example from the same mystery artist. Both of the stories he did start with his own version of the story splash. The splash was formed by vertically joining two panels. So while the stories adhere to some sort of direction from Simon and Kirby that direction did not seem to be in the form of a layout. More likely it was a direction from the script. Page 4 of "Two Kisses for Your Anniversary" not only shows a similarly vertical panel but also an unusual borderless panel of talking heads that spans the width of the page. No other Simon and Kirby studio artists used such a device. This is further evidence that this artist was not working from Kirby layouts.
Chapter 1, A New Genre (YR #1 – #4)
Chapter 2, Early Artists (YR #1 – #4)
Chapter 3, The Field No Longer Their's Alone (YR #5 – #8)
Chapter 4, An Explosion of Romance (YR #9 – #12, YL #1 – #4)
Chapter 5, New Talent (YR #9 – 12, YL #1 – #4)
Chapter 6, Love on the Range (RWR #1 – #7, WL #1 – #6)
Chapter 7, More Love on the Range (RWR #1 – #7, WL #1 – #6)
Chapter 8, Kirby on the Range? (RWR #1 – #7, WL #1 – #6)
Chapter 9, More Romance (YR #13 – #16, YL #5 – #6)
Chapter 10, The Peak of the Love Glut (YR #17 – #20, YL #7 – #8)
Chapter 11, After the Glut (YR #21 – #23, YL #9 – #10)
Chapter 12, A Smaller Studio (YR #24 – #26, YL #12 – #14)
Chapter 13, Romance Bottoms Out (YR #27 – #29, YL #15 – #17)
Chapter 14, The Third Suspect (YR #30 – #32, YL #18 – #20)
Chapter 15, The Action of Romance (YR #33 – #35, YL #21 – #23)
Chapter 16, Someone Old and Someone New (YR #36 – #38, YL #24 – #26)
Chapter 17, The Assistant (YR #39 – #41, YL #27 – #29)
Chapter 18, Meskin Takes Over (YR #42 – #44, YL #30 – #32)
Chapter 19, More Artists (YR #45 – #47, YL #33 – #35)
Chapter 20, Romance Still Matters (YR #48 – #50, YL #36 – #38, YB #1)
Chapter 21, Roussos Messes Up (YR #51 – #53, YL #39 – #41, YB #2 – 3)
Chapter 22, He's the Man (YR #54 – #56, YL #42 – #44, YB #4)
Chapter 23, New Ways of Doing Things (YR #57 – #59, YL #45 – #47, YB #5 – #6)
Chapter 24, A New Artist (YR #60 – #62, YL #48 – #50, YB #7 – #8)
Chapter 25, More New Faces (YR #63 – #65, YLe #51 – #53, YB #9 – #11)
Chapter 26, Goodbye Jack (YR #66 – #68, YL #54 – #56, YB #12 – #14)
Chapter 27, The Return of Mort (YR #69 – #71, YL #57 – #59, YB #15 – #17)
Chapter 28, A Glut of Artists (YR #72 – #74, YL #60 – #62, YB #18 & #19, IL #1 & #2)
Chapter 29, Trouble Begins (YR #75 – #77, YL #63 – #65, YB #20 – #22, IL #3 – #5)
Chapter 30, Transition (YR #78 – #80, YL #66 – #68, YBs #23 – #25, IL #6, ILY #7)
Chapter 30, Appendix (YB #23)
Chapter 31, Kirby, Kirby and More Kirby (YR #81 – #82, YL #69 – #70, YB #26 – #27)
Chapter 32, The Kirby Beat Goes On (YR #83 – #84, YL #71 – #72, YB #28 – #29)
Chapter 33, End of an Era (YR #85 – #87, YL #73, YB #30, AFL #1)
Chapter 34, A New Prize Title (YR #88 – #91, AFL #2 – #5, PL #1 – #2)
Chapter 35, Settling In ( YR #92 – #94, AFL #6 – #8, PL #3 – #5)
Appendix, J.O. Is Joe Orlando
Chapter 36, More Kirby (YR #95 – #97, AFL #9 – #11, PL #6 – #8)
Chapter 37, Some Surprises (YR #98 – #100, AFL #12 – #14, PL #9 – #11)
Chapter 38, All Things Must End (YR #101 – #103, AFL #15 – #17, PL #12 – #14)