(Young Romance #1 – #4)
I am sure when most fans think about Simon and Kirby they have in mind titles like Captain America, Boy Commandos, Stuntman, Boys' Ranch, Fighting American, and so on. Super heroes, kid gangs, and lots of action. No doubt about it, those were great comics. Fans, particularly the more die hard ones, also appreciate S&K take on crime (Headline, Justice Traps the Guilty, and Police Trap) and horror (Black Magic and Strange World of Your Dreams). But when fans bring up Simon & Kirby I suspect they rarely talk about the romance titles (Young Romance, Young Love, Young Brides and In Love). However to understand Joe, Jack and what they did, the romance titles really are a good place to go for two reasons. The first is that it was a whole new genre. Despite what some would have you believe, there were no prior romance comics to serve as prototypes. Joe and Jack had to figure it all out themselves. The second reason concerns how much romance work S&K did. For the period starting on September 1947 (the first issue of Young Romance) and ending with October 1956 (in November Battleground #14 came out and Jack had begun freelancing) Kirby drew 1679 romance pages (covers and stories) compared to 1652 pages for all other genre combined. During this period super heroes and kid gangs came and went but romance was pretty much a constant.
Romance pulps could have served as prototypes for romance comic plots. But comics are also a visual media and pulps could not help with that aspect. To make matters worse by the time Simon and Kirby began working on romances they had already abandoned devices they had previously used to make their pages more exciting. Largely gone were the variously shaped panels and in their place would be a pretty standard comic grid. Also the extension of figures outside of a panel into other panels was no longer done. But Kirby had shown in his crime work that he did not have to use those graphic devices to make exciting comics. However crimes stories could have a lot of action and violence, stuff that Jack excelled at. What could be done with a subject like romance?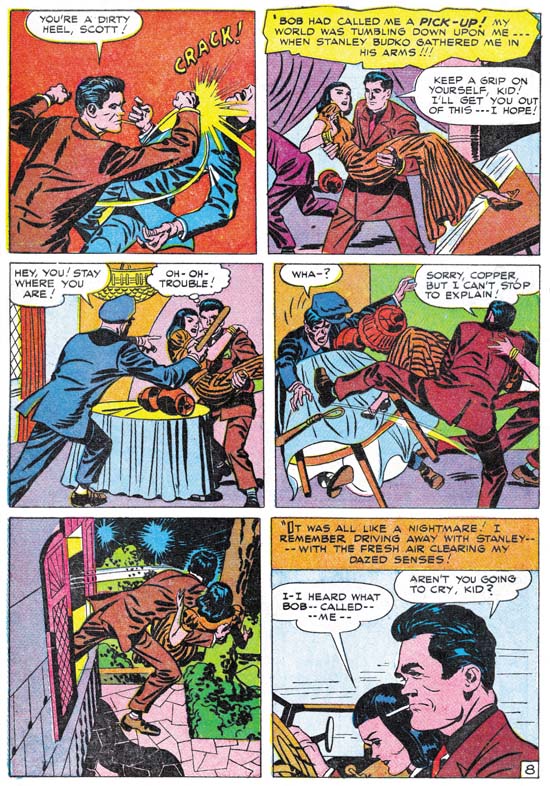 Young Romance #1 (September 1947) " I Was A Pick-Up" page 8, art by Jack Kirby
Well one thing Kirby did was keep the action. Well of course there could be no super heroes or kid gangs in a romance story but Jack would often include a fight. If Jack wanted variation from always having a fight he would add a sport scene or something similar to inject some action. In the first four issues of Young Romance Jack did 10 stories which have 4 fights, 3 slaps, 2 rescues, 1 swimming race and 1 suicide. The use of action is not limited to the Kirby drawn stories, in the 8 non-Kirby stories we find another fight, a fire, a ransom, a blackmail bust, and a robbery trial. Do not get the wrong idea, the stories in the early issues of YR fit the romance genre just fine. The fights and action scenes play a very small part of the plot. Like any proper romance, the story resolves around the love angle. Despite the "for the more adult readers of comics" claim of the cover, the target audience was clearly teenage girls. I cannot help wondering what those romance readers thought about the fights. Perhaps it did not bother them much since as a new genre they had not yet developed their own expectations. Regardless of whether the original readers liked the action that Kirby brought to romance, for the modern truly adult reader, Jack's stories have special interest.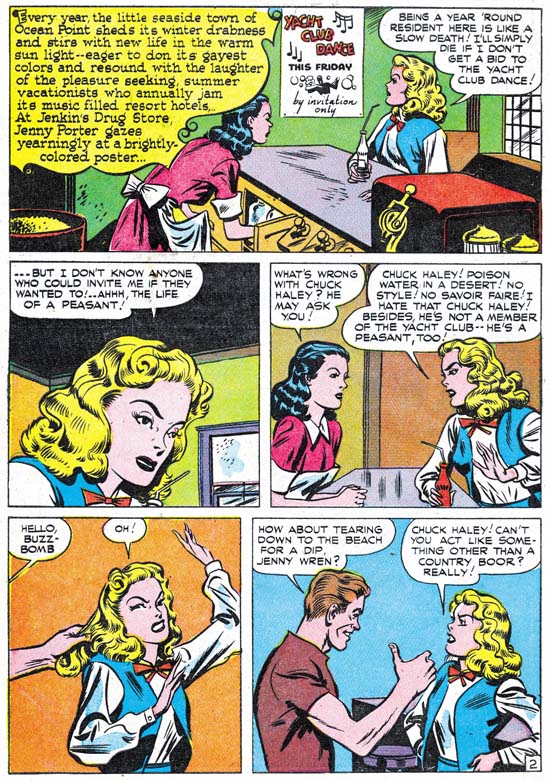 Young Romance #1 (September 1947) "Summer Song" page 2, art by Jack Kirby and unidentified artist
Fights and sports were not the only unexpected touches that Kirby used in his romances. Jack often showed the first meeting of a couple (at least for the story) with a rather physical greeting from the man towards the woman. This sort of roughhousing seems more appropriate for younger individuals than those portrayed. But perhaps Kirby was showing his savvy about the experience of the readers who were younger then the couples of the stories.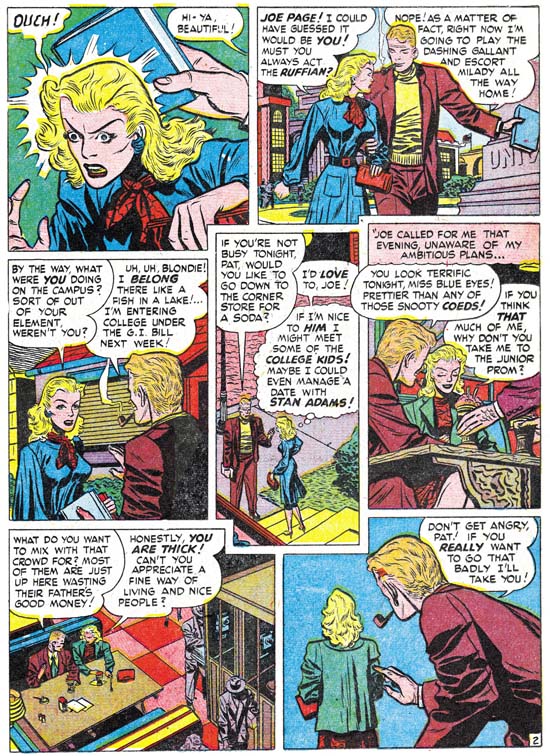 Young Romance #3 (January 1948) "Campus Outcast" page 2, art by Bill Draut
As I mentioned above, the use of action was not restricted to the Kirby stories in the early issues of Young Romance. In later issues action would remain a part in the Kirby drawn stories but would play less of a part in those done by other artists. I interpret this emphasis on action as an indication of Kirby's involvement in the plotting of his own scripts. Further that in the earlier issues Jack also helped plot the stories for some of the other artists as well. Another indication of Kirby plotting for artists can be found in a page done by Bill Draut. The first panel of the page shown above has the same type of physical greeting that appears in some of the Kirby pages as well.
This is the beginning of a serial post Simon and Kirby romance comics. As mentioned above, Joe and Jack's involvement in romance titles was long and fruitful. It will take a lot of posts to cover this topic adequately. I do not want to turn this blog into one on just the romance genre, so this serial post will not be as continuous as some previous ones. Instead chapters will appear from time to time, interspersed among posts on other S&K subjects. However I have not finished writing about the first few issues of Young Romance, so next week I will return with a chapter about the initial artists.
Chapter 1, A New Genre (YR #1 – #4)
Chapter 2, Early Artists (YR #1 – #4)
Chapter 3, The Field No Longer Their's Alone (YR #5 – #8)
Chapter 4, An Explosion of Romance (YR #9 – #12, YL #1 – #4)
Chapter 5, New Talent (YR #9 – 12, YL #1 – #4)
Chapter 6, Love on the Range (RWR #1 – #7, WL #1 – #6)
Chapter 7, More Love on the Range (RWR #1 – #7, WL #1 – #6)
Chapter 8, Kirby on the Range? (RWR #1 – #7, WL #1 – #6)
Chapter 9, More Romance (YR #13 – #16, YL #5 – #6)
Chapter 10, The Peak of the Love Glut (YR #17 – #20, YL #7 – #8)
Chapter 11, After the Glut (YR #21 – #23, YL #9 – #10)
Chapter 12, A Smaller Studio (YR #24 – #26, YL #12 – #14)
Chapter 13, Romance Bottoms Out (YR #27 – #29, YL #15 – #17)
Chapter 14, The Third Suspect (YR #30 – #32, YL #18 – #20)
Chapter 15, The Action of Romance (YR #33 – #35, YL #21 – #23)
Chapter 16, Someone Old and Someone New (YR #36 – #38, YL #24 – #26)
Chapter 17, The Assistant (YR #39 – #41, YL #27 – #29)
Chapter 18, Meskin Takes Over (YR #42 – #44, YL #30 – #32)
Chapter 19, More Artists (YR #45 – #47, YL #33 – #35)
Chapter 20, Romance Still Matters (YR #48 – #50, YL #36 – #38, YB #1)
Chapter 21, Roussos Messes Up (YR #51 – #53, YL #39 – #41, YB #2 – 3)
Chapter 22, He's the Man (YR #54 – #56, YL #42 – #44, YB #4)
Chapter 23, New Ways of Doing Things (YR #57 – #59, YL #45 – #47, YB #5 – #6)
Chapter 24, A New Artist (YR #60 – #62, YL #48 – #50, YB #7 – #8)
Chapter 25, More New Faces (YR #63 – #65, YLe #51 – #53, YB #9 – #11)
Chapter 26, Goodbye Jack (YR #66 – #68, YL #54 – #56, YB #12 – #14)
Chapter 27, The Return of Mort (YR #69 – #71, YL #57 – #59, YB #15 – #17)
Chapter 28, A Glut of Artists (YR #72 – #74, YL #60 – #62, YB #18 & #19, IL #1 & #2)
Chapter 29, Trouble Begins (YR #75 – #77, YL #63 – #65, YB #20 – #22, IL #3 – #5)
Chapter 30, Transition (YR #78 – #80, YL #66 – #68, YBs #23 – #25, IL #6, ILY #7)
Chapter 30, Appendix (YB #23)
Chapter 31, Kirby, Kirby and More Kirby (YR #81 – #82, YL #69 – #70, YB #26 – #27)
Chapter 32, The Kirby Beat Goes On (YR #83 – #84, YL #71 – #72, YB #28 – #29)
Chapter 33, End of an Era (YR #85 – #87, YL #73, YB #30, AFL #1)
Chapter 34, A New Prize Title (YR #88 – #91, AFL #2 – #5, PL #1 – #2)
Chapter 35, Settling In ( YR #92 – #94, AFL #6 – #8, PL #3 – #5)
Appendix, J.O. Is Joe Orlando
Chapter 36, More Kirby (YR #95 – #97, AFL #9 – #11, PL #6 – #8)
Chapter 37, Some Surprises (YR #98 – #100, AFL #12 – #14, PL #9 – #11)
Chapter 38, All Things Must End (YR #101 – #103, AFL #15 – #17, PL #12 – #14)