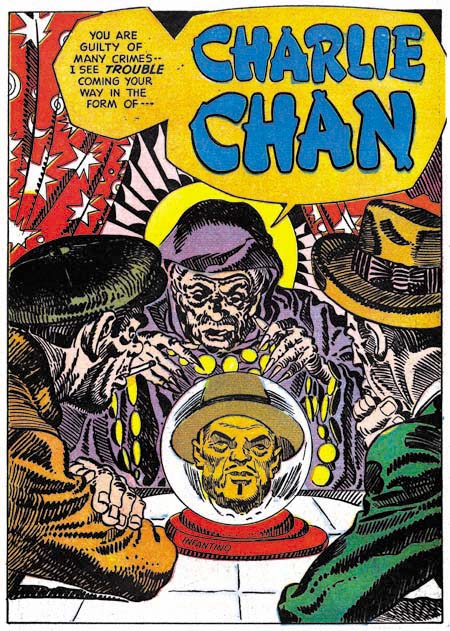 Charlie Chan #1 (June 1948) "Charlie Chan" by Carmine Infantino (signed)
It occurs to me that I have done so many posts about forgotten artists that some might think that all the artists who worked for Simon and Kirby have fallen into that sad lot. That certainly was not what happened to Carmine Infantino. Carmine went on to have an important part of the Silver Age of comics and afterwards. There is so much history available on Infantino that I am not even going to try to summarize it here. Instead I am going to discuss the short period of time that he worked for S&K.
In Jack Kirby Collector #34 Jim Amash does an interview with Carmine where talks about his experiences with Joe Simon and Jack Kirby. Before starting his career Carmine was obviously a fanboy since he and Frank Giacoia paid a visit to Joe and Jack's studio during the period that S&K were providing work for DC. Years later when Joe approached Carmine about doing some work for them, Carmine's initial reaction was to decline because DC was already keeping him quite busy and that company's rates were higher. But when Carmine thought about it he felt he could not miss the chance to work with Jack Kirby and Mort Meskin.
The comic that Joe was asking Carmine to do was Charlie Chan. This title was a bit unusual for Simon and Kirby. At this time they were producing their own creations but earlier in their career they had also worked on other people's creations. But Charlie Chan was obviously not theirs nor was it an already ongoing feature. Since Charlie Chan was another's creation, royalties would have to be paid. Although Charlie Chan movies were popular, I do not think they were such big sellers that a successful comic was assured. So why this decision to produce a Charlie Chan comic? Well the answer lies in a lawyer that S&K used by the name of Fleagle (who Joe refers to as the Legal Eagle). It turns out that Fleagle also represented the interests of the estate of Earl Derr Biggers. I guess Fleagle must have been pretty pursuasive.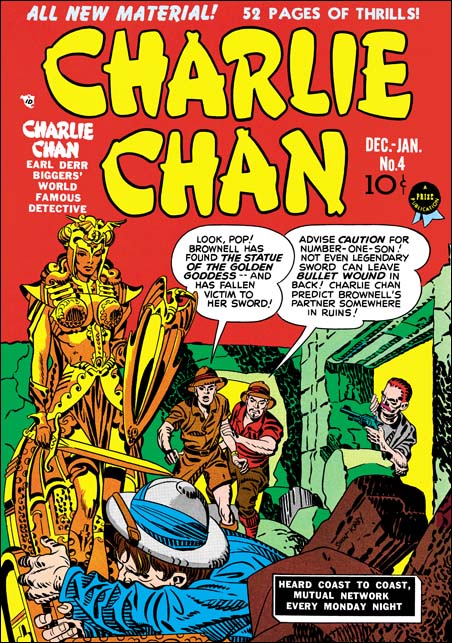 Charlie Chan #4 (December 1948) by Jack Kirby
Despite what the Jack Kirby Checklist says, Jack did not supply any of the interior art for Charlie Chan. But Kirby did pencil all the covers for the Prize run. These are all great jobs by Jack. As typical for Simon and Kirby covers that provide an entire story in just one scene. Unfortunately for an unwary buyer the story was not one of those found inside the comic.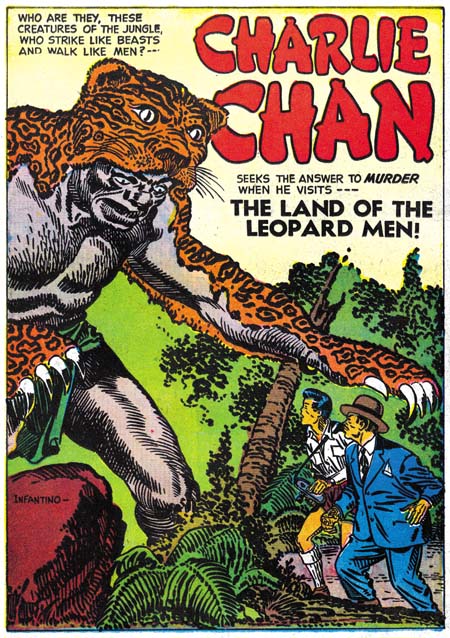 Charlie Chan #1 (June 1948) "Land of the Leopard Men" by Carmine Infantino (signed)
Although the Kirby covers were obviously an enticement the reader really should not have been disappointed because Carmine Infantino did a really first rate job. Infantino would do all of the Charlie Chan features for the first four issues. He could also do a couple of the backup features, but most were done by other artists. Bill Draut did one (CC #1 "The Weasel Of Wall Street") and Manny Stallman did another (CC #5 "Floating Mine Racket"). I have not identified most of the other artists who worked on backup features. In the first issue two of the Charlie Chan stories have full page splashes. These splashes are inked in the S&K shop style, which is probably why some have attributed them to Kirby. But they are signed by Infantino and a careful examination shows that they really are not done in Jack's pencil style but are fully in agreement with Carmine's drawing. The inking of the story itself is not in the shop style although because Carmine was working in the S&k studio he may have gotten assistance there also.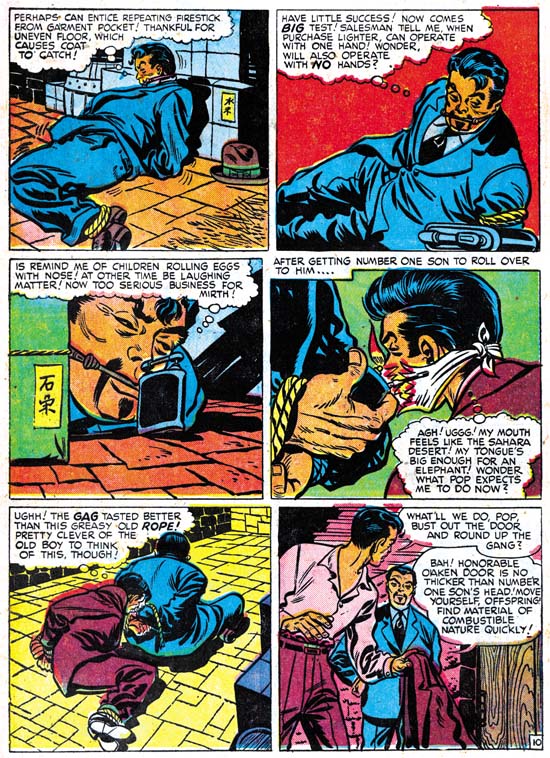 Charlie Chan #2 (August 1948) "Number One Trouble" by Carmine Infantino
After the first issue Carmine's splash size seem to get progressively smaller and the S&K shop style inking disappears. But that is okay because Infantino is also a great story teller. I particularly like the sequence (see above) showing Charlie Chan and his number one son escaping from bondage. Carmine draws his characters as full with emotions. He makes eyebrows that are even wilder then those by Jack Kirby. Like any good detective, Charlie Chan depends on his wits. But Infantino handles what action there is quite well. I gather that in the future Infantino would abandon some of the stylization shown in these Charlie Chan stories, but not he would not loose his talent. This is still a relatively young Carmine Infantino, learning from masters like Jack Kirby and Mort Meskin and polishing his craft as he becomes a master himself.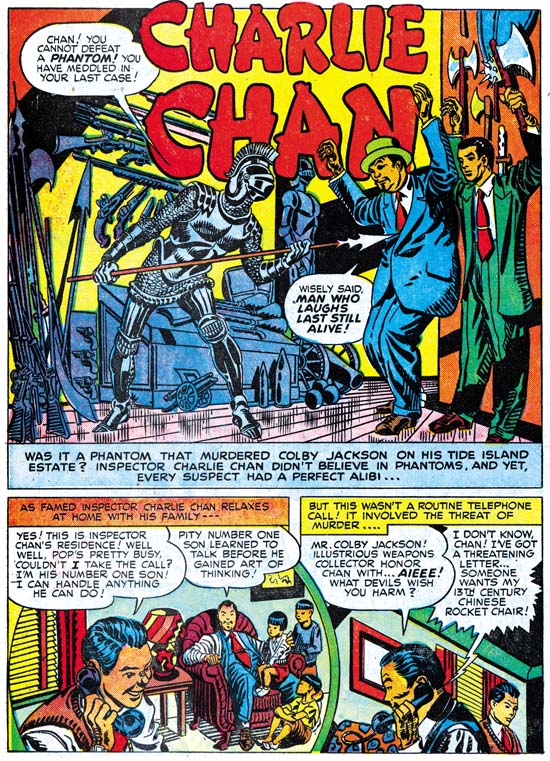 Charlie Chan #3 (October 1948) "The Mystery Of The Phantom Killer" by Carmine Infantino
As is my usual custom I have provided a checklist. But with Carmine the limitations of my checklist are glaring. I simply am not in the position to provide information on his extensive work while his efforts for S&K was very limited. Carmine has said that he only drew Charlie Chan and nothing for the other S&K titles. So far my searches in Simon and Kirby productions confirms his statement. As I said Carmine did all the Charlie Chan stories for the first four issues. But the art for the Chan stories in the fifth issue appear different. The faces in frontal view are more triangular. Infantino's work appears more realistic then those from this last Prize issue. Therefore I attribute much of the work from CC #5 to an unidentified artist. But Carmine did do one backup story " The Fox Of Paris ". In Amash's interview Carmine says that although he worked on Charlie Chan in the S&K studio he continued to do work for DC at night. This grueling work load eventually took its toll and Carmine had to give up on Charlie Chan.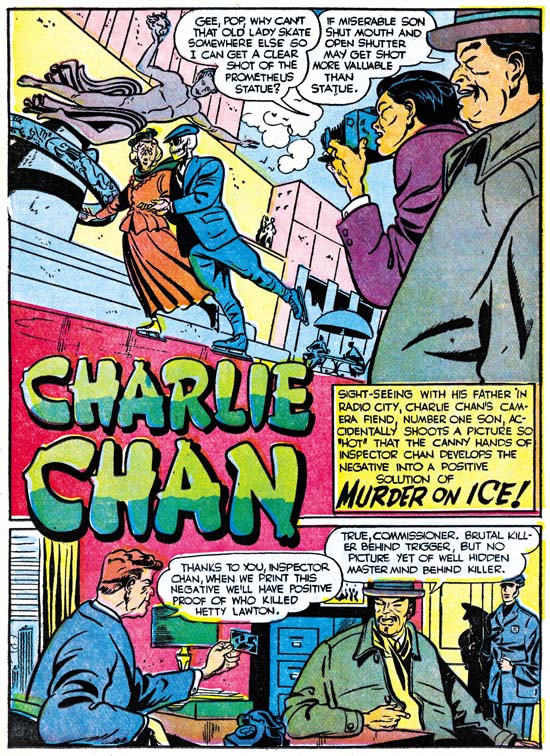 Charlie Chan #5 (February 1949) "Murder On Ice" by unidentified artist
Carmine never worked for Simon and Kirby again. But eventually both Joe and Jack would end up working for Infantino. Kirby fans often are very critical of Carmine's dealings with Jack in the early 70's but personally I think such criticism is unwarranted. Infantino's relationship with Joe does not seem to have been clouded with any similar issues and they remain good friends to this day.