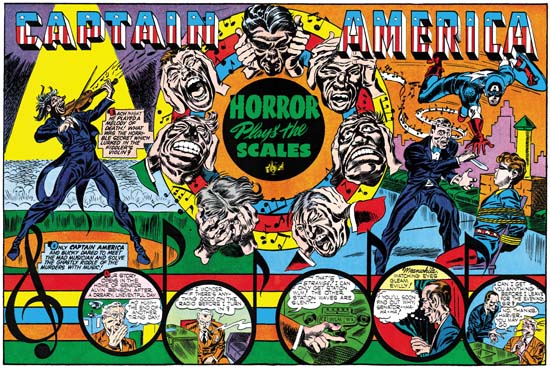 Captain America #7 (October 1941) "Horror Plays the Scales"
Larger Image
Simon and Kirby have completely mastered the double page splash with Cap #7. The important center is now occupied by the title "Horror Plays the Scales" and a ring of floating heads. Perhaps you remember me saying that floating heads and oversize figures were devices that Jack Kirby did not use often on covers but were devices that Joe Simon used for covers throughout his career. The Captain America covers did not use either floating heads or oversized figures but both devices appear in the splashes. On this splash the floating heads are obviously under torture with most trying to cover their ears. Behind them is are multicolor rings with musical notes floating about.
If the title and floating heads do not make it obvious about the nefarious use of music, the scene of the splash does. It is divided by the central design into left and right sections. On the left is a violin maestro in the thralls of playing his instrument. The musical notes that he is generating are shown flying up toward the right. The eye follows these notes into the top of the rings of the central design. The eye then follows the stream of musical notes that enters the right section of the scene. The musical notes stream then wraps around the head of a man. Now is revealed what effect the maestros music is having. The man, obviously in a trance, advances with a knife toward Bucky who is tied up on a chair. But Captain America descends from above to save the day. I have no idea where Cap leaped from. While the left section shows a music hall, the right section takes place on a city roof top.
Along the bottom of the splash is the start of the actual story. Unlike what was done in Cap #6, the story section in Cap #7 is well integrated with the rest of the splash. The background to the story panels has strips like the scales of music notation. These scales are given various colors that give them a visual connection to the color rings behind the floating heads. On the left is a musical symbol, I am afraid I am ignorant about music so I do not know what it is called. Following this symbol are a row of musical notes. The round part of the notes are actually the panels of the story.
For me this is perhaps the most interesting design of the Captain America double splashes. That is not to say that the rest are not successful, only that Simon and Kirby would experiment with other different designs.