I gather that Mort Meskin is most famous for the work he did during the war. I've seen some of his Golden Lad covers and they are quite good. Because my main interest is in Simon and Kirby, I don't have access to very much of the early Meskin material. However Mort worked at National Comics at the same time as Simon & Kirby, and fortunately some of the Adventure Comics have stories by Meskin. So I have some examples, including the splash page below ("Hitch A Wagon To The Stars") from Adventure #82 with inking by George Roussos. Even at this time Mort had developed a reputation for being a rapid and prolific comic book artist. There is a story about Jack Kirby and Mort Meskin working side by side at DC each working on a rush job. And how their efforts resulting in a crowd gathering to watch both of them. By that time Jack was already well known, but many now began to take note of Mort's talent.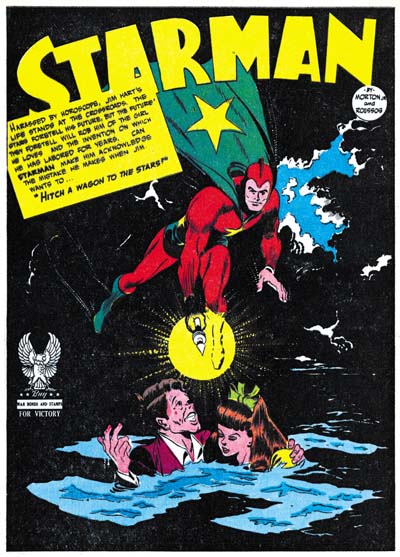 Adventure #82 (January 1943) Starman by Mort Meskin and George Roussos
Mort Meskin's first contributions for a S&K production were some stories done with Jerry Robinson in Young Romance #6 (see below) and Justice Traps The Guilty #5 both July 1948. It appears to me that most of the penciling was done by Jerry while Mort's contribution was largely inking.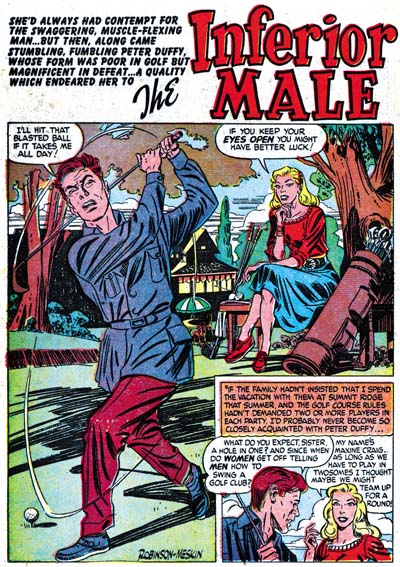 Over a year later Meskin appears without Robinson as the penciler in Young Romance #16 and Real West Romances #5 both from December 1949. Once started Meskin would be frequently used not only for romance (Young Romance, Young Love, Young Brides and In Love), but also in crime (Headline, Justice Traps the Guilty and Police Trap) and horror (Black Magic).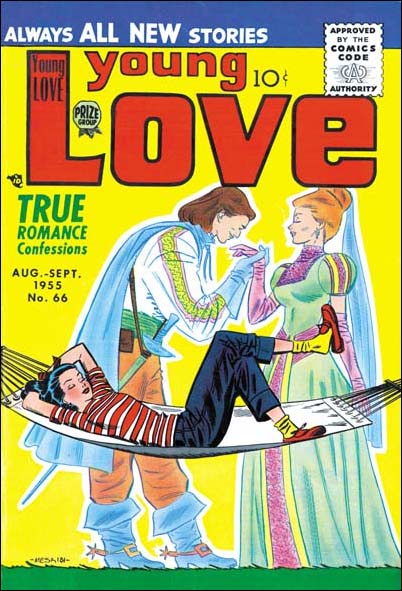 As Joe Simon tells the story in "The Comic Book Makers" initially when Mort was supplied with scripts he was unable to do the work. Joe then suggested that Mort should work in the S&K studio. Even in this environment Mort seemed to suffer from "artist's block". Then Joe hit on the idea of penciling some random marks on Mort's page. No longer faced with a blank page, Mort was back to being a rapid penciler. As Joe tells the story, from then on every mourning it was someone's responsibility to add those first random markings to Mort's blank art boards. Mort was very prolific and did not seem to work exclusively for the S&K studio. During the period from January 1951 to January 1953 (cover dates) Mort actually produced more pages of art for the S&K studio then Jack Kirby did. Now this is not a completely fair comparison since Jack had more responsibility in the studio then just penciling. On the other hand the inking of Kirby pencils seemed to have been done by more then one hand, while as far as I can tell Meskin did all the inking for his own art at this time. Joe Simon once said about Mort's work at the Simon & Kirby studio "He was probably the fastest, most inspired artist in the room, and certainly one of the most dependable." Remember Jack was in that studio also, so this is no small praise.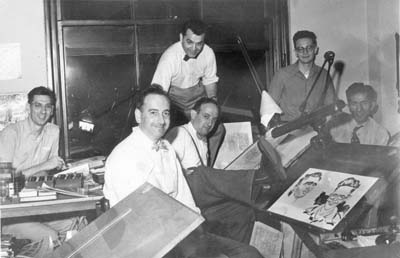 That's Mort "passing gas" in the center, along with Jack looking like he is about to hurl himself at the photographer. Joe looks amused by it all in the front. Jim Infantino and Ben Oda (letterer extraordinaire) are on the right but I have forgotten who that is on the left. I am not sure of the exact date for this photo, but Jim Infantino has a signed piece of work ("Let's Talk Fashion") in Young Romance #39 (cover date November 1951). Jim only worked for S&K for a relatively short time, so 1951 or 1952 is a good guess for the date of the photograph.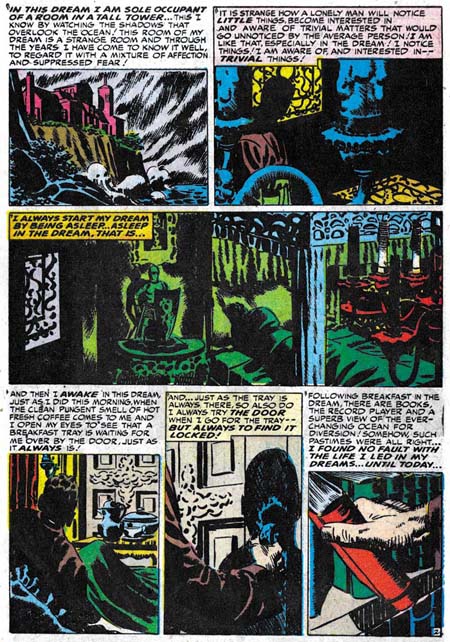 Mort Meskin does not seem to get much attention nowadays. Even among the S&K artists he can easily be overlooked. He doesn't have Kirby's expressive and powerful drawing. Nor are his women as beautiful as those done by Bill Draut. Finally his comic art is not as realistic as John Prentice's (usual suspect #3 who I will post on later). I admit when I first encountered Mort Meskin's work I was not particularly impressed. But over time I began to realize that his strength was in his story telling. Often it is very unobtrusive. As you read Meskin's work you may not even realize how he is manipulating what he is presenting. But if you have any doubts about how effectively he does it, take a look at the at the above page from "The Dreaming Tower" in Strange World of Your Dreams #1. The scenes he presents are rather ordinary. But the way he depicts them and his use of black gives the page an eerie effect that is just what the story needs. Kirby is one of the best story tellers, but he has never done anything like this. I am not saying that Mort was a better story teller then Jack. Just that each had their own unique approach.
By the way according to Joe, Strange World of Your Dreams owed its creation to Mort Meskin. In fact Mort is listed as an Associate Editor for the series. No other comic produced by Simon and Kirby have anyone other then Joe and Jack listed as an editor.
Sometime after the failure of S&K's Mainline (about January 1955), the S&K studio disbanded. But I am still not sure if that happened at the same time as Mainline's failure or if the studio lasted longer. Certainly by 1957 there was no studio since in that year Jack was doing work for DC without Joe. The last work Mort did for S&K was in Young Love #68 (cover date December 1955). Since Mort had been working in the S&K bullpen, perhaps about September 1955 marks the end of the studio also.
Mort Meskin has been nominated for the Eisner Hall of Fame this year. Although four artist will win that honor, there are some other impressive artists that were nominated (such as Jim Steranko). Fans don't seem to talk about Meskin very much, so I despair that Mort will not receive enough votes. But if anyone deserves to belong in any comic Hall of Fame it sure would be Mort Meskin. There is an wonderful web site on him by his sons with an excellent biography. I really advise a careful visit. In particular be sure to read "The Second Comic Career of Mort Meskin" by Dylan Williams which is in the Comics section.