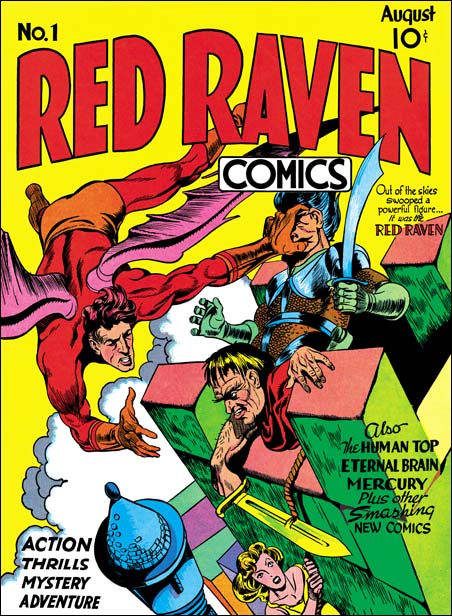 Red Raven Comics #1 (August 1940)
In a few weeks this Simon and Kirby Blog will be reach its second anniversary, my first post was on March 17, 2006. When I started blogging I really had no idea how long I would keep at it. Actually I still do not know but I have somehow managed to post once a week (on Friday or Saturday). Other bloggers post more often, that does not bother me and I hope that my readers do not mind either. Each blog entry has some research behind it, perhaps not as thorough as it would be if I were publishing something but more then I would do for casual comments on the places like the Kirby List. Even without the blog I would be doing that research, but writing about it allows me to organize my thoughts in a way otherwise not possible. It is surprising how difficult it can be to describe what can seem so obvious, let alone when things are not obvious at all. The effort is worth it because it brings with it a new level of understanding. This blog also provides feedback, perhaps not often as I would like, but the comments that are left are invariably quite thoughtful and informative. I offer a special thanks to what I like to think as my loyal opposition. Perhaps they do not always disagree with me but they always have interesting points to make. Rest assured even when our opinions do differ I respect and value the time they take. Besides I have been known to make mistakes and to change my opinion. Readers should not accept anything I say in my blog as unchangeable gospel.
In recognition of my second anniversary I am going to have a contest. It has been a while since I had a contest and this time I have a real special prize. The winner will receive a color copy of The Red Raven Comics #1. This is a slim hardcover volume with restorations of the cover and all interior art. Red Raven #1 is an early effort by Joe Simon as art editor for Timely and has some nice work by Jack Kirby. Some of the stories are a bit odd, but that is to be expected from the golden age of comics. I wish I could offer it to all my readers but I am sure Marvel would slap me done hard if they found out. Maybe someday Marvel will get around to reprinting it themselves.
Anyone can enter, not just people from the US. To enter the contest all you have to do is email me at hmendryk at yahoo dot com (you know the drill, replace "at" and "dot" with the appropriate characters). Include in the title the phrase "Red Raven Contest". In the text of the email include your address. Please note I do not keep this information nor do I pass it on to anyone else. One entry per person. I will pick the winner at random on March 15. Good luck.