Despite what has been said by what would normally be considered reliable sources such as Jack Kirby, Joe Simon did not go to college. Instead Joe used what experience he gained during his high school years to get himself a job after graduation as an artist assistant for the Rochester Journal American. Later he would go on to work for the Syracuse Herald. Much of what Simon learned during his time as a newspaper staff artist would serve him well during his career. The skill he developed with the air brush (for retouching photographs) would be used years later for creating the covers for Sick (a Mad-clone humor magazine). Joe became quite proficient in all manners of things needed in the publication of art. I am sure that this experience had a lot to do with why Joe was able to advance so quickly when he later entered the comic book industry.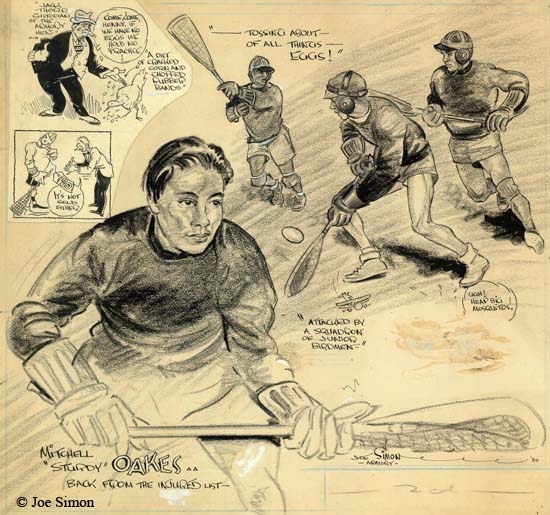 Sport Illustration by Joe Simon (1934)
However Simon's experience was not limited to production, he would provide illustrations as well. Much of this was sports illustrations such as the example I provide above. This piece, as well as most of Joe's sport illustrations, was done on stipple board. These boards had a textured surface that allowed pencils to be easily transferred to printing plates. The art was created in a size larger then the intended published version, with measurements provided in terms of the number of columns. Joe says that at the time a column was two inches wide. The above illustration therefore would be 10 inches wide in the actual newspaper. This piece originally had two paste-ups added, one of which has since been lost. The art on the remaining paste-up does not appear to be Joe's work.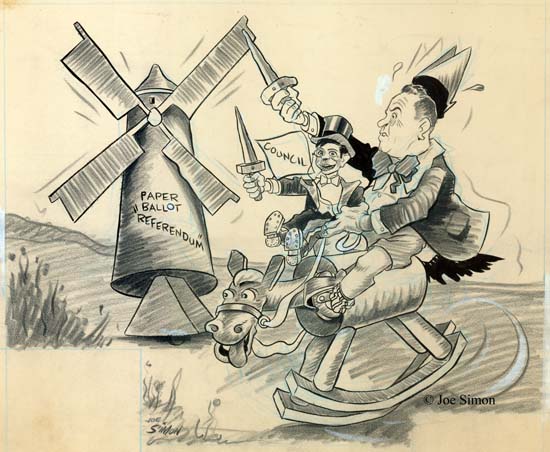 Political Cartoon by Joe Simon
According to Greg Theakston (The Complete Jack Kirby) and even Joe himself (The Comic Book Maker), sport illustrations were pretty much all that Simon did. However Joe's own collection indicates that was not the case, Joe did political cartoons as well. In the example I provide above (a four column or eight inch piece) Joe takes on a local political issue. I have no idea what the "Paper Ballot 'Referendum'" is all about, but there is little doubt that Simon had a low opinion of the portrayed politician. The windmill brings to mind the futile quest from Don Quixote. Our politician will fare no better since he is on a rocking horse, but I love the way Joe cannot resist providing a very animated horse's head. The council is degraded even further, being depicted as a Charlie McCarthy dummy under the politician's control.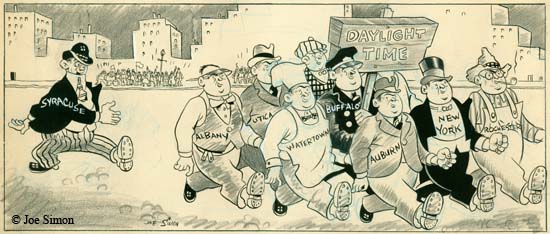 Political Cartoon by Joe Simon
Some of the other political cartoons still in Joe's personal collection concern Daylight Savings Time. Apparently Syracuse was one of the few local communities not to adopt the time change. Joe depicts a parade being viewed by the public. A small group of Daylight Time supporters proudly march together, each individual representing a different New York locality. Syracuse trails behind, out of step and goofy looking. There can be little doubt that Joe was calling to Syracuse to adopt the Daylight Savings Time.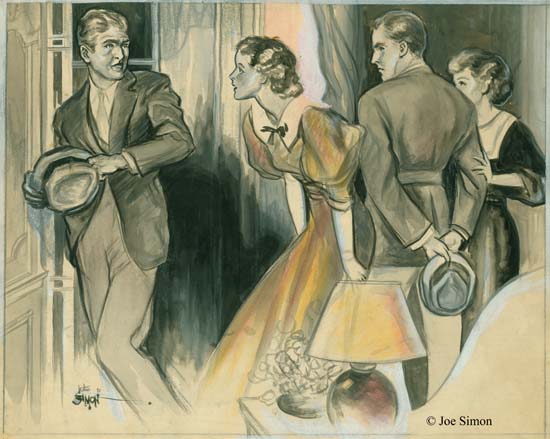 Fiction Illustration by Joe Simon
If we can use his collection to judge by, Joe did do a fair amount of political cartoons, just not as many as his sports illustrations. Joe Simon also at least occasionally contributed illustrations for fictional pieces. I must admit I am a little surprised at this. I was well aware that previously newspapers would often include fictional stories but I had thought that practice had been discontinued by the time Joe was doing newspaper work. Joe used a different media for this work, the three examples from his collection were all done using ink, gouache and, in the case above, some watercolor on illustration board. Because the result is more painterly, more effort must have been made to prepare them for printing. Perhaps they were used in a magazine insert were higher quality photographs would also be used. As in pulp magazines, these fictional illustrations would often include a caption. The board for the above illustration has on it in Joe's handwriting:
"IT'S VERY SIMPLE" MARTIN SAID, "I'M GOING TO MARRY LYNN"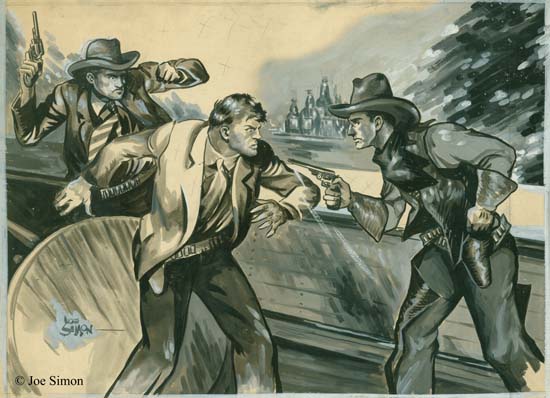 Fiction Illustration by Joe Simon
The first example of fiction illustrated that I provided was done in a style that is unusual for Simon. The second example that I show above, as well as another work in Joe's collection, are immediately recognizable as Simon pieces. Despite the difference in media, the characters look very much like those in Joe Simon's early comic book work. Not only that but in these two pieces Joe also used his own features for one of the men in the scene. Perhaps it is just a coincidence, but in each case it was as the man whose quick draw gains control of the situation. In an earlier post I had suggested that Bill Everett was the source for a technique that Joe adopted of combining eyebrows and eyelids as one angular feature. This illustration work shows that I was wrong, Joe was already using pretty much the same technique before starting his comic book career. Regrettably there is no caption on the above illustration. Still I think we can be pretty certain that our quick drawing cowboy is the hero of the piece. Despite some pretty badly drawn hands, it is a exciting piece of art. Perhaps not as polished as other illustrators might do, but just the sort of thing that work well when Joe began doing comic books. The published piece would have looked a bit different. Simon marked with penciled 'X's the background, the counter top and parts of the center man's jacket. This is a indication to the printer to fill theses areas with black.
Joe thought he did these fiction illustrations in the mid '30's, at which time he would have been in his early 20's. That is a little surprising since Joe's character in the paintings looks older. This might suggest that this work was actually done in the late '30's. Or it just might be that Joe purposely or unconsciously added a little weight to the face giving it an older look.
All indications are that Joe was doing quite well in his career as a newspaper artist. However there was a change going on with local papers were being bought up and consolidated. That included the one Joe worked for, and so he was out of a job. I suppose Simon could have moved and tried to get work in another community's paper. However there was a shrinking supply of such possibilities and increasing number of competitors for the jobs. But I think more important was that Joe was ambitious. So he moved to New York and, as they say, the rest was history.
Art by Joe Simon, Chapter 1, In The Beginning