Joe Simon and Jack Kirby had launched their own publishing company, Mainline, starting with Bullseye #1 (cover date August 1954). In an uncharacteristic move, Simon and Kirby did not advertise their involvement in the Mainline titles (Bullseye, Foxhole, In Love and Police Trap). This unusual reticent was undoubtedly due to a desire to avoid conflicts, at least initially, with Prize Comics for whom Joe and Jack continued to produce comics including Fighting American. The extra work Simon and Kirby had taken on was not without consequences as there was a drop in the quantity and quality of the work drawn by Kirby. The art for the earlier issues of Fighting American was top notch but in my opinion most of the art for the issues covered in this chapter were relatively inferior (but an inferior Jack Kirby was still better then the best of most other comic book artists).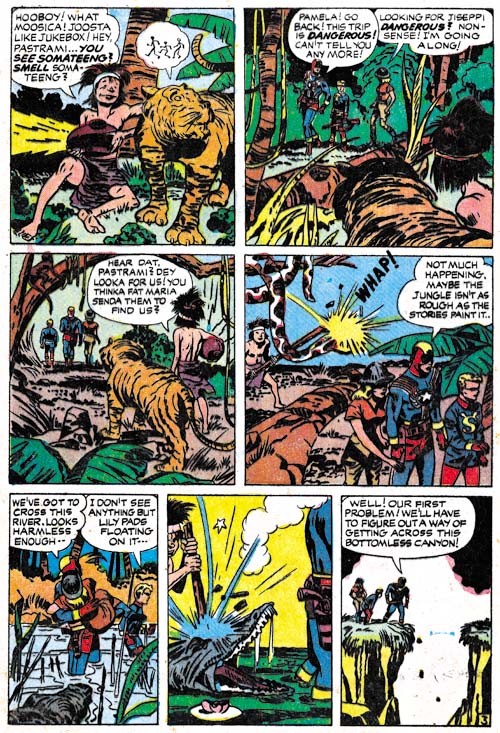 Fighting American #5 (December 1954) "Jiseppi, The Jungle Boy" page 3, art by Jack Kirby
The decline in art quality that I mentioned above does not seem to have occurred in "Jiseppi, The Jungle Boy". This is a delightfully nonsensical tale about a jungle boy in India that speaks English with a distinct Italian accent. Actually in the end it turns out there is a perfectly logical explanation for this incongruity (okay maybe only as logical as can be expected in a comic book). As seen in the previous chapter, Simon and Kirby's humor includes making fun of the comic's heroes. Above we see Fighting American trying to track Jiseppi through the jungle completely oblivious to all the dangers that his quarry saves him from. I love the way that the jungle boy's tiger speaks in stick figures.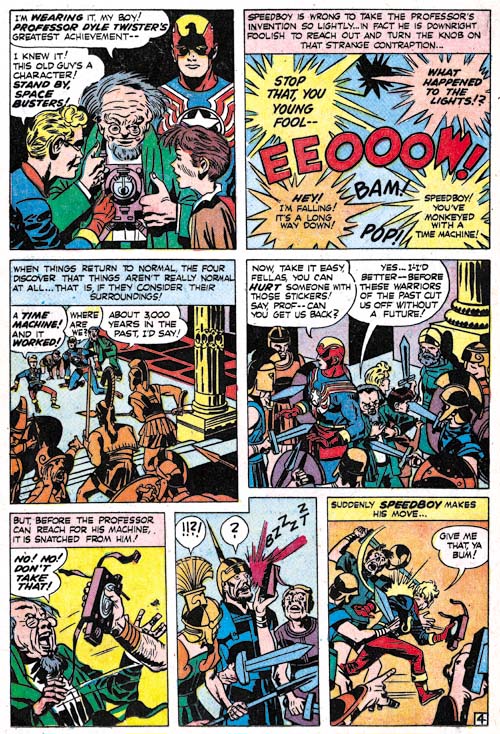 Fighting American #5 (December 1954) "The Year Bender" page 4, art by Jack Kirby
Simon and Kirby would throw in some science fiction-fantasy into their humor as well as seen in "The Year Bender". They travel in time is said to be about 3000 years in the past. It looks like Rome but that could not be since at 1000 BC Rome was just one of many small Italian cities and the arena games presented here would not be held for many years from then. But historical accuracy was never an important criteria for Simon and Kirby particularly if it got in the way of a good story. Check out the fun Jack had in drawing the ancient helmets; I do not believe any two head gear were drawn the same throughout the story.
As delightful a tale as this is, the decline in art quality that I mentioned is pretty obvious. It would be easy to blame the inker but Jack had some pretty poor inkers in the past but Simon and Kirby would usually rescue it by doing the final touchups.
The final panel reads:
AND THAT NEXT TRIP INTO THE PAST MAY BE COMING UP SOONER THAN SPEEDBOY SUSPECTS! YOU'LL SEE WHAT WE MEAN WHEN YOU GET THE NEXT BIG ISSUE OF FIGHTING AMERICAN!
Despite what they promised issue #6 had no time travel tale.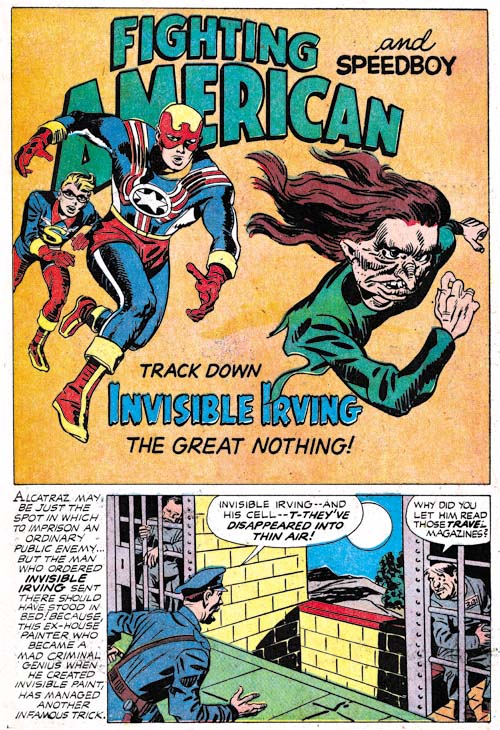 Fighting American #5 (December 1954) "Invisible Irving", art by Jack Kirby
The villain for "Invisible Irving" makes use of invisible paint although oddly enough often comes off just part of his body leaving him looking like a flying head.
The tale ends with a caption:
FIGHTING AMERICAN AND SPEEDBOY HAVE A SPECIAL TREAT FOR YOU IN THE NEXT ISSUE. COME ALONG WITH THEM AS THEY UNCOVER A LOST CIVILIZATION IN "CITY BENEATH THE SEA"
Perhaps this refers to the same story mentioned at the end of "The Year Bender". Even so "City Beneath the Sea" is a story that would never appear and as far as is known was never drawn.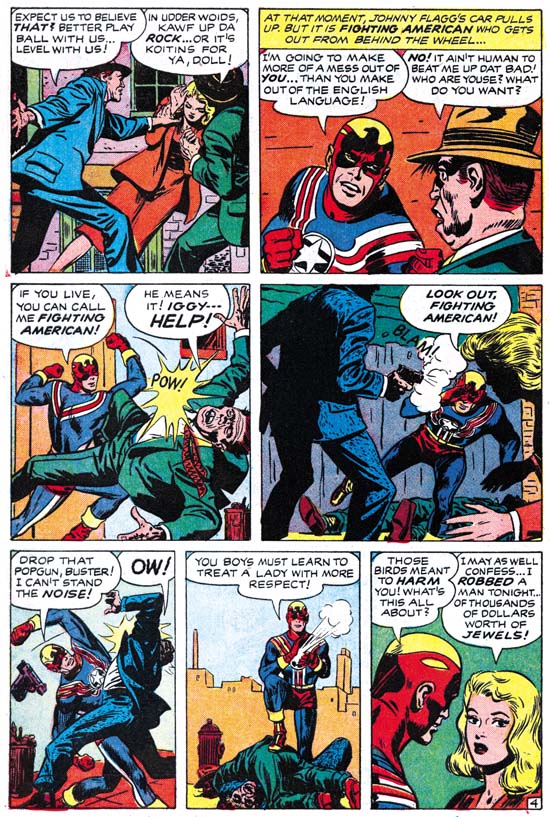 Fighting American #6 (February 1955) "Deadly Doolittle" page 4, art by Joe Simon
The art for "Deadly Doolittle" is generally attributed to Jack Kirby, and with good reason since many Kirby mannerisms can be found in the story. However as I have previously pointed out (Art of Joe Simon, Chapter 11) this story is actually a rewrite of a Manhunter story (Adventure Comics #75, June 1942, "Beware Of Mr. Meek"). In "The Comic Book Makers" Joe Simon describes how he and Jack got into hot water with Prize Comics for using re-scripted old romance art. While I have never been able to trace down the specific romance work in question (not that surprising considering the thousands of romance pages that Simon and Kirby produced) this recycling of an old Manhunter story occurred about the same time and was a similar cost saving measure. Attributing the actual pencils for "Deadly Doolittle" to Joe Simon is not based on the use of swipes. Some use the false swiping criteria (non-swipe = Kirby, swipe = Simon) but it has been amply shown that Jack would swipe as well. Rather I credit Simon for this particular story because of the art, especially the woman in the last panel of page 4. Similar women can even be found in the reworked Black Magic that Joe did for DC many years later (Black Magic at DC).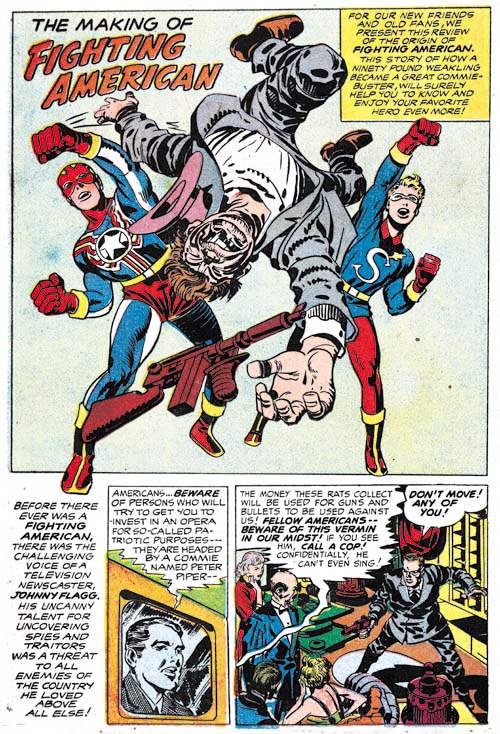 Fighting American #6 (February 1955) "The Making of Fighting American", art by Jack Kirby
Four pages of issue #6 are used for the retelling of the origin of Fighting American and Speedboy. This was all art selected from the first issue except for the splash panel. Not that the splash was new, it was originally meant as the cover for Fighting American #4.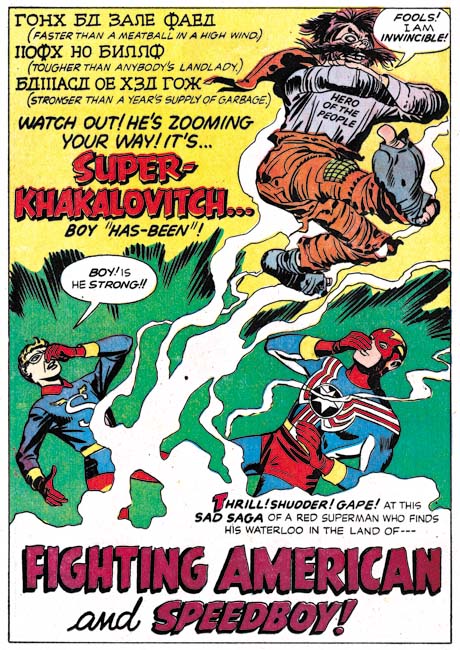 Fighting American #6 (February 1955) "Super Khakalovitch", art by Jack Kirby
For me "Super Khakalovitch" is where Simon and Kirby had finally jumped the shark in Fighting American. It may be just me, but I find the humor forced and the story dull. Further the story is not helped by the fact that not all the art was drawn by Jack Kirby. I judge that Jack did pages 1, 2, 4, 5, 6 and 7.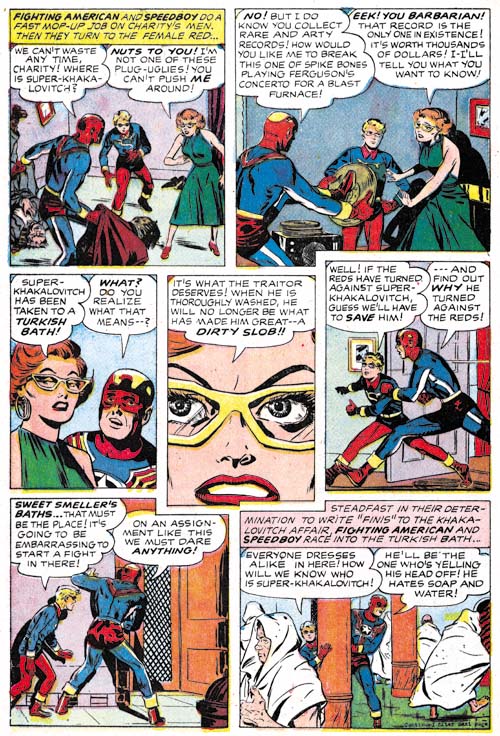 Fighting American #6 (February 1955) "Super Khakalovitch" page 8, art by unidentified artist
The other pages (3, 8, 9 and 10) were done by an artist that I have not been able to identify; he does not look like any of the artists working for Simon and Kirby at the time.
Simon and Kirby may have jumped the shark but they produced enough art for two more issues although one would not be published for years later.