John Prentice was the last of the usual suspects (artists that worked frequently for the S&K studio for an extended period of time). John served in the Navy during the war, in fact he was at Pearl Harbor when the Japanese attached. Afterwards he went to the Art Institute of Pittsburgh for a short time. John arrived in New York in 1947 and the GCD shows him doing work for in Airboy Comics and Gang Buster. The first work he did for the Simon & Kirby studio was Young Love #4 (August 1949). Once John started with S&K he was a frequent artist for their productions. The work he initially did for S&K was pretty good, but John progressed fairly rapidly while until he achieved his mature style which really was exceptional.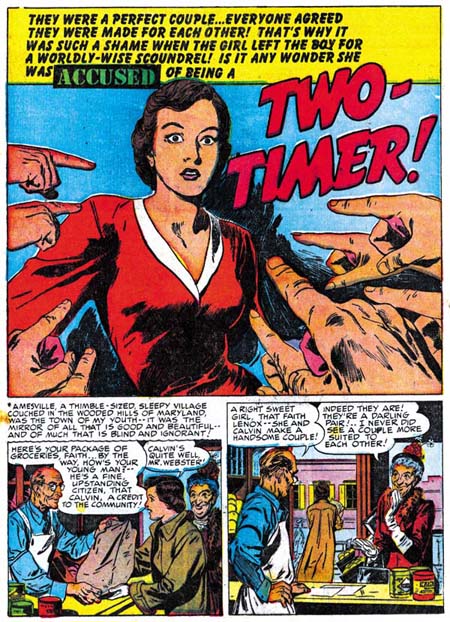 Young Love #4 (August 1949).
Joe and Jack must have thought highly of John's work because he was an important contributor to Bullseye #1. The Bullseye origin story was divided into three chapters ("The Boy", "The Youth" and "The Man"). Jack did all of the first chapter and the splash pages for both of the other chapters, but Prentice penciled all the rest of the story for the last two chapters. Bullseye was part of the Mainline comics, Simon and Kirby's attempt at self publishing. But while doing Mainline S&K continued producing comics for Prize (Black Magic and the romance titles) during that time. Presumably because of his work load, Jack stopped penciling for these Prize productions. Prentice seems to have taken up some of the work for the absent Kirby because his page output jumps from an average of about 12 pages a month to about 26 during the period from March to October, the last month for Mainline comics.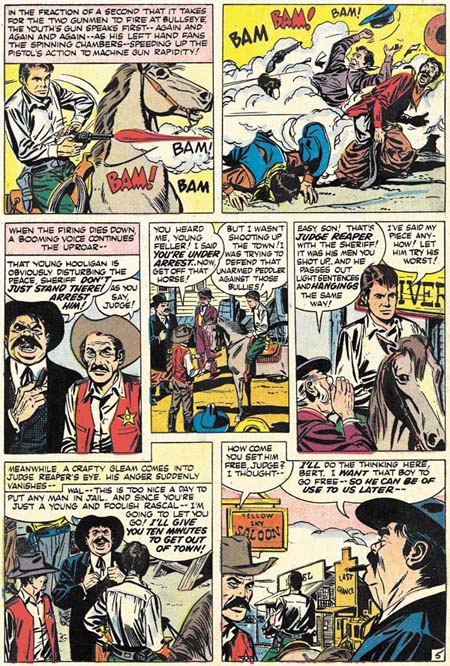 Bullseye #1, "Bullseye, The Youth" (August 1954).
Like Bill Draut and Mort Meskin, John seemed to worked in all of the genre from the S&K shop. Romance genre were the most frequent stories produced by the studio and Prentice's style was well suited for them. John was probably the most realistic artist to work for S&K. His men tend to have small eyes and long faces. John's women are attractive, but are not what I would call glamorous, perhaps sophisticated would be a better description. For some reason Prentice never signed any of his work for Simon and Kirby. Attribution of this work to John is based on work done for the Rip Kirby strip (see below).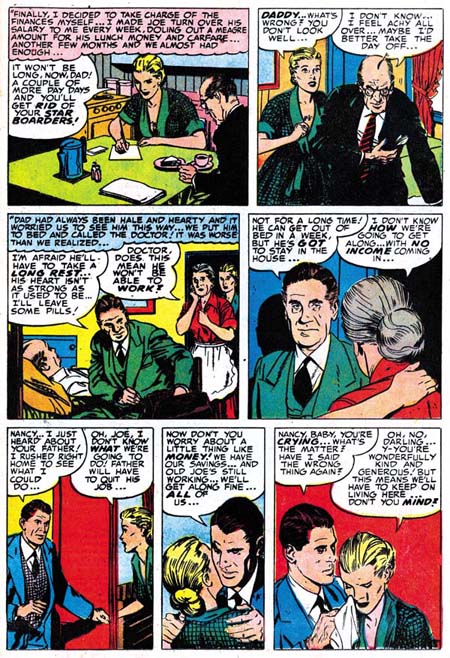 Young Love #45, "I Like It Here" (May 1953).
Simon and Kirby's timing in starting their own comic publishing company, Mainline, was unfortunate because that was the period when anti-comic sediment swept the country fueled by Dr. Wertham and a Senate Investigation Committee. Many publishers felt the effects, but it was probably worst for new companies like Mainline. Mainline's last comics were dated April 1955. John Prentice's last work for S&K's Prize publications was Young Love #69 February 1956. However Joe Simon did some editorial work for Harvey during this difficult period, and Prentice work there on romances until February 1957 (Hi-School Romance #60). If the GCD can be trusted, John returned to work for DC, mostly on their version of the horror genre.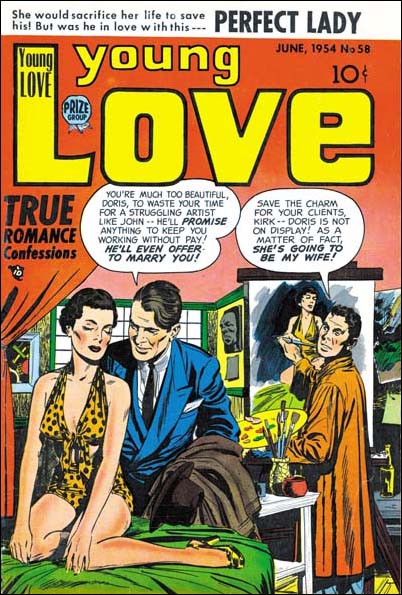 Young Love #58 (June 1954).
I would like to repeat a cover that I posted earlier, In Love #1. This is one of the few covers that Kirby shared pencil duties with an artist other then Simon. The foreground couple are clearly Jack's, but the background men were done by John Prentice. Ignoring covers with unrelated inserts, there was only one other cover that Jack shared with another penciler other then Joe during the S&K years. If you don't know which cover I am talking about, don't worry I'll post it shortly.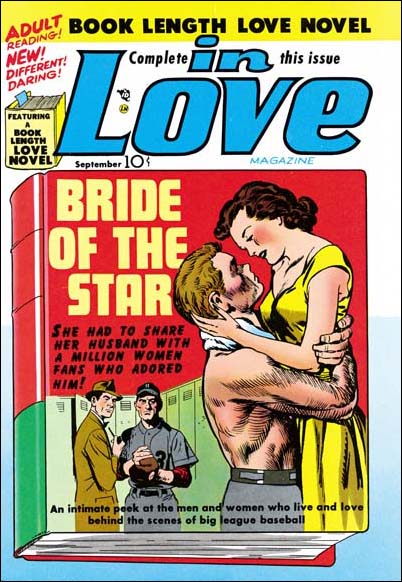 In Love #1 (September 1954)
On September 6, 1956 Alex Raymond, the artist for the syndication strip Rip Kirby, died. Two months later Prentice took over this popular newspaper comic strip. John would do Rip Kirby until he in turned passed away in 1985. I've always heard how much work was involved in producing a comic strip for syndication. But the GCD continues to list comic book work by Prentice from 1957 on into the early 70's.


Rip Kirby (5/6/58).
Well now I've managed to give a brief review on each of the usual suspects. But work by Draut, Meskin and Prentice is so common in S&K productions I am sure to be blogging on them from time to time. Although the usual suspects did a lot of work for the studio, there were other artists who would work for Joe and Jack for shorter periods of time. Many of these artists were quite talented, some later on would achieve fame. I'll post on some of the other artists some other time.