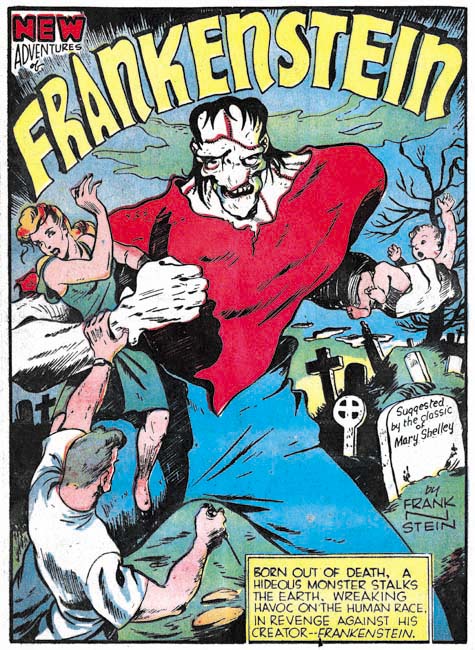 Prize Comics #7 (December 1940) "Frankenstein", art by Dick Briefer
Prize was reinvented when Simon and Kirby arrived in 1947. Before long old titles were transformed (Headline comics went from action hero anthology to a crime comic), new titles added (Justice Traps the Guilty and Young Romance) and other old titles discontinued (Treasure and Wonderland Comics). Even Prize Comics was transformed into Prize Comics Western. The only original title that was unaffected by all of this was Frankenstein. This odd comic book did not belong in the horror genre but was actually a humor comic. Even more unusual was the fact that Frankenstein Comics was the work of a single artist, Dick Briefer (although he signed the initial issues as Frank N Stein).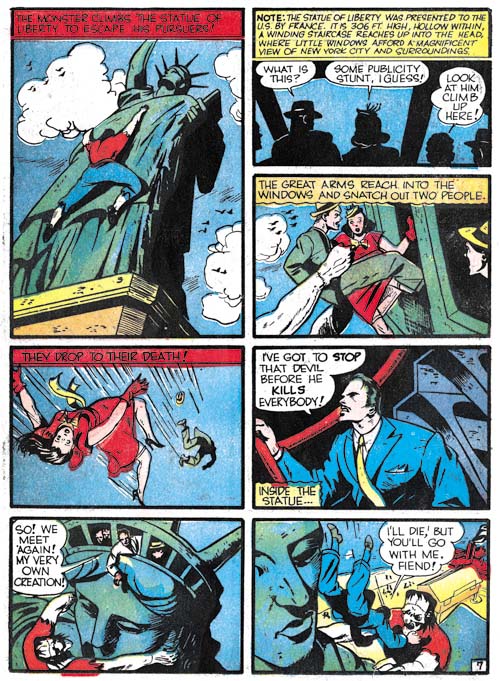 Prize Comics #7 (December 1940) "Frankenstein" page 7, art by Dick Briefer
But Briefer's Frankenstein did not start out as humor, or even in its own title. The first appearance was in Prize Comics #7 (December 1940) and it was a true monster feature. The feature borrowed heavily from both the original novel by Mary Shelley and the Hollywood movie. On some occasions the monster seemed intelligent as in the novel and he seeks to take revenge on his creator for the dismal existence he, the monster, must endure. But his revenge does not consists of killing his creator instead the monster leaves him to live in order to see the suffering that his creation will inflict on mankind. Violence was not unusual this early in the golden age of comics but even so mayhem caused by the monster seems well above what typically occurred in comics. For instance, when the monster runs along a crowded Coney Island beach he literally leaves a trail of human victims.

Prize Comics #8 (January 1941) "Frankenstein" page 8, art by Dick Briefer
Dr. Frankenstein did try to fight back and destroy his creation, but to no avail of course. One attempt was to create Croco-Man however as seen above that was not successful either.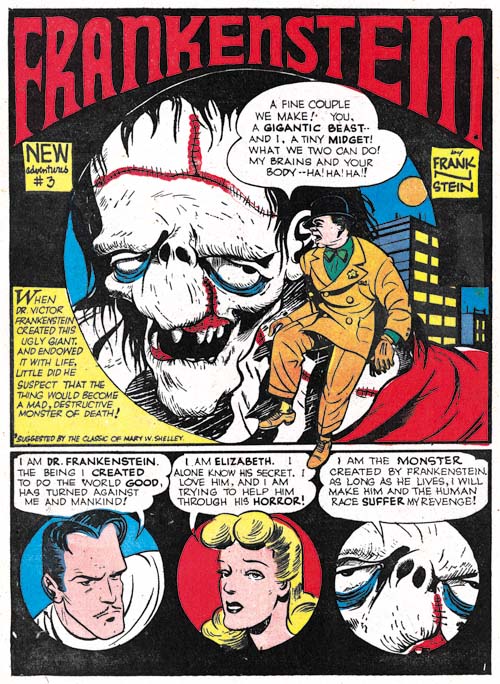 Prize Comics #9 (February 1941) "Frankenstein", art by Dick Briefer
Physically the comic book version of the monster resembles the movie version with the most glaring difference being the distorted and highly placed nose of Briefer's monster. There are times that Briefer's monster seems to share the movie version's limited intelligence.
Frankenstein did not appear in Prize Comics #10 but reappeared in issue #11. However this time Dick Briefer would drop the humorous alias and sign with his true name. Frankenstein would appear in each issue of Prize Comics until PC #68 (after which the title became Prize Comics Western). Somewhere along the line Frankenstein went from a monster genre to humor and would get its own title in 1947. It was a long run from December 1940 to January 1949 (Frankenstein Comics #17). Frankenstein Comics would reboot and run from March 1952 to October 1954 and again Dick Briefer would provide the art. During all that time no other artist did a Frankenstein story for Prize. I do not know if that is a record but it sure is impressive.