As many of my readers probably already know, there is a lengthy interview of Joe Simon conducted by Jim Amash in the latest issue of Alter Ego (#76). I am sure it is the longest Simon interview ever published and it is filled with information that Joe has never previously revealed. In short it is the best Joe Simon interview ever, by a long shot. What I particularly appreciate is how Amash has managed to reveal the real Joe Simon, at least as I know him. Joe is a natural and entertaining story teller and that is a side no other interviewer has ever managed to bring out. My hat is off to Jim Amash, great job!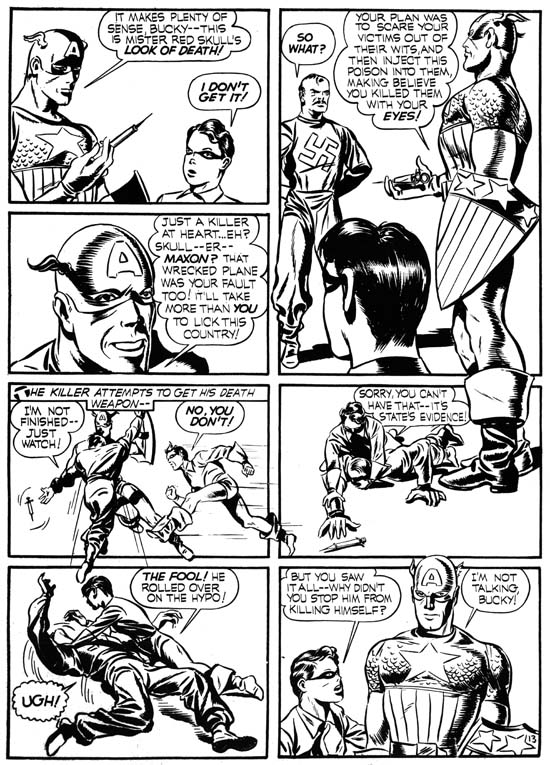 Captain America Comics #1 (March 1941) "The Riddle of the Red Skull" page 13, art by Jack Kirby
The interview is accompanied by lots of great art, although on that subject I am certainly biased. Long time readers of this blog will already have been familiar with some of it but it is nice to see even those in print. There is an image I would like to comment on, one from the Captain America #1 described as "a photocopy of the original art". Technically that is a completely accurate description, but nonetheless I fear that it might be misleading. I wish I could say that Joe still had any original art from Cap #1; it would be quite valuable today. I am pretty confident that all the actual art from Captain America #1 has been forever lost. The source of the Alter Ego image was a flat that Joe did save. The term flat may confuse some because Joe uses it in the interview as a name for magazines printed on non-glossy paper. In the context that I am using it now, a flat is a proof made during the construction of a comic. It is an image of four pages of the comic book arranged as they will be printed on a single sheet of paper. The images of each of the four pages were made from the original art without any colors. As such, flats are the next best thing to the long perished original art. Obviously both Joe and Jack must have known that there was something special about Captain America #1 because they both saved flats from that issue and that issue alone. Joe's collection does not contain any other flats until some of those published in making Mainline comics (from 1954). In the sixties Jack sold his Cap #1 flats to Marvel for use in their reprint "Captain America, the Classic Years." Those flats have been the basis for all the reprints Marvel has made since of the first issue of Captain America. Since modern printing technology is much superior to that used at the time for publishing Captain America #1, you can see better reproductions of the line art by purchasing one of Marvel's reprint today then you would get by spending thousands of dollars for an original issue.