I have another silver age Kirby Cap page that gives some insight into the use of margin notes. This one is page 9 from Tales of Suspense #92, cover dated August 1967. Joe Sinnott inks. Here is a scan that once again has been processed in Photoshop to increase the contrast.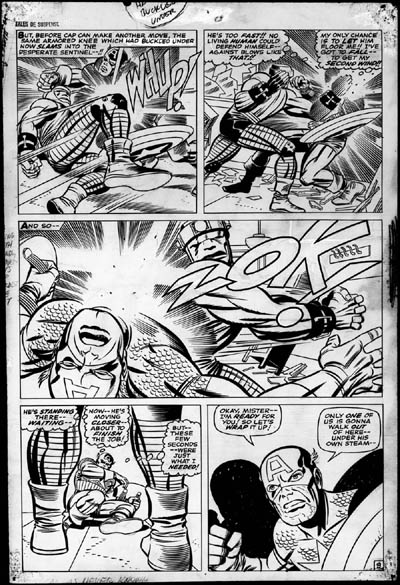 All margins have been trimmed for production. But in this case enough remains help identify the handwriting. Some of the margin notes to the right of panel 3 were done in blue pencil but have been scribbled over with standard pencil. But through the magic of Photoshop I provide another high contrast scan that brings out the blue.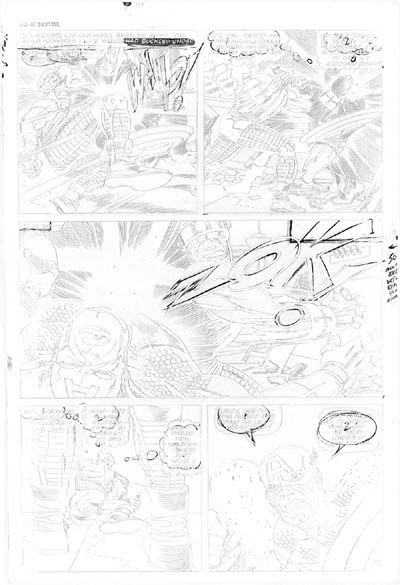 Notice that blue pencils (now erased) were used to rough out the position for the balloons. Each balloon was also numbered. Close examination of the black plate shows that there was no penciled text in the balloons. I believe that originally there were sheets made to provide the letterer with the text and it used the balloon numbers to indicate exactly what balloons the text should go.
Nick commented:
I'm sure the numbering system was Stan's, something I've also seen in this period on FF, and your theory sounds correct. At this point he may have had someone typing up his notes for the letterer.
As for the previously hidden margin notes to the right of panel 3 Nick wrote:
Yes, that's Stan's handwriting to Sol. I think it reads: "Sol, more black in the explosion lines"
Note that Lee's margin notes are directions for corrective actions, they no longer are roughing out script. But there are other margin notes done in standard pencil. About the notes to the left of panel 3 Nick said:
Something to the effect of "Cap takes the hardest hit yet" and those are Kirby's margin notes.
Also about the notes below panel 4 Nick wrote:
More margin notes by Jack. I think it says "Cap has never known…" such force?
I wish the page was not trimmed so we could make out exactly what Jack comments were. But it seems that by this time we no longer had Stan using margin notes to rough out his scripts, but we now have Jack providing his own rough scripts. This page has a marvelous build up to Caps final line "Only one of us is going to walk out of here– under his own steam–". It is Lee/Kirby at their best. But who do we blame for the finishing of Cap's speech on the first panel of the next page as "and it won't be me"? What a great snafu.
I have one more blog concerning these pages but that is on another subject. As for the margin notes I want to leave off with a comment that Nick Caputo left to one of these blogs.
As I may have mentioned elsewhere, I believe Lee's work method evolved with time. He stopped writing directly on the pages when he became involved in writing most of the titles and initiaiting Heck and Ayers into working from a short synopsis (either written or verbal). He then left it up to the artists to make notes in the margins to remind him of what was going on, and the artists would add other bits of business that were probably not in the synopsis. Later on, just about all the artists (Romita, Colan, Buscema, Roth, Everett) would work in this manner.