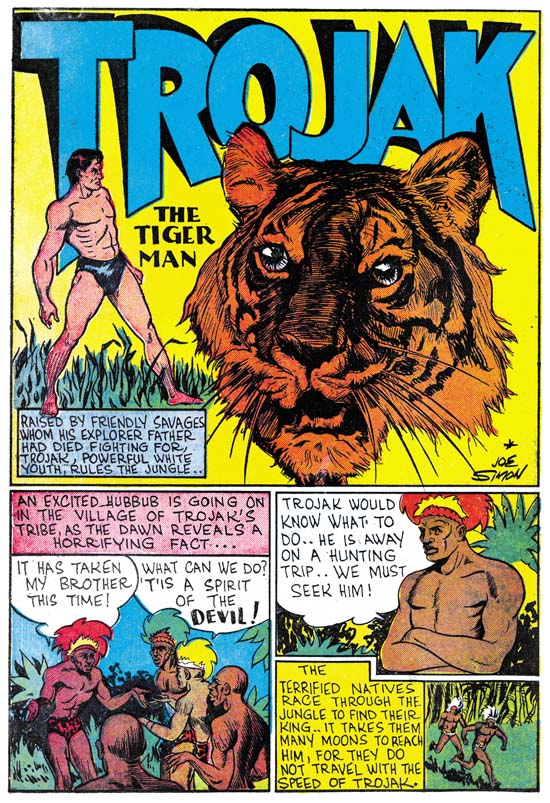 Daring Mystery #3 (April 1940) Trojak by Joe Simon
Joe Simon created the Trojak feature in Daring Mystery #2 (February 1940) under the alias of Gregory Sykes. He continued to work on Trojak in Daring Mystery #3 (April 1940) but this time signing with his real name. Many of Joe's mannerisms show up in this story, in particular his method of combining eyebrow and eye as a single angular form. There are differences between issues #2 and #3, particularly in the natives. The natives in DM #2 were clearly swiped, they are similar to some aliens from Silver Streak #2 (January 1940). It is not clear if the natives in DM #3 are swipes or not. As shown in my series The Art of Joe Simon (and certainly well known by many comic historians), swiping was a common technique used by Joe. So although I cannot point out any obvious examples in this story, that does not mean swipes were not used. Joe may just have done a better job integrating them into the story. I do believe we can confidently say that the large tiger head of the splash was copied from somewhere. Still Joe did a marvelous job on it and it is another example of Joe's fondness for oversize figures and floating heads.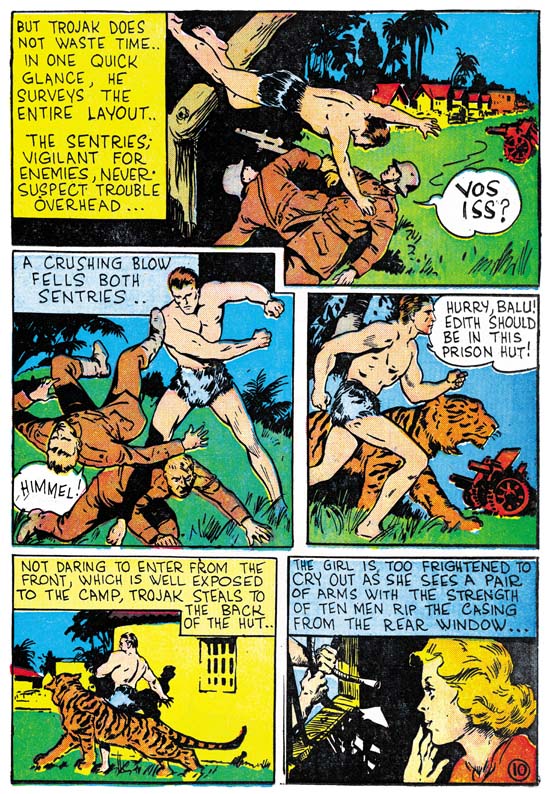 Daring Mystery #3 (April 1940) Trojak by Joe Simon
Compared to DM #2 Joe seems to be advancing in his story telling ability. DM #3 actually contains two stories; Trojak's efforts against a giant prehistoric beast and his fight against a Nazi army. Previously I discussed the hero slugging a villain on the cover of Champion #8 (June 1940). At that time I attributed this to the influence of Jack Kirby. It seemed a reasonable conclusion since Joe had just met Jack and Kirby became famous for this sort of slugfest. However it seems that conclusion was not correct. Take a look at panel 2 from the page above. Here Joe provides another example of a hero's hitting with such force that the foe ends up flying. Since DM #3 has an April cover date while the Simon Fox covers start with May, it is unlikely that Joe and Jack have met. I will be providing an even earlier example in a future post.
I have to admit that every time I look at DM #3 I wonder if was correct to conclude that Joe was not responsible for Daring Mystery #4 (May 1940). But when I compare them side by side I always end up convinced that despite some similarities DM #3 and #4 were not done by the same artist. In general I have no problems distinguishing Joe's penciling for this period. But I worry that Joe's use of swipes may sometimes end up hiding his involvement. Previously I did not attribute the covers of Champ #22 (September 1942) or Speed #22 (September 1942) to Simon. I felt that they did not match the style of other Joe Simon covers of the period. The Gaven signature (another Simon alias) proved me wrong. Joe's heavy reliance on swipes for these Harvey covers (particularly for Champ #22) does seem to make it difficult to find Simon traits. So I am concerned that something similar might be happening with DM #4. I plan to make a study of these early works for features other then artistic style to see if they might help to resolve this issue.
Art by Joe Simon, Chapter 2, Footnote