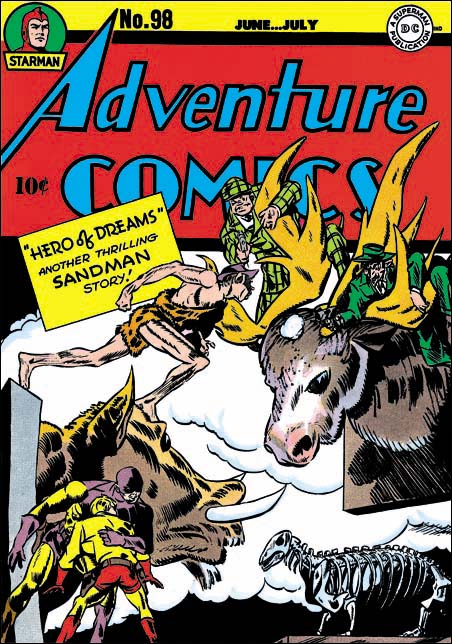 Adventure #98 (October 1945) by Gil Kane?
Recently Tom Morehouse disagreed with my posting that the cover for KO Komics #1 was not done by Kirby. In his comment Tom also added:
Another example of an unfinished Kirby cover left behind and completed by another is Adventure Comics #98. There Kirby drew the "caveman" (who looks a lot like Brooklyn of the BC) and large animal heads but the rest of the cover was done by another (Gil Kane perhaps?).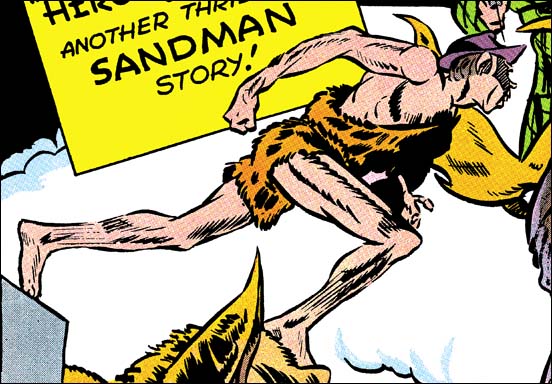 Adventure #98 (October 1945) by Gil Kane?
The Jack Kirby Checklist also attributes the caveman to Jack, but does not mention the animal heads. It is hard to say much about these animal heads, at least with any conviction. Jack was even less accurate with his anatomy of animals then he was with people. Still his animals seem to have a real presence. These heads just do not seem to capture that sort of Kirby "life". But I suppose I would be willing to accept Jack as the artist for the animals if I could agree with attribution of the caveman. I have little doubt that the origin of the running figure was Jack. I just think it was swiped from Kirby and not some unfinished piece by him. The figure looks like it was originally pretty complete. Then why did the inker (who based on other work appears to be the same artist as the penciler) ignore Jacks penciling to provide the botched version of the left hand. Look at the caveman's ear, it is normal in overall size but has a very fat edge. That type of fat ear is typical of this artist. On the other hand Kirby would not draw fat ears but when viewed from behind like this figure would make excessively large ears (see cover to Adventure #88 below). But even if you are willing place the blame for these faults on a bad inker that would not explain the lower right arm. Here once again we find an artist that has broken the form in a way that Kirby never seemed to do. These sort of errors are more easily explained as a less talented artist doing a swipe from a Kirby figure.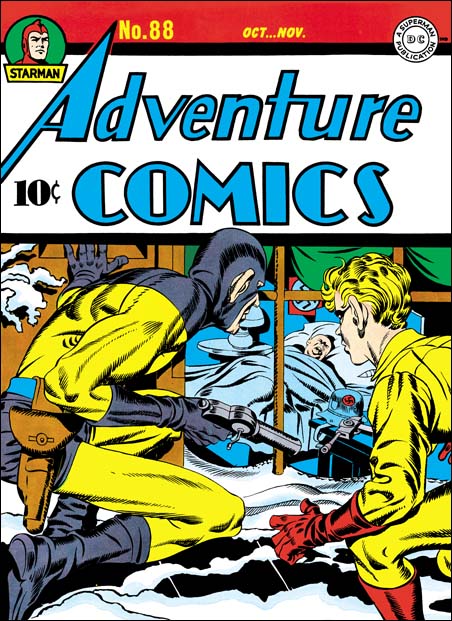 Adventure #88 (October 1943) by Jack Kirby
I believe Tom is correct in suggesting Gil Kane's involvement. Normally I would find it hard to accept that such a poor artist (who also did work on other Adventure covers and Sandman stories) was the same as the incredibly talented Gil Kane. But I have heard it said a number of times that Gil started as a rather bad artist and at one point decided to improve himself with rather spectacular results. I have also read interviews where Gil said that he originally worked for S&K and later did some of their features while they were off in the military. So I suspect this really was done by Gil.
Whatever the history of this piece, the finished cover is truly bizarre. What were the bad guys doing hanging onto the animal heads? Why was the caveman wearing a hat? Even more, why was does he seem to take the center stage as the hero, while Sandman and Sandy cower in the lower corner? I usual do not like a cover that does not "tell" a clear story. But this one is such a collection of weird combinations that it has become the comic book equivalent of surrealism. I may not understand what is happening but it still captures my interest. In its goofiness it has become a masterpiece.