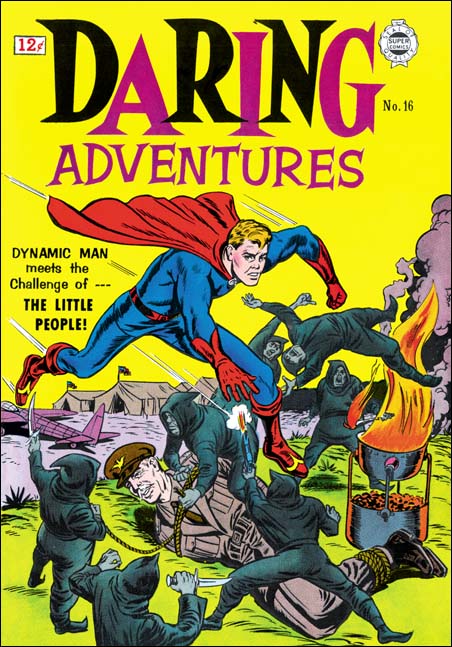 Daring Adventure #16 (1964) by Joe Simon
Another cover that Joe Simon did for the reprint title Daring Adventure. Joe describes selling former Mainline titles to Isreal Waldman in his book "The Comic Book Makers". From his description you would think that Super Comics would do rather cheap productions. Actually the comics I have seen were well done. Some of the interior stories are by great artists and in full color. But the covers are not reprints but original art produced for the various titles. Despite the fact that Joe did a number of these covers I do not think he did any covers for titles that included the Mainline features Joe sold to Waldman.
DA #16 shows Dynamic Man attaching an officer (general?) being tied up and threatened by little green men. A fire is present so I suspect the general will also be tortured. This is all being done within sight of some tents and a plane. The flags indicate that this is a US base, but where are the soldiers to protect this unfortunately officer? But no matter, the Dynamic Man jumps in to save the day. A literal interpretation of this enactment would indicate that Dynamic Man is leaping past his adversaries. But as we have seen before, for example in the cover for Target #10 (November 1940), that Simon would position the hero more to improve his prominence then to provide accurate portrayal. Judging from the interior story, Joe has made some mistakes on Dynamic Man's costume. The gloves are wrong and the boots have the Captain America type of folding over at their tops. But the most glaring discrepancy is due to the colorist, not Joe. Joe provides the proper shorts for Dynamic Man but the colorist has painted the legs blue not flesh color.
This is not a bad cover, just not as interesting as DA #12 or DA #15. I have not seen the covers for DA #13 and #14 but coming between known Simon covers one might suspect that Joe did them also. I had previously felt that Joe also did DA #11 and DA #17 covers. But having restored DA #12, #15 and #16 I am not so sure. I will post on DA #11 and #17 later when I had a chance to think about them some more.
Art by Joe Simon, Appendix 2, Daring Adventures #12