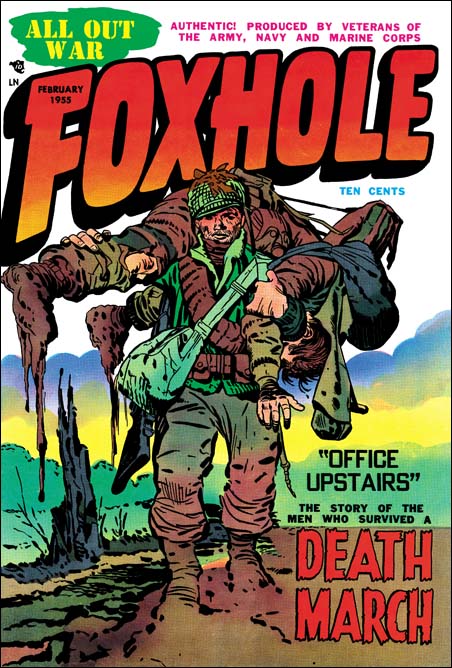 Foxhole #3 (February 1955) by Jack Kirby
I love the Kirby list, but sometimes Kirby fans just get carried away. Even the most unsubstantiated claims become accepted fact. Not too many years ago the concept of Kirby Kolors burst into the list. This was the idea that Jack created the color guides for many Simon and Kirby comic work. Not only did Jack do color guides, but experts could tell which ones he did. Never mind that no evidence was ever presented to back up this amazing claim. Never mind that color credits was never given in any of the Simon and Kirby productions. Fans and experts seem to vie with one another in spotting Kirby Kolors. When asked how they did it, the best you would get was talk about years spent examining S&K comics and Jack's frequent use of "salmon" as a color. If the start of this craze was not bad enough, it soon went to ridiculous extremes. Some were even call some Kirby Atlas/Marvel work as Kirby Kolors! This was at a time when Jack was a freelancer providing pencils for someone else to ink. Yet some fans believed Jack sent in his pencils, it was inked by some other artist, and copies then sent back to Jack to make color guides. Did they think Kirby was being paid the low rates that colorist received at that time, or that Marvel was willing to pay him the same rates for penciling and coloring? I have no idea what these fans were thinking. If that was not bad enough someone asserted that a Bullseye story reprinted by Super Comics in the 60's was a Kirby Kolor! It was colored differently then when first printed by Simon and Kirby. So if it was Kirby Kolor that meant Jack did them later for Super Comics at a time he was busy with Stan Lee creating the Marvel Universe.
If the comics do not provide credits, what do we know about colorists who work on Simon and Kirby productions? Well one thing is that Joe Simon has said that they did not do the coloring work, that was done by the publisher. This statement may be a little misleading. There is at least one photograph showing a colorist at work in the Simon and Kirby studio (working on a Prize Western cover). When I asked Joe about this, he said that the colorist worked for the publisher. Even though the colorist was not being paid for by S&K, it made sense for him to work in the studio. I am sure under that sort of arrangement Joe or Jack would provide guidance on how the coloring should be done. But it is not believable that Jack would do coloring when he was not getting paid for it. Joe and Jack were too much of businessmen to do that.
Joe still has some color guides for work done after the Simon and Kirby studio breakup. When I asked him if he did the coloring he replied that he might do an occasional color guide for a cover, but never for the stories. Do we have any reason to believe that Jack thought more highly of coloring then Joe did?
By now I am sure you are wondering what has all this talk about Kirby Kolor have to do with the cover for Foxhole #3 Well I do believe that for most of the comics that Simon and Kirby produced the coloring was at least the financial responsibility of the publisher. But for a short period Joe and Jack had their own publishing company called Mainline. Obviously for Mainline they must have been responsible for having the coloring done. That by itself does not mean that Joe or Jack personally did it, but it does raise the possibility. I find it suggestive that so many of the Mainline comic covers have exceptional coloring. I have previously posted on Foxhole #2 and Foxhole #4 covers both of which have unusual and very powerful coloring. With its watercolor effect Foxhole #3 is another example of unusual coloring. Some of the other Mainline titles may not have such extraordinary coloring, but they are all extremely well done. It may not be safe to provide an attribution based solely on quality, but it does make one wonder whether Joe or Jack could have been directly involved in some of this coloring. Although I accept this possibility that does not mean I accept Kirby Kolors. I can think of no way judge between Joe or Jack as the source. Joe has always been a fine colorist. I have seen less of Jack's efforts in color but all were nicely done. I am not sure how anyone could take any of this work done so late in their careers and use it for attribution of work done during the 50's for comic books.
Coloring is not the only thing that makes Foxhole #3 a superb piece of art. The inking is just fantastic. The inking for the Mainline covers, and this one in particular, is probably the best Simon and Kirby have ever produced. Bold and assured, but also sensitive. Spotting varied from very sparse in sections to areas of carefully orchestrated lines and dots. However large areas of black are avoided. The composition is nice and takes full advantage of the cover. Even the placing of the blurb in the lower right was carefully handled and balanced with the tree stump on the left.
The blurb announces a story called "Office Upstairs" about the "Death March" while the cover shows a soldier carrying one of his comrades. The reference is to the Bataan Death March. At the start of the war the U.S. army in the Philippines was forced to surrender to the Japanese. The Americans were poorly feed and treated badly. Executions were common, for instance any soldier found to possess Japanese souvenirs was summarily killed. The U.S. soldiers, who were malnourished, were forced to march to a camp 100 miles away. Any prisoner who could not keep up, was executed. The treatment of the Americans was no better when they were interred in the camp. After the war the Japanese general who ordered the march was tried and executed as a war criminal. But the Japanese government has never apologized for their abuse of their prisoners of war.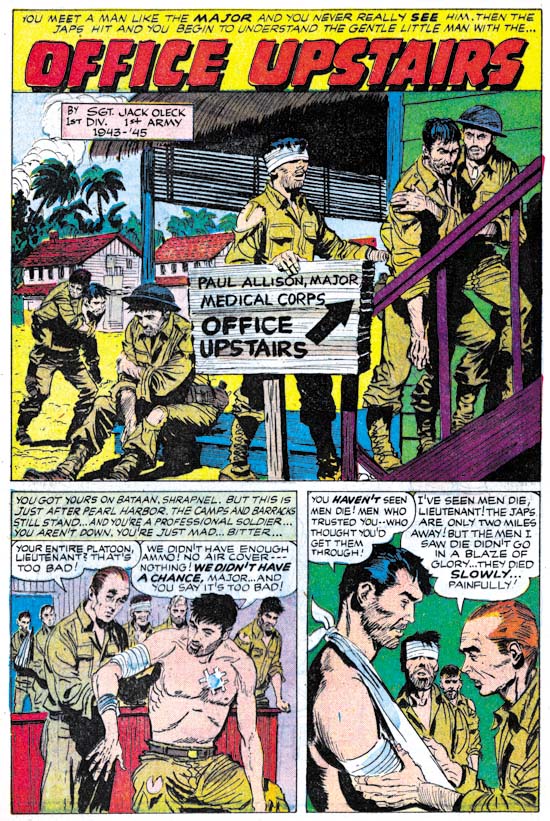 Foxhole #3, "Office Upstairs" by Bob McCarty
A story about the Death March and the prison camp is not something you would expect in a comic book which at that time was aimed at young readers. But the story "Office Upstairs" is a small masterpiece. The "hook" for the Foxhole title was that it was produced by veterans. This story has a box saying that it was by Jack Oleck. Jack was Simon and Kirby's main writer and Joe's brother-in-law. Since writing credits were not generally given in S&K productions, these Foxhole issues are real treasures. Although there is no credit for the art it appears to be the work of Bob McCarty. Bob generally did not sign his work for S&K, but because he was a veteran Foxhole gives him credit in some other stories.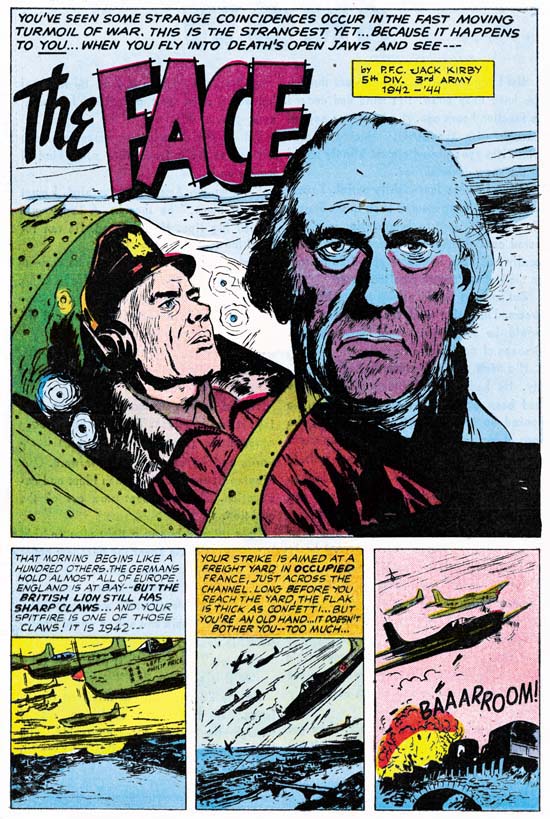 Foxhole #3, "The Face" by John Prentice
This issue provides yet another writing credit, this time by Jack Kirby. Another gem of a story. This time it was drawn by John Prentice, one of my usual suspects (artists who did frequent work for Simon and Kirby). John did some other work in the Foxhole series but surprisingly never was given credit. This is surprising because not only was Prentice a veteran, he was at Pearl Harbor when the Japanese attacked.
UPDATE (2/18/07): My attribution here of "The Face" to John Prentice is incorrect. The proper identification of the artist is Joe Albistur.