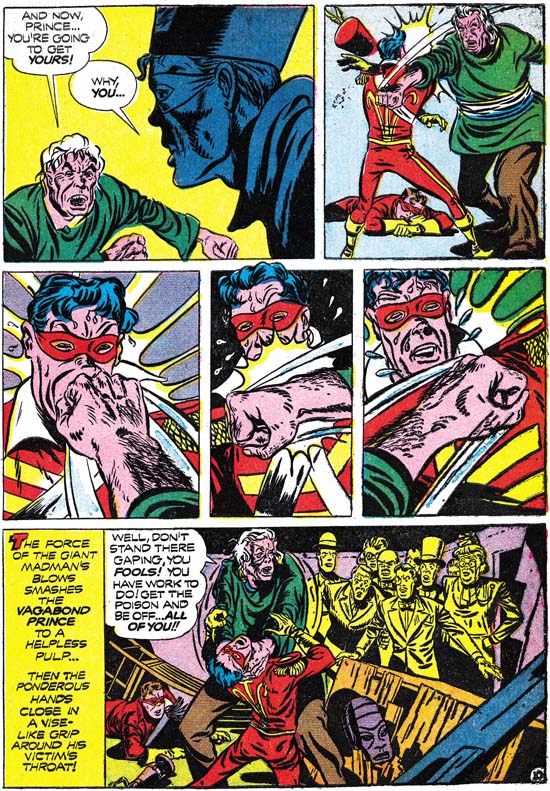 Black Cat #8 (November 1947) "The Madness of Dr. Altu" by Joe Simon
To swipe means to whip, to give a sweeping blow. But today it is more commonly used as a slang for to steal. In comics arts it means to copy a design or drawing, but still carries with it the connotation of theft. For many comic fans to show that a comic artist has swiped is paramount to saying that he is an inferior artist. With the artists Jack Kirby and Joe Simon the verdict in the past was generally Kirby = no swipe = good, while Simon = swipe = bad. I would like to think this attitude is changing. Tom Morehouse for instance has done some fine scholarly investigations that reveal the sources for some of Kirby swipes. Jack used this practice long after his period of collaboration with Simon. Actually Kirby's collages can be considered a form of swiping.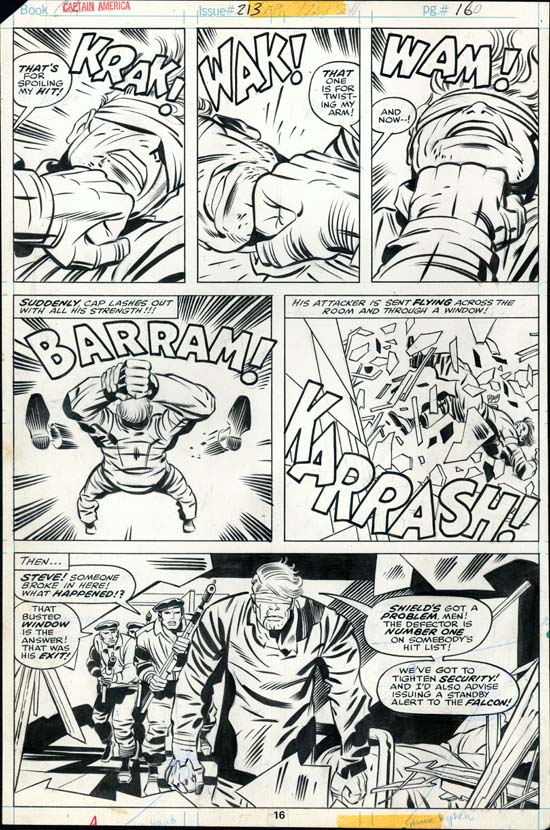 Captain America #213 (September 1977) "The Night Flyer" by Jack Kirby (original art)
Much has been said about Joe Simon swiping, including here in this blog. It is not surprising that one of Joe's favorite sources is Jack Kirby. For example Joe used a close copy from Captain America #7 when he put together the cover for The Adventures of the Fly #2 (the cover is shown in Chapter 12 of The Art of Joe Simon). Here I would like to present an example of Kirby swiping from of all people, Joe Simon. Jack's source was a set of panels that Joe did for a Vagabond Prince story "The Madness of Dr. Altu" in 1947. The use of three panels with close-ups of a face being hit by a fist also occurs in a Captain America story ("The Night Flyer") by Jack Kirby done 30 years later. It is not a direct copy, Jack would not need any help on how to present such close ups, but it is a swipe nonetheless. I do not think it is a coincidence that in both cases it is the hero of the story receiving the punishment. However there are interesting differences also. In Joe's story the hero, Prince Vagabond, is initially defeated by his opponent. A short time later there is a re-match which of course the hero wins. That is a plot device more frequently used today but was rather unusual at the time Joe did it. In Kirby's example a blind and out of uniform Captain America is the receptor of the villain's blows at the start, but Cap is victorious by the end of the page. Jack does this in an interesting formal device of using panels in a 3/2/1 vertical tier.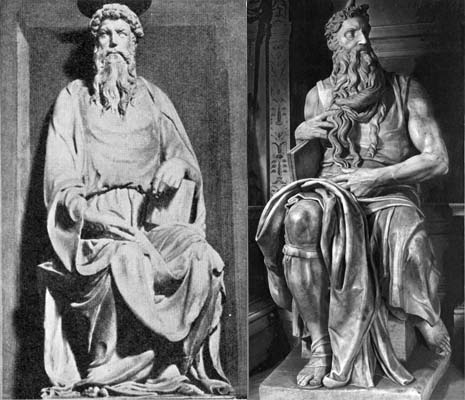 Saint John the Evangelist (1412-15) by Donatello and Moses (1513-1516) by Michelangelo
I use the term swipe because it is so entrenched in comic art discussions. But I have to admit I am rather uncomfortable with the word and it's subtext of stealing. There is no similar expression in the fine arts. No one would speak of Michelangelo's Moses being swiped from Donatello's Saint John (By the way the Michelangelo and Donatello I am referring to are Italian Renaissance artists, not mutant ninja turtles). In the fine arts there is a better, richer, understanding on how artists really work. Art is not created from a vacuum by the artist acting alone like some deity. Instead artists (this includes comic artists) extract from previous art, from other art fields, and even from real life. The artist then combines these resources adding his own personal touch into a new piece of art. Recognizing that allows one to appreciate what individual artists bring to their own work and how art continually evolves.