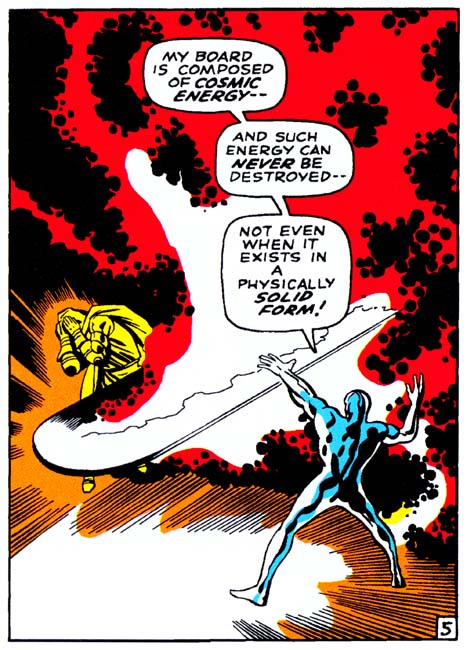 Fantastic Four #57 (December 1966) "Enter, Dr. Doom" page 5 panel 4, pencils by Jack Kirby, inks by Joe Sinnott (from the Marvel Omnibus)
There is a virtual cottage industry around identifying some aspect of Jack Kirby's artistry and naming it with a word starting with the letter 'K' (better yet if the chosen word actually starts with a 'C'). I find such terms annoyingly cute and even worse some have rather vacuous foundations (see Kirby Kolor, A Kirby Myth and Kirby Kolors, Revisited). There is one such term, Kirby Krackle, which is so entrenched in comic literature that I feel that it must be accepted. No matter how grating the name, Kirby Krackle really does describe an important aspect found in much of Jack's later work.
Kirby's art for Marvel Comics in the 60's began to show clusters of round dots depicting enormous but not necessarily directed energy, often of a cosmic nature. Shane Foley wrote an excellent article on Kirby Krackle (Kracklin' Kirby, Jack Kirby Collector #33) were he traces the appearance of this device. Because of the manner that the work was created, many experts have claimed that Kirby's inker Joe Sinnott actually came up with the device and Kirby liked what he saw and adopted it.
Of course there are Kirby fans that were unwilling to accept any of Jack's techniques as originating anywhere other than from the King himself. And so the race was on to find Kirby Krackle precursors in earlier work by Jack to prove that the idea came from him and not Sinnott. Frankly I find the the examples I have seen of the supposed Kirby Krackle prototypes to be less then convincing. Most are inking techniques that were used to depict smoke. These prototypes have four strikes against them. They do not take the shape of round dots, they do not form clusters, they are not used to depict high energy, and there are no intermediate examples that show they evolved into true Kirby Krackle. With so many points against them these so called prototypes can be discarded from serious consideration.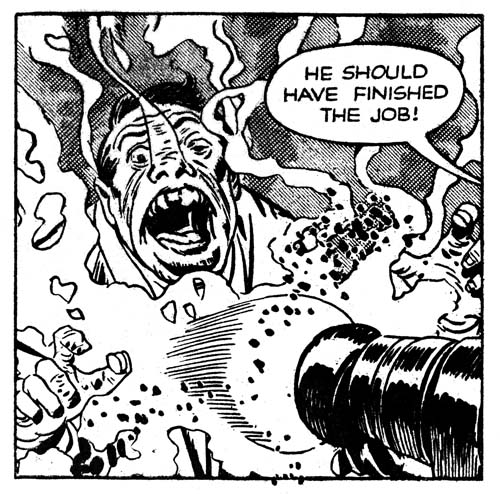 Captain 3-D #1 (December 1953) "The Man from the World of D", page 3 panel 6, pencils by Jack Kirby, inks by Joe Simon
I would like to suggest yet another Kirby Krackle prototype. One found in the work that Kirby drew for Captain 3-D (December 1953). Besides the panel shown above, another example can be found from page 2 of the same story used in an earlier post (Captain 3D). Now I am not claiming these are true Kirby Krackle. Here dashes rather then dots are used and the dashes do not quite cluster as closely as in true Kirby Krackle, but it would not take much to make the change from the prototype to the real thing. Further the prototype is used to depict true energy; in fact there is a cosmic connection in that the weapon is called a gamma ray gun.
Unfortunately there is a problem for those Kirby fans who would like to use Captain 3-D Kirby Krackle prototype as proof that the idea came from Jack himself. These pages were not inked by Kirby. Worse yet, during the Simon and Kirby collaboration Jack did not indicate spotting in his pencils. Kirby drawings were line drawings only and it was up to the inker to determine the spotting. Joe Simon was the inker for page 3. Page 2 was inked by Steve Ditko but with touch-ups by Simon. I really cannot say for certain who inked the Kirby Krackle prototype on page 2 but since it is done in the same manner as page 3 I credit it to Joe as well. But somehow I do not think comic fans are going to begin calling this technique Simon Snackle.