I previously posted about margin notes and my use of Photoshop manipulations to reveal erased text. But these image adjustments also showed a number of erasures of penciled art. I am not talking about inked lines that did not precisely follow the pencils. That sort of thing is common in Silver Age inking. These were more serious changes to positions of feet, arms, legs or even the whole figure. It is well known that Stan would asked for changes, often by whoever was available at the office. But my impression is that these changes were done by Kirby himself. I also believe that Jack did these changes before Stan got to see the art. I say this because some of the erased pencils are errors that are so bad that I don't believe Jack would have left them like that. This will be more obvious with the Avengers #6 page, but check the Cap in panel 5 of page 5 and panel 2 of page 21 of Strange Tales #114.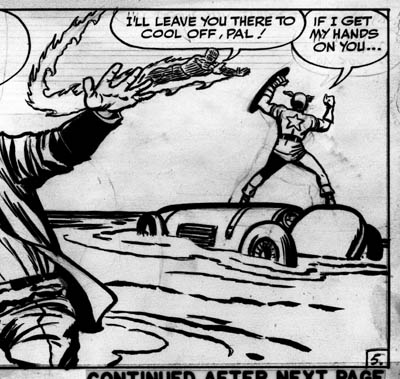 As I mentioned these erasures of penciled art are also present in Avengers #6 page 20. For this page I feel even more strongly that the erasures was done by Jack before the art was presented to Stan. I just can't believe that Kirby would have let the art go with Cap's left arm where it originally was in panel 3. It just seems too large an error.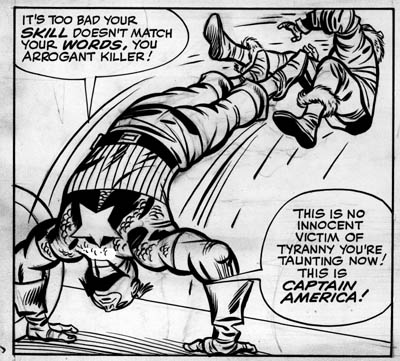 Similarly Cap's original head in panel 6 is much too seriously wrong. These are not the sort of mistakes that you ever see Kirby make.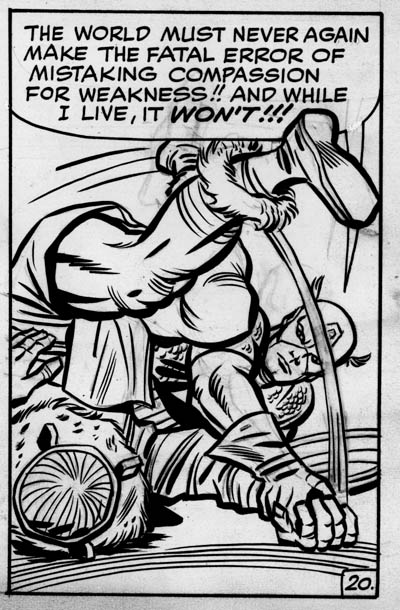 I also subjected the art for Tales of Suspense #92 page 9 to Photoshop adjustments for high contrast. One other thing is interesting about this page and that is what is not there. What we no longer find are erasures of the corrected art. It is possible that Kirby did a better job of removing them. But I don't think so. Why would he put the extra effort, after all he had no reason to hide it from someone someday using Photoshop on it. It is very difficult to make out the erased pencils on ST #114 and Av #6 without the aid of Photoshop.
Kirby was said to have created his composition in his head before he committed it to paper. By doing that he did not have to erase anything. Then why do we see more erasures on ST #114 and Avergers #6 then on TOS #92. Was Jack's ability to mentally compose his page a skill he got better at over the years? I don't think so, Kirby seem to have the same talent while working on the Simon & Kirby comics. In fact it may have been a remark by Joe that got Jack working in this manner. I've heard that Joe once complained about Jack erasing saying that he was erasing away money. However I have not (yet) subjected S&K art to the same Photoshop enhancement that I did with these Cap pages, so I could be wrong about not seeing erased pencils in S&K pages.
But there could be another explanation for all the corrections in ST #114 and Av #6. Perhaps these were rush jobs, either because of schedule difficulties or the amount of work Jack was doing at the time. Perhaps because he was trying to work faster, he was making more mistakes.