I blogged about Simon & Kirby acting as editors, but now I want to discuss what comics they actually produced. But I will be leaving aside the hero theme comics for which S&K are famous. Comics like Fighting American, Boys' Ranch, and Bullseye. These were classics but their short runs show that they were commercial failures. Simon and Kirby had their greatest success in comic anthologies. Comics like the long running Young Romance Comics.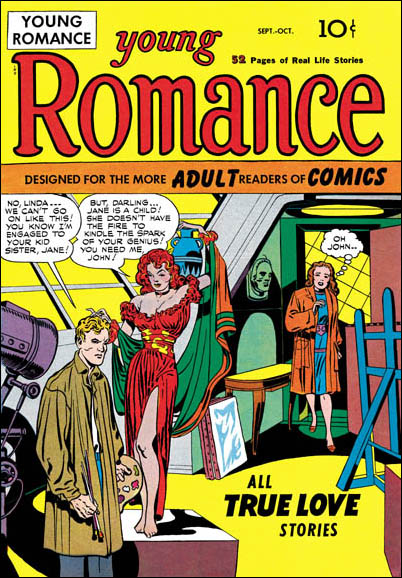 I once asked Joe about what sort of deal he had with Young Romance, the comic that started a whole new, and very profitable genre. He said that S&K paid all the costs of producing and packaging the art. They received nothing in advance from the publisher. The money would only start coming in when 40% of the printed comic was shipped to the distributor. After the shipping advance they would start sharing the profits. Joe remarked that contrary to his reputation as a savvy business man, it really wasn't that a great deal. Most of the financial risk was on S&K, and if Young Romance wasn't as widely successful as it was, they would have lost a bundle.
Young Romance #1 has a cover date of September 1947 and it had a very long run published first by Prize (124 issues) then by National. Like many others, S&K copied their own success and produced Young Love also published by Prize (94 issues) and National. But the romance genre continued to be profitable so S&K later produced Young Brides, that title was not so long running (30 issues) and was only published by Prize. But since YR and YL were so long running, clearly S&K did not produce them all. So which ones did they do? Well they pretty much told us about some of them. Starting with YR #13 (September 1949) the lead story of the comic would be labeled as a "Simon and Kirby Production". It didn't matter who the artist was and the label would only show up on the lead story. Once started, the S&K label would appear on pretty much every YR, YL and YB they produced. With only a few exceptions until about around August 1954 (YR #73, YL #61 and YB #16). The S&K label did not reappear until May of 1955. Even then it was used sporadically (YR #78, #80, YL #64 and YB #22, #24 and #25). The last appearance of the label was in December 1955 (YR #80).
So why the gap in use of the S&K label? Well one thing that happened at the beginning of the gap is that S&K started Mainline and became publishers of their own comics. Bullseye #1 first appeared with a cover date of August 1954, the same date the S&K last appears. Mainline was a commercial failure and its last comics was cover dated April 1955. The S&K label reappears in the romance comics in May 1955. One reasonable explanation would be that while Mainline was in operation S&K were not producing the Prize romances. Perhaps there was friction because Prize now viewed S&K as competition, particularly since Mainline had there own romance line, In Love.
As I said it is reasonable to say that between August 1954 and May 1955 (cover dates) that S&K were not producing Prize's romance comics. It may be reasonable, but I don't believe it is true. The first reasons is what I refer to as the usual suspects. S&K studio employed a number of artists on a freelance basis. But Bill Draut, Mort Meskin and John Prentice were regulars both in the length of time and amount of art. We may not be able to follow the money, but we can follow the artists. We have to be a little cautious since they did not work exclusively for S&K. But any comic where the usual suspects are prominent was likely to have been produced by Simon & Kirby. And the usual suspects were prominent during the gap. In fact they did most of the covers.
Another reason to believe S&K continued producing the Prize romances is a story Martin Thall tells. The comic company of Mike Esposito and Ross Andru also met their demise during the comic crisis of this period. According to Thall, they sold unused romance artwork to S&K (at a bargain price) and delivering it to Jack Kirby's house. Three stories penciled by Andru appear in the Prize romances of November and December 1954 (YB #19, YL #63 and YR #75). Andru also did some work for S&K in 1952 but that was too early to be what Martin is talking about. But the 1954 stories fit the timeline perfectly. And this is right in the middle of the S&K label gap.
But if S&K produced these romance comics through the 1954 and 1955, when did they stop? Well if we follow the usual suspects we find them prominent until December 1955. Then something surprising happens, Kirby is all over the place. From YR #80 until YR #86 (December 1956) Jack did pretty much the entire issues for all the Prize romances. This includes YL #69 to #73 as well as YB #26 to #30. Jack did 74 stories and covers over this period. Joe seemed to have been part of this because the cover to YR #83 appears to have both their hands involved. Further the cover to YB #30 depicts a couple with twin babies, Joe had twin girls. Finally Joe still has the original art to YL #71. In these issues John Prentice has only one story (YL #69), Bill Draut 3 (#71 and two in #73) and other artists provided only three more stories (Ann Brewster and Ted Galindo both in YL #70 and an unidentified artist in YR #81).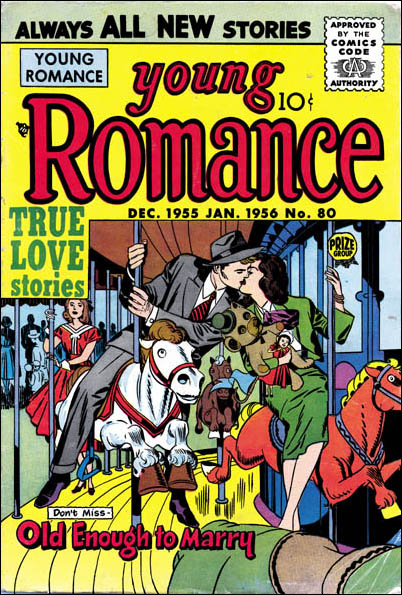 Why was Kirby so prominent in these particular romance comics? Well perhaps one reason is after the failure of Mainline, S&K had financial problems and perhaps could not afford to continue to pay their freelancers. In fact they may have had trouble finding work for themselves. YR and YL were monthly titles. But after the December 1954 issues the next YR would have a cover date of April 1955 and become a bimonthly. YL would not be published again until 1960. Although this is all after the Kirby romance run, it may reflect that the Prize romance comics had become less profitable. Remember Joe and Jack shared in the profits but had to pay the expenses to produce the art.
Starting in 1957, Jack's pencils would appear in most issues of YR until #103 (December 1959). But the usual suspects would not. There is one other piece of evidence that can help. At one point comics started to include a yearly statement. The statement included the name of the editors. I've heard that this statement was not always reliable. But that was for editors that worked directly for the publisher. I think that in the cases of S&K this statement may be more trustworthy. The earliest statement is the February 1950 issue of YL where Joe and Jack are listed as editors. The last time they are so listed is the April 1959 issue of YR. Starting with the June 1960 issue of YR only Joe Simon is listed as editor. The August issue of the resumed YL also list only Joe as editor. My information may be incomplete, but the last time I have a listing for editor as Joe is the April 1963 YL. But in a few months National would take over publication of YR and YL and I suspect they would use their own editors.
So it would appear that Jack's involvement in the Prize romances ended in early in 1959. Even that is surprising since in 1957 he started to work for other publishers like National and Atlas. Although Jack may have taken S&K ideas to these publishers (such as Challengers of the Unknown), nothing indicates that Joe did any work for them. To me this means that by 1957 there was no Simon & Kirby studio. Whatever working relationship Jack and Joe had, it was a very different one then they had during most of their partership.