In his book "The Comic Book Makers" Joe Simon describes how his friend Al Harvey approached him to do a cover for Al's new concept, a small sized comic book. Joe also tells how Harvey offered to make Joe a partner for $250. But Joe was then working on Captain America. At Timely he and Jack Kirby were supposed to get a share of the profits for this very popular comic. So Joe felt the safe thing decision was to stay at Timely and so turned Al down. It probably seemed at the time like a no brainer, but Simon would never saw much royalty money from Timely and would leave before the year was out. As for Harvey his new comic book concept would not last long but he still managed to build up a very successful comic publishing business.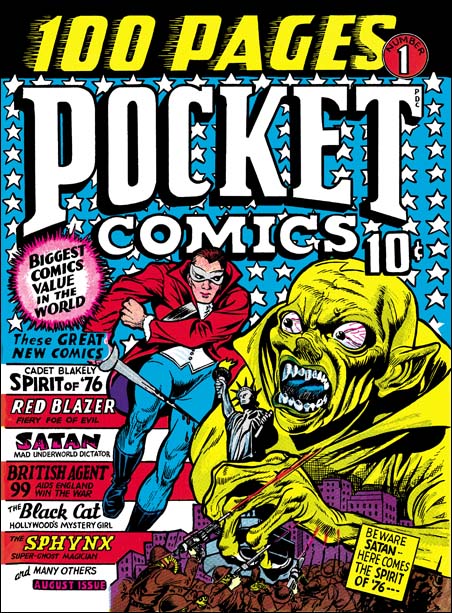 Joe's first effort for Harvey appeared on Pocket Comics #1 with cover date August 1941. This comic came out in the same month as Captain America #5. Jack Kirby was doing some great stuff at that time, but the true Simon & Kirby style had not yet emerged. The Pocket #1 cover was not in the Simon & Kirby style either, and in fact it does not show much in the way of influence from what Jack was doing. Here we get Joe doing Joe.
There are things about this cover which I find unfortunate. The field of stars gives me a claustrophobic feeling. But the biggest problem may not have been Joe's fault as he said he was working from a mock-up. Nearly half the top is occuppied by the comic's title. If that was not enough the left side has a list of the comic's contents. This left little room for Joe to work, but he uses it well. Joe came up with a terrific design and he executed it well. The scene portrayed actually is not logical, but it works.
On the cover Simon provides a Satan that is a bit differant then that in the comic itself. This is not just due to the colorist's use of yellow instead of the classic red. Instead Joe has turned to a cover he did for Fox, Wonderworld #13 (May 1940). For the Fox cover, Joe was trying to work in the style of Lou Fine. His success is shown by the fact that that cover was often attributed to Lou despite the presence of a Joe Simon signature.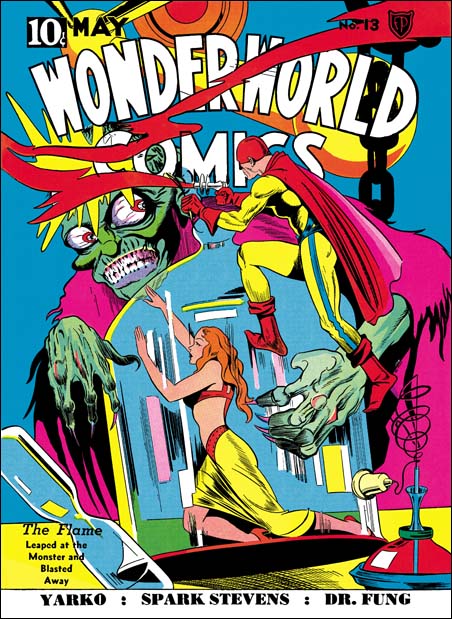 But there is also an even earlier version of Satan. That was the Claw as portrayed on Silver Streak #2 (January 1940). That, along with Keen Detective Funnies #14, were Joe's first cover work. Simon gave the Claw more of a Frankenstein look in the face, but the hands are similar to both Wonderworld #13 and Pocket #1.