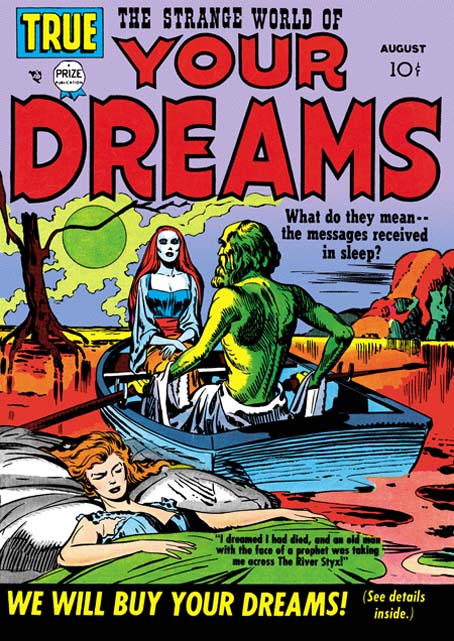 Strange World of Your Dreams #1 (August 1952)
I had a brief discussion with someone at the Big Apple Con yesterday. He mentioned a Kirby cover of a woman in a rowboat and suggested a name of the comic. Neither the comic name or the image rang any bells with me at first. Then I thought perhaps he was thinking of Strange World of Your Dreams #1. I suggested he visit my blog because I had posted on SWYD and thought I had included the cover for issue #1. When I finally got around to check it turned out I that in the post I had used SWYD #3 instead. So in case the gentleman decides to check my blog out here is the cover for SWYD #1.
As I said I have already posted on Strange World of Your Dreams. This title is as unusual as its name but unfortunately the comics themselves are a bit expensive. For anyone with a more limited budget who is curious about this title you might want to check out DC's Black Magic #8 and #9 which reprint a few stories:
BM #8 "The Girl In The Grave" (from SWYD #2)
BM #8 "Send Us Your Dreams" (from SWYD #2)
BM #9 "The Woman In The Tower" (from SWYD #3)
These were published in 1975 and can still be found at a reasonable fee at comic conventions and eBay. As I have said before, I have mixed feelings about DC's Black Magic. On the one hand it is great that some of these stories were reprinted. But unfortunately the artwork restoration looses some of the special inking quality of the original comics and gives them a sort of woodcut look. The three SWYD stories that were reprinted are good selections. "The Woman In The Tower" is not only the best in the original series, it is also one of Simon and Kirby's most unusual stories ever.