After returning from war service, Simon and Kirby made a deal with Al Harvey to produce Stuntman and Boy Explorers comics. Because of the post-war glut of comics, this venture was short lived. Both comics were cancelled but Harvey would eventually use work that was already produced in both Green Hornet and Black Cat Comics. Joe and Jack then did a variety of work for publisher Hillman, funny animals ("Earl the Rich Rabbit" and "Lockjaw the Alligator"), adventure ("The Flying Fool"), teenage humor ("My Date Comics") and crime (for "Real Clue Crime Stories"). They did a surprisingly good job on the funny animal stories. But their efforts were probably lost on the younger audience for that type of comics and they must have realized that it was not their forte. The adventure and teen humor were more suited to their style but other publishers already dominated those areas. However the crime stories were even a better match for them and at that time it was a popular genre. The only problem was that their work for Hillman appears to have been work for hire, and they wanted something more.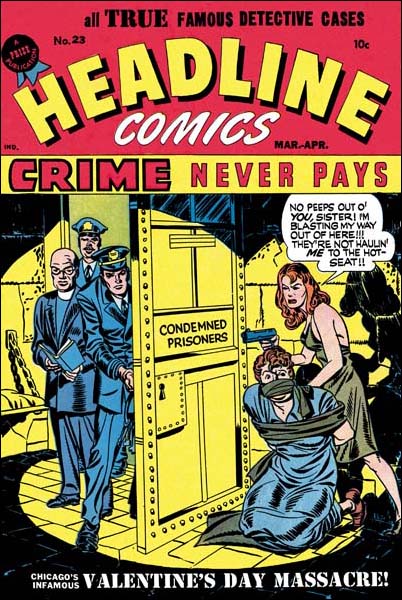 So S&K made a deal with Prize Publications to produce a crime comic for a share of the profits. This would be the first of a number of deals where Joe and Jack would do produce the artwork for the entire comic with Prize handling the printing and distribution ends. Prize already had a bi-monthly hero anthology called "Headline Comics". Headline was a pretty good title for a crime comic and perhaps it was not doing all that well, so it was converted to crime. The expected cover date for issue #23 was delayed two months for a March 1947 crime issue. Unlike their previous deal with Harvey, initial work was pretty much a solo Simon & Kirby effort with Jack doing all the pencils. With both work for Hillman and Prize going on at the same time, this resulted in a incredible page count, over 60 pages a month (in September alone it was 139). In fact this rate is so high, and the preceding months so low, that I suspect that much of it was done well before actual publication. If that is true then Joe and Jack probably already had decided to pitch a crime comic package before working for Hillman. Joe says when they wanted to make a proposal to a publisher they would do the entire comic first. That way if a publisher liked the idea but did not want to hire them to do it they could still get it out before him by finding another publisher.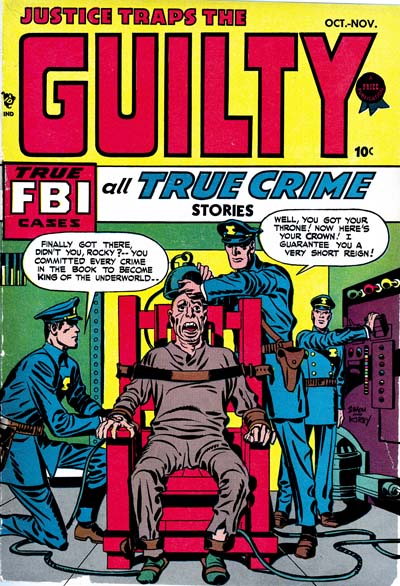 There are two signs that a comic was a success. One is that goes monthly and the other is that a spin-off is made. S&K's Young Romance must have been very popular because it did both. Black Magic went monthly but never did a spin-off, unless you consider the short lived Strange World of Your Dreams as such. Headline did not go monthly, but S&K and Prize did launch Justice Traps The Guilty (October 1947). Guilty was also a bi-monthly and alternated in the schedule with Headline. If this was not enough work for Simon and Kirby, after Headline they had also been pitching the first romance comic which came out in September. This was an awful lot of work, even for Jack. But it was never the intention of S&K to do all the art themselves, so they began to field out work to other artists. For instance Bill Draut (usual suspect #1) returns with "G-Man Trap" in the first Justice Traps The Guilty. Joe and Jack had finally succeeded in going from comic book artists to comic book producers.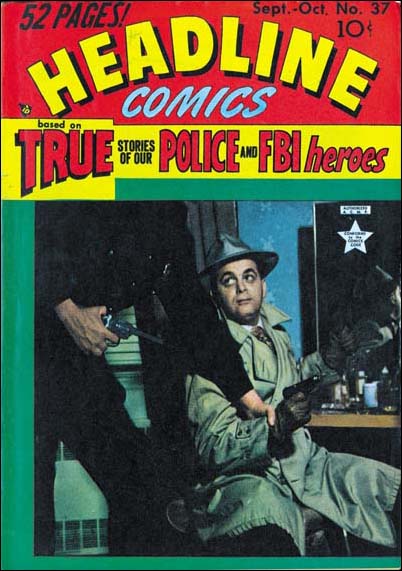 Now that the Simon and Kirby studio was up and running, Jack's penciling efforts were generally directed to the latest launched product. At this time Kirby continued to provide the pencils for all the covers. There were some good artists working for them, but Jack was still the star. But Young Love #2 (April 1949) had the first non-Kirby cover, a photograph. Soon the other comics followed; Headline #36 (July), Young Romance #13 (September) and Justice Traps the Guilty #12 (October). The romance photographs seemed to be supplied by various agencies, but S&K had a hand in at least some of the enactments of the crime photo covers since Jack appears on Headline #37 September 1949). But photograph covers did not last long for the Prize crime comics, the last one for Guilty #17 (August 1950) and for Headline was #43 (September 1950). With the end of photo covers we have the return of Kirby covers, but not for long. Headline #45 January 1951) was the last one Jack did for that crime title. As for Justice Traps the Guilty Jack's last cover appears on #23 (February 1951). However Guilty #20 has a cover by some other artist (probably Marvin Stein). Headline #46 has postal statement listing Nevin Fiddler as the magazine's editor. The contents changed also since the artists normally supplying art to S&K productions started to disappear from these crime comics. It would appear that Simon and Kirby were no longer producing Headline and Justice Traps the Guilty. Both comics would have a long history after S&K, with Marvin Stein frequently doing the covers. But it just wasn't the same.