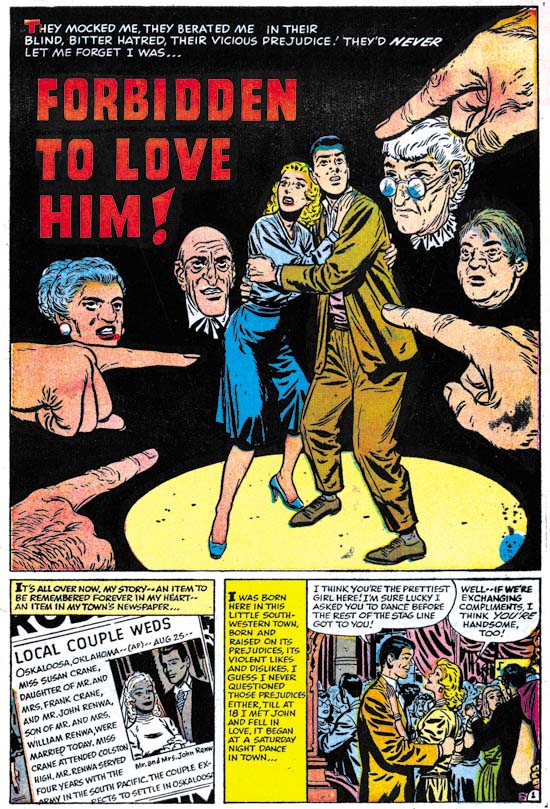 First Love #68 (September 1956) "Forbidden To Love Him", page 1, pencils and inks by Bill Draut
A young lady meets a man at a dance and quickly falls in love. Early in the relationship the man tells the woman that he is an Indian. The lady is surprised and then ashamed at her response. She loves him and wants to marry him. On her return home she finds her parents waiting. They have heard from neighbors that her date was an Indian and they insists she stop seeing him. Of course she refuses and the conflict at home continues. The man gives a speech at a bond rally before the entire town. It is revealed that he is a war hero. He gives an impassioned speech about the importance of foreigners in the history of America and the true meaning of freedom. The town is ashamed about their treatment of the man and the couple wed with everyone's approval.
The story of "Forbidden To Love Him" is based in Oklahoma and the chief character is an Indian. Nevertheless it is hard not to a consider this story a more universal condemnation of the racial or ethnic intolerance in much of America during the 50's. It is a topic that Simon and Kirby had touched on in "Different" (Young Romance #30, February 1951). But their version was much more circumvent and not nearly as bold as this story. "Forbidden To Love Him" may have been a little heavy handed but it effectively highlighted the hypocrisy involved.

First Love #68 (September 1956) contents page, pencils by Jack Kirby, inks by Jack Kirby?
As with FL #69 we have a contents page with an introductory story that at a casual glance could appear to be the work of Bill Draut. In FL #69 the story was a sort of prequel to the feature story. Here in FL #68 it is more like the comic equivalent of a movie trailer. We have less to work with in determining the correct attribution because in four panels all we have are the couple with limited background. Still once you ignore the Draut style eyebrows Kirby characteristics keep popping out. The poses for panels 3 and 4 look particularly like Kirby's and not the way Draut would have done it. I am discounting Joe Simon's as the penciller because FL #69 provided examples of both Joe and Jack copying Draut. The art in FL #68 contents page matches Kirby's version of Draut then it does Simon's.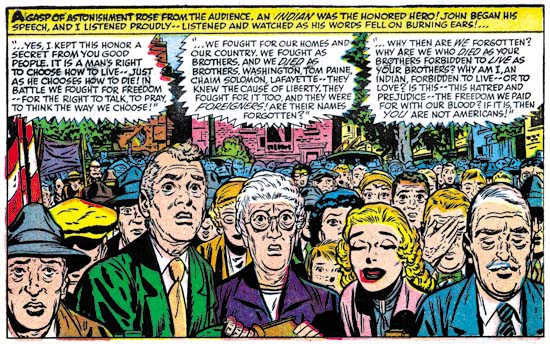 First Love #68 (September 1956) "Forbidden To Love Him", page 5 panel 1, pencils and inks by Bill Draut
The last panel of the introduction story is more complicated and provides more clues as to Kirby's involvement. In places Jack seems to forget that he is supposed to be imitating Draut and some faces look like pure Kirby. What is particularly surprising about this panel is that it is a swipe from one that Bill did in the story. Bill's original depicted the crowd's shame as the man revealed his wartime heroism. Jack has converted the scene to town's anger about the coming marriage. But there is no mistaking the derivation because the lady's father and mother have the same positions. The bride-to-be herself was left out by Jack because it would not have been appropriate for her to share the town's anger. It is interesting to compare Bill and Jack's approach to the crowd. Bill provides more people and arranges them to regularly diminish in size as we go from front to back. Jack draws fewer individuals and we are less aware of the size of the crowd because we cannot see the back. By doing this Kirby is able to provide clearer representation of the emotions for the people he does shows. In the comments to FL #69 Stan Taylor correctly remarked how the architecture looked like Kirby's. This panel in FL #68 does not provide as many buildings but it still is interesting to compare Jack's method to how Bill handle's architecture.