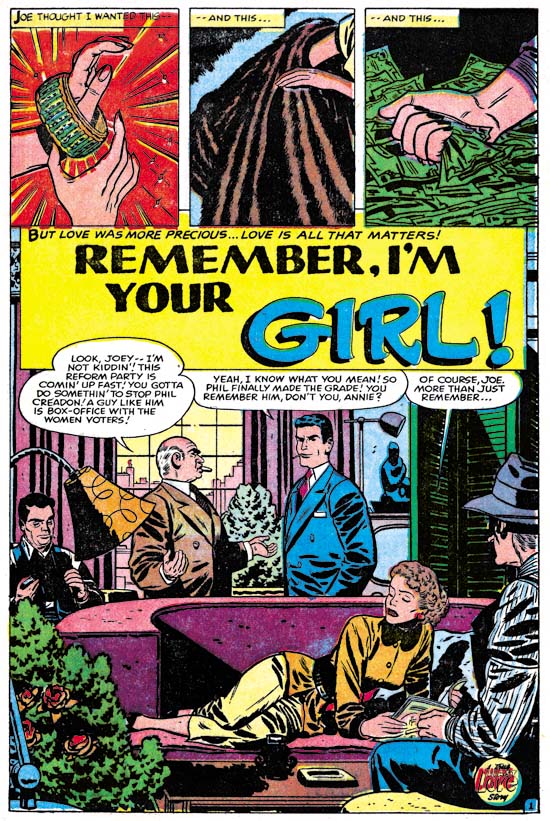 First Love #69 (October 1956) "Remember, I'm Your Girl", page 1, pencils and inks by Bill Draut
With the period having 1956 cover dates Kirby was pretty much the only artist working on the Prize romance titles (Young Romance, Young Love and Young Brides). During this time Bill Draut and John Prentice who had previously been doing work for those titles began to appear regularly in the Harvey romance books instead. "Remember, I'm Your Girl" is typical of the work Draut did for Harvey. Bill still had an distinct style particularly characterized by simple but prominent eyebrows.
This a story about a man (Joe), his sister (Annie), and a former friend (Phil). Joe is now a successful politician and his sister is enjoying the financial fruits of that success. There is an approaching election and his position is being threatened by Phil, a rival candidate. Years before all three were good friends so Joe asks Annie to reconnect with Phil in order to find some weakness. His sister refuses but runs into Phil by accident and a romance develops. Joe wins the election but the sister continues her romance. When Joe confronts Annie to choose between her previous financial rewards or the rival, she chooses Phil.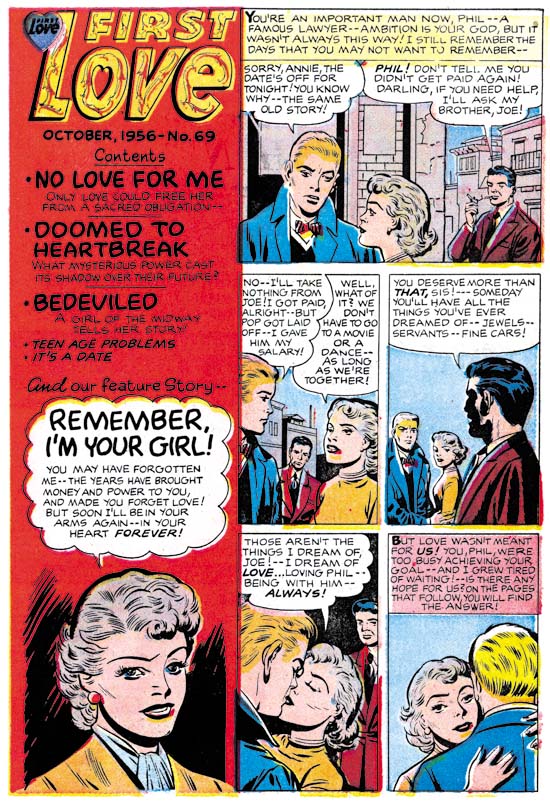 First Love #69 (October 1956) contents page, pencils by Jack Kirby and Joe Simon, inks by Joe Simon?
Joe Simon was probably working for Harvey as an editor at this time. I generally do not consider works such as "Remember, I'm Your Girl" as Simon and Kirby productions. The format and length match Harvey romance stories from well before Joe's time as Harvey editor. However something unusual happened in FL #68 and FL #69. Generally Harvey romances has a content page with at most a portion of the splash for each story. In FL #68 and #69 the content pages had a short original art that served as an introduction to the featured story.
For First Love #69 the feature story was Bill Draut's "Remember, I'm Your Girl". The same characters that appear in the feature story are presented here. The text makes it clear that the trio are shown in the earlier days while they were all still friends. A casual glance at the introduction story could result in attributing it to Bill as well. What particularly stands out are the simple but prominent eyebrows, which as I said was a Draut trait. A close examination reveals that the faces are not quite like Draut would do them, particularly in the story panels. There is not much to go but the spot inking does not look like Draut's either. But I do not think it is just the case of some other artist inking Draut's pencils. The layouts in the introduction story are not quite like Bill's.
It is the layouts that provide a suggestion who the real artist was. In the first panel Joe is shown lighting up a cigarette. This is a typical Kirby theme and pose. In panels 2 to 4 the main speakers are placed in the front while those not speaking are placed in the background. This is a typical Kirby layout. Even the way Annie looks over Phil's shoulder as they embrace is a typical Kirby pose. Although the artist tried to draw the characters like Bill Draut did he really could not completely adopt Bill's more stylized pencils. Keeping in mind that he is imitating Draut, a close look at the faces suggests Kirby was the penciler.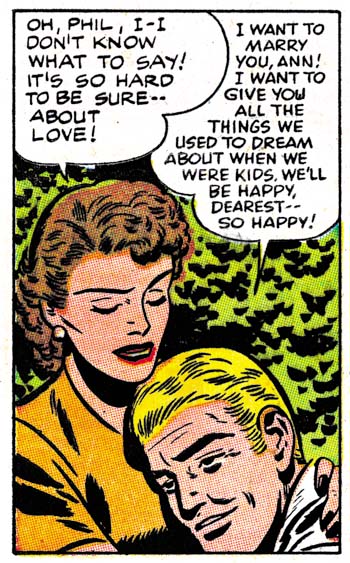 First Love #69 (October 1956) "Remember, I'm Your Girl", page 4 panel 1, pencils and inks by Bill Draut
In the past I have often warned about using some Kirby-esque features for attributing a work to Jack. Joe Simon was also familiar with Kirby's techniques and was pretty good at mimicking most of them. If you ignore the attempt to copy Draut's style, the number of Kirby-isms seems rather high even for Joe. But look at the drawing of Annie that appears in the bottom of the contents panel. It appears to be the done by yet another artist. A search of the actual story shows that the contents drawing was swiped the first panel of page 4. It would seem to be a reasonable deduction that Joe Simon did the contents drawing. If that is true then he was not have been responsible for the penciling of the introduction story.
The possibility of Kirby ghosting another artist was brought up recently by Bob H. in a comment to All-Star Western #99. I do not know if what Jack did for FL #69 introduction story would properly be called ghosting. It was not a case of fooling the editor, Joe was also involved in copying Draut on the content page. Nor was Draut a regular artist recognized by the reading public. Harvey romances are all unsigned and the artist used for the feature story would change. This was just a case of trying to maintain visual continuity between the contents page and the feature story. Imitating another artist was not something Jack did very often. Although his Draut was not perfect, it was good enough to fool many.