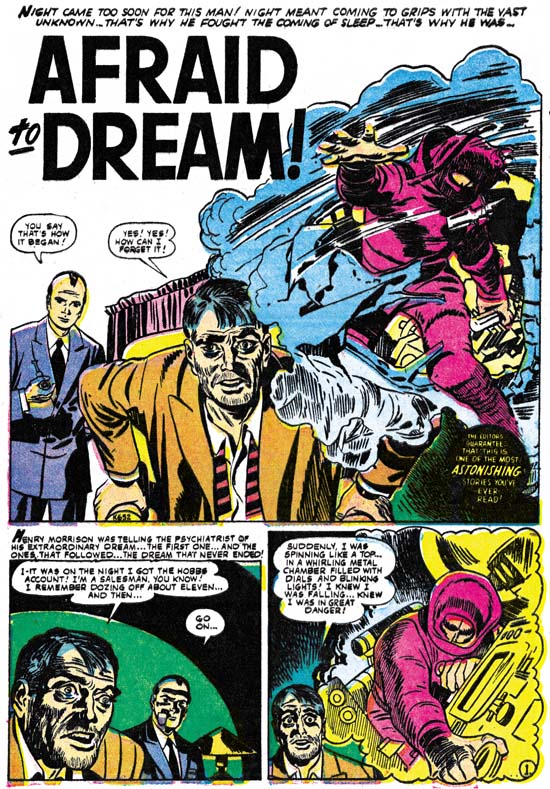 Astonishing #56 (December 1956) "Afraid To Dream" page 1 by Jack Kirby
It was mid 1956 and the Simon and Kirby studio had failed. Jack Kirby would help Joe Simon with some projects that if successful might bring the team back together again (in the end they did not). But in the mean time Jack had turned to freelance work in order to support his family. Jack was trying to sell DC on a new title that he and Joe Simon and developed called Challengers of the Unknown. Jack had also taken on some work from Atlas. It was a company he had worked for many years ago when it was called Timely. On that occasion Timely had failed to deliver of their promise of a share of the profits from S&K's creation Captain America. If that was not bad enough, as Atlas they did not pay their artists all that well. But none of that really mattered because Jack simply needed the work.
Kirby took over all the story art for Yellow Claw #2 (December 1956). I have previously posted about this comic and I consider Jack's Yellow Claw work for issues #2 and #3 to be some of his best effort. It appears that Jack did all the work himself; writing, penciling and inking. Of course since it is Kirby the penciling is great, but the real treat is to be able to see Jack inking his own art.
For the same month as Yellow Claw #2, Jack would do a four page story for Astonishing #56 call "Afraid To Dream". It concerns a man who has trouble sleeping. His nights are disturbed by a continuing nightmare. In his dream a man crashes in a spaceship on a hostile world. It is night and the world is filled with numerous perils that the injured man must transverse in order to get to safety. But the spaceman must reach his destination soon for when day arrives the planet's surface becomes too hot for him to survive. Jack has done other stories with vignettes showing the journey of some individual. Therefore I am confident that Jack also wrote "Afraid To Dream".
Like YC #2, Kirby also inked his own pencils. The inking uses the S&K studio style of spotting only with a finer brush. Finer that is compared to previous S&K productions but still probably too extreme for DC. It is interesting to compare this Atlas work with the spotting that Jack had been doing the past year for Prize romance comics. At a glance these two inking techniques might appear quite distinct. The Prize romances have limited use of spotting and when spotting is used it generally floods an area with black. While for Atlas Jack did a lot of spotting (using a finer version of the S&K house style) and would rarely flood an area with black. However for Atlas Kirby would often cover a large area with closely arranged S&K style inking. These larger dark area are shape similarly as the flooded areas of the 1956 Prize romances. The differences between the two approaches is probably related to the jobs. During the previous year Jack had been doing the penciling for pretty much the entire line of Prize romances. Jack had help, at least at times, with the outline inking but he did the spotting himself. Considering the amount of work he was doing he wanted to keep the inking to a minimum and so avoided the S&K style hatching. When an a black area was needed, flooding it with inking would be quickest. With Atlas Jack probably wanted to impress Stan and the readers. So it was back to S&K style shop hatching but applying it with a finer touch. Jack may have been hoping that his work Atlas might lead not to just work as a penciler but to producing the comics like he had previously in the S&K studio.
The difference between the true masterpiece and the rest is often surprisingly small. The spotting that Jack did for YC #2 and #3 is just amazing. Although the inking done for "Afraid To Dream" uses a similar approach somehow it just does not achieve the same results. It feels a bit rushed to me and just slightly off. Not much, so it is still enjoyable, but not achieving the masterpiece status.
"Afraid To Dream" is just four pages long and it is hardly one of Jack's greatest work. Still the story is enjoyable and it is nice to see what Jack could do by himself. Kirby seemed to have a lot of control over what he did for Atlas at this time. Jack would loose that control for the work that he would shortly do for DC. However conditions at Atlas would in the not distant future change dramatically with the event called the Atlas Implosion. Kirby would return to doing freelance work after the Implosion, but working conditions would not be the same. After that Jack would be penciler only, writing and inking would be done by others.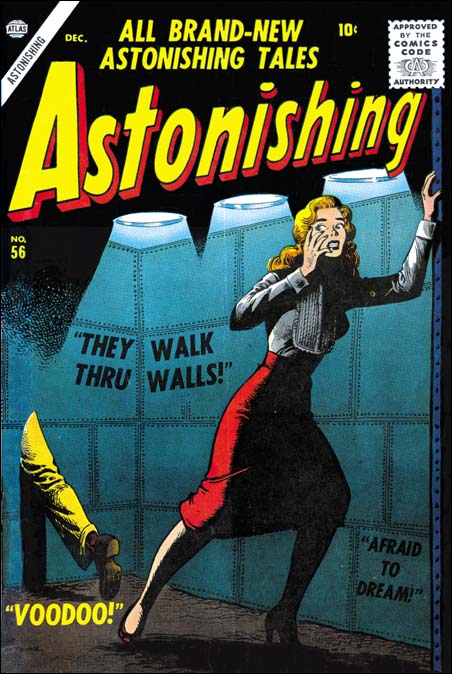 Astonishing #56 (December 1956) by Joe Maneely
Jack may have been welcomed back to Atlas but he was not Stan Lee's number one artist. Stan's bright eye boy was Joe Maneely. Maneely was fast and he used detailed inking. Stan turned to him time and again for the most important covers or stories. The early death of Joe Maneely in 1958 probably had more impact on the future of Marvel Comics then even the Atlas Implosion. What would Fantastic Four #1 have been like if it was drawn by Maneely and not Kirby? Or what about Spiderman with Maneely instead of Ditko? Of course this sort of "what ifs" can never be truly be answered. I must confess I find Maneely to be the antithesis of what I seek in a comic book artist. To me his art is extremely dry and overwrought. I have no doubt that if he was the artist for the Fantastic Four I would never had become a Marvel junkie.