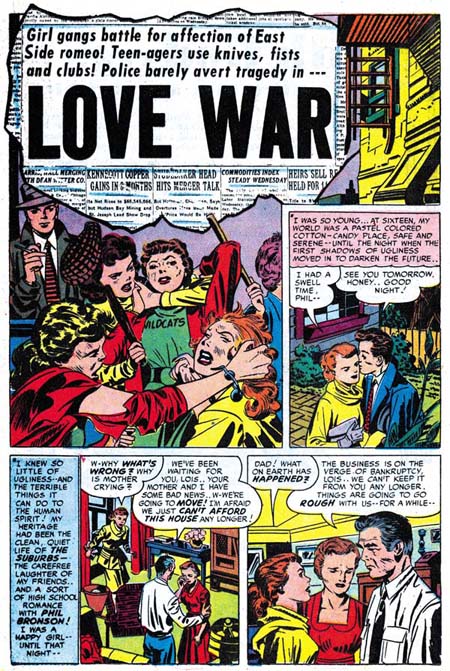 Young Love #55 (March 1954) "Love War" by Jack Kirby
Previously in the End of Simon and Kirby we saw the launch of Fighting American for Prize followed shortly by the creation of Mainline, Simon and Kirby's own publishing company. Although Simon and Kirby continued to produce romance comics for Prize, they stopped including work penciled by Jack. Mainline only lasted a short time before it failed.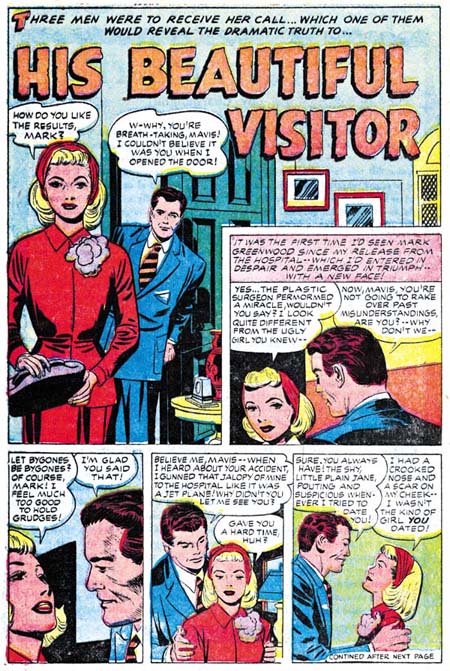 Young Brides #25 (November 1955) "His Beautiful Visitor" by Jack Kirby
In October, the month after Charlton released the last of what had been Mainline comics, a story penciled by Jack Kirby appeared in Young Romance #79. The next romance (Young Brides #25 November) would have Jack doing three of the four stories. Oddly there was no Kirby in Young Love #68 (December). After this we have a run of romance comics that are almost completely done by Jack Kirby (YR #80 to #85, YL #69 to 73, and YB #26 to #30). Kirby would do all 16 covers, 58 of the 65 stories, and 373 out of 416 pages (excluding covers). The percentage of Kirby in this run would be even higher if we excluded Young Love #71 which only had a single Kirby story. Of the 7 stories done by other artists; 4 were done by Bill Draut (YR #81, YL #71 and two in #73), 1 by Ann Brewster (YL #71), 1 by Ted Galindo (YL #71) and 1 by an unidentified artist (YL #69). Never before in the history of Simon and Kirby do we see anything like this. The closest to it occurred was with the launch of Headline as crime genre. There Jack did all of the first four issues (Headline #23 to #26, March to September 1947).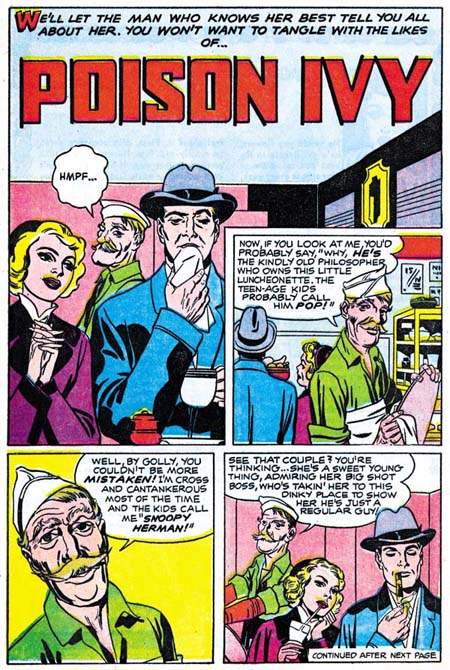 Young Romance #84 (October 1956) "Poison Ivy" by Jack Kirby
At the beginning of the post I included a splash page from YL #55 that Jack did just before he stopped doing Prize romances in order to concentrate on Fighting American and the Mainline comics. Compare this to a page from YB #25 ("His Beautiful Visitor" see above) from the time of Jack's return to these romance titles. Despite the similar panel layout the two look different. The spot inking in the earlier page is in the typical S&K shop style. But in the later work there is less spotting, particularly in the figures, giving the page a lighter look. When parts of the figure do get more spotting, it often is done by flooding a larger area, see "Poison Ivy" from YR #84 above. Brush techniques that were standard to the S&K shop style (like the coarse crosshatch that reminds one of a picket fence, or the rows of unconnected short strokes) are encountered less frequently. When these brush methods are used they tend to be done in a finer style then previously. These differences in inking styles seem to be present right when Kirby returned to doing these romance titles, but they appear to become more obvious over time.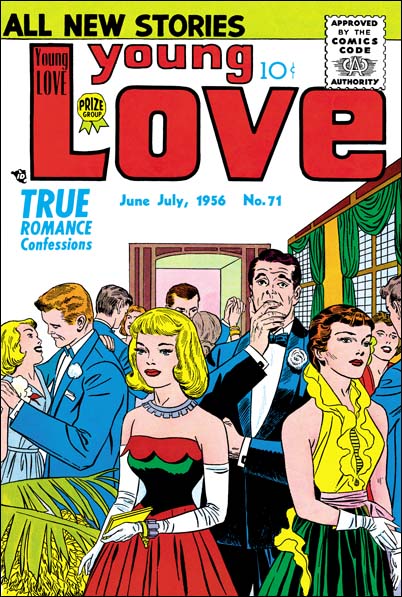 Young Love #71 (June 1956) by Jack Kirby
The same observations about the change in inking style can be made about the covers. However more effort was usually done on the covers. The old shop style crosshatching appears more often on covers although done in a finer style. Great care was sometimes taken, the lines in YL #71 (above) were done so fine that they look like they were done using a pen but the original art (still in Joe Simon's collection) show that it was actually done with a brush.
This may be a good place to interrupt with a short discussion about how inking was done in the Simon and Kirby studio. All uninked art by Kirby done during the S&K collaboration that I have seen show that Jack did tight pencils done entirely as lines. No indications for spotting are found and folds in the clothing are indicated by simple lines. The next step appeared to be the inking of the panel outlines, balloons and the lettering. Then the art is inked closely following the penciled lines without any spotting. Next the spotting is done to bring a sort of volume to the forms and provide tonal variations across the page. Thus ignoring the lettering, the art can be said to have three stages; penciling, lining, and spotting. In an interview Carmine Infantino, who worked in the S&K studio mostly in 1948, describes Jack doing the spot inking. Martin Thall once described visiting the studio where a number of individuals were busy doing an inking job. My own examination of original art leads me to believe that often more then one hand was involved in the spotting. Frankly when experts attribute the inking to Jack himself, Joe or some other artists I do not know what they mean. Are they referring to the outlining or the spotting? Are they saying that all the inking was done by that one person or just parts? I really have no clue as to what the inking attributions by the experts means, I sometimes wonder if they know themselves.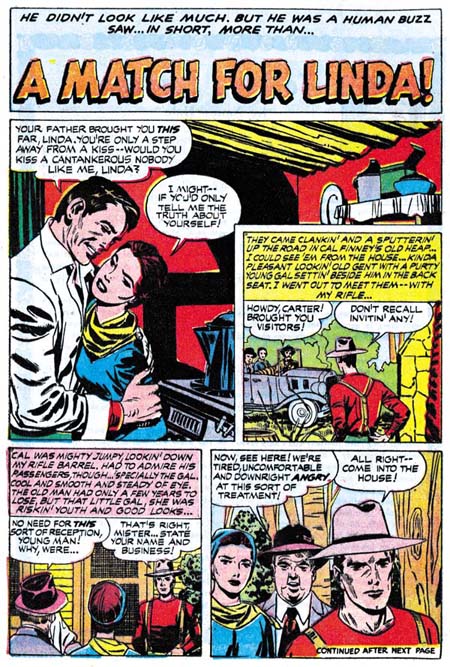 Young Romance #81 (February 1956) "A Match For Linda" by Jack Kirby
To me it appears that the line inking done during the all Kirby run of romances was done by different individuals. I have little confidence that I can identify most. After all they are following Kirby's tight pencils and this is not Marvel Comics in the Silver Age with Stan Lee urging inkers to add their personal touches. I am pretty sure Jack wanted the line inkers to be faithful to his pencils. Still there are subtleties to the pencils and different responses to those nuances by the line inkers. One of the line inkers in some of these stories appears to have been Bill Draut. Take a look above at the eyebrows in the female on the splash page to "A Match For Linda". Notice the tendency to it be a little long and simple. Compare this to a page below from "He Had Only Me" by Draut. Of course not every eyebrow in the Kirby story has the Draut form, after all Bill is trying to keep to the pencils. But when there is deviation from the Kirby look, it seems to be in the direction that Bill Draut would normally do. I have not made a careful examination of all the stories, but I think Bill also had a hand in the line inking for "The Unhappy Housewife" (YB #30), "Torch Song" and "Bust Up" (both from YL #73), and "Lizzie's Back In Town", "Lady's Choice" and "Resort Romeo" (all from YR #85).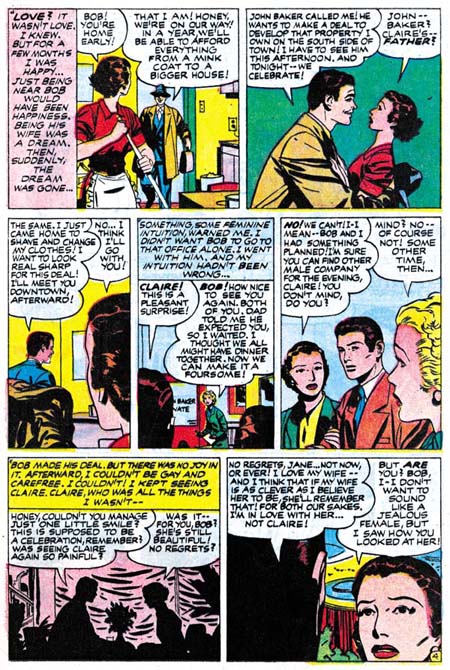 Young Romance #81 (February 1956) "He Had Only Me" by Bill Draut
Although I feel I can see hands other then Bill Draut's working on the line inking for some of the stories, I believe only one artist was doing the spotting. Yes there is a lot of variation in how the spotting was done or even how much spotting was done at all. But when crosshatching was done it seems finer then previous S&K shop inking. There is a consistent attempt to divide panels into light and dark areas, with the light sections predominating.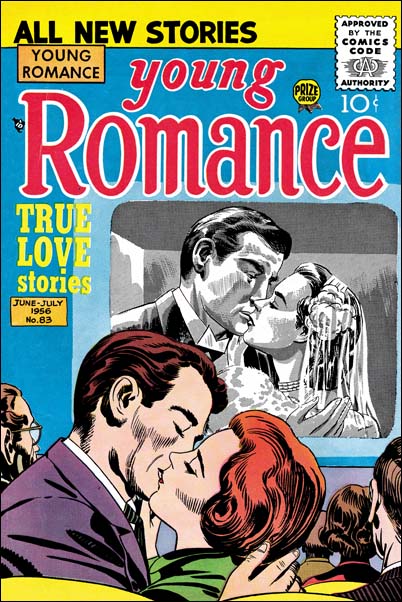 Young Romance #83 (June 1956) by Jack Kirby and Joe Simon
The Kirby Checklist does not include the cover for Young Romance #83. Although it is not one of his best efforts, I really believe that Jack did the foreground couple. However the pair in the movie screen does not look like his work, but appears to me to be done by Joe Simon. The movie screen was done using a special product that allows an artist to get grey tones by applying special chemicals. The grey tone is actually achieved by the means of fine lines. Apparently Jack never got into using these sort of materials. But starting here we will find Joe experimenting with new techniques from time to time.
The all Kirby Prize romances were done from December 1955 to December 1956. This effort raises a couple of questions. One is whether the Simon and Kirby collaboration in effect during this time? The answer I believe is yes there still was some sort of joint S&K effort. Joe joined Jack in working on the cover to Young Romance #83. Young Brides #30 depicts a couple with twin babies, Joe had twin girls. Finally Joe still has the original art for the cover of Young Love #71 in his collection. But although I believe Joe and Jack were still jointly working here, the inking done on these issues convinces me that the way this collaboration was handled was different. I suspect that the S&K studio had closed at this point and Joe and Jack were working at their respective homes. They had worked from their houses earlier in their joint careers, but at that time they lived close to one another. Now they lived further apart and this made the same type of working arrangement difficult. Gone were the days of passing art back and forth until both were satisfied. Other then the line inking, most of the work we see here is by Jack. If you want to see the sort of stuff like the Simon and Kirby of earlier years, these romances will probably disappoint you. If your interest is in Kirby's vision alone, here for the first time in many years you will find a purer Kirby. The quality of the work varies greatly, and this is not just because of the use of various line inkers. Kirby's spotting can be very minimal at some times, rushed and sloppy at others. However I do not want to leave a negative impression, when all things work well the results can be very nice.
The other question that comes to mind is why do all Kirby issues at all? One possibility is that some change was made in the deal between the artists and Prize so that the money Jack received was not based on just the profits but somehow also on the number of pages he penciled. Or perhaps the finances for S&K were so poor that they could not have enough to pay their freelance artists. Another possibility was that the whole effort was an attempt to boast the sales for these romance comics. If it was an attempt to help a financially ailing line of titles it does not look like it succeeded. Young Love and Young Brides would be cancelled after December 1956. Prize Comics Western was already ended the previous September, so Prize was now down to one monthly (Justice Traps the Guilty) and two bimonthly titles (Headline and Young Romance). This was really a low point for the Prize company. Since Simon and Kirby no longer had a hand in the crime titles, only Young Romance remained as a source of income from Prize. The last Western Tales for Harvey was July 1956 and work for Warfront was limited to a few covers. In the next chapter I will write about Harvey romances, but let me say here that things must have looked pretty grim for Simon and Kirby by the December 1956 cover date.
Chapter 4, A Friend Provides a Helping Hand